OnePlus 9 review
"Is it still a bargain?"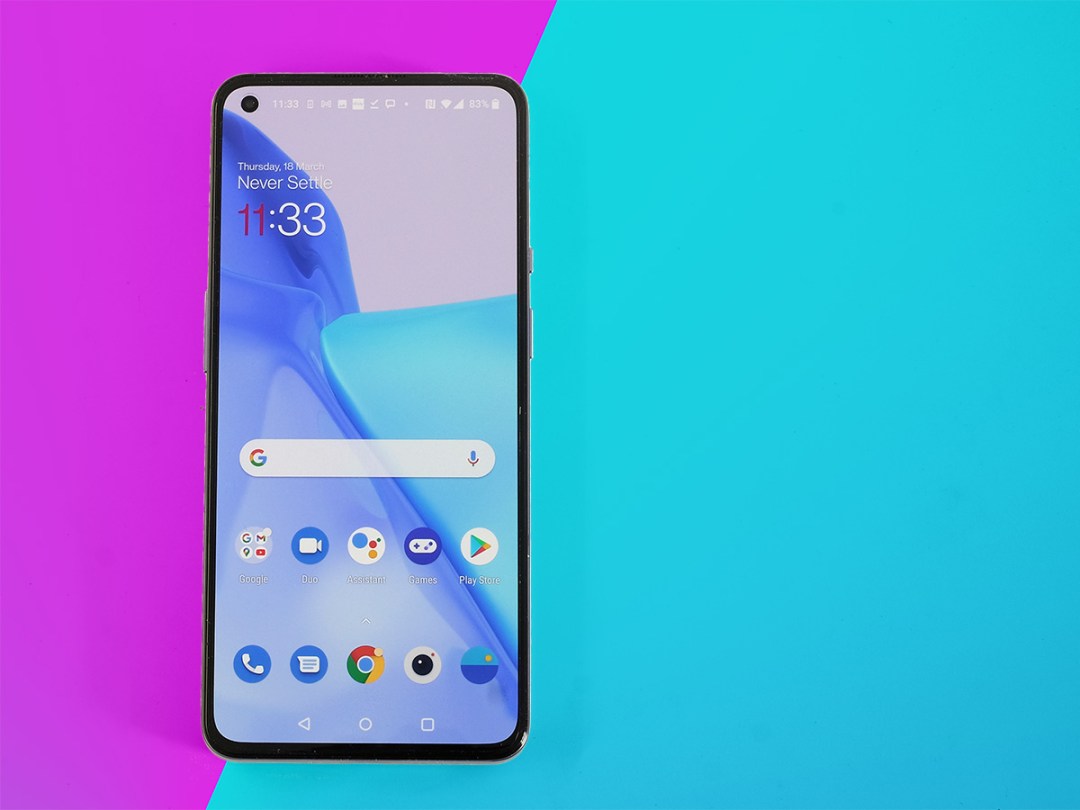 OnePlus releases new main-line phones every six months. On the eve of their announcement, huddles of OnePlus acolytes gather in corners of the internet lit by LCD monitor glow, with one question fizzing on their lips.
"Is it still a bargain?"
We're right there with them. This time we get to breathe easy. The OnePlus 9 costs £30 more than the OnePlus 8T, and while there is one important design cut, we also get the most important camera hardware upgrade in this line since at least 2019.
The OnePlus 9 loses the aluminium sides, stepping down to plastic. But the jump up to a significantly better 48MP camera and a 50MP ultra-wide that sets the standard at £629 are a worthy trade, particularly if you'll use the silicone case that comes in the box anyway.
Only battery life keeps the OnePlus 9 away from a top score, as this phone claws its way through 16-18 hours if you use the screen in its best mode. OnePlus seems to think ultra-fast 65W charging is replacement for a phone that leaves you with a solid chunk of charge at the end of the day.
Sure, it helps. But having used a bunch of cheaper phones from Xiaomi and Motorola that seem to last approximately forever recently, nothing can really replace a big, reliable battery.
Design: Plastic is all the rage, didn't you hear?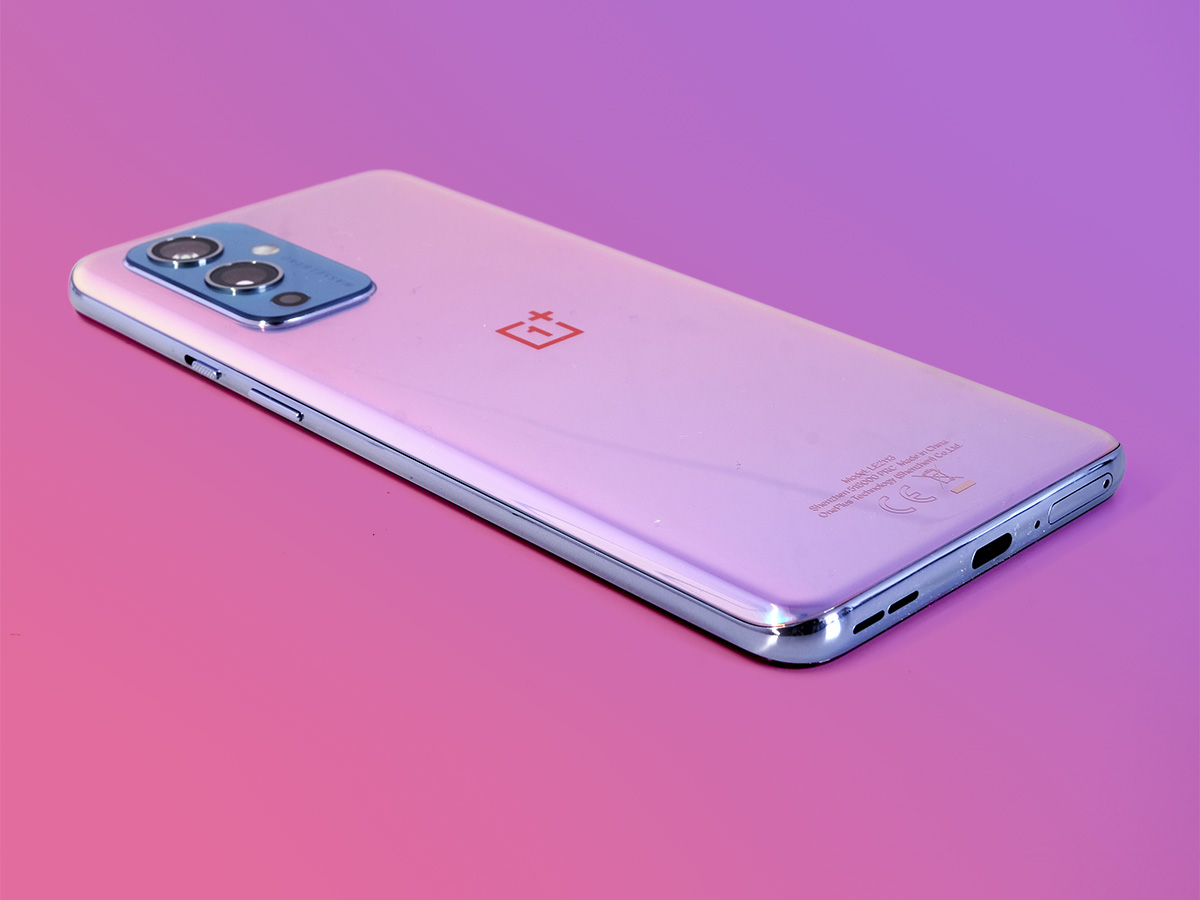 OnePlus was once a maker of phones that seemed almost impossibly cheap, as if it had access to a bunch of cut-price components that had fallen off the production line and into some cockney trader's lorry. Reality has dawned, and you can now see a couple of budget-related cuts in the OnePlus 9.
It has a flat screen rather than a curved one, and the sides are plastic rather than aluminium. OnePlus calls it "fibreglass infused polymer", but it's still plastic with some extra stuff bunged in to make it that bit stronger.
Does it matter? Not necessarily. Use the bundled case and you won't notice. And Samsung uses a plastic back in the more expensive Galaxy S21. It's just a reminder OnePlus is a much more conventional phone-maker than it once was.
Other bits of classic OnePlus character remain. The OnePlus 9 has a chunky silent mode slider on the side, and the back looks a lot classier than those of most other Chinese phones from Oppo, Realme and Xiaomi.
It comes in "Winter Mist", white with purple highlights, or what you see here: Arctic Sky. It's blue dead-on, but turns purple at an oblique angle, which is why some of our demo photos look like they are of a completely different phone.
Nothing major is missing here, apart from the curved glass and metal we got back in the days of the OnePlus 8. The OnePlus 9's speaker are great. They use two drivers for stereo sound, and belt out podcasts with some force.
The in-screen fingerprint scanner is fast and well-positioned. There's no headphone jack, but high-end OnePlus phones haven't had one since 2018.
Every year OnePlus loses just a bit of the magic it once had. But its new phones also come with technical improvements that let it compete better with its Samsung rivals. You win some, you lose some.
Screen: 120Hz OLED power
Talking of Samsung, the OnePlus 9 probably uses one of its screens. This is a 6.5in Full HD OLED with a flat surface and a max refresh rate of 120Hz. If you've done much research into phones in the last 12 months, you'll know high refresh rates are all the rage in Android land at the moment. It means the screen image refreshes at twice the normal rate, making scrolling menus look incredibly smooth.
The screen's white balance takes on a slight red hue at an angle, something you don't see in the OnePlus 9 Pro. But we forgot about this almost completely after first noticing the effect.
Resolution is the real benefit of the upgrade to the OnePlus 9 Pro. This phone does not have an ultra-high resolution panel, and you can notice the difference if you go looking for it. However, the OnePlus 9 gets you 90% of the good stuff of the most expensive phones' screens, including very high brightness. OnePlus says it peaks at 1100 nits, enough to make the display look clear and bright when you take photos outdoors.
Camera: Pro powers for less money
You get a big camera upgrade this time too. OnePlus used the very same Sony IMX586 camera sensor in almost all its phones, from the OnePlus 7 right up to last year's OnePlus 8T. That has changed. The OnePlus 9 gets the IMX689 seen in 2020's OnePlus 8 Pro.
It's a substantial upgrade, netting you better dynamic range. You notice this in the shadowy parts of your HDR photos, where detail is much more likely to be rendered properly, rather than ending up as mush.
The OnePlus 9 is also the first "Hasselblad" camera from OnePlus. But a comparison with the OnePlus 8 Pro suggests having that venerable old grandad of cameras for rich folk doesn't necessarily add all that much.
The two take pretty similar photos. OnePlus's "colour science", which it uses to determine exactly how green that tree's leaves should look, was already pretty good — with generally more naturalistic results than you'd see from Samsung. The fruits of this initial collaboration seem to be mostly about giving you a Hasselblad-style orange shutter button, a Hasselblad-style shutter sound. And a tiny visual tweak to the Pro mode, without adding any actual new features.
This whole "Hasselblad" thing is mostly there for the marketing clout, at least in this first generation — although it may have more substance in the OnePlus 9 Pro, which we dig into in our review. But we do get hefty upgrades elsewhere so we really don't care that much. The OnePlus 9's wide camera is much better than the OnePlus 8T's, for example. Its 50MP sensor is on the same level as the ultra-wide of the OnePlus 8 Pro.
It seems to have a significantly sharper lens too, something you can notice across the frame but the difference is glaring at the corners. OnePlus says it uses a new kind of ultra-low distortion lens in the OnePlus 9 and 9 Pro, reducing the mushiness and geometric weirdness you see at the edges of the frame.
Ultra-wide photos don't have that characteristic "fisheye" look, and the new lens means OnePlus doesn't have to get there by stretching and squishing parts of the image.
Zoom is the one thing the OnePlus 9 can't do all that well. There is no zoom camera here. The 2x photo mode relies on the standard 48MP main camera. This does an OK job, but as soon as you see complex textures like grass you can tell they weren't captured with a legit 2x lens.
This is one of the main upgrades of the OnePlus 9 Pro. It has a dedicated zoom camera, and the main sensor is even better. That upgrade isn't obvious in every scene, but the Pro does a bit better in extreme HDR scenes and its night photography is better too.
The OnePlus 9's night images are quite noisy if you use Auto mode. Much of this is cleaned up with Nightscape, OnePlus's low-light photography mode. But the OnePlus 9 Pro is a step or two ahead still, boosting dynamic range far further than the OnePlus 9.
For the best camera you can get from a OnePlus, you need to spend the extra on the OnePlus 9 Pro. Still, this phone is no slouch and the £200 extra puts the step-up version in a completely different category.
The OnePlus 9 can still shoot 8K video at 30 frames per second with either the main or wide camera, and both have stabilisation, making these modes genuinely useful.
The OnePlus 9's top slo-mo mode is 1080p at 240 frames per second, although you miss out on the 4K, 120fps mode seen in the OnePlus 9 Pro. There's a third monochrome camera on the back too, but it's not particularly useful. It's only used in one of the B&W filter modes, something we think only a handful of OnePlus 9 owners will actually take the time to discover. And the sensor is a measly 2MP thing, and must be used for little more than helping out with tone mapping.
The OnePlus 9 also has a 16MP selfie camera. Skin tones in low light aren't as flattering as the Samsung Galaxy S21's, but in terms of detail it's a close match. You get a perfectly solid selfie shooter here.
Software and performance: A high-end OnePlus never lets you down
There are no surprises in the OnePlus 9's software or core hardware. It runs Android 11 with OnePlus's usual coat of paint, which is pretty much free of major changes since the OnePlus 8T arrived. The one bit that made us go "ooh" is Canvas. This is a funky little lock screen feature that makes a line drawing version of your home screen wallpaper, to use as the lock screen background. OnePlus says it's made for faces, but it worked just as well with a swan photo papped on one of our many lockdown walks.
A Snapdragon 888 runs the show here, as in the OnePlus 9 Pro. This is the best processor you can get for Androids at the time of launch, beating the most expensive Samsungs, particularly the UK versions that have Exynos CPUs. After booting up Fortnite, you're even offered a 90fps cap mode, to make the most of the 120Hz screen and powerful processor. This restricts you to "low" graphics, mind, so you should probably stick to the usual 60fps mode.
The OnePlus 9 offers the best Fortnite performance we've seen yet from an Android. Its frame rate really does stick at 59-60fps 90% of the time even with all the visuals maxed. Aside from the usual dip as you tear through the sky at the start of each match, anyway. The game runs faster on the OnePlus 9 than it does on the Samsung Galaxy S21. It's no surprise, but is a reminder of the appeal of keenly priced OnePlus phones.
The performance per pound is excellent. Just about everything is lightning-speed here. The OnePlus 9's RAM is extremely fast. Storage read rates are 1800MB/s, according to the A1 SD Bench app, similar to a fairly high-end laptop SSD. This is the stuff that helps app load quickly, as well as just making games run smoothly.
Battery life: Ultra-fast charging, not ultra-long stamina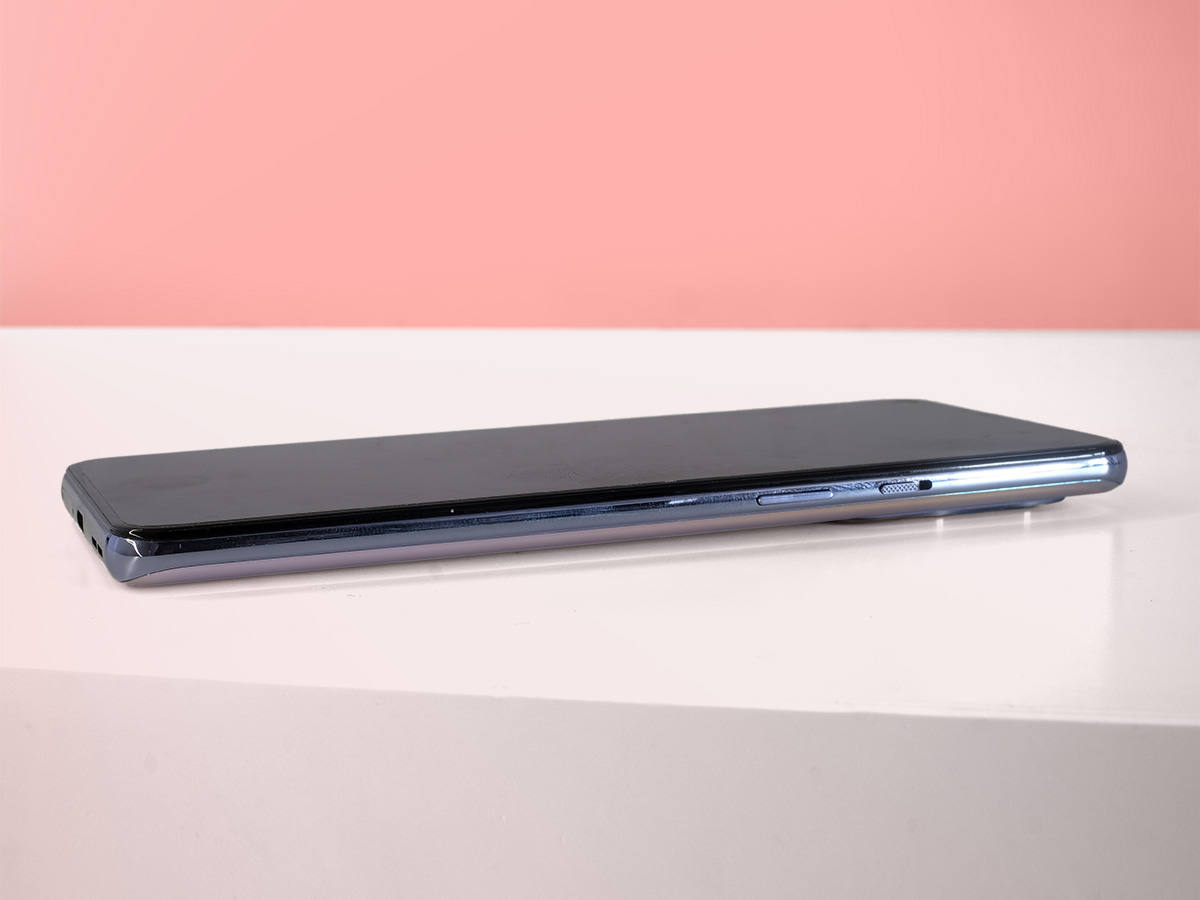 The OnePlus 9, like every other main-line OnePlus to date, is a performance monster at release. Its battery life is not quite as sure-fire a hit. We've mostly used the OnePlus 9 with its 120Hz mode switched on.
It's the only way you get to experience the phone at the height of its powers. Like this, the battery life is not all that impressive. While we've never had to recharge it in the late afternoon, a couple of times it has been hanging by a 1% battery thread by bed time.
It's no great surprise as the 4500mAh battery is not huge, and 120Hz screens aren't that easy on the juice. Things improve a little if you switch to 60Hz, leaving you with a little more to spare by the end of an ordinary day. But when the days of nights out at the pub are back, the OnePlus 9 is a phone we will top up before heading out.
And ideas of two-day use are a fantasy. The OnePlus 9 charging speed is superb, though. It comes with a 65W charger — that's 45W more than the Galaxy S21 can hack — and it gets you from flat to 72% in 20 minutes. There's wireless charging too, but as this is capped at 15W, you don't get those tasty ultra-fast-charging benefits.
OnePlus 9 verdict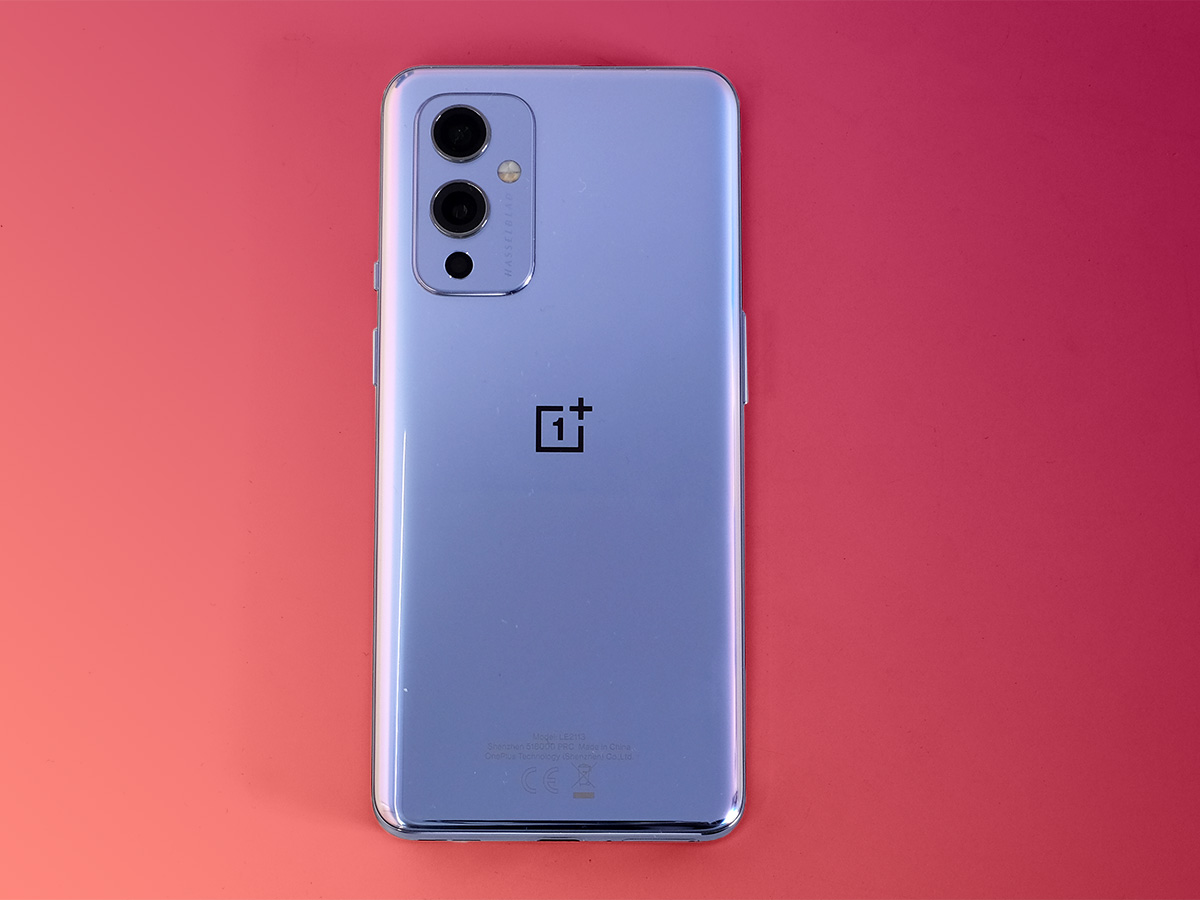 You win some, you lose some.
The OnePlus 9 gets you a much better camera array than the OnePlus 8T for just a fraction more, but we get downgraded from a lovely metal sides to a fancy kind of plastic. Is the sacrifice worth it? We think so, especially as the wide camera also gets an upgrade and you can now shoot 8K video in two fields of view.
So-so battery life when using the 120Hz mode keeps it away from full marks. And if you want a good camera zoom, consider saving up for a Samsung Galaxy S21 or the step-up OnePlus 9 Pro.
Tech specs
| | |
| --- | --- |
| CPU | Snapdragon 888 |
| RAM | 8/12GB |
| Storage | 128/256GB |
| Cameras | 48/50/2MP rear cameras 16MP front camera |
| OS | Android 11, Oxygen OS |
| Display | 6.5in Full HD OLED screen |
| Battery | 4500mAh battery 65W charging |
Stuff Says…
A camera upgrade balances out a design downgrade, to keep OnePlus phones easy to recommend to most folk
Good Stuff
Major camera improvements
Powerful CPU
Ultra-fast charging
Bad Stuff
Has plastic sides
Battery life is not amazing
No zoom camera