Nokia 6 review
New Nokia, familiar looks - but that ain't no bad thing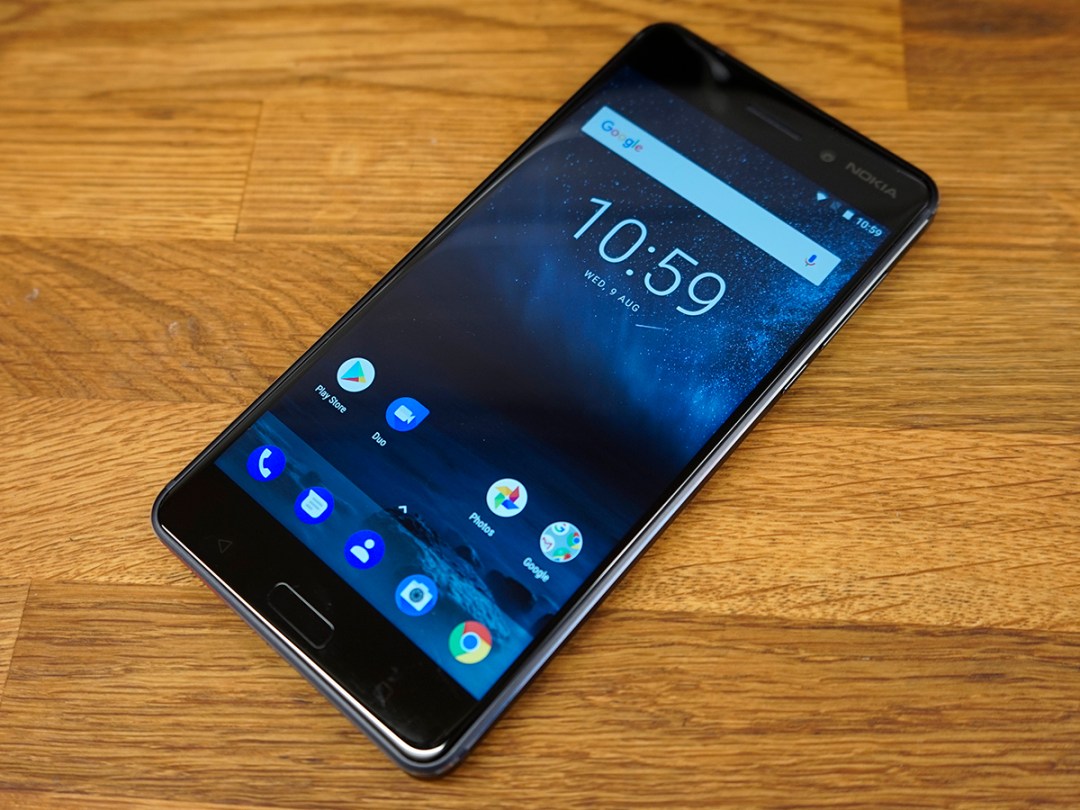 You can't keep a good dog down – and apparently the same applies to phone companies.
Nokia announced its resurrection earlier this year with a modernised 3310, but budget burnerphones will only get you so far. Now it's time to talk business. With HMD Global behind the helm, the Nokia 6 is the first 'real' new Nokia phone, built to take on the might of Motorola's Moto G5.
It's a mid-range blower at heart, then, but on the surface it's a real looker, with a pure Android experience and competent camera to boot.
As far as new beginnings go, this is definitely more The Force Awakens than The Phantom Menace.
DESIGN & BUILD
The Nokia 6 feels new and familiar at the same time. The angular design could almost be called boxy, just like the Nokia Lumia windows phones of old, only here you get aluminium and 2.5D Gorilla Glass instead of polycarbonate plastic.
It's thin enough at 7.9mm, but feels undeniably chunky in your hand – those thick flat edges making their presence felt. The black finish and silver trim add an air of class that you won't normally find in a mid-range phone, though.
On the back, the camera module sticks out ever-so-slightly from the chassis, but not so much it'll be getting stuck on your jeans whenever you pull it out of a pocket.
Up front, the home button doubles up as a fingerprint sensor, and is quick enough – when it recognises your print. The sensor is seriously skinny, and seems to get easily confused if you don't cover it completely with your digits. It's not like Nokia ran out of room to fit a bigger sensor, either – there's plenty of space, so it's kind of baffling as to why it's so small.
SOFTWARE & ANDROID
If subtle was the name of the game when it came to design, the same mantra applies to software. You'll need to be a spot-the-difference expert to see where Nokia has made changes to Google's stock version of Android – it looks pure vanilla.
You get the same circular icons and swipe-to-open app drawer as the Pixel and Pixel XL, all the usual Google apps, and absolutely no bloat.
The single pre-installed Support app adds a shortcut to the user manual, warranty, and community forums – but that's it. With Android itself eating up 10GB of storage, it leaves you with 22GB to fill with apps, games and files.
With no custom UI to update every time Google pushes out security fixes, it should mean the phone stays up to date, too. Through the course of this review, the Nokia 6 got August's Android security update on the same day as Google's own Pixel – which is a great indicator of what to expect when Android O rolls around later in the year.
SCREEN & SOUND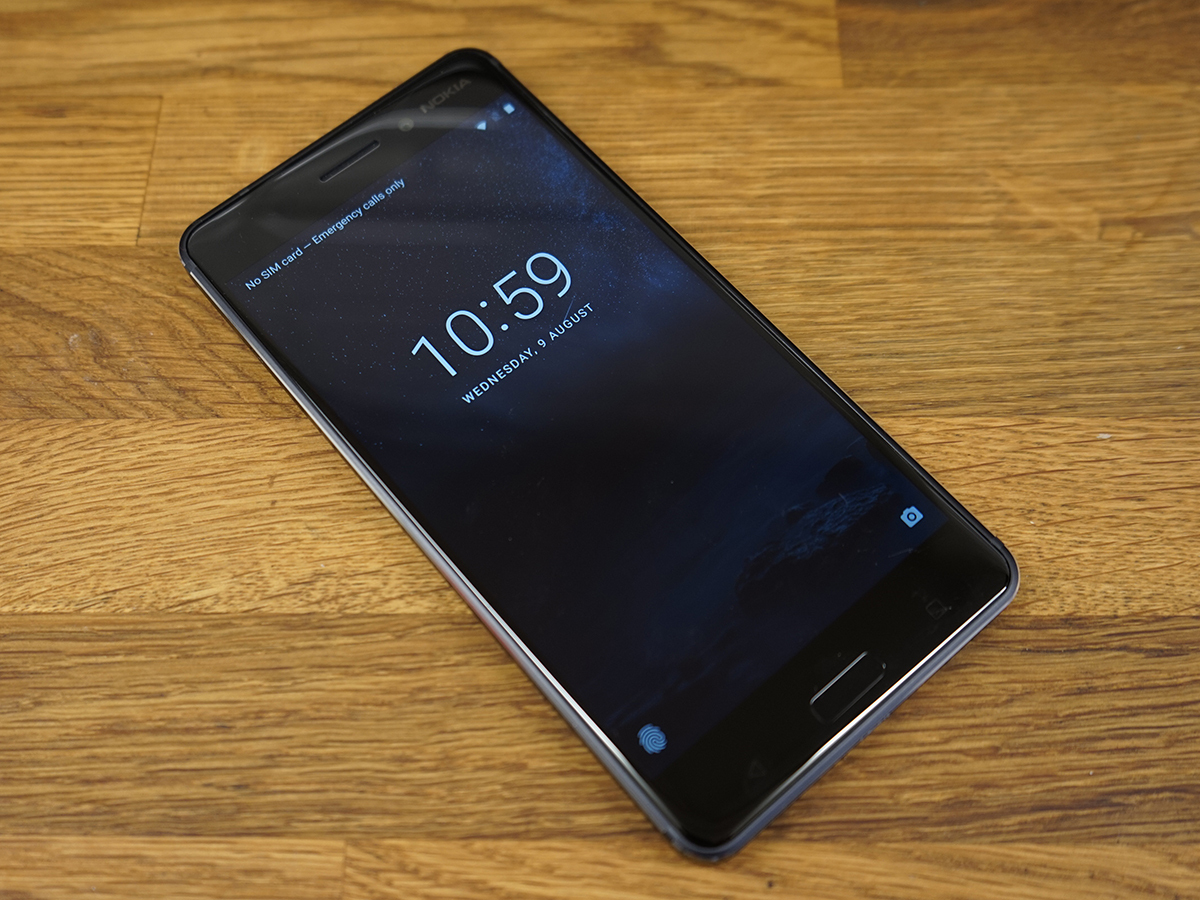 With colour and definition you wouldn't normally expect for the price, the 5.5in Full HD display is a real winner.
A very respectable 403ppi pixel density means photos and videos pack in plenty of detail, and text looks sharp even when the font is tiny. Viewing angles are great, and it easily gets bright enough to use outdoors on all but the sunniest of days. Dismal British 'summer' afternoons certainly aren't a problem.
Colours aren't overly vibrant, and are mostly accurate, but do lean towards the cooler side of the spectrum. You can't boost them through the settings menu, or tweak a custom colour temperature, so it's very much like it or lump it.
There's no blue light filter, either, so you'll want to limit your phone time before bed unless you enjoy counting sheep.
Officially, the Nokia 6 is certified for Dolby Atmos sound – but really, the dual speakers aren't going to give your home cinema system a run for its money. They're surprisingly loud, with a clear high-end that makes podcasts sound great, but there's no real bass to give presence to your music and videos.
PERFORMANCE & BATTERY LIFE
With an octa-core Snapdragon 430 CPU and 3GB of RAM under the hood, the Nokia 6 should be more than powerful enough for a mid-range phone. Emphasis on should.
You won't be staring down constant stuttering or freezing, but everything just feels that little bit slow to react to taps and swipes. Apps take a second or two to load up, and Android 7's split screen mode really hammers home that this is a budget handset.
It's probably not going to bother you if you're used to cut-price phones, but if you're stepping down from an ageing flagship, the transition might be a little jarring.
That all applies to gaming, too. Loading times aren't exactly rapid, and unless you have the option to dial down the graphics settings, most 3D titles are going to drop frames.
It's not like the low-power chip helps with longevity, either. The 3000mAh battery lasts long enough to get you through the day, although you'll be getting seriously low if you spend your commute playing games or streaming video rather than listening to music or scrolling through social media. Plug it in overnight, or you'll be met with a flat battery in the morning.
Charging isn't exactly quick, either, taking about three hours over microUSB. Rapid charging (and a reversible USB-C connector) would have been nice, but are both sadly missing. At least NFC is on board, giving the Nokia 6 an edge over Honor's cheaper 6a.
NOKIA 6 CAMERA
Nokia might have once ruled the resolution roost when it came to phone cameras, courtesy of the Lumia 1020, but we'll have to wait a little longer to return to those glory days. The Nokia 6 sticks with a single 16MP sensor, which feels like the company is playing it safe, in a world where dual-camera phones are increasingly common.
That attitude might have paid off, though, as this snapper really is pretty good for the cash. Indoors, and in well-lit locations, you'll struggle to get better without spending significantly more – pictures here look colourful, detailed and well exposed. Outdoors, dynamic range can be a problem, with bright skies being all too easy to blow out.
Auto-HDR isn't all that effective here, and manually forcing HDR on adds an extra second or two between tapping the shutter button and your photo being saved. It still struggles with really bright skies and shiny subjects, but can just about rescue overcast images and preserve colours that would be lost on a lesser phone.
You don't get any kind of image stabilisation, so low light shooting can be a little harder to get right. Especially because the flash is so keen to get involved, for scenes that other cameras are happy to leave naturally lit. Noise and a lack of detail tend to creep into your shots, but it can pull in an impressive amount of light if you've got steady hands.
NOKIA 6 VERDICT
It might be the new Nokia's most expensive offering right now, but the 6 is still strictly stuck in the mid-range. Sure, it's well built, and has a screen that's punching above its weight, but it just doesn't really do anything dramatic to stand out from the crowd.
The Moto G5 does much of the same, albeit with more plastic than metal, but for less cash, and Honor's 6X adds dual cameras and a faster CPU for the same amount. Even if that does mean putting up with EMUI.
A competent camera and premium looks go a long way, but they come saddled with a sub-par CPU. If you can put up with some sluggishness, it's still a good buy – as now that Lenovo has killed off the P2, there's not much else out there for £199.
Just keep in mind an extra £50 will buy something far more suited to Android's apps and games.
Tech specs
| | |
| --- | --- |
| SCREEN | 5.5in Full HD IPS LCD |
| CPU | Qualcomm Snapdragon 430 octa-core |
| MEMORY | 3GB RAM |
| CAMERA | 16MP, f/2.0 rear w/ PDAF, dual-LED flash/ 8MP, f/2.0 front |
| STORAGE | 32GB onboard, microSD expansion |
| OPERATING SYSTEM | Android 7 Nougat |
| BATTERY | 3000mAh non-removable |
| DIMENSIONS | 154x76x7.9mm, 169g |
Stuff Says…
Sluggish performance aside, the new Nokia's mid-ranger gets a lot right
Good Stuff
Decent screen size matched by picture quality
Well-built, feels suitably premium
Stock Android is a joy to use
Bad Stuff
Just not enough CPU oomph
Faffy fingerprint reader
Feels overly chunky
Camera struggles in tricky lighting