Motorola V3iM review
At last, Motorola RAZR with iTunes software is available in the UK. We put the long-awaited arrival to the test.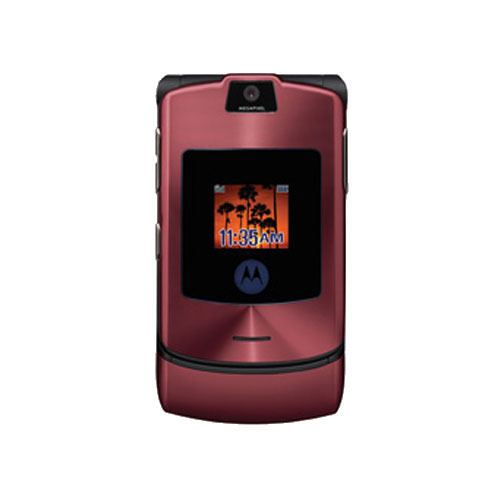 Tell us what the 'M' stands for
Finally, after the disappointment of the chunky, clunky iTunes-friendly ROKR and the iTune-less RAZR V3i, the V3iM – that's 'M' for music – has arrived, with iTunes software built in.
Other specs remain the same – it's an undernourished GPRS phone with a passable 1.3Megapixel camera – and yes, it still has Motorola's ugly menu system. The inclusion of iTunes helps to make it feel more intuitive, like having an iPod on your phone, right down to the album artwork feature.
Hook the phone up to your Mac or PC via USB and iTunes automatically fills the phone. It'll even play any copy-protected songs you've bought from the iTunes Music Store.
Stereo sounds
The V3iM comes with a microSD card to store tunes on, plus a handy stereo headset. Alternatively, just make friends on public transport by sharing your music by using the tinny – but loud – built-in speaker. (Please, under no circumstances actually use this feature, especially if you see any of us.)
Unlike its fatter, 3G-enabled brother, the V3iM doesn't feature the A2DP headphone profile for wireless streaming to Bluetooth headsets, which is a real shame. It also lacks dedicated music playback buttons, although when iTunes is running with the flip closed you can change the volume and pause the music using external buttons.
The memory card is hot-swappable, though you do have to pull the phone's back cover off to access it. Since Apple has hobbled iTunes mobile software by only allowing it to hold a maximum of 100 songs, it's a useful feature. This means it's not worth buying cards with a capacity of over 512MB unless you want to use the disc mode feature to carry documents around with you.
We used iSync on the Mac to synchronise diary and contact information with the V3iM via Bluetooth, which worked fine although contacts with multiple telephone numbers generate individual cards for each number, leading to an unwieldy number of contacts to scroll through.
RAZR–sharp styling
All in all, the V3iM extends the appeal and lifespan of Motorola's RAZR, but it doesn't quite have the appeal of the dedicated music phones being made by Nokia and Sony Ericsson. In particular, the 100-song limit means that iTunes is more of an added bonus than a serious alternative to a standalone MP3 player.
Ultimately, we'd like to see iTunes available as a free download for all phones, just as it's available for all computers. But with Apple desperate to ensure everyone on the planet is carrying an iPod, that's unlikely to happen any time soon. Guess we're going to have to make do with a maroon-coloured Moto until Apple's iPhone appears…