Motorola RAZR 40 Ultra review: Iconic once more?
Flippin' heck – Moto's done it!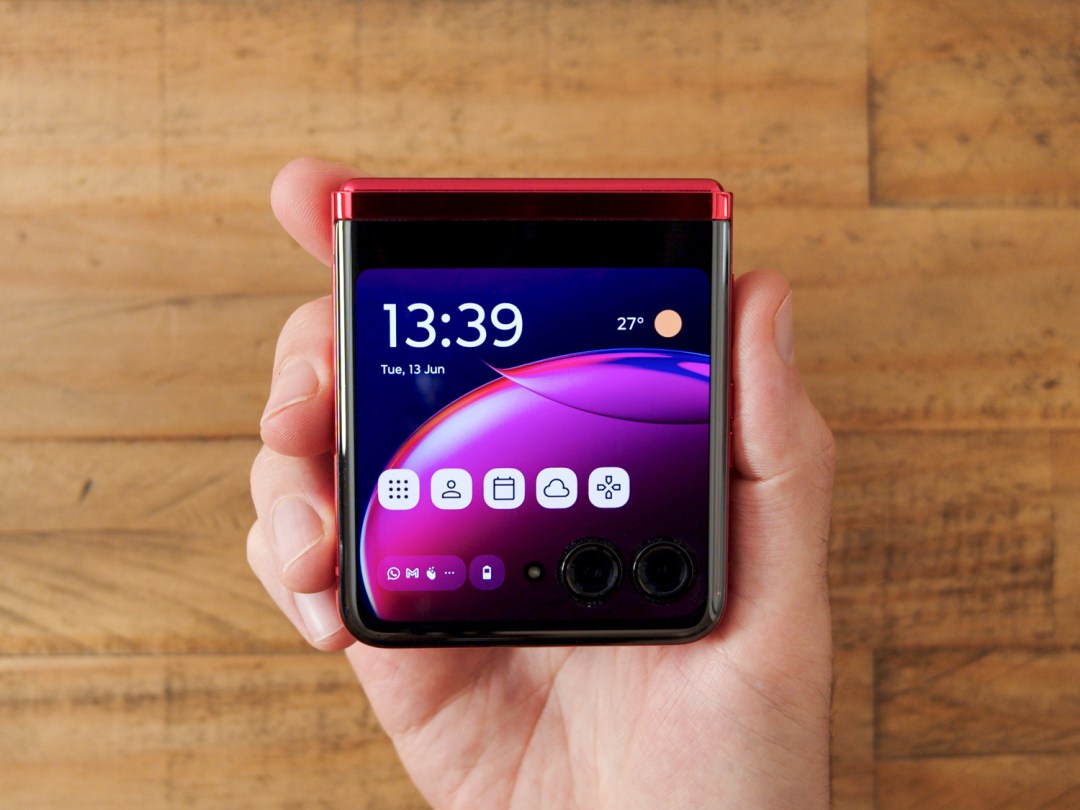 Motorola's iconic clamshell line has been making a comeback for almost half a decade now. Ever the trier, Moto has kept iterating, tweaking and refining – and finally we have a foldable phone worthy of the RAZR name. The Razr 40 Ultra is the thinnest flip phone around, and if you pick it up in Magenta with a vegan leather back, it's the lightest too. Yet it also has the biggest cover screen, and it's that cover screen which makes all the difference.
Unlike the Samsung Galaxy Z Flip 4 and Oppo Find N2 Flip, the Razr's cover screen can run full apps, saving you from diving into the main display. It also inadvertently saves on battery, and helps make the phone feel seriously special day to day. In case you couldn't tell, we're impressed – but it isn't perfect. Let's get into the finer details and figure out if Motorola's new flip phone is the best foldable out now, or if you should save your pennies for Samsung's rumoured Galaxy Z Flip 5.
Design: Viva Magenta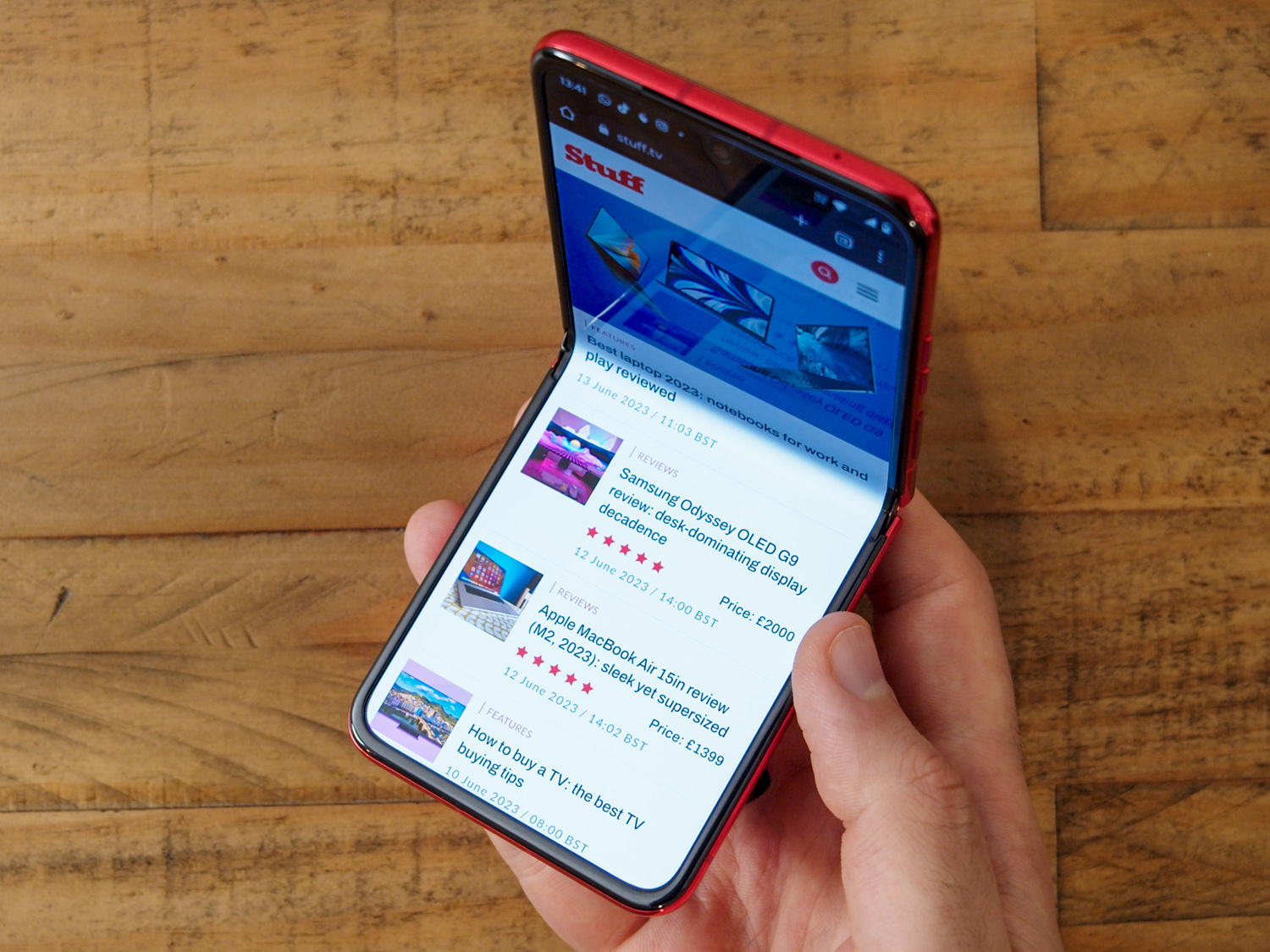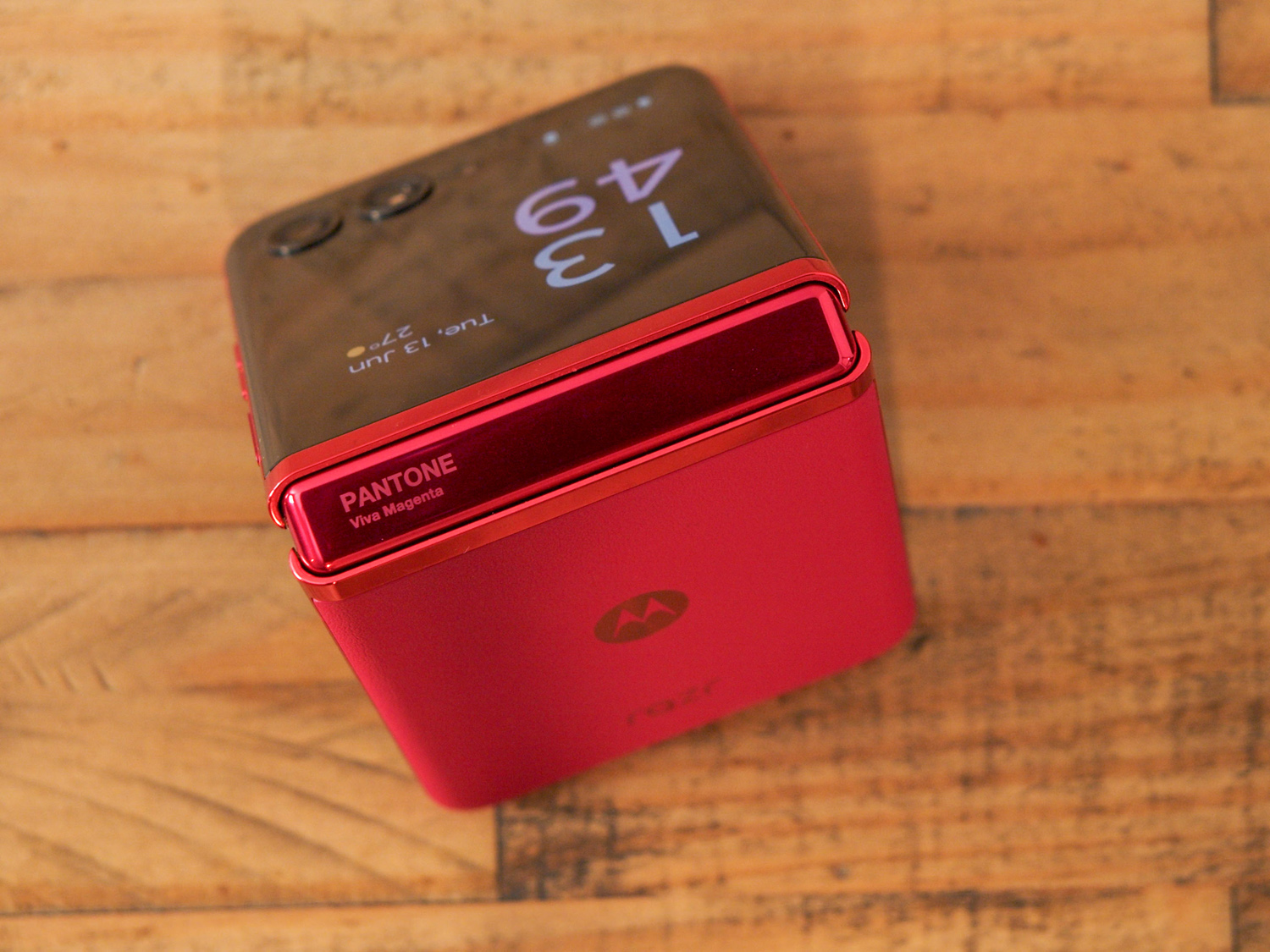 Launching in three colours (Glacier Blue, Infinite Black, and Pantone colour of the year Viva Magenta) the 40 Ultra is an attention-grabbing phone, especially in zingiest, pinkest guise tested here. While the black and blue versions sport glass backs, Viva Magenta gets vegan leather and a slightly lighter frame at 184.5g, versus the glass 188.5g models.
The standout design highlight is the Razr 40 Ultra's cover screen. It becomes a bold feature, with an almost mirror finish until it lights up. 
The hinge mechanism isn't as solid as that of the Galaxy Z Flip 4 or Z Fold 4, but unlike Samsung's foldables, the Razr 40 Ultra shuts flat with no gap. It also stays part-open between around 45º and 140º. That means you can use the camera app to get a steadied shot, or watch optimised video apps like YouTube, angling the screen for comfortable viewing. 
The cover screen also opens up in tent mode, so you can part-open the Razr and watch videos on the front display. Yes, it's small, but for casual watching, thanks to the extra size, it's manageable, and we found unique use cases in our time with the phone. For example, on a flight, we rested the part-folded Razr in the magazine rack of the seat in front of us, putting it at eye level and watching our content hands-free.
Motorola's levelled up the IP rating of its latest Razr too. While last year's missed out on official ingress protection, as did the OPPO Find N2 Flip (and most foldables), the Razr 40 Ultra is IP52 splash and dust resistant. This out-ranks the dust resistance of the IPX8 Galaxy Z Flip 4 but falls behind on water resistance, so submerging the 40 Ultra is out of the question.
The Razr's buttons and ports match up to last year's model. On the right are power and volume buttons, at the base is a USB-C port, and there's also a bottom-firing loudspeaker that's part of a stereo audio setup tuned by Dolby. The phone ships with a shell in the box, which is embellished with two magenta strips to give it a little pop, and all things said and done, between the style and the utility, the Razr is a very fun to use, well-made flip phone.
Screens: Cover model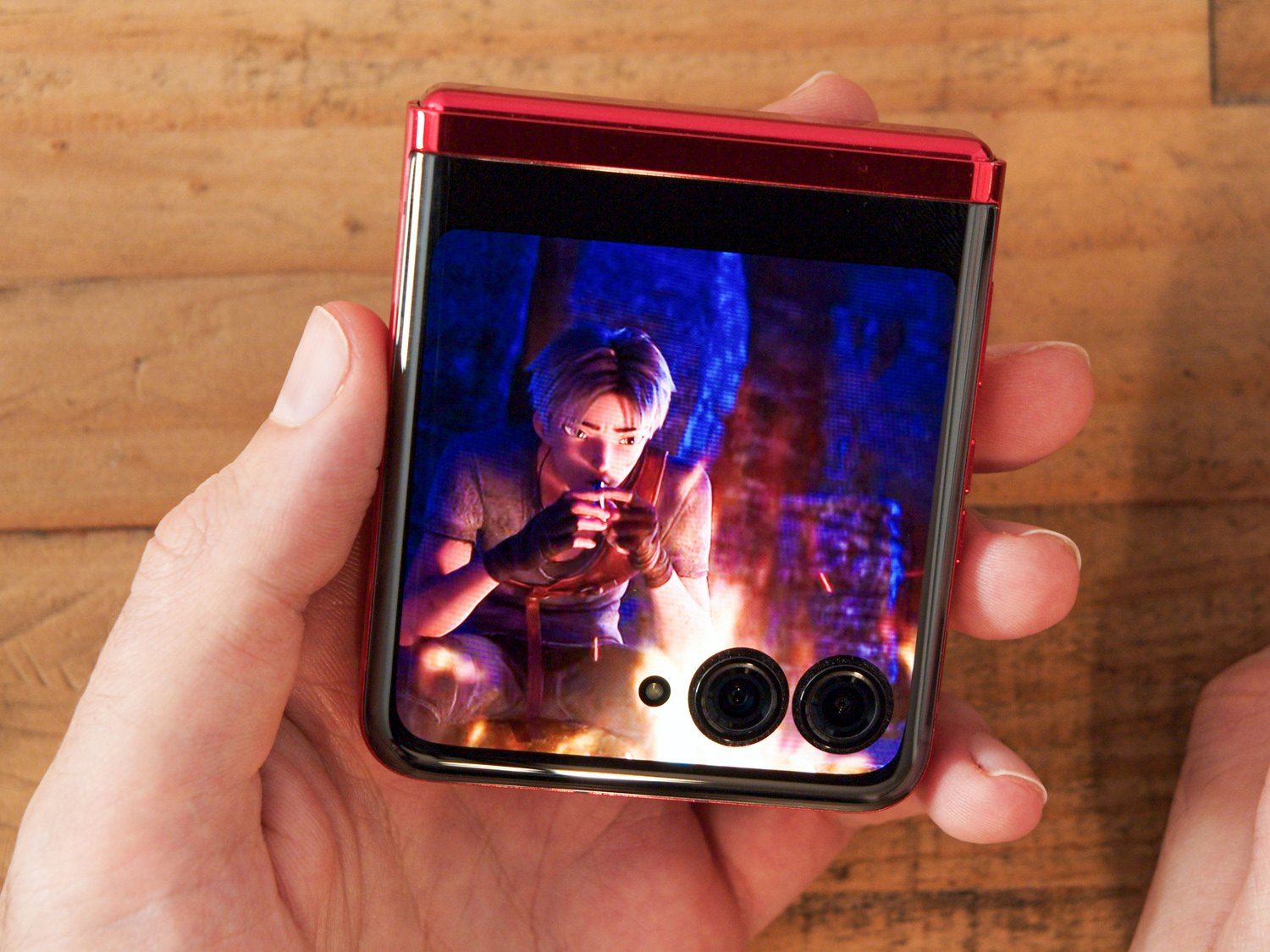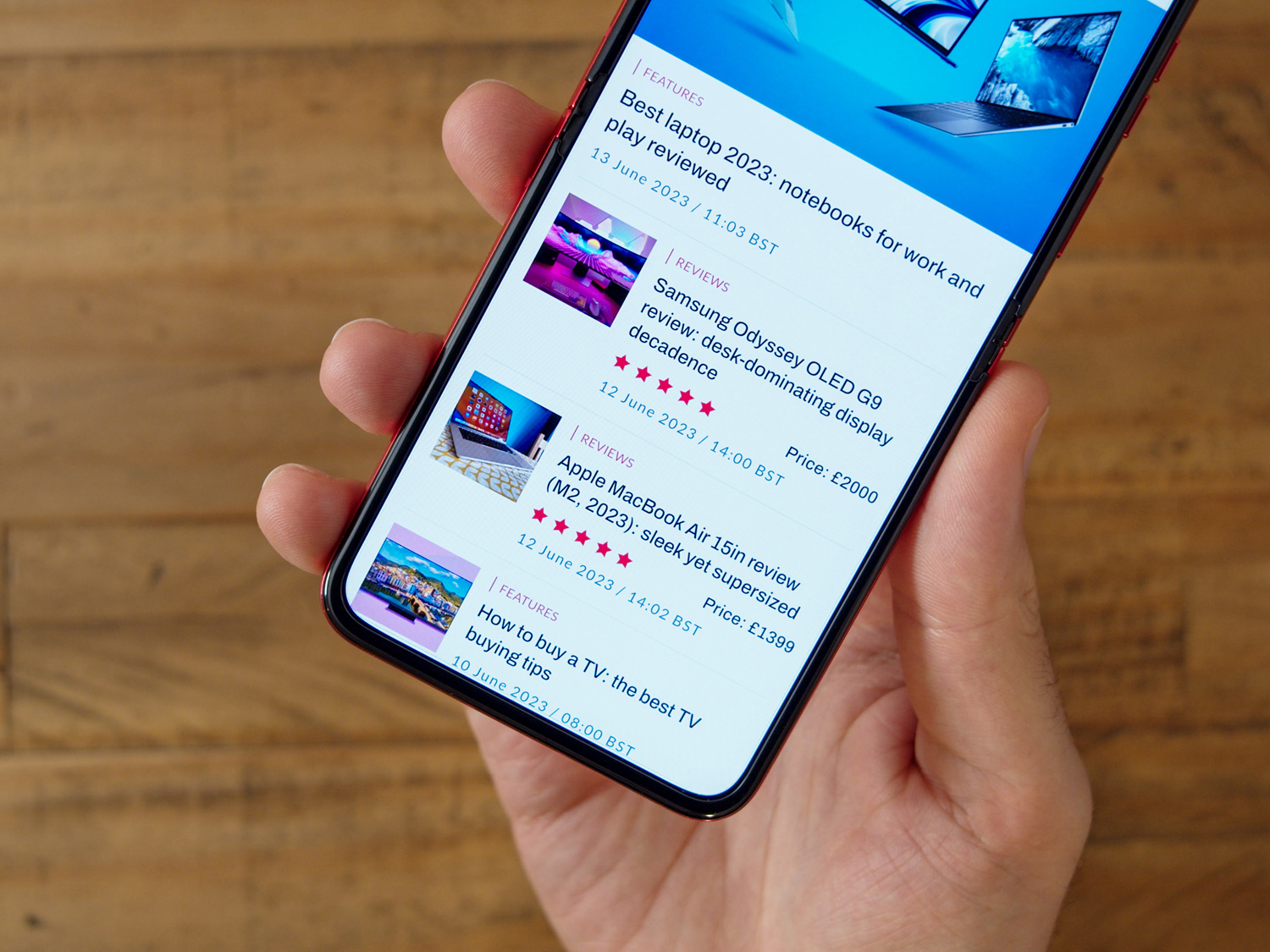 The Razr 40 Ultra's cover screen is a massive 3.6in, and thanks to its square shape, it has a much larger surface area than longer cover screens on Oppo and Samsung flip phones.
More than just big, it's also sharp and smooth. Running with OLED screen tech, a 144Hz refresh rate, and a pixel density of 413PPI. That's the same clarity as the inner screen, a really nice touch. It was responsive in our time with it, and while some apps are cramped, as is typing, it still gave us enough room to swipe through its interface and most third-party apps without too many fumbles, creating a much better experience than last year's Razr.
Navigation gestures are a bit fiddly on the cover screen, and you can't independently activate navigation buttons on it, and gestures on the main display. This is something Motorola should look into, but that doesn't take away from the responsiveness of the front display.
Unflip it, and the 40 Ultra's main display unfurls. Thanks to its tall 22:9 aspect ratio and 6.9in size, it's a reach, to say the least, and with its pOLED screen tech and wide Full HD resolution, Moto's display also showcases a fine-looking picture. We used it in direct sunlight without any issues – unsurprising given the peak brightness of 1400 nits, and thanks to good viewing angles and a super-smooth 165Hz refresh rate, the Razr 40 Ultra screens impress inside and out.
It's also worth touching on the crease, or lack thereof. When unfolded, the Razr 40 Ultra's fold-line is less visible than any other flip phone, and while you can feel it, it's very subtle – impressive stuff from Moto.
Cameras: Compromises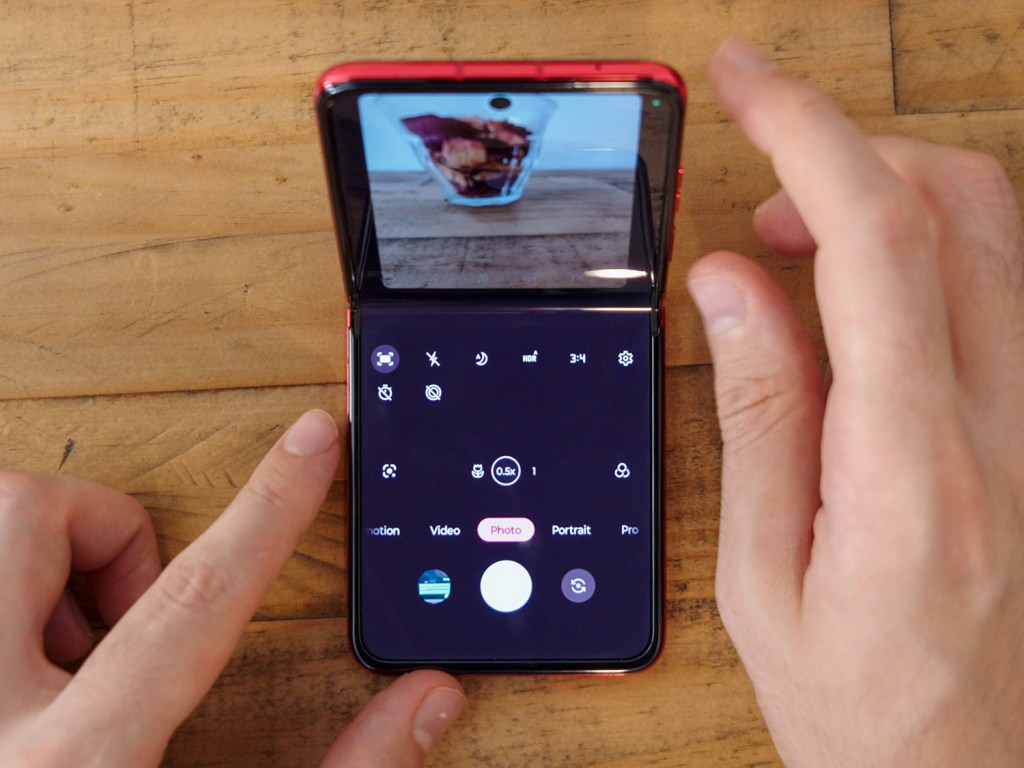 The camera setup is definitely the Razr 40 Ultra's weakest area on paper. The main sensor is 12MP and has 1.4-micron pixels. While you've got phones like the Vivo X90 Pro and Xiaomi 13 Ultra with giant 1in sensors, the Razr 40 Ultra's is a more modest 1/2.55in. That said – it's the same sensor Samsung uses on the Z Flip 4, so it's still competitive.
While all flip phones drop the camera specs in some areas – the Find N2 Flip misses out on OIS, and Samsung's ultra-wide camera lacks autofocus, Moto packs in a super-wide f/1.4 lens and OIS on the main camera to let lots of light in and keep things steady.
The Razr 40 Ultra's 13MP ultra-wide camera is relatively competitive, packing autofocus and doubling up as a macro camera. There's also a 32MP selfie camera in the main display, so you can half-fold the phone and enjoy video calls without having to hold it.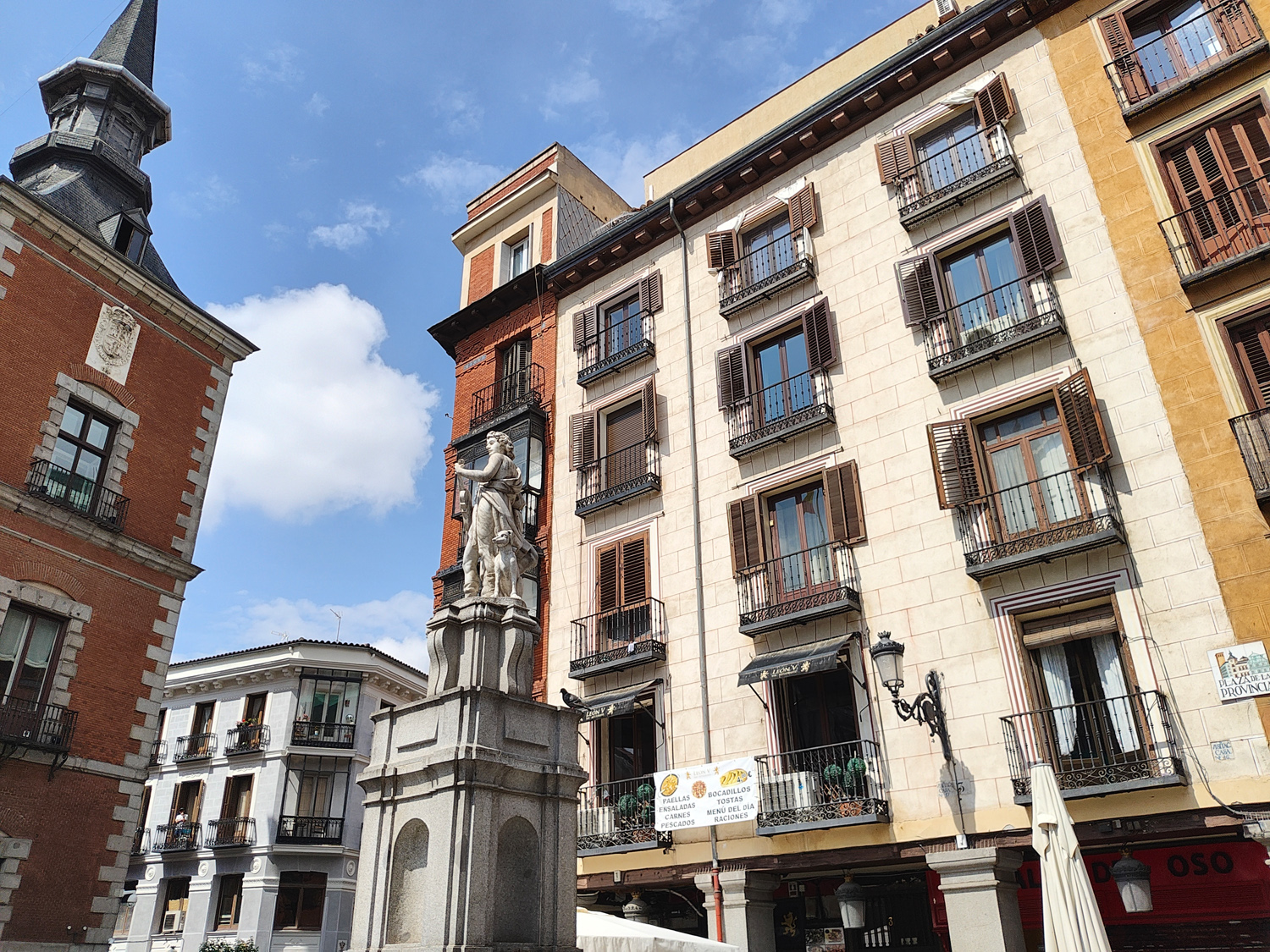 Thankfully, the Razr 40 Ultra's photos are generally decent when taken in bright environments. Shots pack fairly good detail, punchy contrast, and nearby subjects even get some shallow depth in there. Video is also held together well, even at 4K resolution, and selfies look flattering – especially those taken on the 32MP punch-hole camera in the main display.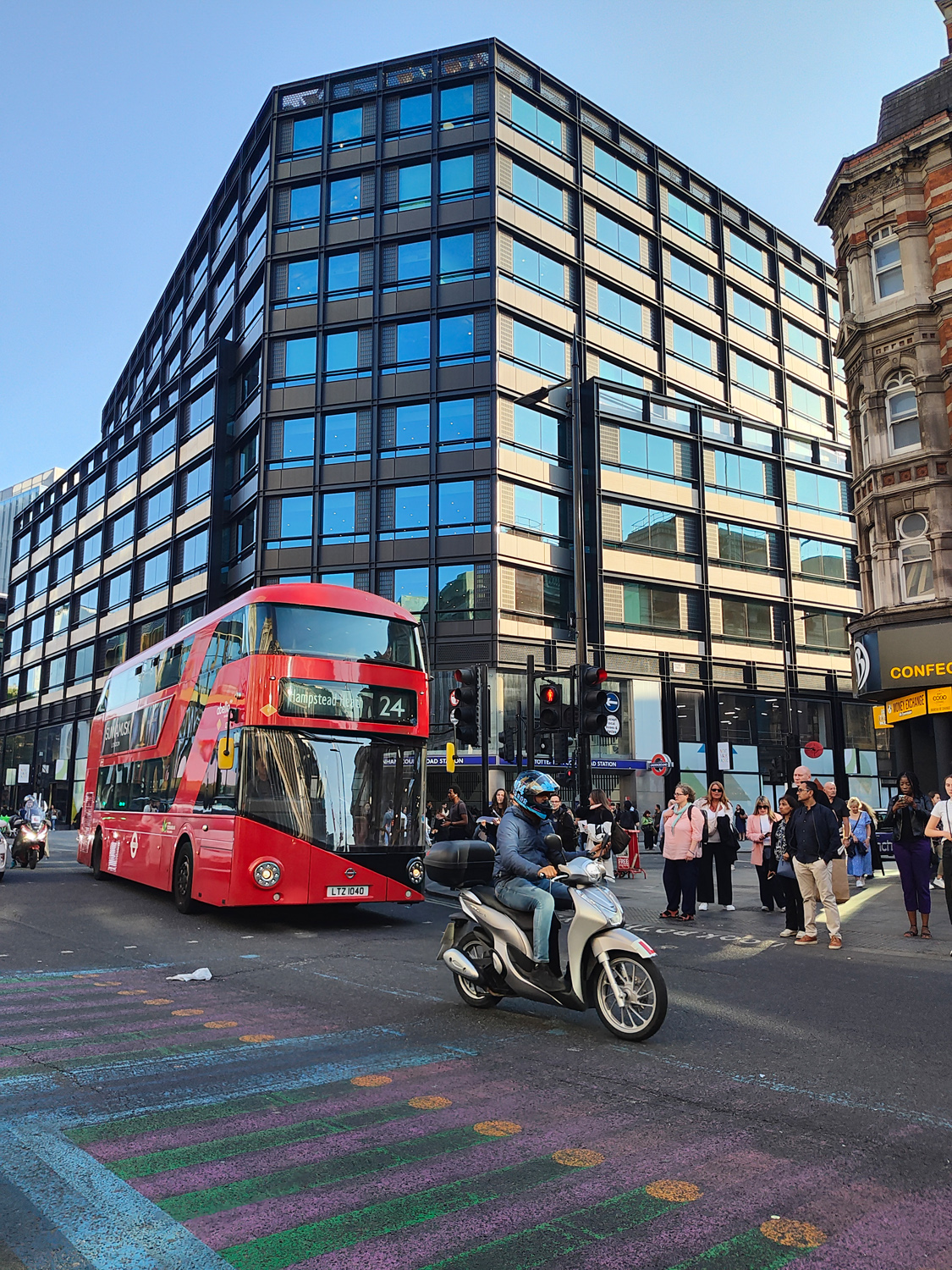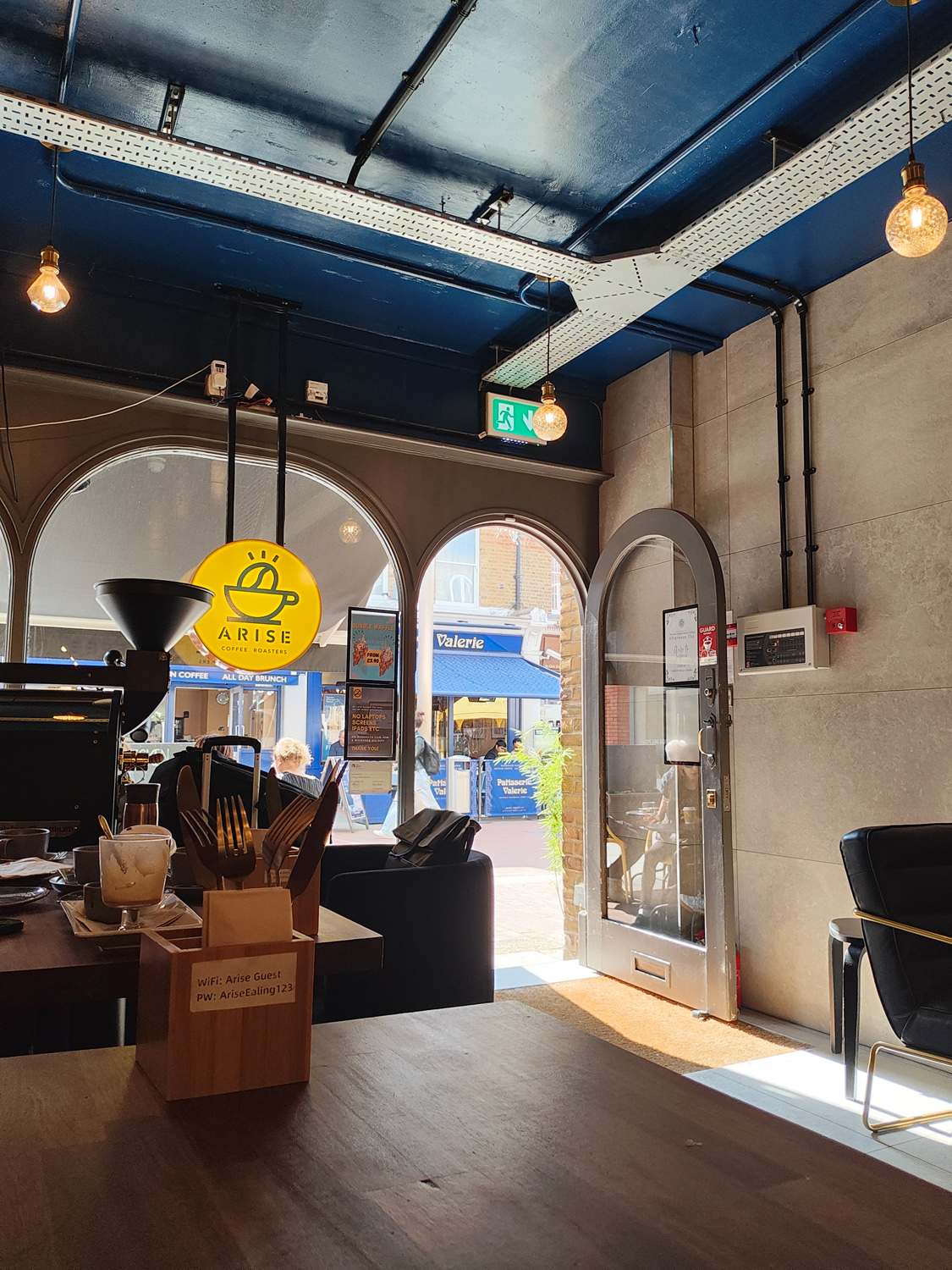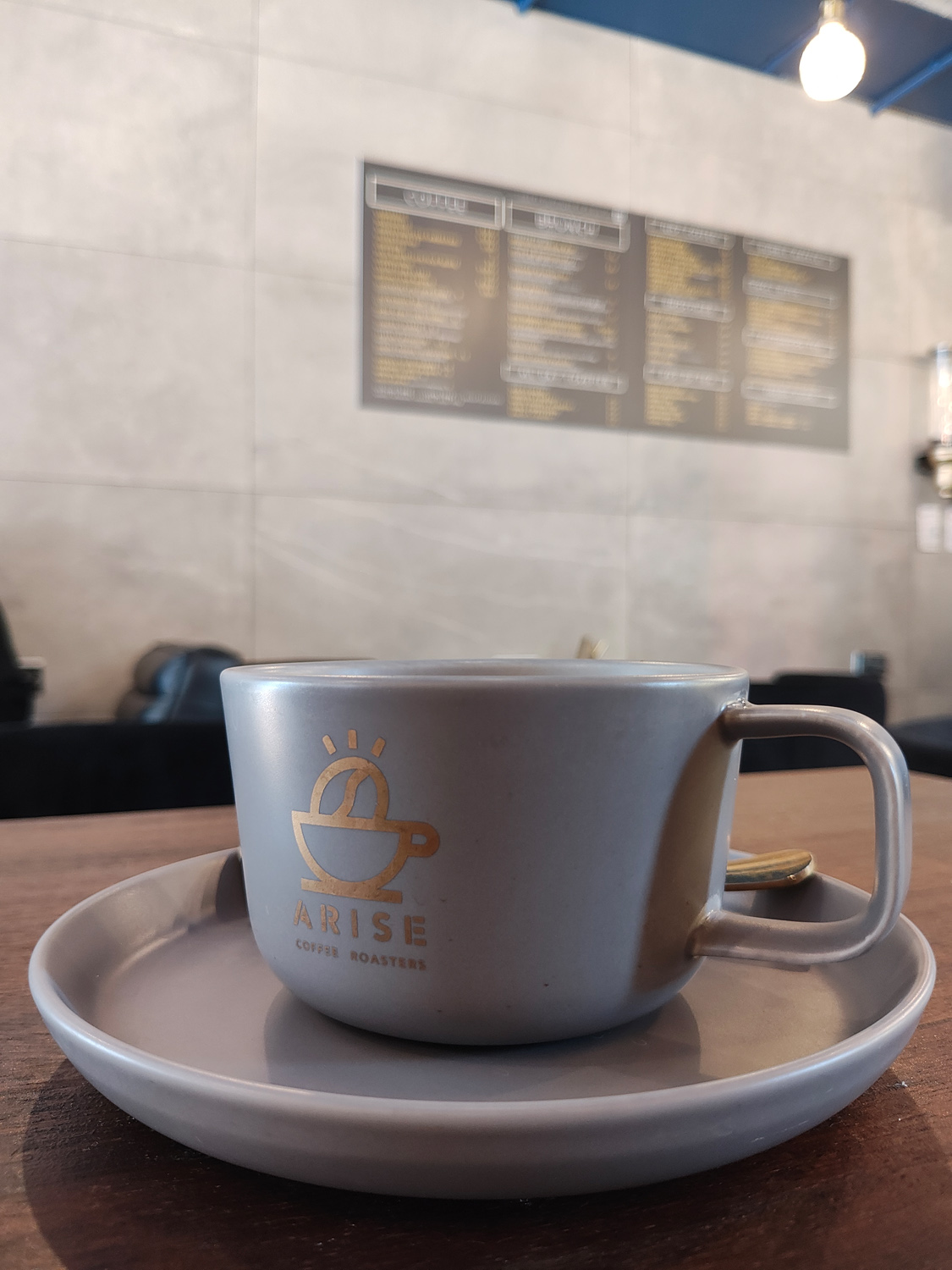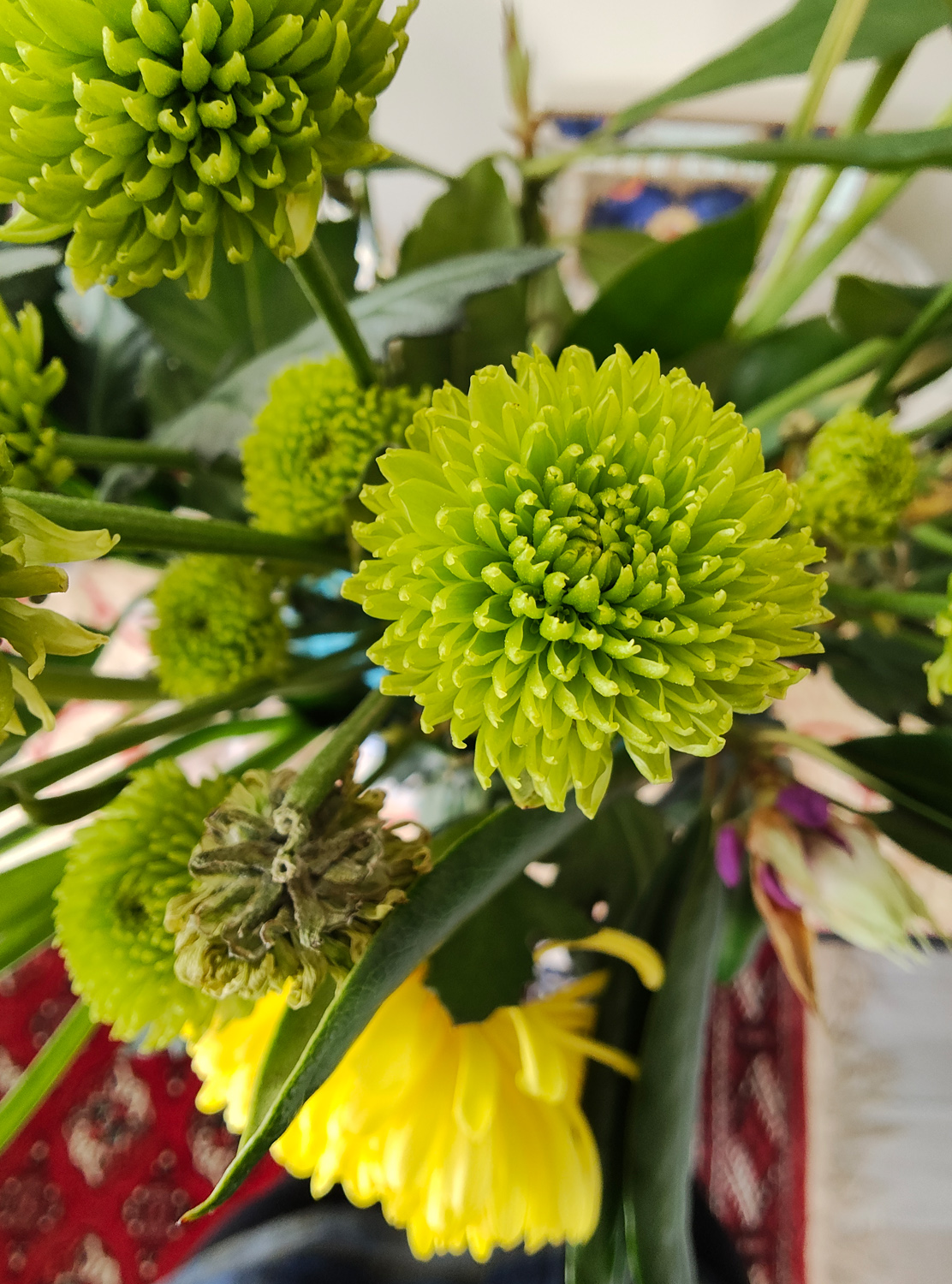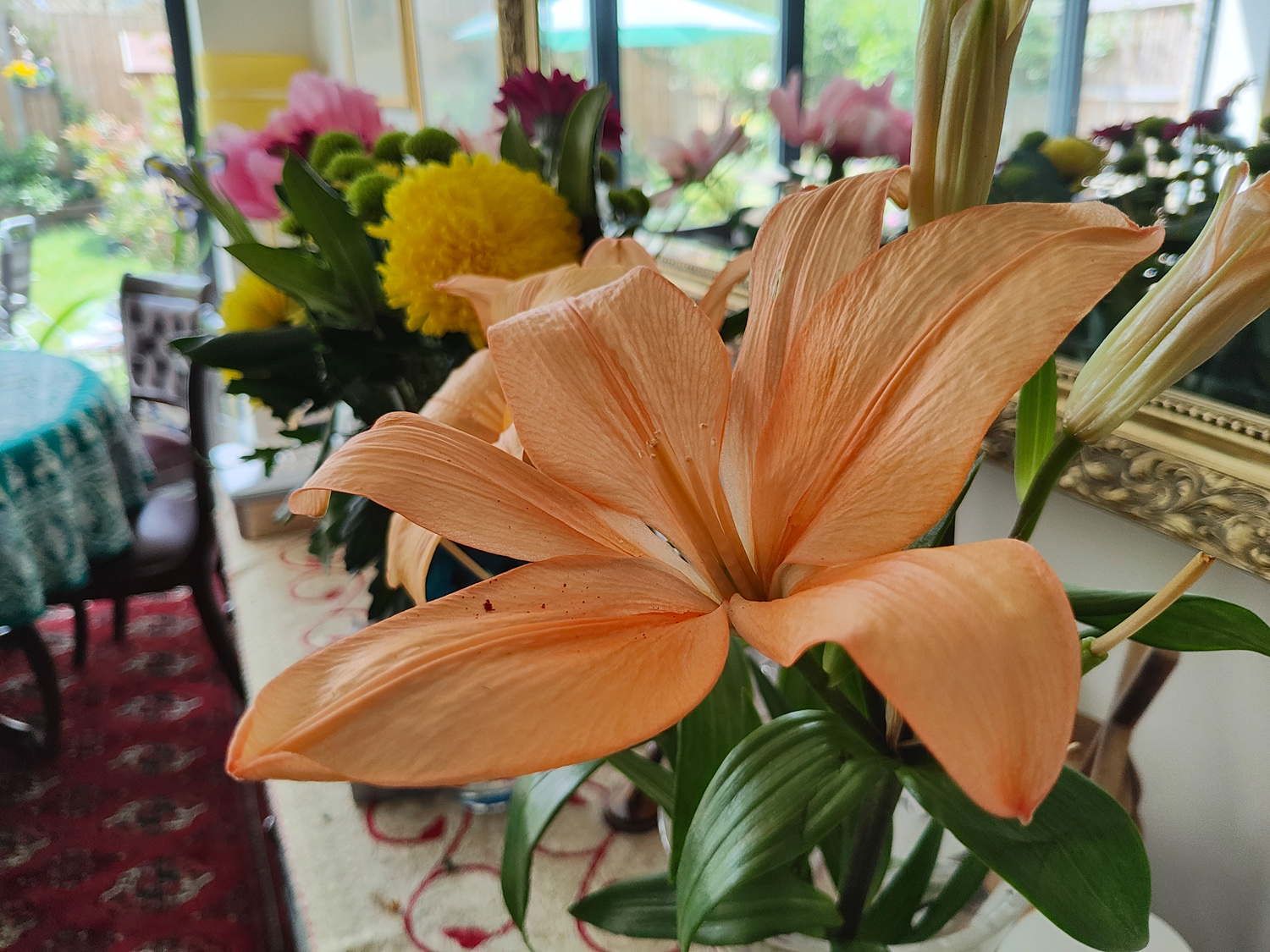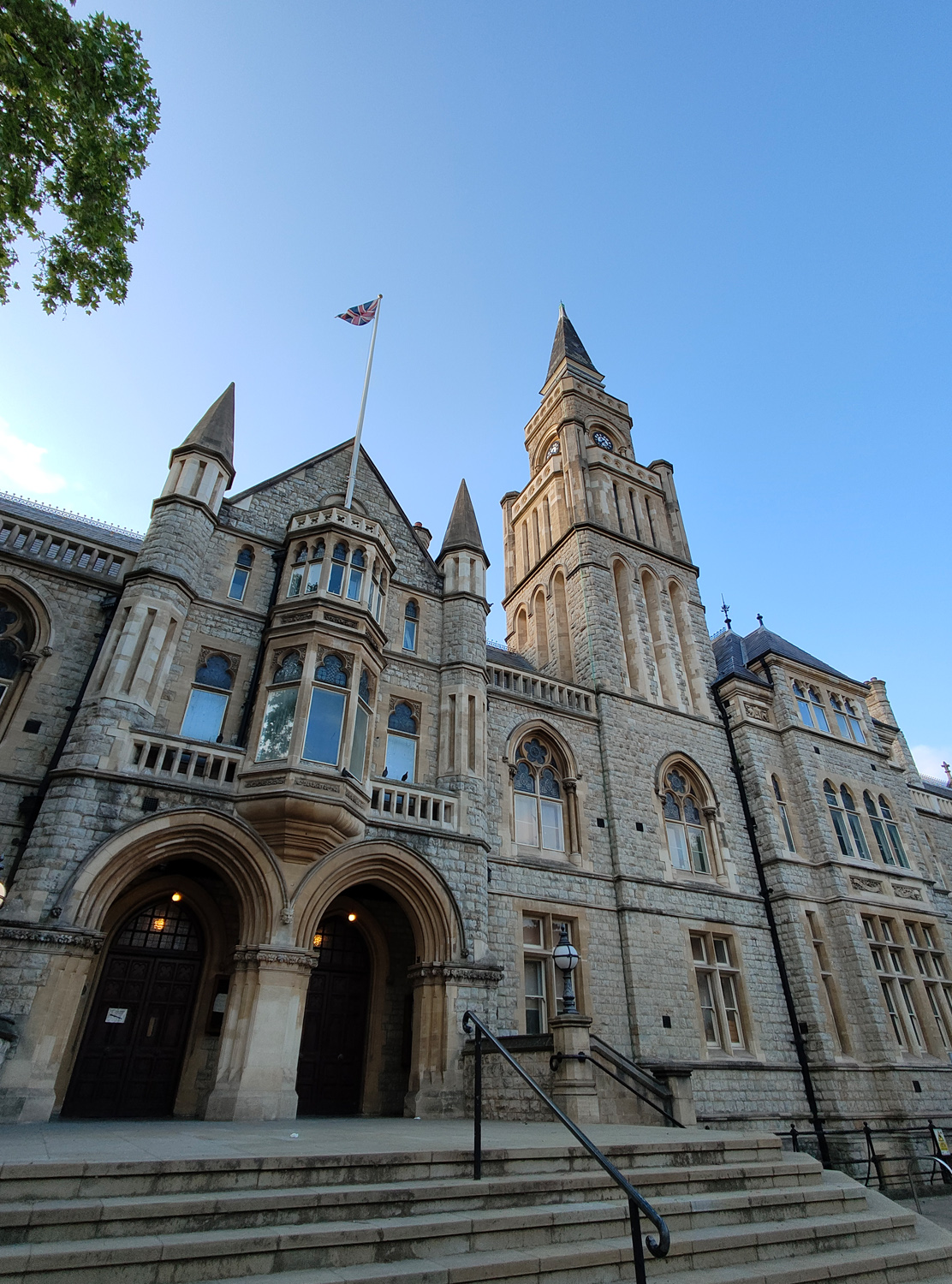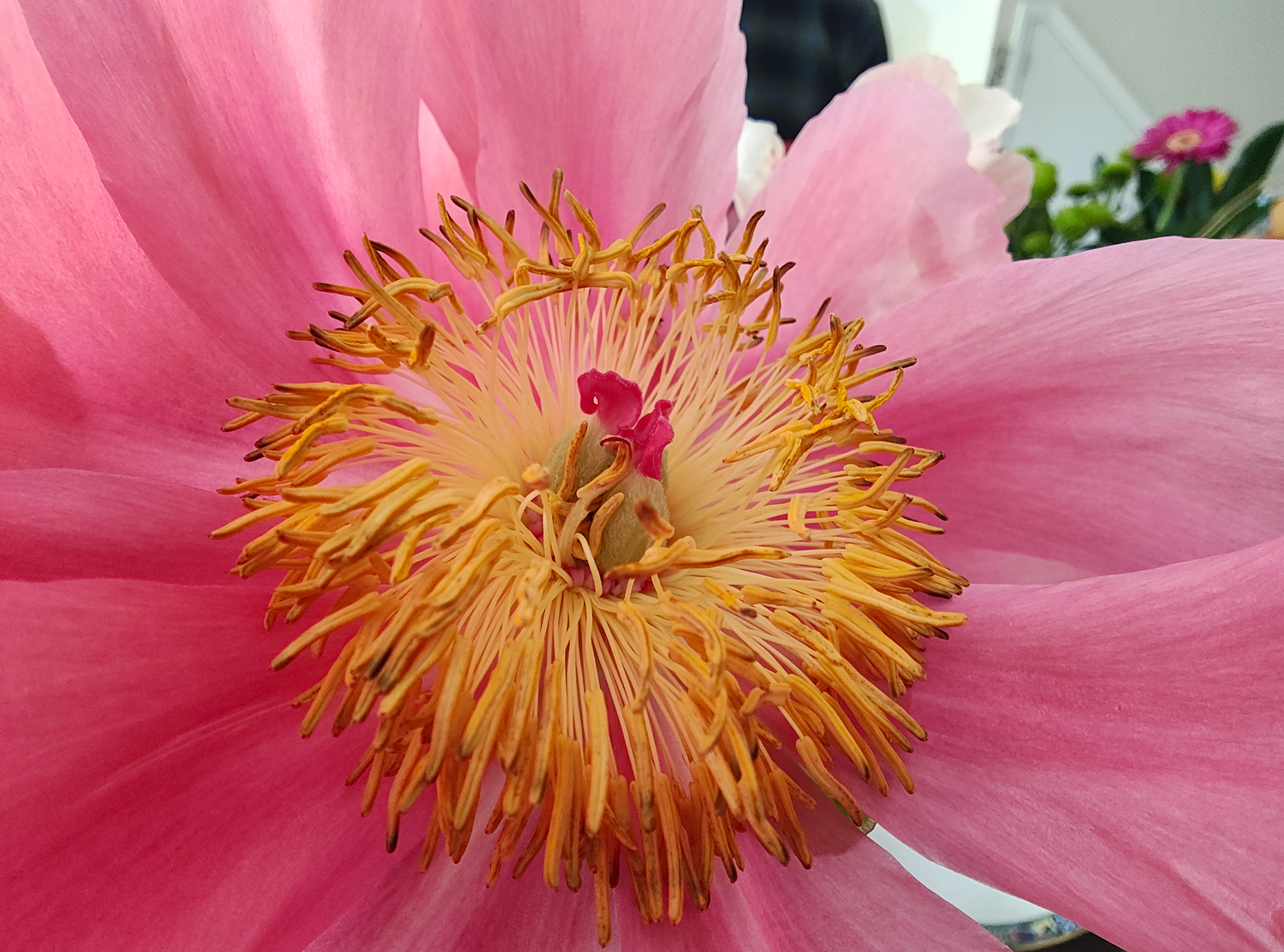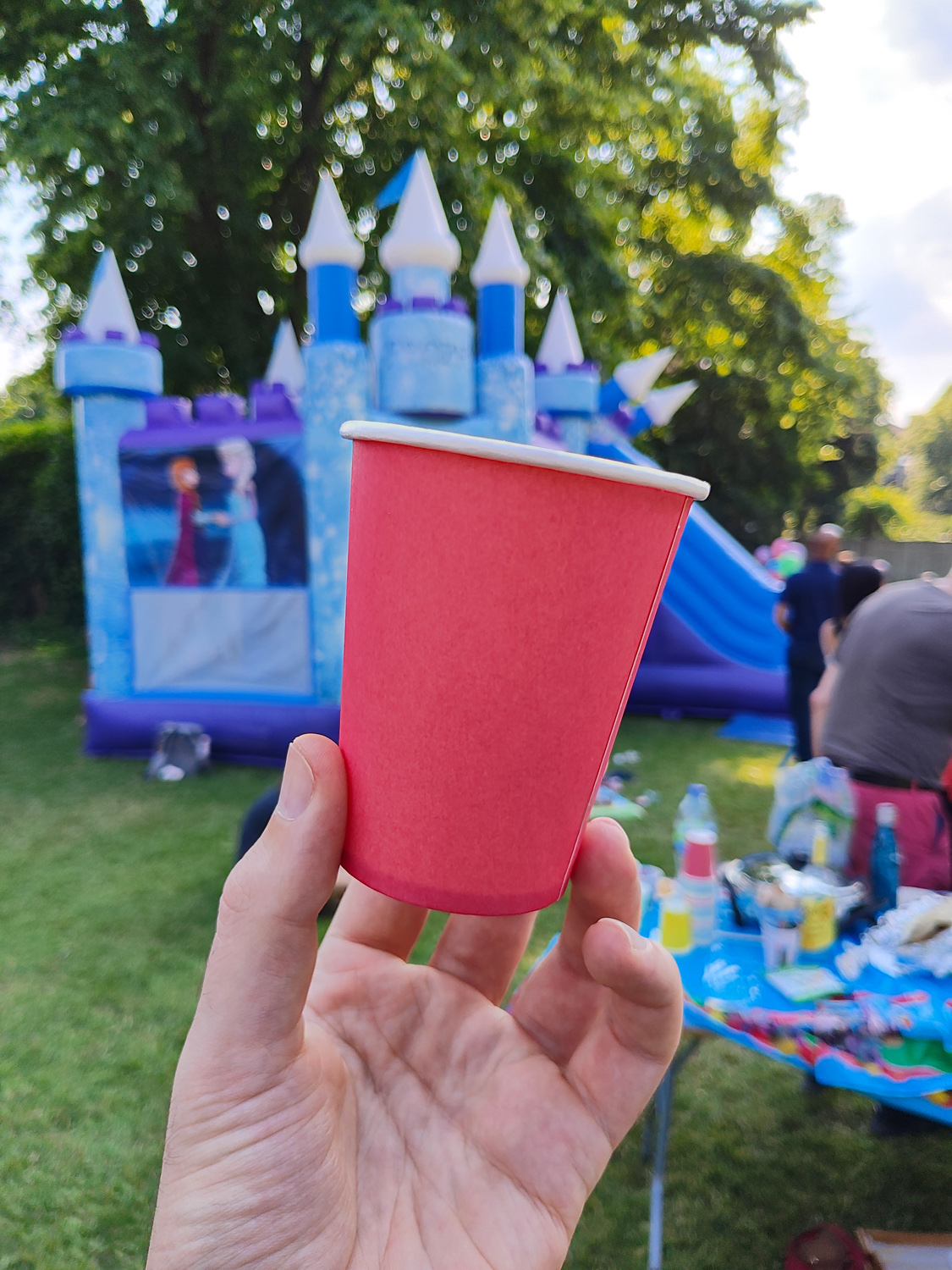 In darker scenes, detail wains and the Razr 40 Ultra struggles to keep colours consistent across its wide and ultra-wide cameras. If you can get the phone on a surface, it'll really help up sharpness, but handheld results can look a little muddy. 
One highlight, though, is macro capture using the ultra-wide camera – something none of the foldable competition can do.
Performance & battery: Flipping familiar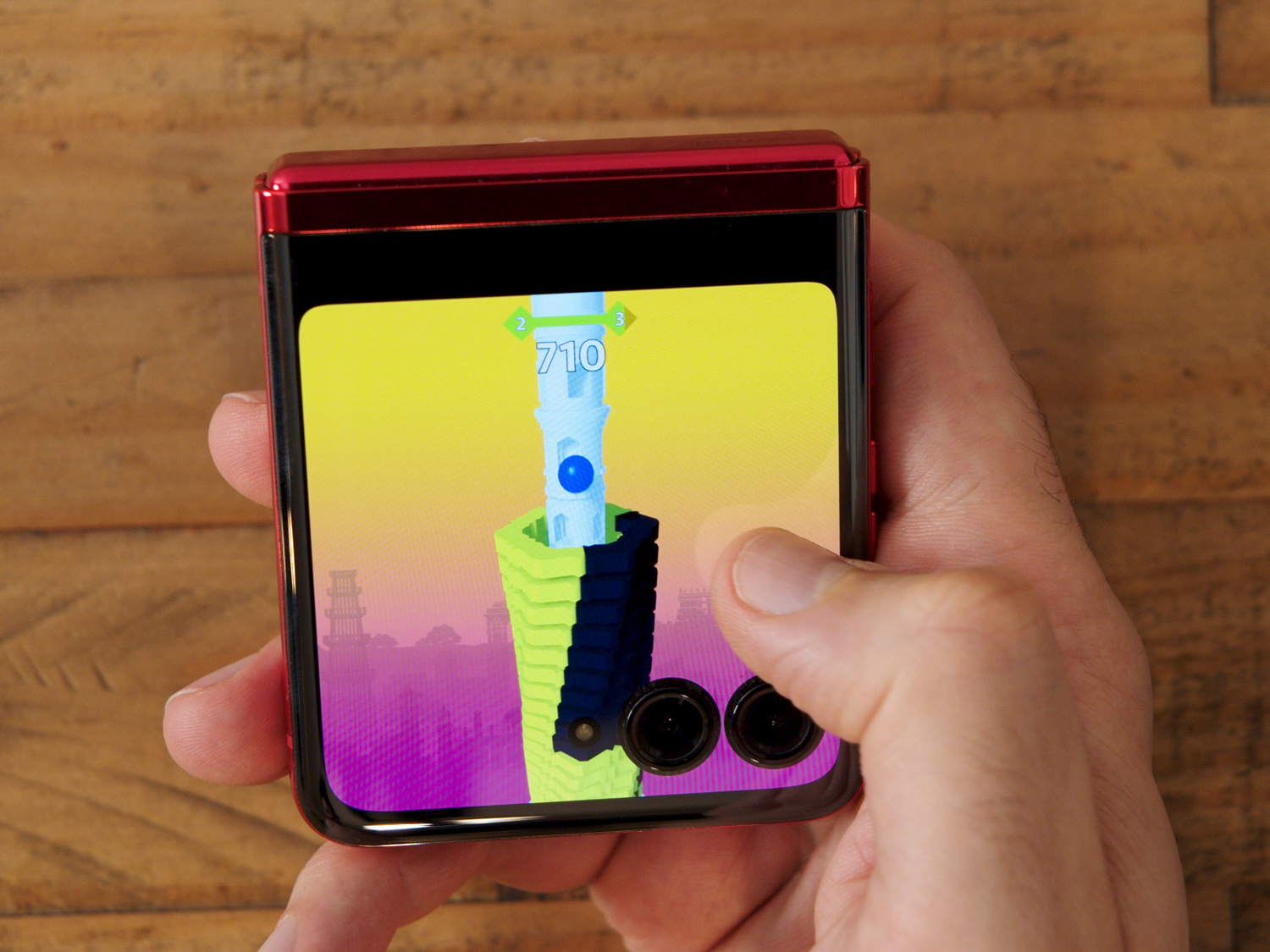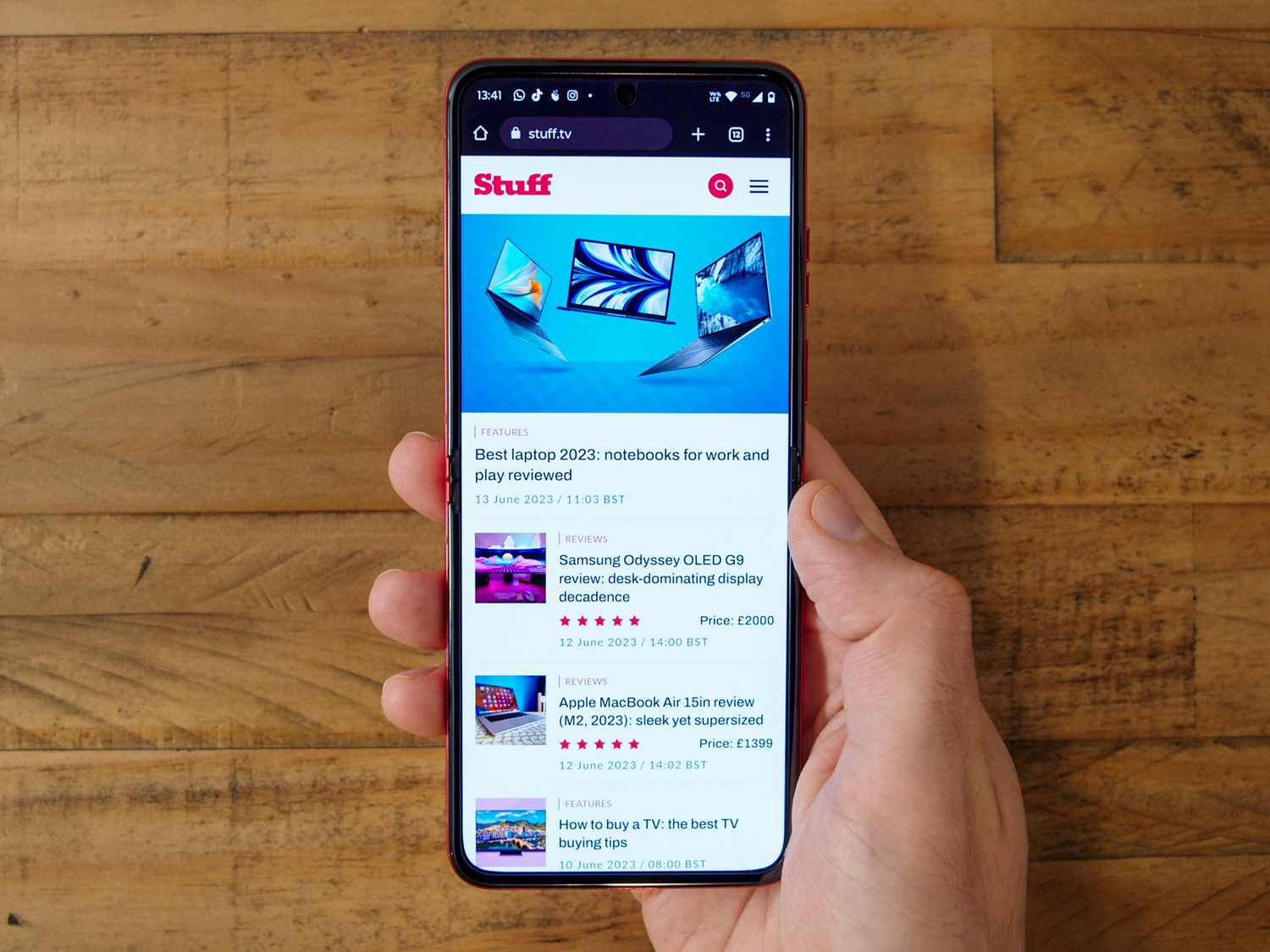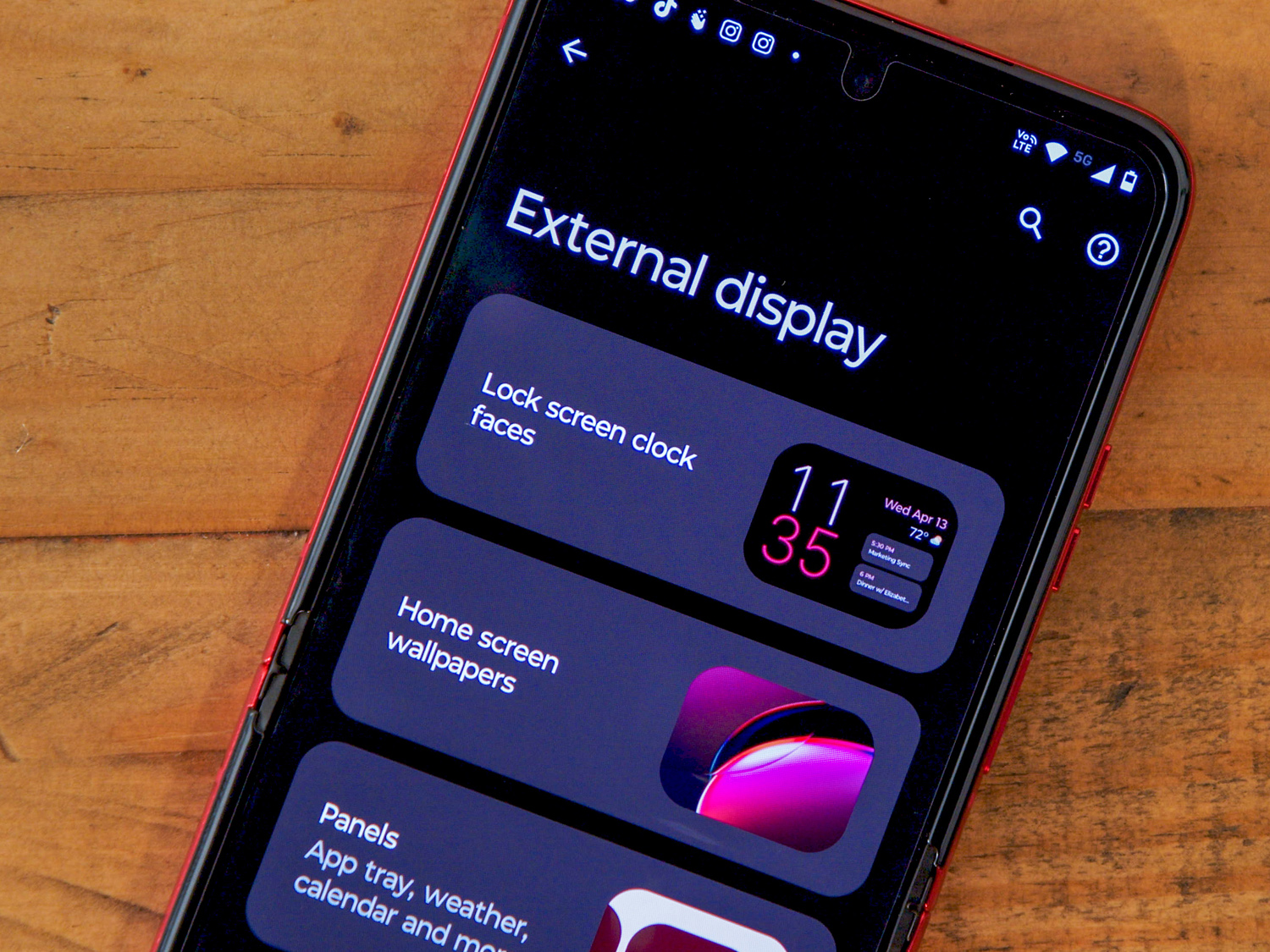 Just like last year's Razr and the Galaxy Z Flip 4, Motorola's latest clamshell has a Qualcomm Snapdragon 8+ Gen 1 chipset. In itself, that's no bad thing. The 8+ Gen 1 is a tried and tested foldable champ and can handle pretty intensive gaming even in slender contenders.
Getting into specifics, the Razr scored 1765 single-core and 4500 multi-core in Geekbench, and 2313 in 3Dmark Wild Life Extreme. That matches up with the Z Flip 4 and outperforms the Find N2 Flip, once again, keeping things competitive – until the Z Flip 5 launches, at least.
Practically speaking, the specs translate to near-top-tier gaming. We could get away with 30 minutes of Genshin Impact with just a few frames dropped at near-max graphics settings, and heat wasn't a big issue unless hammering gaming and hotspot use simultaneously.
Where the Razr edges ahead of the Galaxy Z Flip 4 is its storage. It starts with 256GB – double that of the Z Flip – and that's matched with 8GB RAM. If you don't think that'll be enough, those specs climb up to 512GB storage and 12GB RAM, though there's no SD card slot.
The phone runs Android 13 with a handful of Motorola customizations. From gestures to launch the camera or turn on the torch, through to always-on display settings and cover screen customizations, Moto balances a streamlined experience with flourishes very well.
When it comes to the cover screen, while there are two big, round cutouts where the cameras are which obscure whatever's displayed in the bottom part, you can toggle apps to use the full screen, or just appear in the upper part of the display. Once you get the hang of this, it's an intuitive process, and while it doesn't have the locked-down polish of iOS or even a cover screen OS from Oppo or Samsung, if you enjoy geeking out, it'll tickle you pink.
As for the battery, while the Razr 40 Ultra's capacity can't touch the current clamshell champ, the OPPO Find N2 Flip with its best-in-class 4300mAh cell, the Razr's 3800mAh of power does a great job of getting us through a full day. 
In fact, while the numbers aren't category-leading, we got the best battery performance of any flip phone with the Razr 40 Ultra, provided we didn't use the main display too much – easily done given how usable the cover screen is. Whether choosing songs or playlists, reading messages in Gmail or WhatsApp, or even firing up one of Moto's cover screen games, we could enjoy a smartphone-rich day without opening up the Razr more than a handful of times. This had a massive impact on battery life, helping us eke two days out of the phone on one occasion.
Motorola's also introduced wireless charging to the Razr line, and while it's a slow 5W trickle versus the 15W Z Flip 4, it's definitely a welcome addition. If you want to plug it in to charge, the Razr 40 Ultra ships with a 33W wired charger.
Motorola Razr 40 Ultra verdict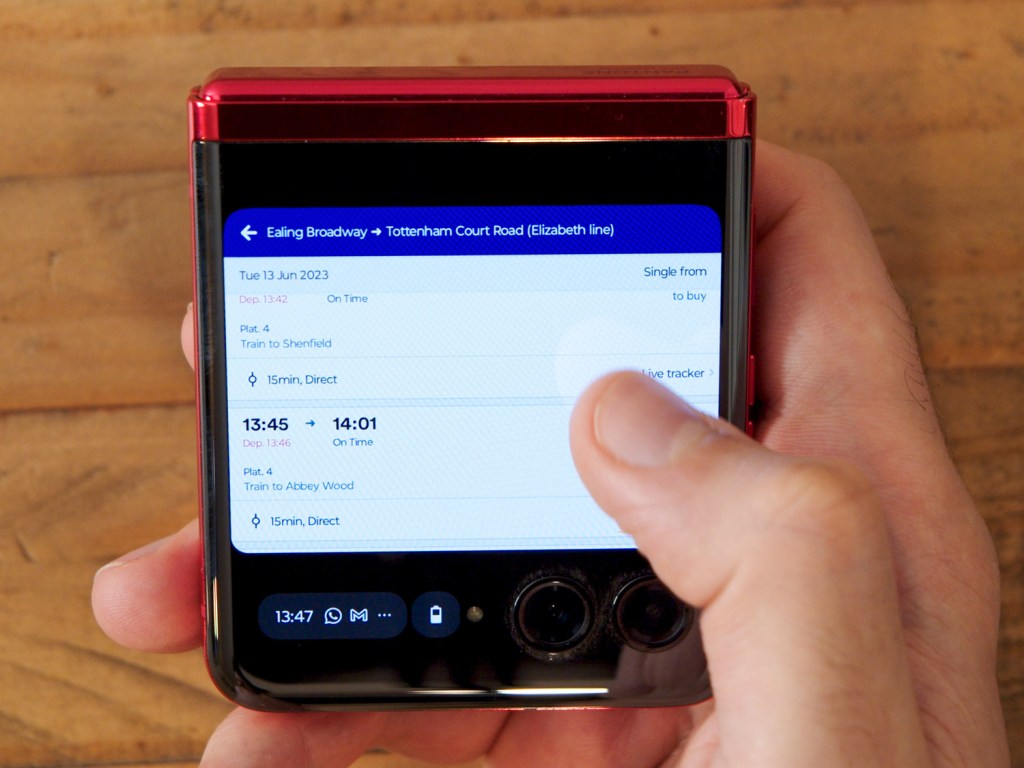 Motorola made some bold choices with the Razr 40 Ultra, streamlining its shape and differentiating with style. But while looks are the phone's standout quality, it also gets the basics right. Between the big, attention-grabbing cover screen and improvements to the Razr's build versus its 2022 predecessor, not to mention its nippy internals, clean interface, and rich feature set, the 40 Ultra is a very good phone.
Costing £1,099, you'd be justified in expecting a better camera system, so if you want the best camera phone around, the Razr 40 Ultra definitely isn't it – but then again, neither is any flip phone. So for casual snaps, and a seriously fun user experience built on a strong foundation of innovation and style, the Razr 40 Ultra is one small step for foldables, and one giant leap for Motorola – right to the front of the flip phone pack.
Stuff Says…
A fantastic flip phone and a return to form for the RAZR line, even if its camera doesn't always hit the mark.
Good Stuff
Fun, slim, lightweight design
Best-in-class cover screen
IP54 resistance and wireless charging make the cut
Bad Stuff
Cameras aren't best-in-class
Less water-resistant than Z Flip 4
Pricier than competition
Motorola Razr 40 Ultra technical specifications
Screen

6.9in 2640×1080 folding OLED main w/ 165Hz, HDR10+
3.6in 1066×1056 OLED cover screen w/ 144Hz
CPU
Qualcomm Snapdragon 8+ Gen 1
Memory
8/12GB
Cameras
12MP, f/1.4, OIS + 13MP, f/2.2 ultrawide rear
32MP, f/2.4 front
Storage
256/512GB on-board
Operating system
Android 13
Battery
3800mAh w/ 33W wired, 5W wireless charging
Dimensions
171x74x7mm (unfolded)
88x74x15.1mm (folded)
184.5g (Magenta) / 188.5g (Glacier Blue, Infinite Black)