Motorola Razr (2019) hands-on review
Reelin' in the years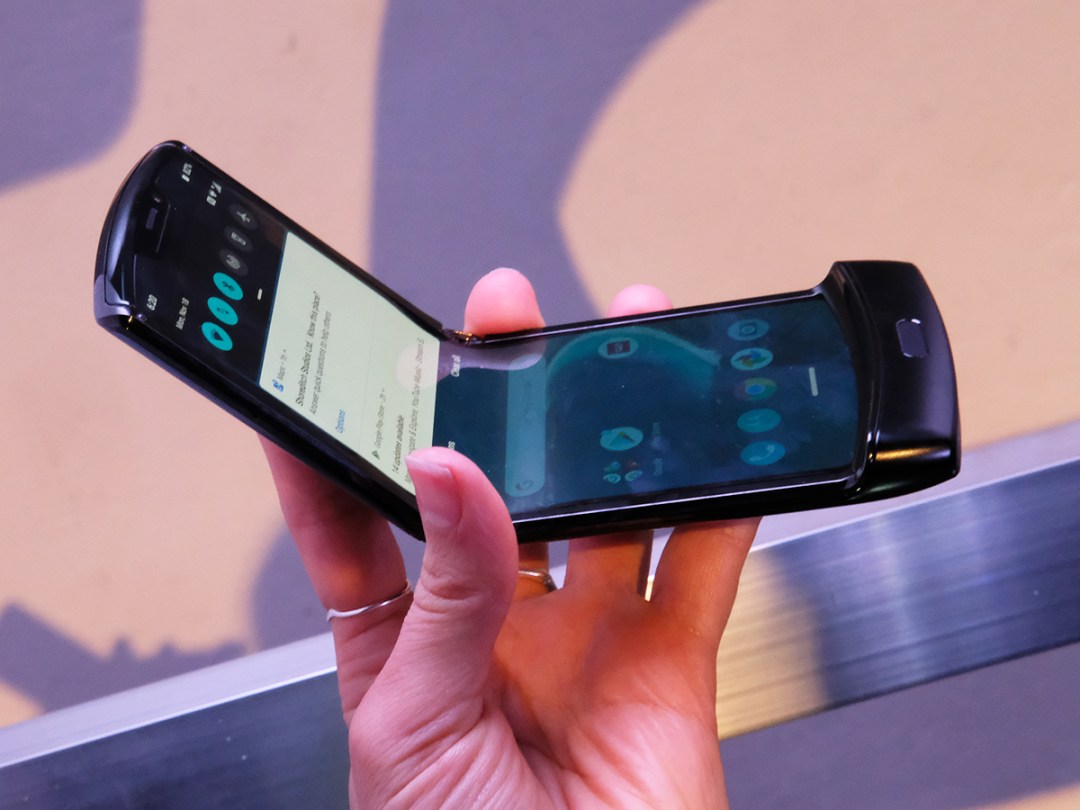 If anyone can claim the right to flip out over the foldable phone trend, it's Motorola, the company that popularised the clamshell design way back in 1996 with its iconic StarTAC handset. 
In 2004, Motorola made mobile headlines again with the original Razr V3 – another iconic design lauded for its style and performance. A year later came the Razr V3i with iTunes built-in following a pre-iPhone collaboration with Apple.  
Fast forward 15 years and the Razr is back with every bit as much style and panache, but facing a very different landscape. Twitter exists, iTunes essentially doesn't and you're not obligated to watch adverts between TV shows anymore. It's also up against the might of the iPhone 11 series, Huawei's power-slabs, Google Pixel handsets capable of shooting Vogue covers, plus a handful of phones with PC-matching performance.
If this was Demolition Man the original Razr might have requested to be put back in the cryogenic tank, but this is the revamped Razr with a flexible, foldable display that extends to a film-friendly 21:9 aspect ratio.
You still get a premium design and excellent bendy credentials, only that warm, fuzzy feeling of nostalgia is backed by a screen bang-on trend for the time – which might be why Motorola is set to charge well over £1,000 for a handset that still only features a modest battery and a distinctly mid-range Snapdragon 710 chipset.
Stuff nabbed some sought after hands-on time snapping it open and shut like a person possessed, and one thing is clear – the people are excited.
Design and build: Hinge benefits
Firstly, this is nothing like the Samsung Galaxy Fold, which opens out into a fully-fledged tablet. At full size, the Razr is only slightly longer than an iPhone 11, so you're not getting any more screen real estate. However, you are gaining the ability to half its size so it's more palatable for your pocket. In fact, it's so small it fits in the palm of your hand, retaining all the charm of the original.
The 6.2in FlexView display packs down into a 14mm thin, almost-even square that doubles in length and halves in thickness when flipped open, bar a familiar chin chunk housing the antennas.
It glides open and shut smoothly as multiple stainless-steel plates and gears work in sync like Torvil and Dean. There's an additional 2.7in front display when then phone is closed where you can take selfies and see notifications.
The phone weighs 205g and feels substantial like an expensive watch. That's owing to the Gorilla Glass front and stainless steel back coated in a textured resin which aids grip so it doesn't go flying out your mits.
Motorola says other colours are coming, but at present it comes in black, there's no headphone jack, it's splash proof, but most importantly snapping down the phone to end a call offers undeniable drama.
Display: Screen your head off
The flexible pOLED display and hinge system has taken Motorola (and Lenovo) four years to pull off and we're delighted it feels so durable, conquering some of the biggest issues with foldable phones. If something does go wrong, Motorola is offering a 2-year warranty. The hinge feels secure as you open and shut it and there's no noticeable crease on the screen as we saw with Huawei Mate X.
The 21:9 HD panel is tall and narrow like the Sony Xperia 1 and pictures look good, but it's not a patch on other phones in this price range. The 'CinemaVision' aspect ratio is ideal for watching content in this wider format, but we're far from convinced this is the phone for on-the-fly movie junkies.
The Razr also inherits a second screen from its forebearer, only it's much more useful. The 2.7in QuickView glass display shows notifications, allows quick responses, NFC payments and also allows you to use the main camera when the phone is closed. There's also the benefit of app continuity so you can launch it from the front screen and activity continue as you flip open to finish tasks.
For those who want to dial up the fuzzy feeling, there's a Retro Razr mode in settings which recreates the interface of the original, complete with keyboard so you can dial numbers and compose an SMS while remembering the sweet days of Donald Trump only being trusted to host a reality TV show.
Camera: Mutton dressed as clam
There are two cameras on the Razr. A main 16MP f/1.7 shooter which can also be used as a selfie camera when the phone is in clam mode, and a 5MP front-facing camera buried in the notch at the top of the screen. There's an additional ToF camera alongside the primary camera for depth perception, which we weren't able to test.
Results from the main camera were okay, but we were in a dimly lit room so we're assuming it'll perform much better in daylight. That being said, it's disappointing a phone at this price isn't going to produce shots to wow your Insta-feed.
Performance and battery: A touch flippant
Motorola hammered home that the decision for selecting the Snapdragon 710 chipset rather than the class-leading 855 (as seen in the Galaxy Fold) was thoroughly negotiated.
To maintain that strong and flexible physique, diet is very important, and the more powerful chipset would've drained the relatively small battery and caused overheating. It's the smartphone equivalent to injuring oneself in the gym lifting weights that are too heavy.
It runs Android 9, so doesn't see any of the benefits of Android 10. Gesture controls are available though, tilt the phone when closed to wake up the camera and shake for the torch. Don't mix up these actions as we kept doing, or it'll hurt your eyes.
The battery capacity is a meagre 2510mAh and split across two parts of the phone. It supports 15w fast charging, but wireless isn't an option. Perhaps having that smaller screen on the front will force you to use your phone less, as you can get all the vital info without even opening it, and isn't everyone trying to cut down screen time anyway?
Still, many rely on their phones for just about everything and expect it to perform for a solid day, so whether the Razr will provide enough juice remains to be seen.
Motorola Razr (2019) initial verdict
The hinge design is a feat of engineering and the phone feels amazing. We cannot stress enough that hanging up a phone call in a short, sharp flip is nothing short of wonderful and something the monolithic slabs of 2019 cannot offer.
Staying true to the original design has been a hit from both a legacy perspective and purely a design one. Motorola has re-established itself from king of the budget Androids to a prince of desire.
It's too early to tell whether it's a viable option for your main handset when our lives rely so heavily on having a phone capable of taking DSLR-mimicking portraits and organising our lives 24/7.
Imagine your childhood sweetheart mysteriously disappearing and then reappearing some years later having made some serious improvements – we've got mixed emotions. But Motorola appears to have followed Snoop Dog's sage advice from 2004 to just drop it like it's hot.