Huawei Mate X hands-on review
Huawei is bending over backwards to impress with the Mate X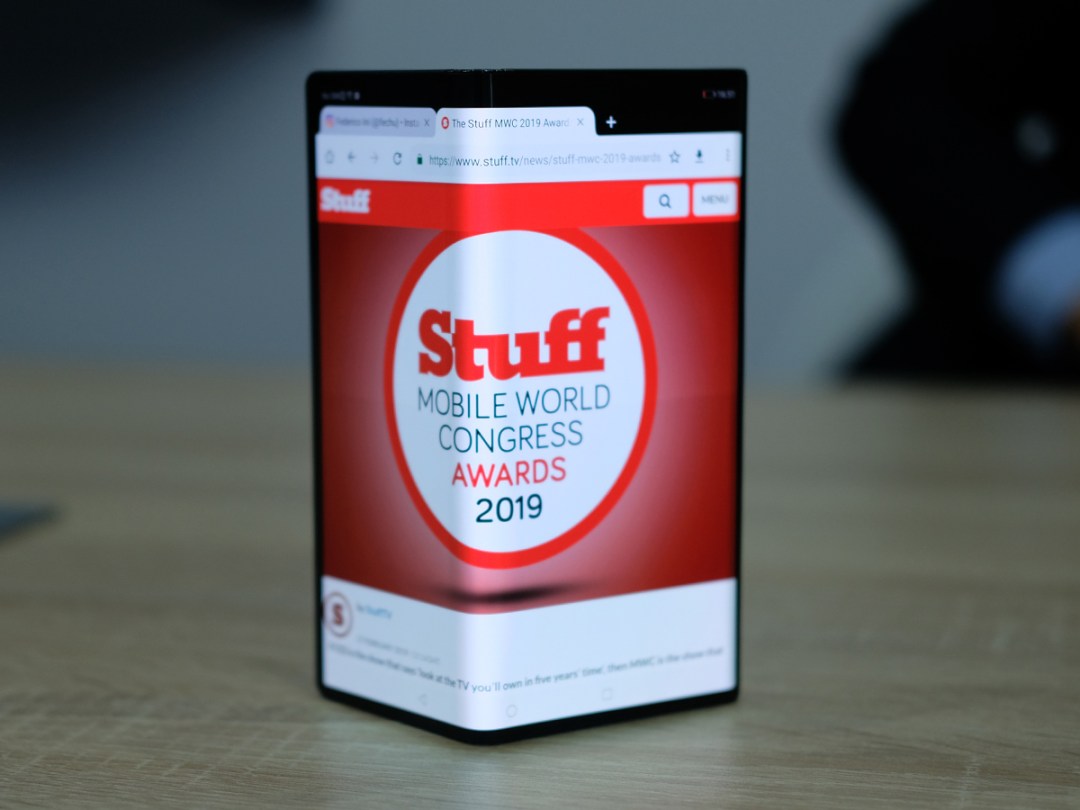 We finally had our appointment with the hottest gadget at Barcelona's Mobile World Congress – the Huawei Mate X.
Foldable phones have been on our radar for a while, but we're yet to have one carefully placed in our hands that's quite as far down the production line as this 5G bendable beauty.
In short, it's a flexible phone with a plastic OLED screen that expands to an 8in tablet with a triple Leica camera array. It's convincingly conceived in both guises, which is more than we can say for the FlexiPai or the Galaxy Fold.
During our brief demo, there was one rule. Don't bend it. What did we do as soon as it was gently placed in the palms of our hand? We bent it. Only very slightly. It was an open goal, can you blame us?
It wasn't out of rebelliousness that we did this (and we apologise if anyone from Huawei is reading this). More because it was intuitive; 'Bend me' it teased from the moment we caught sight of the thing.
So what do we make of the Mate X after getting hold of it and resisting the palpable urge to fold it?
Design: In and out
Like a double-jointed circus performer, the 8in screen folds back on itself into a double sided phone; 6.6in screen on the front with an additional 6.4in screen on the rear.
Whilst the hinge felt really sturdy, Huawei has put a latch on the grip to secure it once folded, like a clutch bag. As it's being closed there's a satisfying click once it's engaged on the latch and there's a neat textured button to open it back up.
This differs from the Galaxy Fold, which has two separate screens and folds inwards like a book.
When splayed out in tablet form, the majority of the device is as thin as a digestive biscuit, 5.4mm thin if you've forgotten what a biscuit looks like. Which is slimmer than any smartphone.
There's a thicker strip along one side which houses the trio of Leica lenses and acts as a grip to grab onto when using it in tablet form. It looks as great as a tablet as it does as a phone, owing to the fact that the hinge has been cleverly engineered so that it folds into a perfectly even cuboid when it's morphed into a phone. No unsightly gap here, as we've seen on other foldables.
It charges via USB-C which is also positioned at the bottom the aforementioned grip. It's an impressive design and the best in its class. Granted, there's an obvious lack of competition here.
Screen: On a bender
Glass has become the preferred choice for modern smartphone design, however, that's been swapped for its humble cousin plastic, a much more versatile and softer material.
The plastic screen looked decent and we had zero issues when swiping through applications and fiddling with the camera settings.
You still get a glorious OLED screen and it's quite lovely. Bright, punchy, with good dynamic range. What's more, viewing angles are great and I was able to see a pleasant parrot video playing when it was tilted away from my line of vision.
Ours, and everyone else's concern, is how this will fare after being bent, bent and bent again for the umteenth time. And how susceptible to scratches will it be? We were barely granted one bend, so can't even make an estimation, you'll have to wait until we can test its durability.
The screen is almost entirely flat when folded out, under extremely close scrutiny, there is something in the middle when it's opened up into a full screen. But when text is spread across it, it's barely noticeable.
Performance: turn of speed
Expect oodles of stamina from this technological acrobat which has the latest Kirin 980 chipset at its core.
Pair this with Balong 5000 5G for earth-shattering speeds, well, maybe one day when 5G is ubiquitous as many will have you believe.
In theory, you should be able to download movies in seconds. Huawei is very much future-proofing this device which won't be available until the middle of the year.
There's a huge 4,500mAh battery on board, which is slightly bigger than the Mate 20 Pro's. Yes it's plenty big, but to power that large screen and 5G speeds – we can imagine it becoming a sweaty uphill struggle after a day's use. Praise be that SuperCharge technology is here which will take you from 0% to 85% in only half an hour.
Camera: Self-reflection
You can see, and we can see that there's a triple lens on the grip. Unfortunately, we don't know what sort of lenses they are, as Huawei won't disclose this info yet.
When we asked about the rumoured fourth lens, the notion wasn't rejected but definitely skirted around. This might be revealed later in March at the launch of the hotly awaited P30 Pro.
It's a Leica lens, like the Mate 20 Pro and P20 Pro, and Huawei has proven that its hardware couple with AI produce some of the best low-light photography we've experienced on a smartphone. We used the camera in the demo and it's top shelf stuff we can tell you.
And the unique morphing nature of this beast calls for a more versatile approach to actually taking photographs. When taking a photo in phone-form, the rear display will act as a mirror back to the subjects.
This will remove the frustration of the person burdened with taking group photos who has to yell over squabbling pals to make sure everyone's in shot. Plus, the beauty of using the same lenses for both selfies and 'normal' shots, is that there's no need to compromise. We often see a lesser camera studded onto the front of a smartphone and the serious stuff at the rear.
Huawei Mate X early verdict
The folding phone gets our seal approval, even at this early stage.
To have the gusto to have created a premium product which works and incorporates the most cutting-edge specs without compromise is genuinely impressive.
They did seem very precious about the screen when it was being folded, which makes us think there might be some work still to do to make that experience as sleek as possible.
Although we know little about the camera, the versatility offered by the back-to-back, round the bend screen is awesome and will give subjects more control than ever.
It's time we get to the price, because it ain't pretty at a jaw-dropping €2299. But this is a new product, in its own category, with top specs and double the amount of storage you'd get from a smartphone (512GMB). Right now, it's a luxury product too.
Where many other smartphone companies are standing at the edge of the pool, dipping toes in 5G waters. Huawei has swam a lap, climbed up the diving board, sprung off the edge with a triple reverse roll and made an almighty splash.
We can't wait to get a review sample and bend it to our heart's content.