Misfit Phase review
Simple and subtle - the Phase isn't your average smartwatch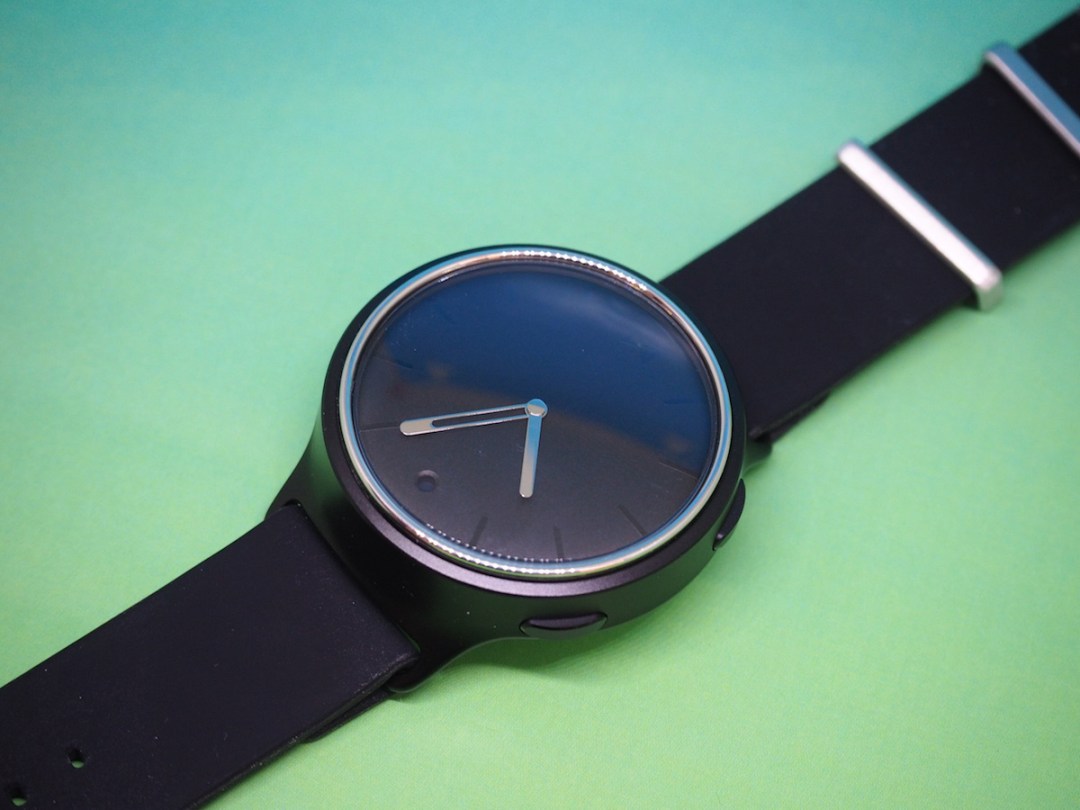 You can normally spot a smartwatch from a mile away – they're all buttons and screens, chunky timepieces that might free up your phone, but weigh down your wrist.
That's not the case here, though. Misfit's first proper smartwatch is the master of subtlety.
There's no battery-sapping screen, no complicated crown and no overflowing feature list full of things you won't use – just good old fashioned watch hands for telling the time at a glance.
Hardly smart on the surface, then, but underneath the Phase can handle fitness tracking, notifications, and music controls. It's basically everything we love about Misfit's style-centric wearables, wrapped up in a watch body.
Not bad for something that looks so simple.
SMOOTH OPERATOR
The Phase might be a first try for Misfit, but you wouldn't know it – this watch looks and feels like it came from a company that's been churning them out for years.
That could be down to parent company Fossil – there's definitely some shared design going on here, but the Phase looks a lot more modern than similar watches from sister brands Skagen and Emporio Armani.
The all-black face matches the watch body, with colour-matched notches instead of numbers that glint in the light. It's made from stainless steel and aluminium, so should stay looking sleek even if you wear it 24/7, The only design flourish? A subtle silver accent around the face. It doesn't get much more minimal.
It's not heavy at all, but is rather thick for an analogue watch – although it'll still slip under a shirt sleeve easily enough. It's waterproof down to 50m, so you won't need to take it off when you go for a swim, let alone take a shower.
There's only one size to choose from, and at 41mm the face might feel a bit large on anyone with smaller wrists. The 20mm straps are easy enough to swap out though – the bundled band has built-in lugs that you can get on and off without any tools.
The only tool in the box helps you twist off the back and access the coin cell battery. Misfit reckons you'll only have to do it every six months, which is a whole lot better than any other smartwatch out there right now.
GET SMART
With no screen, you'd think the Phase would make for a very basic smartwatch, but it's got built-in Bluetooth and a 3-axis accelerometer for counting steps, tracking your sleep, and reminding you to move if you're being particularly lazy.
Press the upper side button and the watch hands spin around the face, pointing to how close you are to reaching your movement goal for the day. Press it again and you'll see when your next alarm is set for.
That's just the start, too. The tiny little window on the watch face, just above the 6 O'clock position, makes all the difference.
Once you're paired to your phone, that window spins through different colours every time you get a notification. The colour represents a particular app, and the watch hands chip in too, pointing to specific numbers for certain callers or friends.
You've got to have a good memory to work out what each one means, though. I found it easier matching colours to apps, so green meant WhatsApp and red meant Gmail, but with calls and texts locked down to green and blue, it's still a bit tricky.
The lower side button is customisable as well. You can set it to trigger your smartphone's camera shutter, click through a presentation slideshow, or handle music controls without having to fish your phone out of a pocket.
Pretty much every other smartwatch needs some kind of screen to give you this much information, so it's great to see an analogue approach working so well here.
STEP IN LINE
The Phase uses the same app as Misfit's other, more fitness-focused wearables. That means you get a daily activity goal, rather than a set number of steps walked or calories burned. You just keep going until you hit your target.
Step counting isn't the most accurate I've seen from a smartwatch, as it tends to underestimate how far I wander each day. It's not by a lot, though, so you should be fine if you increase your goal to a little bit higher than you'd normally aim for.
With no heart-rate sensor or GPS, which would absolutely eat away at battery life, you're not getting in-depth fitness tracking here.
The idea is just to keep moving, and hourly reminders are a decent enough way of hitting your targets. The watch hands shake up and down, and the motor vibrates – you can't miss it.
You can still tag more vigorous exercise as a specific activity, and have it recorded in the app though.
Misfit Phase verdict
Fitness freaks should look elsewhere, but the Phase is otherwise a fantastic first effort from Misfit. Smartwatches don't have be tiny phones bolted onto your wrist – just handy helpers like this.
Notifications might be basic, but they're really all you need – a gentle nudge to check your phone, and only for the few messaging, email and social networking apps you use the most, not everything you've got installed.
Battery life is fantastic, too. If you want more features, there are fitness trackers out there with screens, heart rate sensors and more detailed notifications, but none look as decidedly un-smartwatch-like as this.
Tech specs
| | |
| --- | --- |
| FEATURES | colour-coded notification alerts, vibration alarm, customisable button |
| SENSORS | 3-axis accelerometer |
| CONNECTIVITY | Bluetooth |
| BATTERY | CR2430 watch battery |
| DIMENSIONS | 41mm face, 20mm strap |
Stuff Says…
Melds wearable smarts with traditional styling and excellent battery life – it's a great combination, if you don't need more advanced fitness tracking
Good Stuff
Simple styling is simply stylish
Notifications are handy
Brilliant battery life for a smartwatch
Bad Stuff
Similarly priced watches do more
Limited app support for notifications
Only basic fitness tracking