MG ZS EV Trophy Connect review: strange name, value packed
Brilliant value and decent range forces you to forgive its fairly anonymous stance
Many moons ago the one-time British brand MG was all about sports cars, but that was before it got snapped up by the Chinese. Since then, the iconic badge has returned, but there's little else that bears any kind of resemblance to its heritage. Nope, these days the current owners have been quick to move in the direction of affordable saloons and, more lately, adding an all-electric powertrain. There's a growing range of models including the new MG 4 hatchback and this, the MG ZS EV, which is basically a mid-size SUV.
Central to the attraction of the MG range is value and, while that's hard to get when it comes to buying an all-electric car currently, the brand is trying very hard to please. The car we've been driving is the MG ZS EV Trophy Connect model, which comes with all the trimmings but at the same time costs a very reasonable £35,040. You get quite a lot for the money and, with it, size too as we're into solid SUV territory here folks.
The base price actually starts from just £31,940 for the Trophy Connect Standard edition. It's therefore much better value than the likes of the Vauxhall Corsa-e, Renault Zoe or Nissan Leaf. That's not a like-for-like comparison by the way, just an illustration of other cars with similar price tags but with less room on offer. There's a seven-year/80,000 mile warranty as part of the package too, which adds further value if you're still a little sceptical.
Styling
MG is clearly trying hard to up its game on the styling front and things are better than they were compared to earlier cars. However, if you were going to criticise the MG ZS EV you could say it's a little anonymous. That's not really a gripe though as plenty of other mid-size SUVs suffer the same fate. Nevertheless, the MG's shape is a little innocuous to our eyes, even when viewed from its most, er, 'dynamic' angle, the front.
Our car arrived resplendent in metallic Battersea Blue and the colour did a lot to zing things up a little in the appearance department. There are brushed silver bars up on the roof and 17-inch 'Propellor' diamond cut alloys down below, supplemented by stylish chrome flourishes above the sills.
The rear end is nicely rounded off and features a fairly high up tailgate opening, which offers quick and easy access to a surprisingly spacious boot. Walk all the way around it and the MG ZS EV Trophy Connect feels quite sizeable and at 4.3 metres long, 2 metres wide and with a wheelbase of 2.5 metres, measures up very nicely against similarly sized competition. Again though, remember the price difference between this and those competitors. That more than makes up for any shortcomings in the design department.
Meanwhile, the proper good stuff happens when you get inside. The interior feels large, with lots of room both front and back, even though visibility through the rear portions of windows is curtailed slightly by the slant of the roof. This is a perfect car for a family, with plenty to keep people comfy and oodles of practicality on offer. The comfort quota is well-covered thanks to squishy leather-like seats that provide plenty of give to behinds of all shapes and sizes.
Front seats are electrically adjustable while in the rear you've got a middle armrest, plenty of cup holding space and a full-length sunroof really adds to the cavernous effect. It really is a light and airy experience on the inside. Plastic does tend to dominate areas around the dash, but the overall look is pleasing despite the quirky round air vents. And, never fear, there are plentiful supplies of USB ports too.
The drive
One of the big benefits of the MG ZS EV Trophy Connect is the way it offers a high-up driving position. You get a very decent view of the road ahead and out the sides, although this does tail off a little towards the rear. The panoramic sunroof makes the car feel really light too, even when the skies are dark and there's rain hitting the glass.
The controls situated in the control panel in front of the steering wheel are a little underwhelming mind, although you do get an insight as to when the car is putting some goodness back into the battery via its regenerative braking. Three drive modes cover all bases, with an everyday Normal option fitting the bill most of the time. There's Eco for when you're getting nervous about range, although MG reckons the ZS EV is good for 273 miles. A Sport mode does add a minor thrill factor to the performance.
That said, the MG ZS EV is notable for its rather wallowy handling, which is most obvious in tighter corners. The size and weight of the car, plus that high up driving position means it can be a little disconcerting until you've got to grips with its charms. Nevertheless, the MG ZS EV cruises down the motorway without fuss and those soft and sumptuous seats make the ride even more enjoyable. We found the range to be very impressive on a couple of long runs and we didn't feel like we were too far off getting MG's official figure during mild-mannered outings.
Again, select Sport and you'll get a little more robust performance, but this really isn't a car for showing off in. The MG ZS EV seems most happy when you're pootling along, rather than racing for the next country lane. However, the high up design proves useful if you do head out into the sticks and need to dip into a suspicious looking grass verge to dodge an oncoming tractor. The SUV might only be front-wheel drive, but it seems very adept at coping with countryside challenges.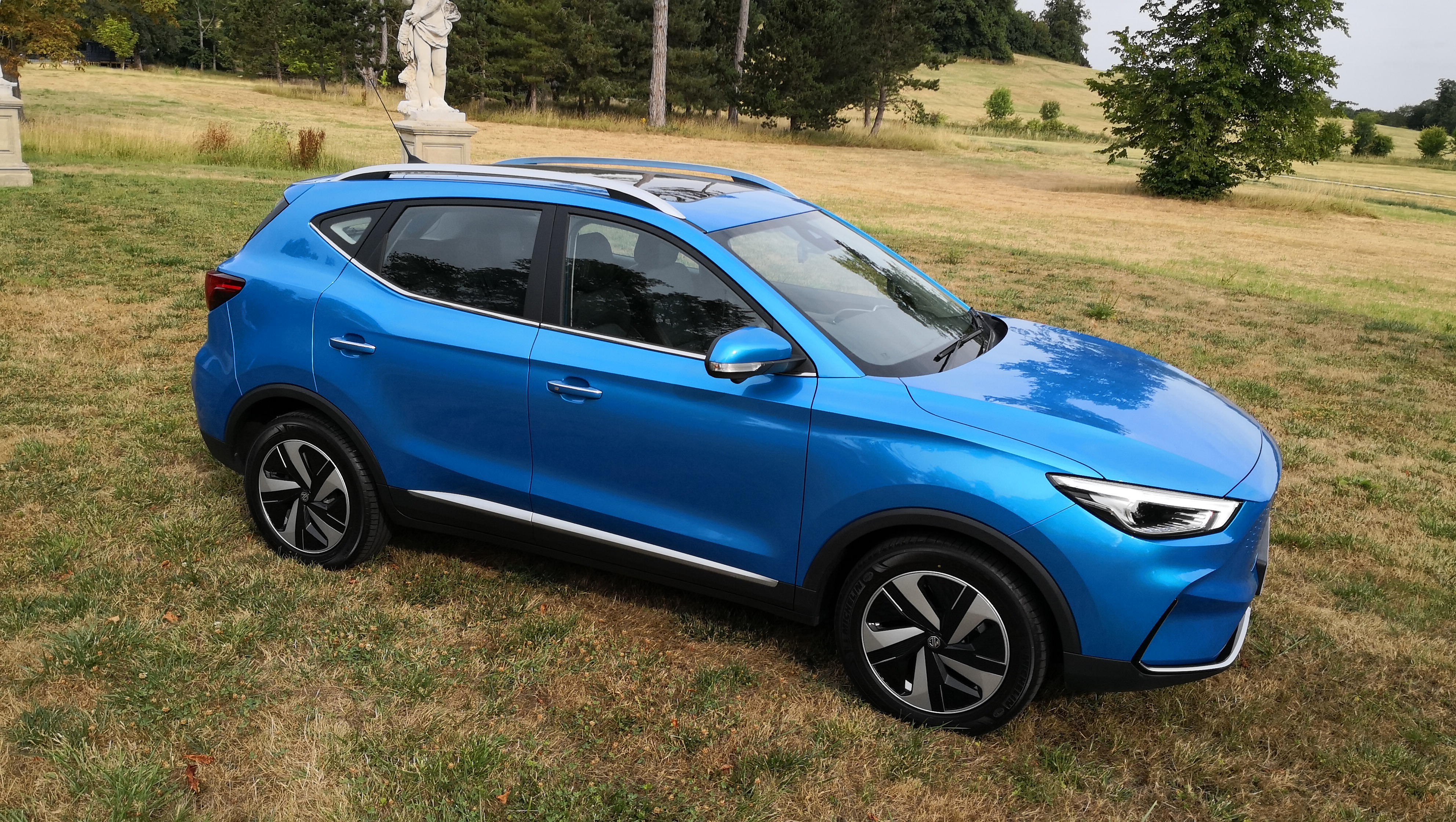 The technology
You'd expect there to be some compromises on the technology front, but nope, the MG ZS EV Trophy Connect comes with everything a family could want. Indeed, the front seat occupants have a 10.1-inch touchscreen to contend with. It's a little more responsive than other MG screens we've witnessed and the interface is slick, stylish but occasionally a little on the odd side too. That's not really a gripe as every touchscreen we've ever used has one or two quirks along the way.
If you buy the Trophy Connect edition, by the way, you get access to apps like Amazon Music, weather and live traffic updates, although quite how much you'd use these in everyday scenarios remains to be seen. Even more so if you're a staunch supporter of Apple CarPlay or Android Auto, which cover the needs of many drivers these days.
Aside from that, there's plenty of other impressive inclusions, such as automatic air conditioning, wireless phone charging, adaptive cruise control, keyless entry and a 360-degree parking camera. The latter earns its keep due to the rather limited view out the back, although chunky door mirrors do their best to lend a helping hand if you're edging backwards into a teeny tiny parking space.
You also get rear parking sensors, see above point, plus bi-function LED headlights, heated front seats along with all manner of driving aids via the MG Pilot system. Features inside this bundle includes Active Emergency Braking with Pedestrian and Bicycle Detection, Traffic Jam Assist, Blind Spot Detection, Lange Change Assist and Intelligent Speed Limit Assist. We also loved the High Beam Assist function, which worked really well after dark.
MG ZS EV Trophy Connect verdict
There's really not too much to grumble about with the MG ZS EV Trophy Connect if you're looking for a top value, well appointed SUV. Of course, if the thought of having an MG badged motor on your driveway doesn't appeal then think again at what you get for your money. Sure, there are low-key looks and the driving experience isn't the most scintillating thing out there, but there's plenty more to like about this SUV.
You've got a very solid range for starters and, with the 72.6kWh battery on board you'll only need occasional charges. This can be done on a 100kWh unit from 20% to 80% in just 42 minutes. There's practicality aplenty too, with that spacious interior being nicely complimented by the sizeable 745 litre boot capacity. Fiddle with the 60/40 split rear seats and you can milk that space even more. Oh, and let's not forget the seven year/80,000 mile warranty.
Add it all up and the MG ZS EV Trophy Connect delivers a big, fat two-fingered salute to badge snobs everywhere.
Stuff Says…
It's hard to knock the value and range, even if the looks aren't going to set the world alight.
Good Stuff
Well-appointed
Great value
Decent range
Bad Stuff
Boring looks
Driving experience so-so
MG ZS EV Trophy Connect tech specs
| | |
| --- | --- |
| Engine/motor | Electric |
| Battery | 72.6 kWh |
| Power | 142 bhp |
| Torque | 280Nm |
| 0-60mph | 8.2 seconds |
| Top speed | 108 mph |
| Range | 273 miles |
| Charge rate | 76kW |
| Cargo volume | 470 litres |