Apple MacBook Pro 16in (2021) review
MacBook Pro to the Max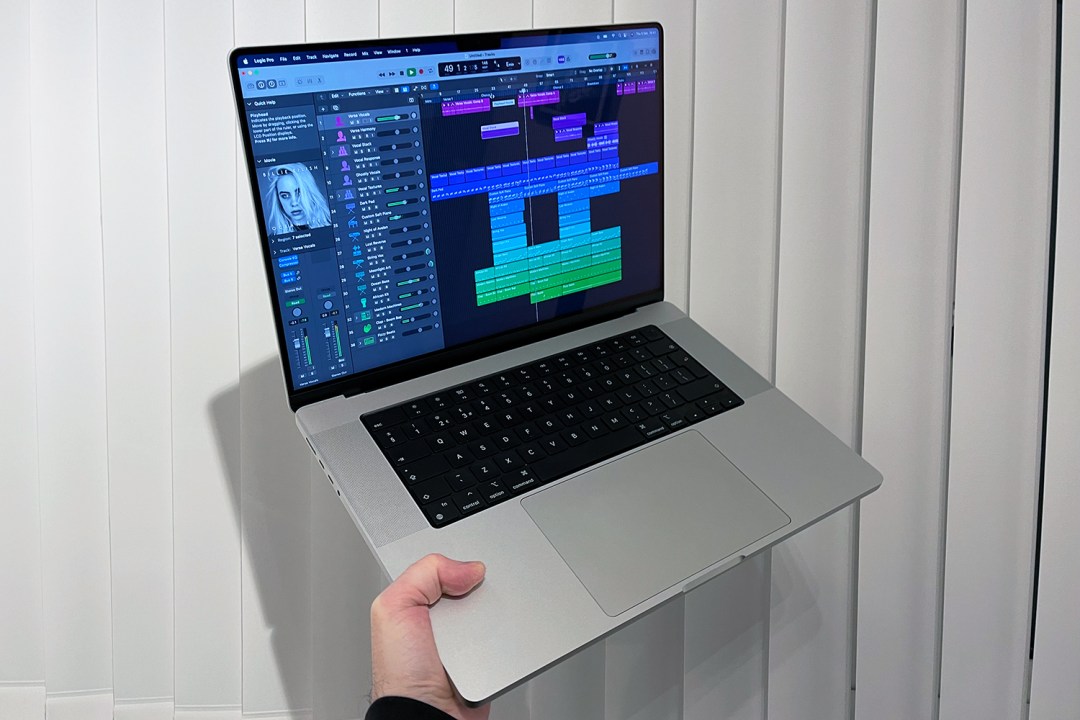 We recently got our hands on an entry-level 14in MacBook Pro. Our verdict: it's a best-in-class laptop – but very much for pros, even with the base specs. We guess the clue's in the name.
Now we've got the 16in incarnation, equipped with an M1 Max chip (10-core CPU; 32-core GPU), 64GB RAM and 4TB SSD. Short of ramping up the SSD to 8TB, this is the MacBook Pro's top spec. It clocks in at a cool £4699. Even the entry-level (for a given value of 'entry level') 16in with M1 Max is £3299.
Fortunately, a 16in with M1 Pro also exists, for a less wallet-thumpy £2399. So let's dig into the differences between this MacBook Pro and the 14in version, whether you should max out the display, and whether you need that Max chip at all.
Design: Box(y) clever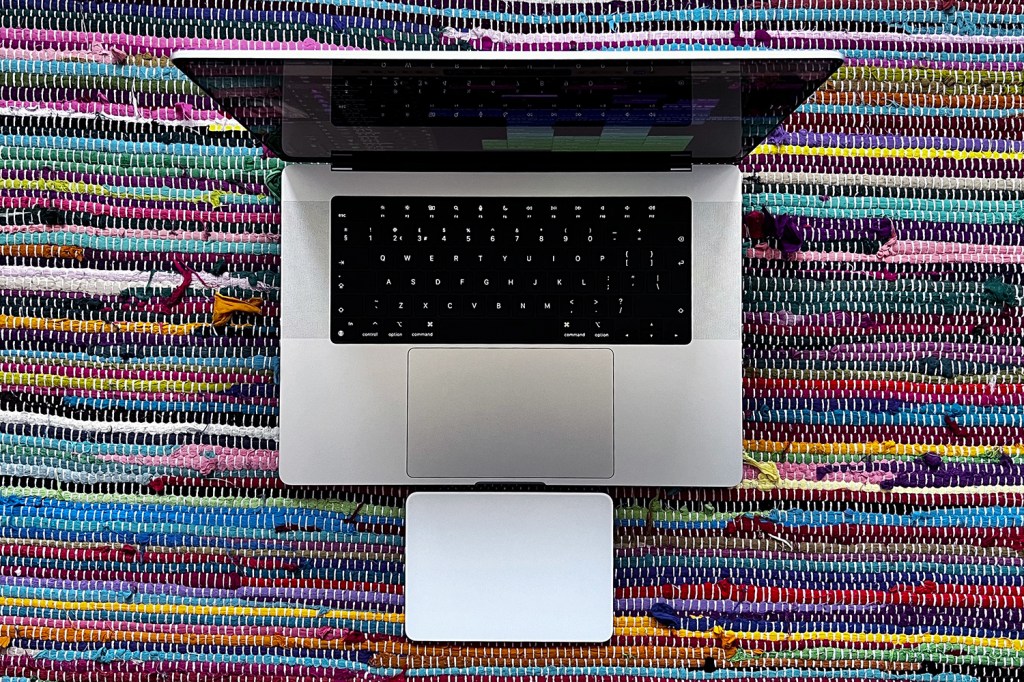 As with the 14in MacBook Pro, there's a heft and boxiness that sets it apart from its predecessor. It feels like a love letter to the MacBook Pro's past, and although there's added heft in this incarnation, it's balanced by longer battery life. Apple's prioritising the right things.
But this is a beast of a machine in ways that won't suit everyone. That extra half a kilo is noticeable when merely moving this Mac, let alone carting it around. And the tea-tray trackpad's as big as Apple's standalone Magic Trackpad. Fortunately, it's not prone to input errors and does the business if you're into big gestures.
Display: Big screen experience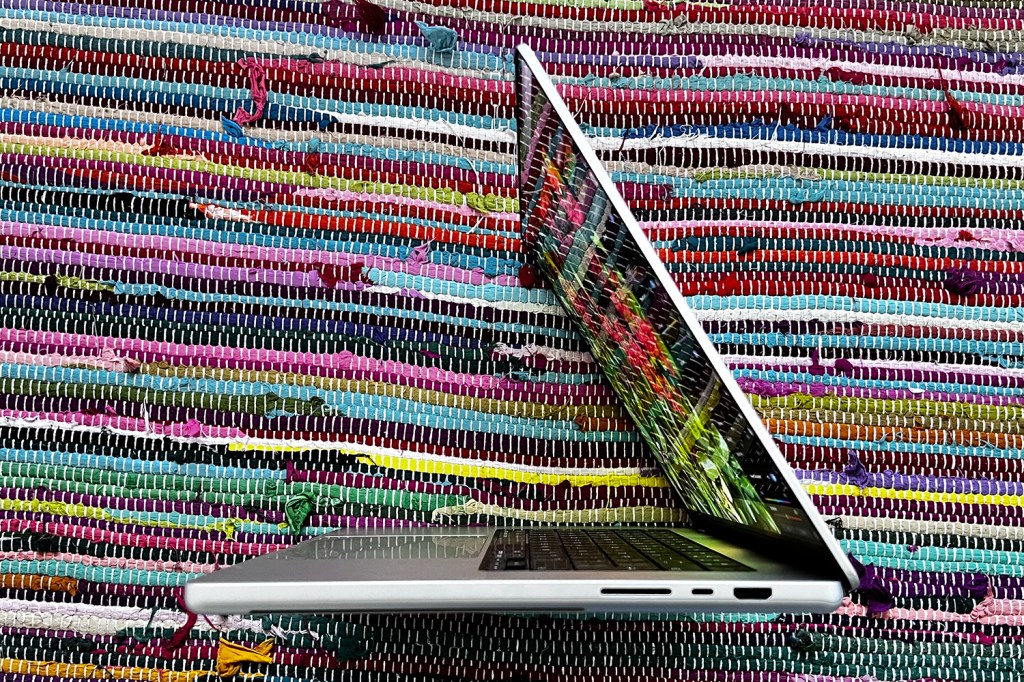 The display is bigger and sharper than what you got with the 2019 model: 3456×2234 pixels at 254ppi vs 3072×1920 at 226ppi. ProMotion makes for smoother scrolling, but isn't overly apparent in everyday use like it is on an iPhone or iPad; however, the variable refresh rate can prove useful for editing and playing recorded footage at native refresh rates.
The notch wasn't too much of a problem on the 14in model and is even less irksome here. In full-screen mode, it vanishes into a black background. Otherwise, Apple smartly pushes the menu bar up into that area.
Using this massive display is also more akin to a desktop experience than when working with a 13in or 14in MacBook Pro – editing video and working on other creative output feels less restrictive. The unit's brightness (1600 nits peak/1000 nits sustained) impresses too – and reminds you to not edit in a dark room unless you hate your eyes.
Audio: Speakers spell
We were expecting big things from this unit's audio system and it didn't disappoint. Setting it next to the 14in model, their respective soundstages initially sound similar. But really push the 14in model and it can sound abrasive; the 16in unit's richer stage leaves music more balanced, while your neighbours thump on the wall for you to turn the volume down.
This is impressive from a laptop, and whether you're watching films, listening to music, or editing audio, you'll find great clarity in the output. If there's a criticism, it's an inevitable lack of depth compared to cans, and a lack of the bass oomph you get from desktop monitors. That said, we were surprised to find ourselves sometimes preferring this MacBook Pro's speakers over our Ruark MR1 Mk2s, which for some albums came across comparatively soupy.
Performance: To the Max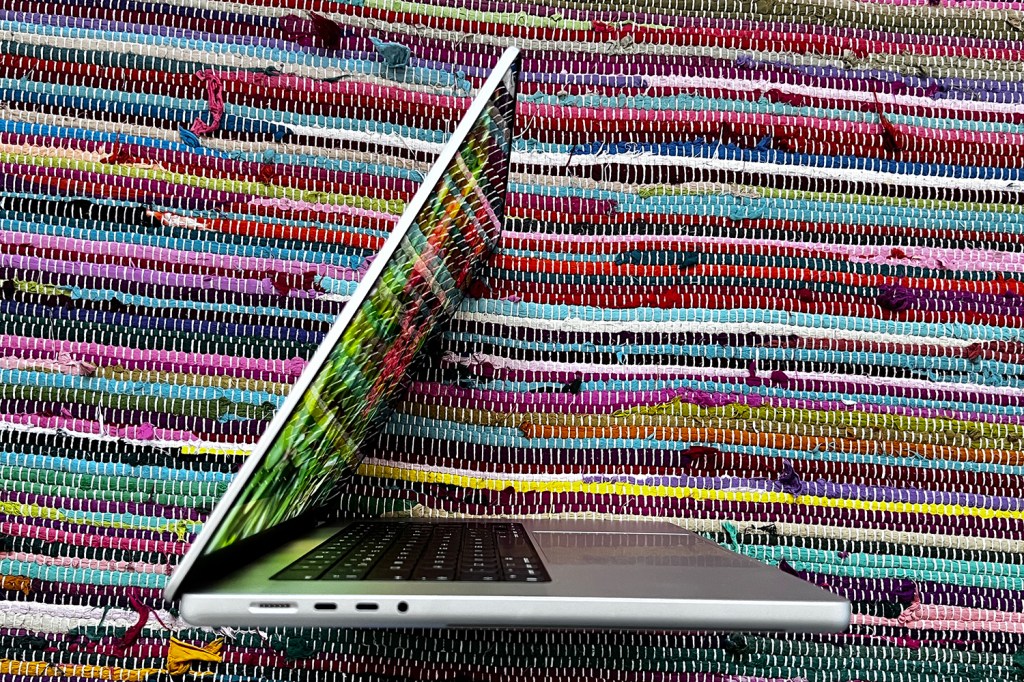 For the vast majority of people, the base level M1 is more than enough, especially if you bump it up to 16GB RAM. The M1 Pro is overkill. So we're not sure what the M1 Max is – overoverkill, if that's a word. (It is now.)
That said, the M1 Max doesn't steamroller the M1 Pro – or even the standard M1 – across the board. Single-core benchmark scores were much of a muchness. System operations like working with massive ZIP files are a little different. Where it blazes ahead is with graphics and multicore performance.
During tests, this unit chewed through video encoding, sometimes to a rate that even embarrassed the M1 Pro. If you're working with ProRes video, the M1 Max has two ProRes accelerators. This means you'll get up to 30 streams of 4K or seven streams of 8K with the M1 Max – rather than 'only' 20 streams of 4K or four streams of 8K with the M1 Pro. That's not just phenomenal in a notebook – it betters a 28-core Mac Pro with Afterburner. But it's a waste of your money if you don't have workflows that take advantage of all that power.
Thanks for the memory
The new MacBook Pros default to 16GB RAM and max out at 32GB (M1 Pro) or 64GB (M1 Max). But Apple's unified architecture complicates things – upgrades are expensive, but the system is more efficient than what came before. Broadly, you can get by on half the RAM you'd previously have installed. To be on the safe side/future-proof, go for what you're used to. Upgrade further for demanding tasks (3D; music; video) with known high asset/memory footprint sizes.
Random observations
Like the 14in model, this 16in one replaces the TouchBar with full-size function keys. The keyboard is pleasant to use.
We assume there are fans in this Mac. We never heard them during review.
The power brick is massive and charges this MacBook Pro to 50% in about a half hour. However, unlike with the 14in model, fast-charge is not available via USB-C.
This Mac has the clout for games, but is stymied by the Mac's gaming ecosystem. If you want to play PC games, get a PC.
All the ports come across from the 14in model, meaning you can ditch dongletown. Unless you use USB-A, because you still don't get a port for that.
When you're paying this much money, would it have killed Apple to put Centre Stage in the (now 1080p) webcam?
Verdict: MacBook Pro 16in with M1 Max (2021)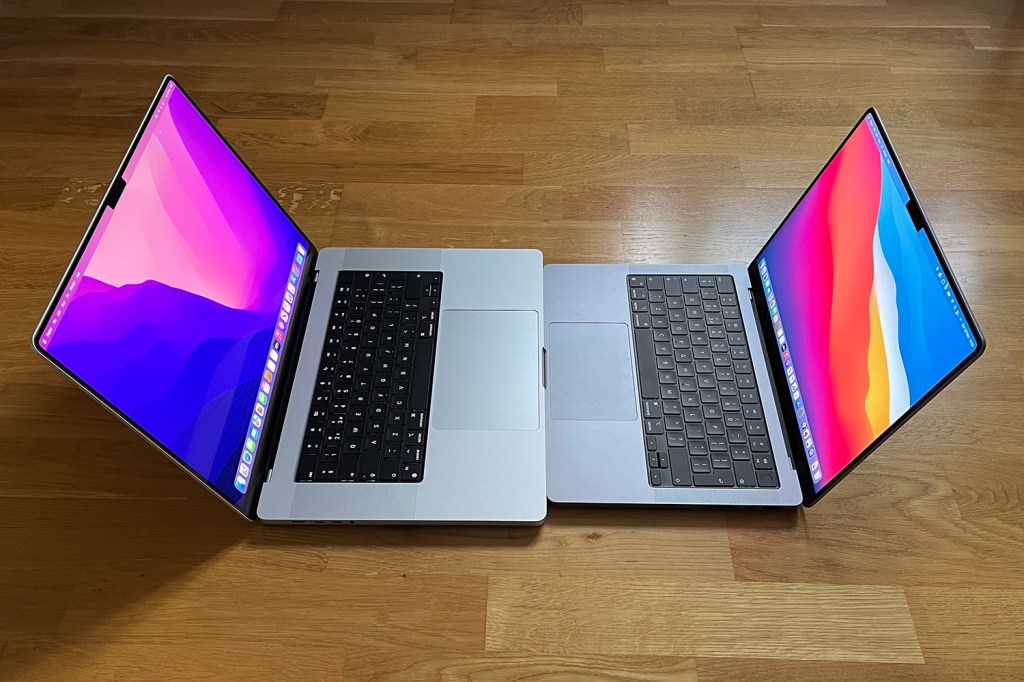 The maxed-out MacBook Pro 16in M1 Max is overkill unless you have very specific requirements: a need to scythe through high-res footage; a career in complex 3D graphics, number crunching or audio projects; or an obsession with bragging rights.
There is a middle ground. If you're not fussed about laptop portability and weight but do care about display size, quality audio and raw power, the 16in M1 Pro would be an excellent option. And if you do want portability, make do with the smaller display and go for the 14in model.
Either way, the 16in MacBook Pro is an objectively hugely impressive piece of kit. And that's the case when considering the revamped design, improved display and audio, or the fact Apple's this time listened to its pro audience and given them what they asked for.
Stuff Says…
The most niche of MacBooks is also the most impressive. But even if you ditch the M1 Max, there's a lot to like.
Good Stuff
Breathtaking display
Impressive speakers
Improved connectivity
Hugely powerful
Bad Stuff
Expensive
Heavy
No Centre Stage
Value reliant on specific workflows
Tech specs
| | |
| --- | --- |
| Screen | 16.2-inch Liquid Retina XDR 3456×2234 with P3, True Tone and ProMotion |
| Processor | Apple M1 Pro or M1 Max |
| RAM | 16GB/32GB/64GB (64GB M1 Max only) |
| Storage | 512GB–8TB SSD |
| OS | macOS Monterey |
| Connectivity | 802.11ax Wi‑Fi 6; Bluetooth 5.0; 3.5 headphone; 3x Thunderbolt 4; MagSafe 3; HDMI; SDXC |
| Dimensions | 35.57×24.81×1.68cm; 2.1kg (M1 Pro) or 2.2kg (M1 Max) |