LG OLED65G1 review
The best OLED TV from one of the best OLED TV brands
Yes, there's a lot about LG's new G1 OLED TV range that's new and interesting and exciting and intriguing. Yes, LG has made changes to the OLED panel itself, to the operating system you use to interact with it, to the processing protocols that govern picture quality, even to the TV's remote control. And yet despite all this, there's one question above all others that we need an answer to.
Where exactly does LG get the nerve to charge three grand for a television that doesn't even have any feet?
Design and build: shallow, in a good way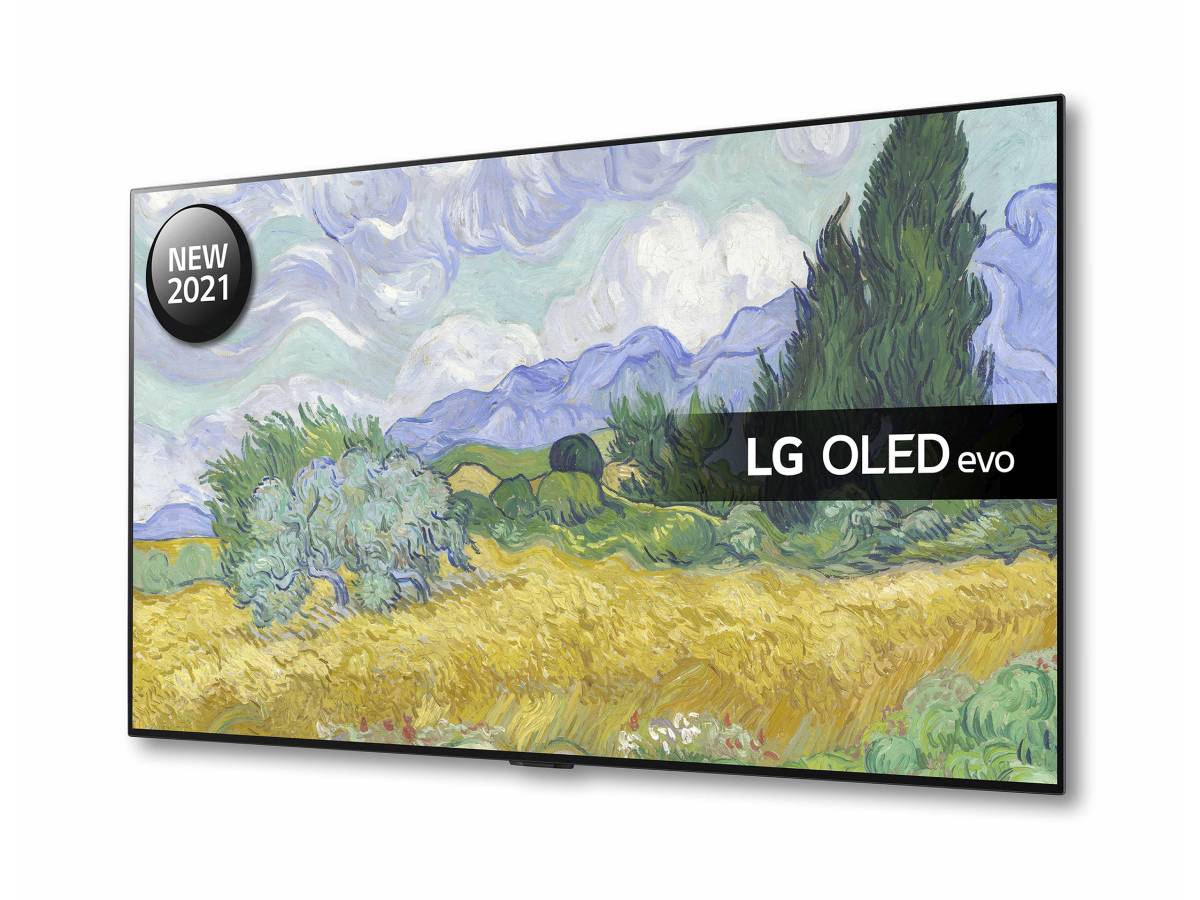 As part of LG's 'Gallery' series (which is where the 'G' in the model name comes from), the OLED65G1 is designed to be hung on the wall. And to make this as enticing a proposition as possible, LG has managed to deliver a OLED TV that has none of the usual OLED 'incredibly slim right until the big bulky bit where all the electronics are' about it. The OLED65G1 is just 2cm deep, consistently – and the wall-bracket with which it's supplied doesn't add any depth either. So when it's on the wall, the LG is virtually flush.
(This may explain why the OLED65G1 is supplied without feet. It doesn't explain where LG acquired the neck to charge £99 for a pair of feet should you want them.)
Elsewhere, the OLED65G1 is equally minimal and discreetly decorative. The bezel surrounding the screen is vanishingly brief, to the point that there's not even room for any 'LG' branding. And to reinforce its 'gallery' credentials, the OLED65G1 will display some framed Old Masters while it's in low-power/standby mode if you so desire.
As far as build quality is concerned, well, the search for a badly made TV from a mainstream manufacturer goes on. There's just no arguing with the way the LG is constructed – even the clip-on panels that cover all cables at the rear of the chassis feel robust and built to last.
Features: punchier than previously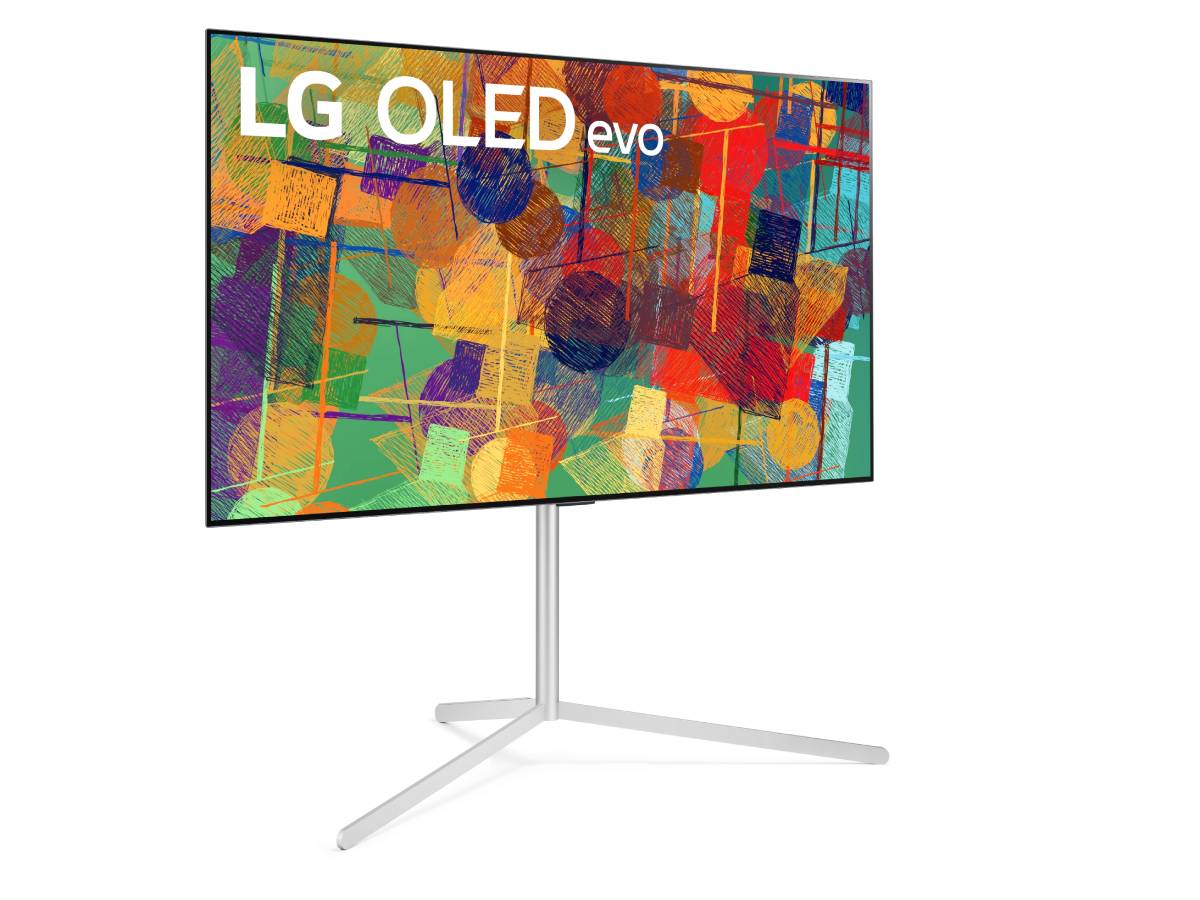 The first big item of news here is the 'Evo' OLED panel. Basically, LG is promising brighter, sharper images, as well as greater power efficiency, than ever before from the G1.
The construction of the panel itself is new here – there's an additional green layer, a new 'luminous' element, and narrower, better-controlled blue and red wavelengths. In theory, then, the G1 should be a brighter, more punchy, more accurate and more vibrant watch than any previous LG OLED. Which, given that LG has been responsible for some of the best OLED TVs ever made, is quite a prospect.
To run the new panel (and the show overall) there's a new processor. The Alpha 9 Generation 4 processor (these things always have the snappiest names, don't they?) is intended to optimise content to best suit the strengths of this new 'Evo' panel. It includes a big AI element to help upscale sub-4K content as convincingly as possible, as well as a feature called AI Picture Pro which can apply enhancements to specific areas of an image (whether that's augmenting sharpness, or brightness, for instance) in an effort to give the overall image as much impact as possible. While still looking natural and convincing, of course.
One of the big pluses of LG's 2020 range of TVs was its commitment to next-gen consoles, and with the OLED65G1 it's obvious the company wants to maintain a position as one of the dedicated gamer's go-to brands. All four of the G1's HDMI inputs are fully 2.1-specified – which means 40gbps, eARC, 4K@120Hz, VRR, HGiG, FreeSync and ALLM. In conjunction with a lag time of, at worst, 12ms or so, you can confidently connect your Playstation 5 or Xbox Series X to any of those four sockets and be sure you're getting the best from it.
Interface: all kinds of everything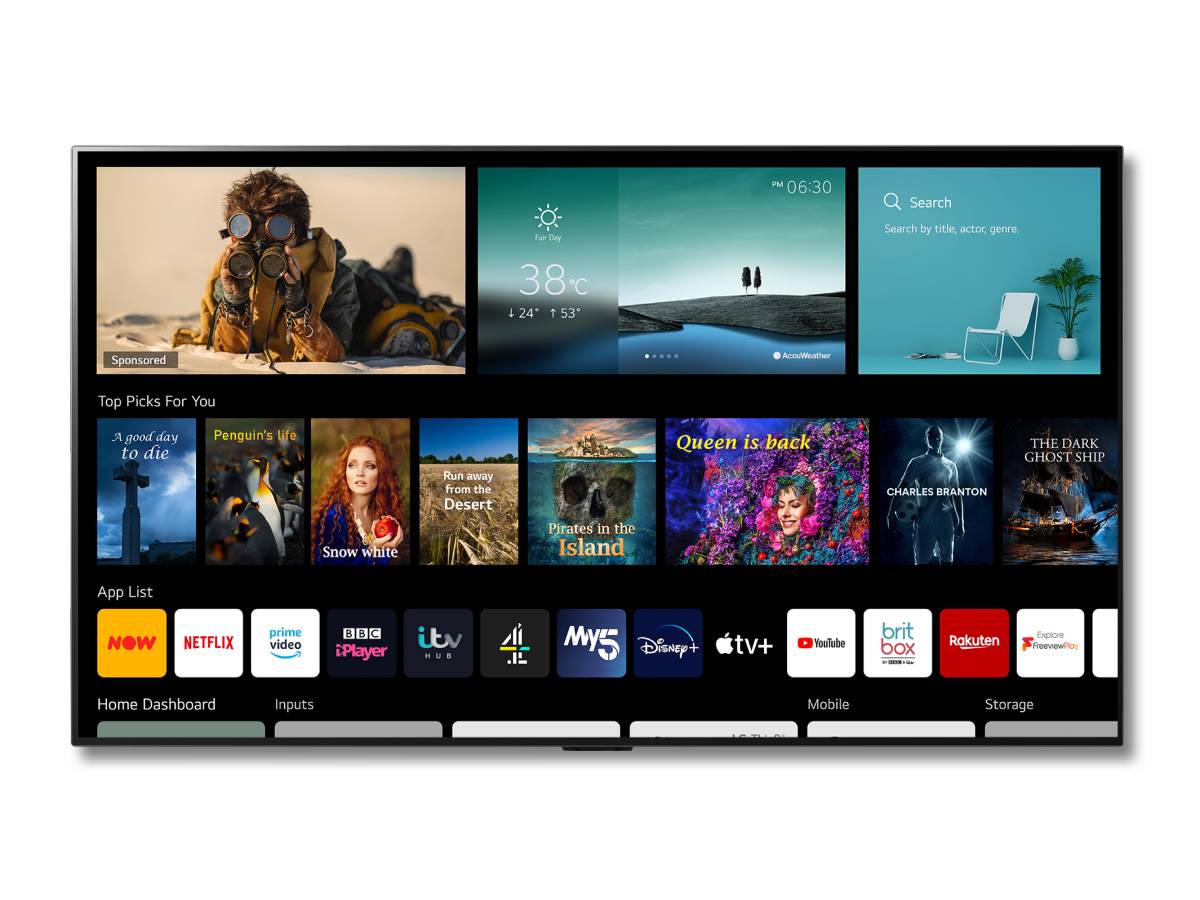 LG embarrassed itself quite comprehensively last year by contriving to omit all of the UK's catch-up TV services from its 2020 range of screens. Happily, it's rectified that for this year – Freeview Play is back, and with it comes as complete a broadcast TV experience as is possible.
And it's part of a thorough overhaul of the user interface. The OLED65G1 (and every other 2021 LG TV) is packing webOS 6.0, and it's a pretty big change to what we've all become used to from LG. The interface now covers the entire screen, which is a double-edged sword, and as well as Freeview Play it features an extensive selection of apps including Netflix, Amazon Prime Video, Disney+ and Apple TV – all of which are compatible with Dolby Atmos and Dolby Vision. Less headline-worthy alternatives from Now, Rakuten, Google Play Movies and all the rest are here too, as well as quite a number of audio options from Spotify, Deezer, Tidal and so on.
webOS 6.0 puts a big emphasis on recommendations – but you'll need to put quite a few hours in before the OLED65G1 starts to properly understand your viewing habits. Otherwise 'recommendations' is really closer to 'some random things that are available'.
Navigating the interface and the redesigned set-up menus happens using the latest version of LG's almost entirely admirable Magic Remote. The 'point-and-click' aspect, which is so effective at both navigating the screen and antagonising cats, continues, as does the 'up/down' scroll-wheel. There's a built-in mic for voice-control and some 'direct access' buttons too, and the remote is now more palm-friendly and ergonomic. Good job, LG. There's also LG's 'Smart Remote' app, but for once where these things are concerned it's not as pleasant or helpful to use as the remote control.
Picture quality: enlightenment
There doesn't seem a lot of point in beating around the bush here, so why bother? LG's 'evo' panel basically makes good on everything it promises, which makes the OLED65G1 LG's best OLED TV so far. Which, in turn, makes it one of the best OLED TVs ever offered for sale.
The Dolby Vision-assisted Thunder Force on Netflix makes the case very strongly indeed. Every aspect of picture-making is impressive here – colours are vibrant but never overdriven, detail levels are sky-high even in dark or otherwise-demanding circumstances, contrasts are wide but not unnatural, picture noise just isn't an issue, and edge-definition is smooth and confident. Skin-tones and skin-textures are convincing, and the OLED65G1 does brilliant work with lighting – the restaurant scene featuring Melissa McCarthy's Lydia and Jason Bateman's Jerry the Crab has real visual warmth and subtlety. The three-dimensionality the LG can generate is impressive too.
There's no HDR10+ dynamic metadata here (and while we'd like every HDR standard if we're paying this sort of money, let's face it: HDR10+ is the most minor of losses), but nevertheless a 4K HDR10+ Blu-ray of Parasite looks a treat. There's real punch and dynamism from the images, but they never look overwrought or artificial.
About the only area where the LG doesn't prove downright masterful is motion control. The set-up menus offer quite a few different options, and you'll find the one that suits the content you're watching – with Thunder Force, for example, you're best off selecting 'cinematic movement'. This way the OLED65G1 can control even complex moving patterns really impressively – but you can guarantee whatever you watch next will require a different 'clarity' setting. It would be nice if there was a 'one size fits all' option that meant it was possible to switch from a Netflix stream to some broadcast TV, say, that didn't require some finessing of the screen settings before you could settle down to watch it.
The LG's an accomplished upscaler, up to a point. Certainly a 1080p Blu-ray of There Will Be Blood looks convincing, and while it's not as lavishly detailed as the native 4K equivalent it's certainly not giving much away. The colour palette continues to convince, and contrasts continue to pop. A bit of televised sport on the BBC iPlayer is equally enjoyable, with the LG managing to combine big areas of uniform colour, unpredictable and constant on-screen motion, and the required levels of detail with proper expertise. Once you've established which is the appropriate motion setting, anyway.
Inevitably, the further you set down in source quality the harder the LG has to work. So if you somehow find yourself watching daytime reruns of On The Buses on ITV3 you a) will be watching a picture that's soft, indistinct, uncertain with motion and completely without black-tone detail, and b) need to have a look at yourself.
Sound quality: kinda sorta
All in, the LG can summon a total of 60 watts of audio power. It's divided between a 'subwoofer' (20 watts) and four full-range drivers (10 watts each), arranged to be invisible and to fire downwards.
And taken on its own terms, there's not much to take issue with here. There's decent clarity, dialogue remains distinct, and with a Dolby Atmos soundtrack the OLED65G1 manages to sound quite spacious and well-defined – even if there's no actual 'Atmos' sensation of height or meaningful width.
But – and there's no polite way of saying this – the LG sounds boring. It lacks dynamism, it lacks vigour, and it lacks any kind of meaningful punch. It complements the LG's visual prowess like a lit match complements a fireworks display. And anyway, if you've £3K for a new TV, don't pretend you don't have a couple of hundred pounds, minimum, for a proper soundbar to try and bring your audio experience into line with your sonic experience.
LG OLED65G1 verdict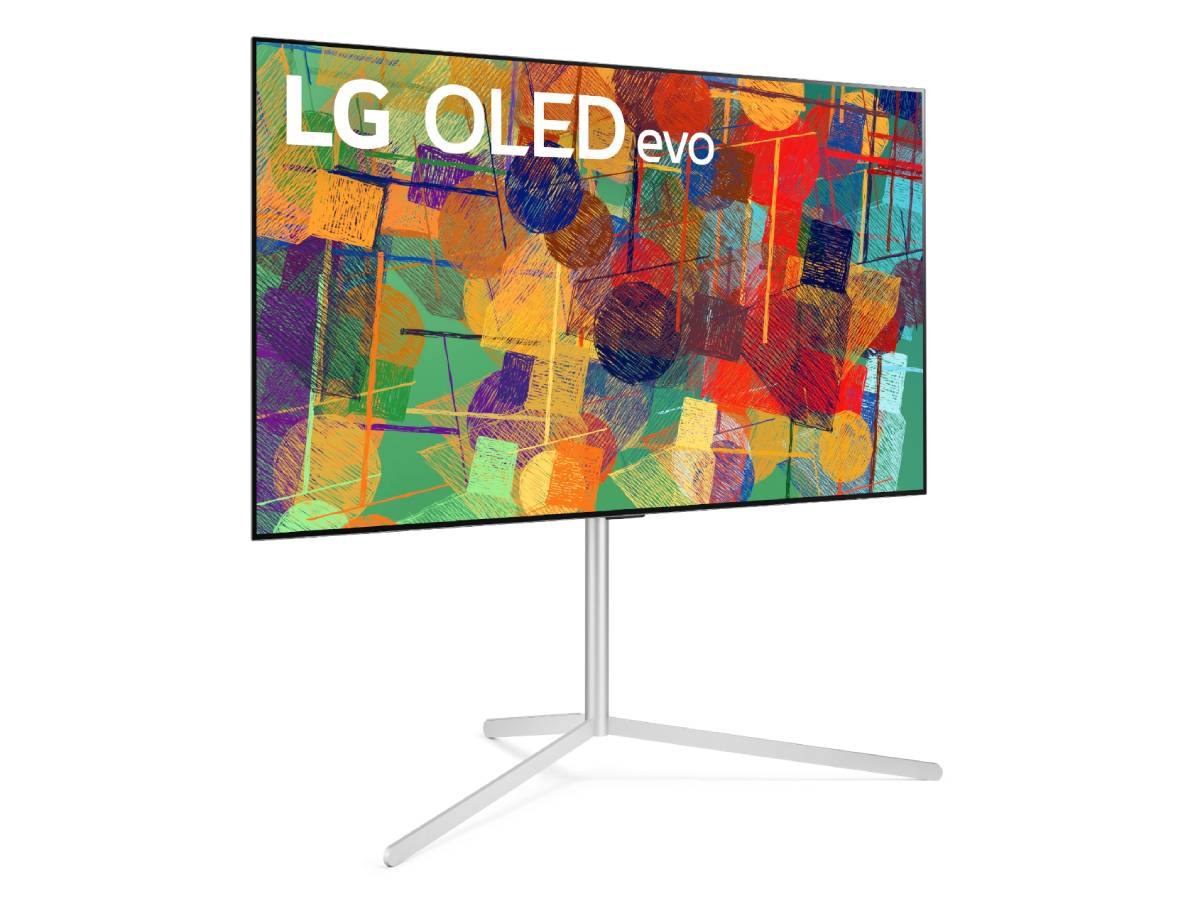 This is an awful lot of money to pay for a television, even one that's as slim and well-specified as this one – especially when you take its humdrum audio quality into account. But there's no denying LG has made good on its 'evo' promise by serving up pictures that exceed our OLED expectations.
And given that it's so good, we suppose LG is entitled to charge what it thinks it can get away with.
Stuff Says…
Is this LG's best-ever OLED TV? Probably. Which means it's about as good an OLED TV as we can remember seeing
Good Stuff
Outstanding picture quality, especially from 4K HDR sources
Slim and good-looking
Great OS with a stack of apps available
Bad Stuff
Expensive, and more expensive still if you want feet to stand it on
Sounds underwhelming
Can be picky about motion settings