LG 55UB950V 4K TV review
4K is mighty fine, but this LG's real superpower is its WebOS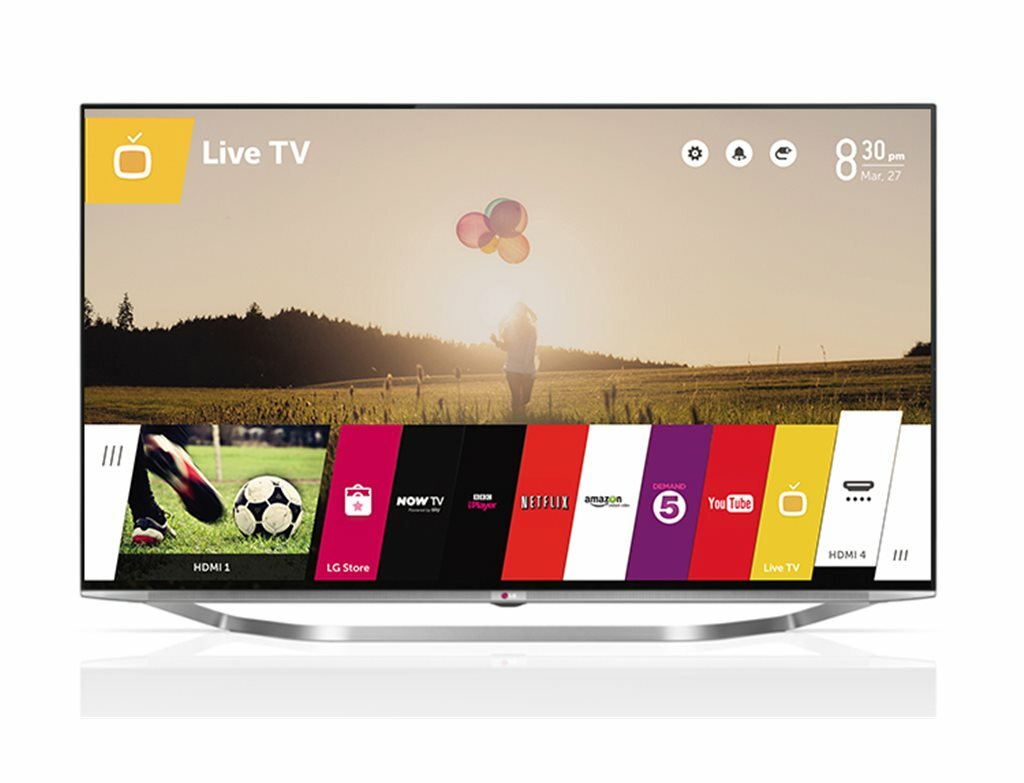 Finally, 4K TVs seem like a pretty realistic proposition.
They used to cost as much as cars, but now they're priced at normal people levels. The sets are getting much better, too, with more consistency of quality across 4K, Full HD and standard definition.
But there are also loads of them available now, with every manufacturer scrapping like a toddler at a picnic for its piece of the pie. That means it's going to take a lot for an individual telly such as the LG 55UB950V to get to the top of the tree, but it does have some natty tricks up its sleeve that might make the climb a little easier.
Plastic fantastic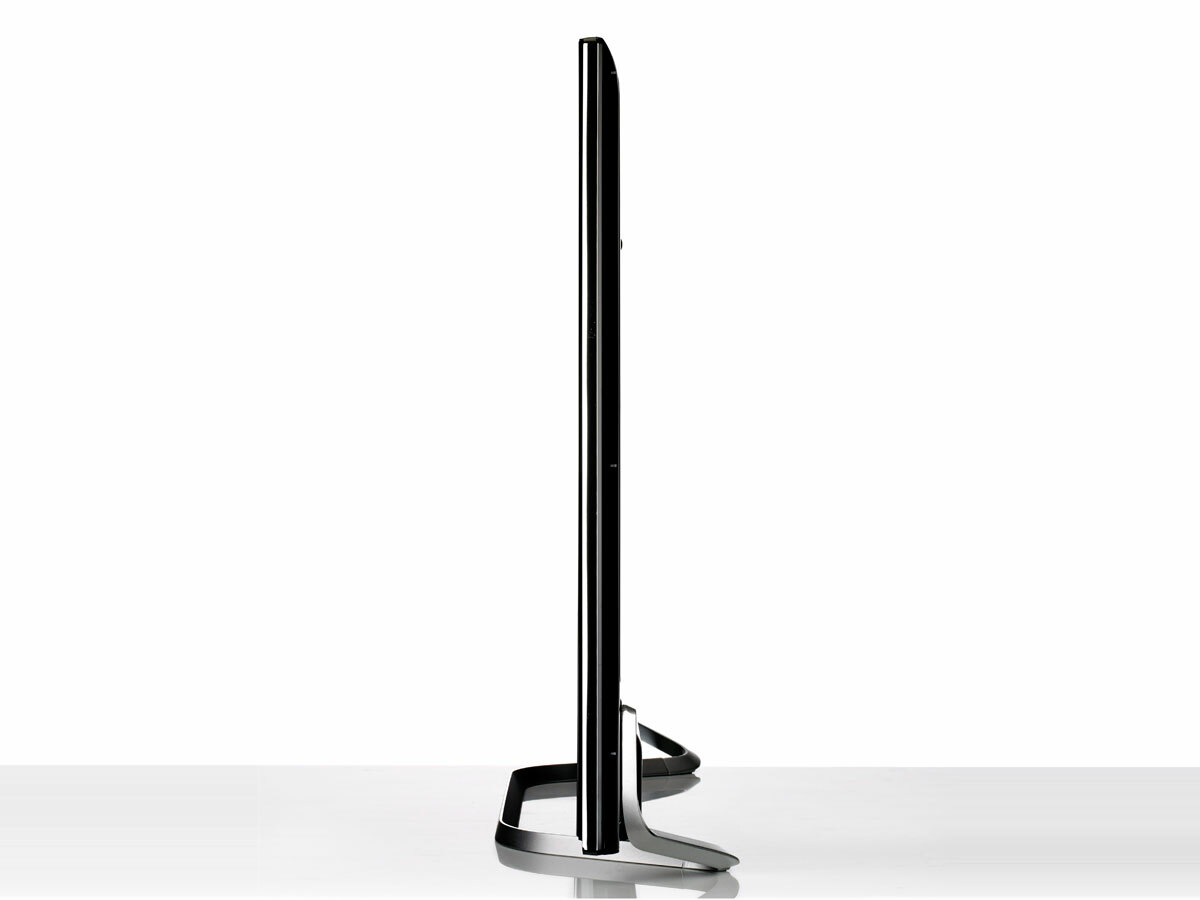 First impressions are good. It's pretty. The bezels are thin, and that simple arching stand stays on the good side of flashy. Get up close, however, and the LG has a lot more plastic in its build than you'd expect at this super-premium end of the scale.
Still, construction is sturdy. And you're not going to spend much time stroking the TV, are you? Unlike some of LG's other TVs, there are no tiny wheels in the base of the TV – which means less swivelling than we'd like.
READ MORE: Sky's supercharged Project Ethan box will support 4K, cloud recordings and more
Specs-y beast
If you're a fan of plugging things in, you're in luck. There's a generous set of connections, including four HDMI 2.0 inputs, three USB ports and LAN (as well as wifi). Internally, there is the HEVC decoder needed to stream 4K from Netflix, still basically the only source for your Ultra HD fix.
You get two remote controls (more on those later) and two pairs of passive 3D specs. These have lovely metal frames, and are actually stylish enough to not look out of place out and about. But don't wear them out and about, because that'll just hurt your eyes.
Picture packs punch
The first thing to do is to download Netflix and stream some 4K. As long as you have a good enough connection (15mbps is recommended for 4K), loading times are speedy and operation is smooth.
House of Cards makes good use of the eight million pixels on hand. The picture is super sharp, and it's easy to pick out all the little details. If you've ever felt the need to scrutinise every line on Kevin Spacey's face, here's your chance.
The picture isn't very subtle, however. After marvelling at all the texture afforded by Ultra High Definition, attention falls to the colours. They're very punchy, and in a showroom environment would have no problem grabbing your attention, but you miss the super-realistic nuance and gentle gradation that you get from a truly stunning TV set. The LG also struggles a bit with contrast, and blacks are rarely properly dark.
When it comes to upscaling 1080p, the LG does a good job. The picture is as sharp and clean as on a good HD TV, and there's little in the way of noise. Motion could be a little more stable, but that can be fine-tuned in the settings.
READ MORE: Here's why 4K TV is set to conquer your living room
LG 55UB950V Tech Specs
Screen size: 55in (also available in 65in)
Resolution: 3840 x 2160
Display technology: LCD with LED backlight
Speaker output: 35W
Connectivity: Freeview, HDMI 2.0 (x4), USB (x3), Component, Composite, Scart, Ethernet, Wi-Fi, Headphone, Optical output
Dimensions (hwd): 776 x 1232 x 242mm with stand, 734 x 1232 x 60mm without stand
Weight: 24.2kg with stand, 23.1kg without stand
WebOS, the ingenious interface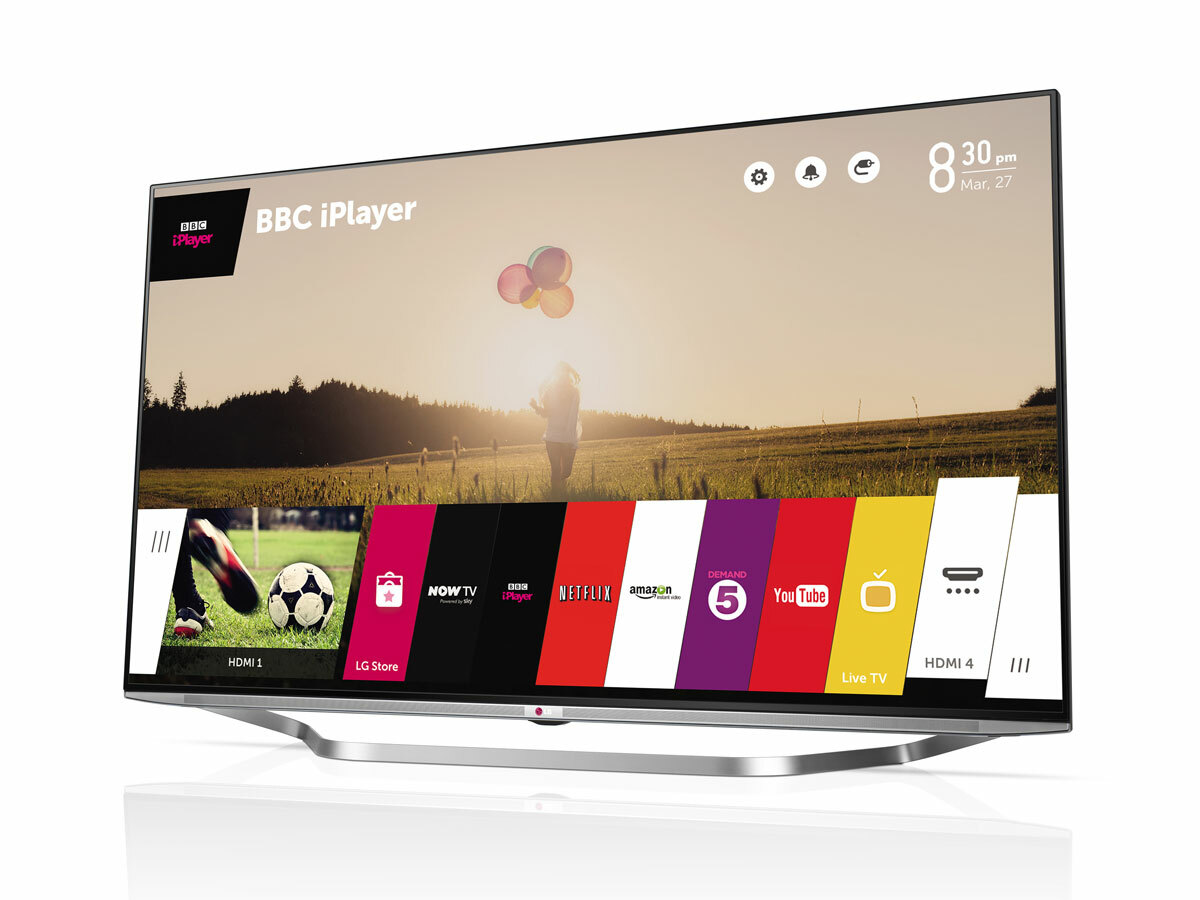 It wasn't long ago that smart TV interfaces were unmitigated rubbish. Viewing web-based content meant being booted out of whatever you were watching and dragged over to some kind of smart portal that basically consisted of a bunch of low-resolution icons and a laggy interface. In fact many smart portals are still very much like that.
LG's new WebOS (also known as LG Smart+ TV for no reason at all) is the kick up the backside the TV designers should have had years ago. It's got no specific 'hub' to visit. Everything is laid out in the Launcher, a pop-up bar that comes and goes without interrupting your current programme. The idea is to introduce all manner of multitasking, so you can jump between YouTube, Netflix, a specific IT program and your games console as easily as flicking from BBC One to BBC Two on a standard TV.
The system is laid out chronologically. A big window in the centre is your current choice. Go left to see recently view channels and apps. Go right to flick through all the other apps you've downloaded, which you can rearrange as you please. Operation is super-slick, with no significant lag at all. Ever.
READ MORE: Hands-on with LG's WebOS – the first smart TV platform worthy of the name
Smooth operator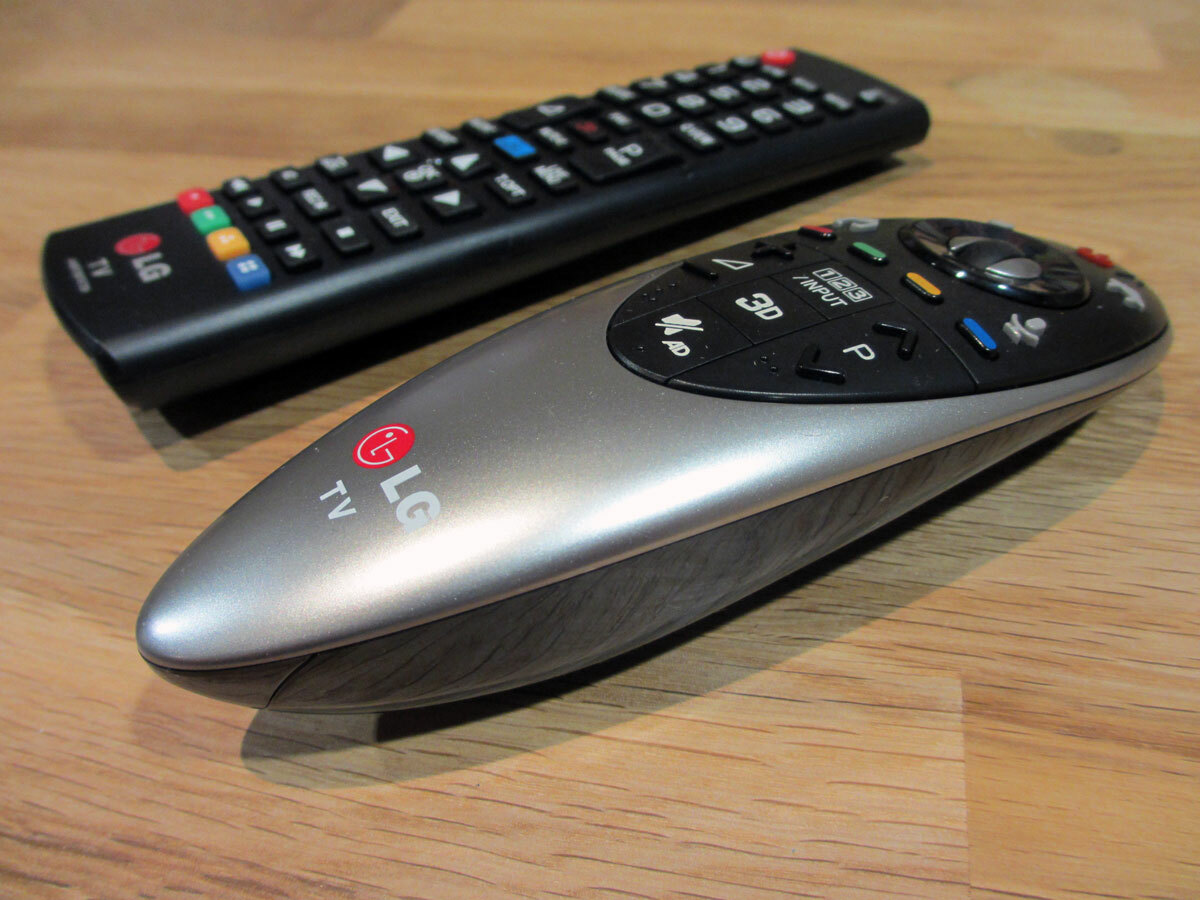 Another part of WebOS's strength is the controls. The best way to go about it is with the Magic Remote, which is basically a gyroscopic banana. It uses your movements to control an on-screen pointer. This works seamlessly with the rest of the interface: clicking through the system is a smooth, intuitive experience. And the banana remote is great to hold.
Don't like change? That's fine – you also get a regular button stick remote. The keys are a little squidgy, but it's responsive enough. It won't get the most of WebOS, however.
READ MORE: Netflix: by the time broadcasters are doing 4K, we'll be on to the next thing
LG 55UB950V Verdict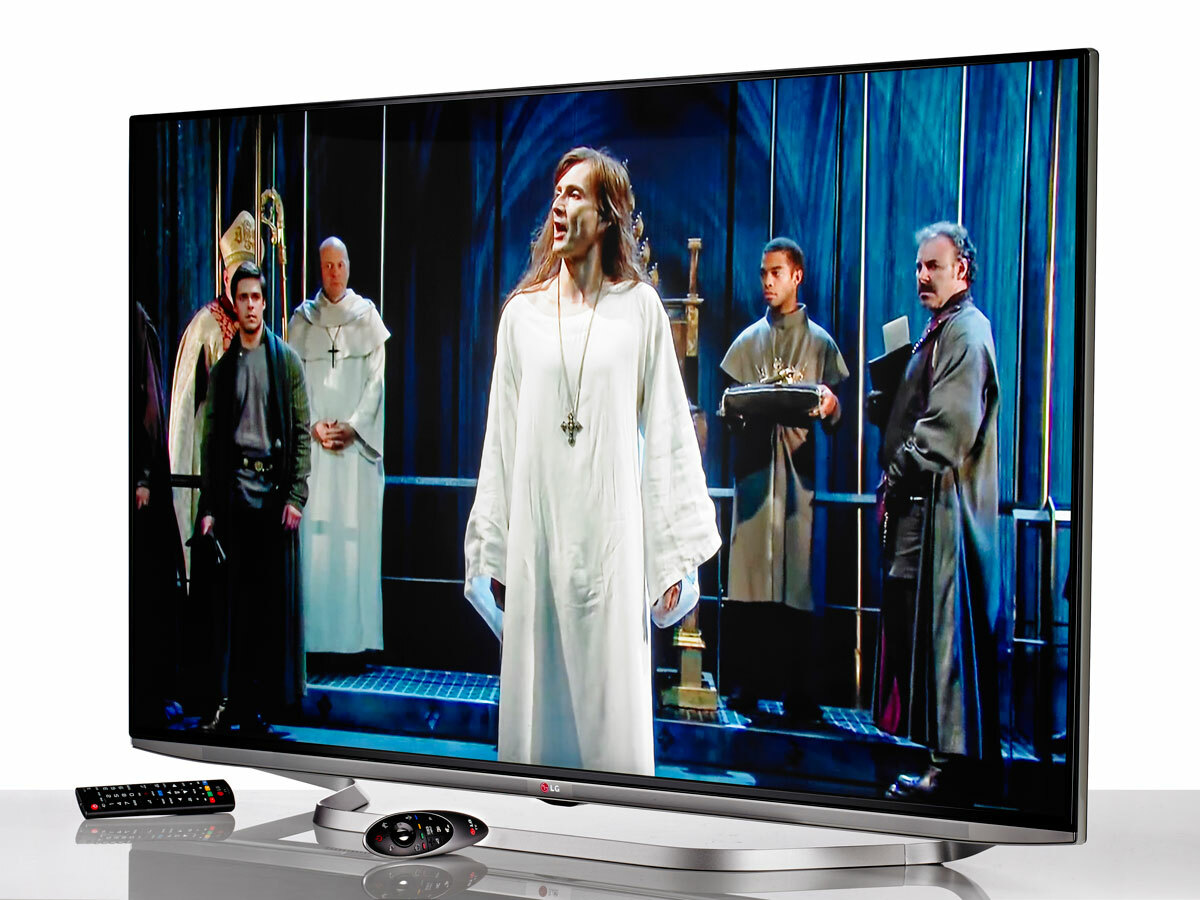 The LG 55UB950V isn't perfect, but there's plenty here to recommend.
WebOS is an absolute revelation, and if we had our way, every TV would work like this. It's just a shame the picture isn't quite as brilliant.
It sure is punchy and detailed, but there are rival 4K tellies that give you a more natural, nuanced picture, and if you're spending this much money on your TV it's because you want the very best picture quality out there. This is close, but not quite it.
READ MORE: The 10 Best TVs in the World right now
Stuff Says…
A truly superb interface held back just slightly by a performance that's simply very good
Good Stuff
WebOS is a work of genius
Lovely to control
Punchy colours
Bad Stuff
Not the most natural or realistic colours
Issues with contrast
Build quality a bit plasticky