Huawei MediaPad M3 review
Huawei throws stainless steel and stereo sound at its best compact tablet yet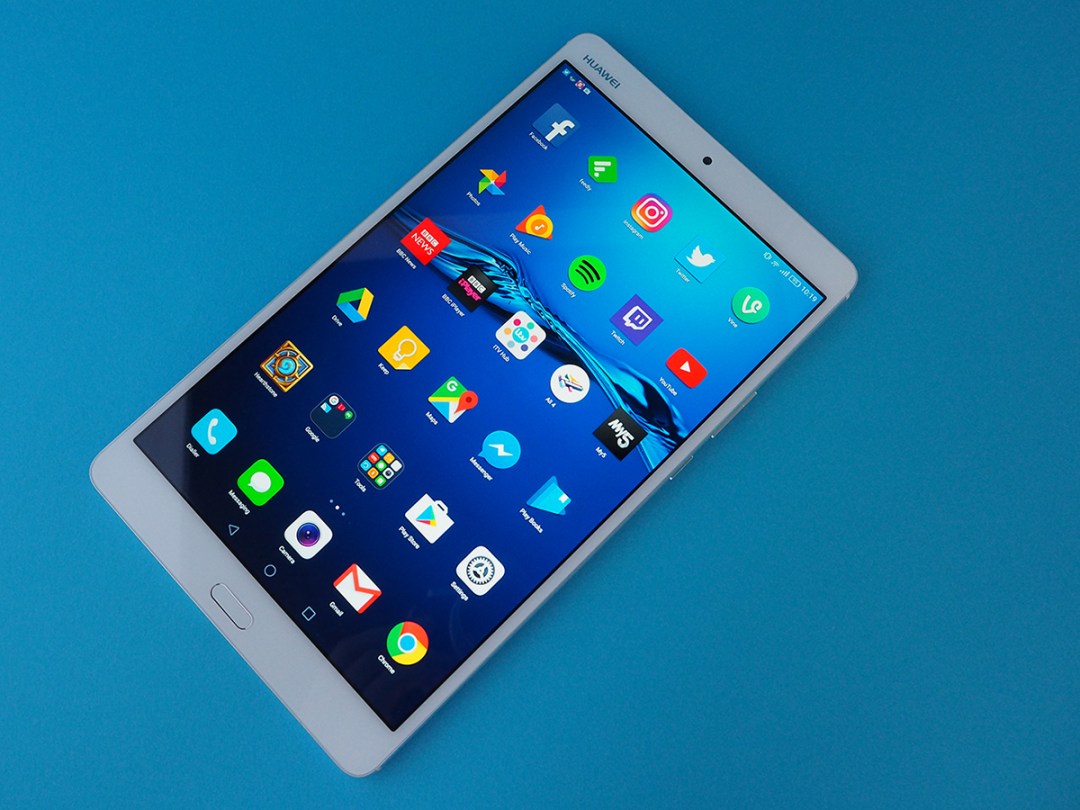 After a top-notch tablet that's not an iPad? There's not a lot of choice out there – especially if you're after something you can lug around in one hand.
Samsung's Galaxy Tab S2 8.0 has pretty much ruled the roost this year, but the MediaPad M3 8.0 might just be the slimline slate to take the top spot.
It's a high-end upgrade to the MediaPad M2, which impressed us in 10in form back in May. The sequel gets uprated internals, a higher resolution screen, the latest version of Android, and is small enough that you don't need two hands to use it.
Just about.
DIAMONDS ARE FOREVER
Huawei loves a good diamond cut – just look at the dual camera-packing P9 smartphone, or the mid-range Nova. And guess what? There's one here too.
The MediaPad M3 has a metal frame with some distinctively sliced edges, which curve around the back of the tab and make it feel that little bit thinner in your mitts. The metal back has been sandblasted down to a smooth finish, but it's actually pretty grippy. Tipping the scales at 322g, it's not going to snap your wrist if you use it with one hand.
Up front, the the white and finish and siver trim look more than a little bit like an iPad, especially with the fingerprint sensor sitting front-and-centre right where Apple slaps its home buttons.
On the back, there's more of a champagne hue, but that plastic strip around the rear camera cheapens the look. Sure, it matches other Huawei tech, but I reckon a completlely metal back would have looked cleaner.
That thin frame still leaves room for a 3.5mm jack and microSD card slot, which can also hold a SIM card if you pick up the 4G LTE version. It's only got microUSB on the bottom, though – there's no flip-reversible USB type-C here.
FINGERSMITH
It isn't the snappiest sensor Huawei makes, but the MediaPad M3's fingerprint sensor is still pretty reliable. It takes about a second to wake the tab out of sleep mode.
The pill-like shape might look the spitting image of Samsung's Galaxy S7 sensor, but don't expect a clicky button. It's just a touch-sensitive pad. Still, it does double up as a back button once you've unlocked the screen.
I'm still a bit undecided if Huawei has put it in the right place; when you're holding the tab in one hand there's no way to reach it, and the 16:9 screen ratio makes it a little too top heavy to grip by the bottom edge. At least you won't trigger it accidentally when you're gumballs-deep in a game of Candy Crush.
COLOUR ME IMPRESSED
That 8.4in screen up front is a bit of a beauty. The MediaPad M3 is rocking an LCD panel, but one that's got brilliant saturation and plenty of brightness. It really helps photos and videos make an impression.
It's got a glossy finish, which might help give colours some extra punch, but also catches the light like a mirror. Plan on heading outside? You'll want to find some shade to avoid reflections. It does at least have an ambient light sensor, something that's rarer than hen's teeth on most Android tablets, so it'll automatically boost brightness when the sun's shining.
The 2560×1600 resolution makes the M3 stand out over cheaper Android tabs, too. It's got a few more pixels than a standard QHD screen, and even if you won't be able to tell without a magnifying glass, it's still pin-sharp. You won't miss out on any details when swiping through your holiday snaps.
Contrast was never going to top the AMOLED beauty that is Samsung's Galaxy Tab S2, but it still puts in a great performance. You can tweak the colour and white balance settings too, so you can get a completely personalised look.
SOUND OFF (ONE, TWO)
The M3 has great audio to match the killer screen, with speakers at the top and bottom edges for stereo sound. They're offset, too, so you won't block 'em with your hands when you're holding it in landscape.
They're tweaked by audio experts Harman Kardon, with an EQ that switches when you hold the tab sideways for the best possible sound. Whichever way you hold it, though, these are some of the loudest speakers you can get in a tablet.
I actually managed to drown out a much larger laptop when I cranked up the volume to max, but you'll get a bit of vibration and distortion – knock it down a pip or two and you'll find the sweet spot.
Keep your expectations in check and it'll impress for quality. There's no real bass presence, and the top-end gets a little shrill at high volumes, but it's easily among the best tablets around for sound.
PRETTY FLY FOR EMUI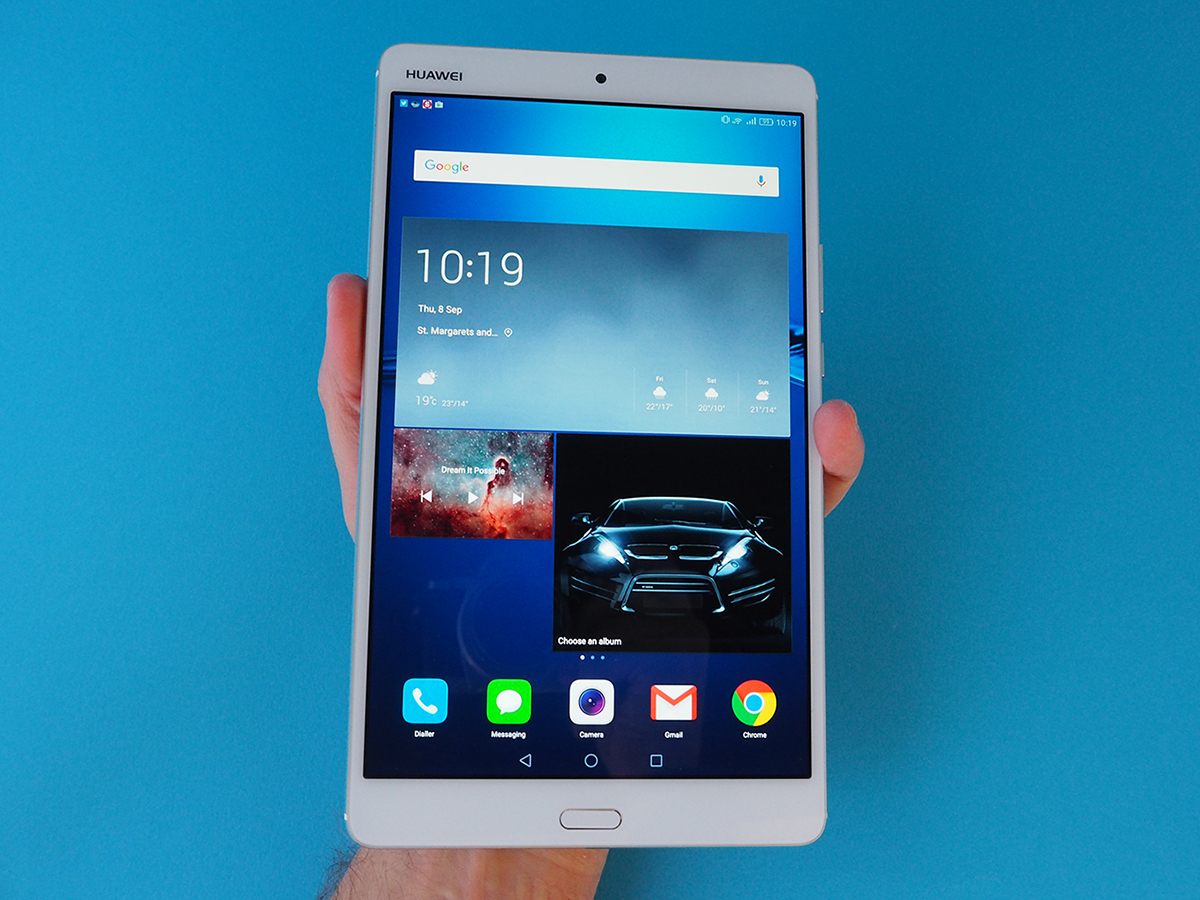 The M3 comes loaded with the EMUI skin on top of stock Android, which means it's packing all the same tweaks, changes and odd quirks as Huawei's smartphones.
Custom icons, a new notification tray and some aggressive power management all make an appearance, and there's no app drawer – everything just gets dumped on the home screen.
There's plenty to customise, though, so if you don't like something there's a good chance you can change it. It might be running Android 6.0, but there's a taste of Nougat in there too: split screen mode lets you run two apps at once by holding down the Recents button. Not all apps support it, but it's still a handy inclusion that makes a lot more sense on a tablet than on a phone.
Huawei's own Kirin 950 CPU is underneath running the show, helping to keep things ticking over smoothly while you're on the home screen. I couldn't spot any lag or stutter when switching between apps or web browsing, but games are a different matter.
Chuck on Asphalt 8 and you'll spot choppy frame rates at the default graphics settings. Drop them down and you'll still spot frame rate drops. Basically the high-res screen is asking too much from the graphics chip – stick to more basic stuff and you won't notice it, but mobile gamers may want to look elsewhere.
Battery life is about on par, seeing how the screen is pushing so many pixels. I managed about ten hours of looping video playback at half brightness, so you'll easily get through a full day of use without having to head for a mains socket.
SMILE FOR THE CAMERA
The 8MP rear snapper isn't going to blow you away if you've got a remotely modern smartphone: it's got a fairly wide f/2.0 aperture but it just can't capture enough detail once the sun goes down.
Low-light shooting ends up with a mess of noisy photos, and there's no LED flash to step in and save the day.
It fares a little better in the sunshine, and the M3's compact size means you don't look like a doofus when you're snapping photos with it. Expect a decent amount of detail, but somewhat muted colours.
It's a shame, because Huawei's Camera app has some pretty useful modes to mess about with. All Focus takes several shots at once, then lets you pick a point to focus on after you've pressed the shutter button, Light Painting overlays multiple photos to build up artistic night shots, and Pro mode lets you tweak ISO and shutter speed.
These would be great in a better camera, but chances are you won't actually use them on the M3.
Huawei MediaPad M3 verdict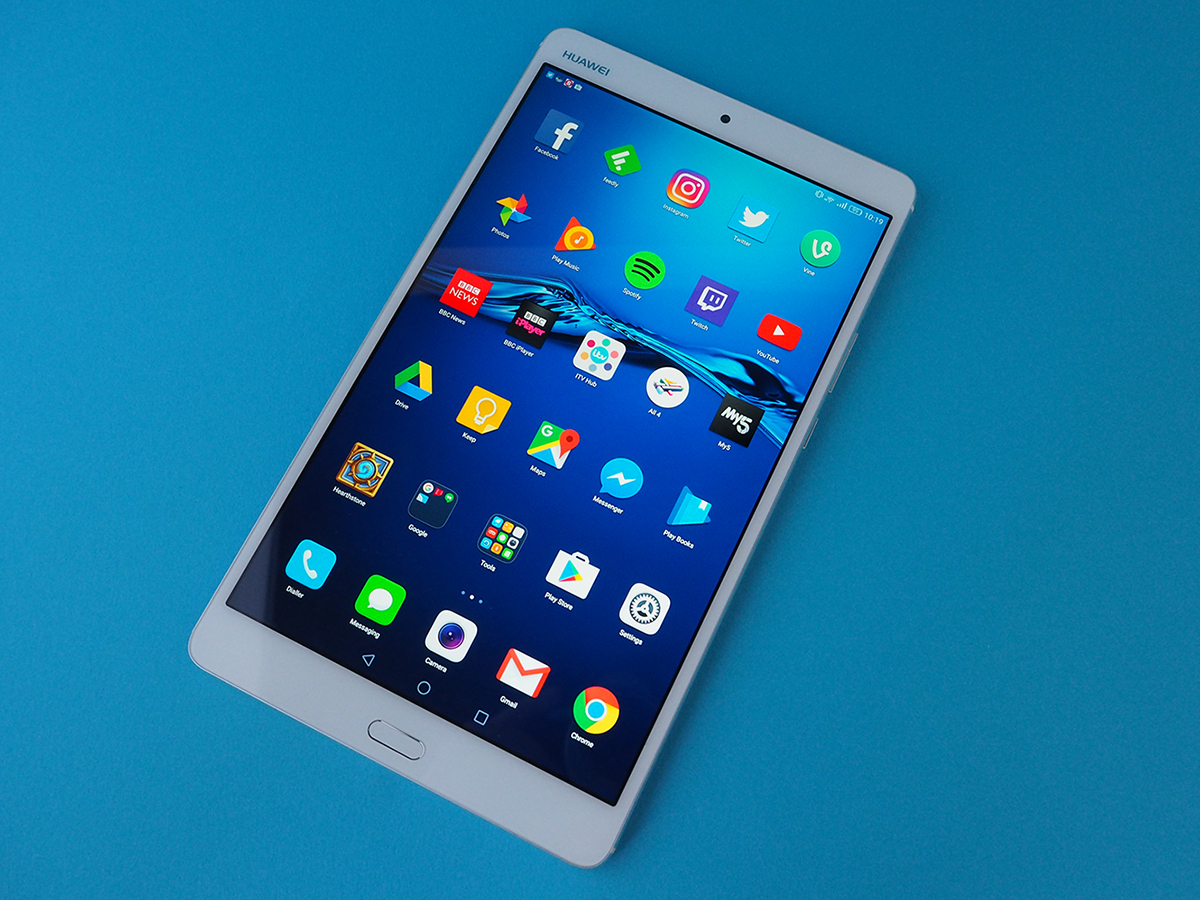 Just going on specs alone, the MediaPad M3 looks like a great Android tablet.
There's not much else out there at the top-end, with Samsung's Galaxy Tabs hoovering up most of the people that refuse to jump ship to iOS and the iPad, but this could have what it takes to carve out its own little niche.
Brilliant build quality makes it perfect for carrying around everywhere. That great screen and fantastic sound help it eat up just about any video or music you can through at it, too. Gaming performance is a little iffy, and that camera isn't much to write home about though.
Still, it's great to see such a potent combination in a tablet you can actually hold in one hand. It narrowly undercuts the iPad Mini on price, too.
If you don't demand a completely stock experience, this is one compact Android tab that's well worth your cash.
Tech specs
| | |
| --- | --- |
| SCREEN | 8.4in, 2560×1600 LCD |
| CPU | Kirin 950 |
| MEMORY | 4GB RAM |
| CAMERA | 8MP w/ autofocus |
| STORAGE | 32GB onboard, microSD expansion |
| BATTERY | 5100mAh |
| OPERATING SYSTEM | Android 6.0.1 |
Stuff Says…
Superior sound and refined styling makes this as close as you can get to an iPad Mini that's running Android, even if overall performance falls a bit short.
Good Stuff
Small, stylish and well-built
Powerful enough for all sorts of streaming and multimedia
Battery life is pretty decent
Bad Stuff
Not a tablet for gamers
EMUI isn't for everyone
Camera quality is pretty basic