Huawei MateBook review
Move over Microsoft? Huawei's got its own take on the 2-in-1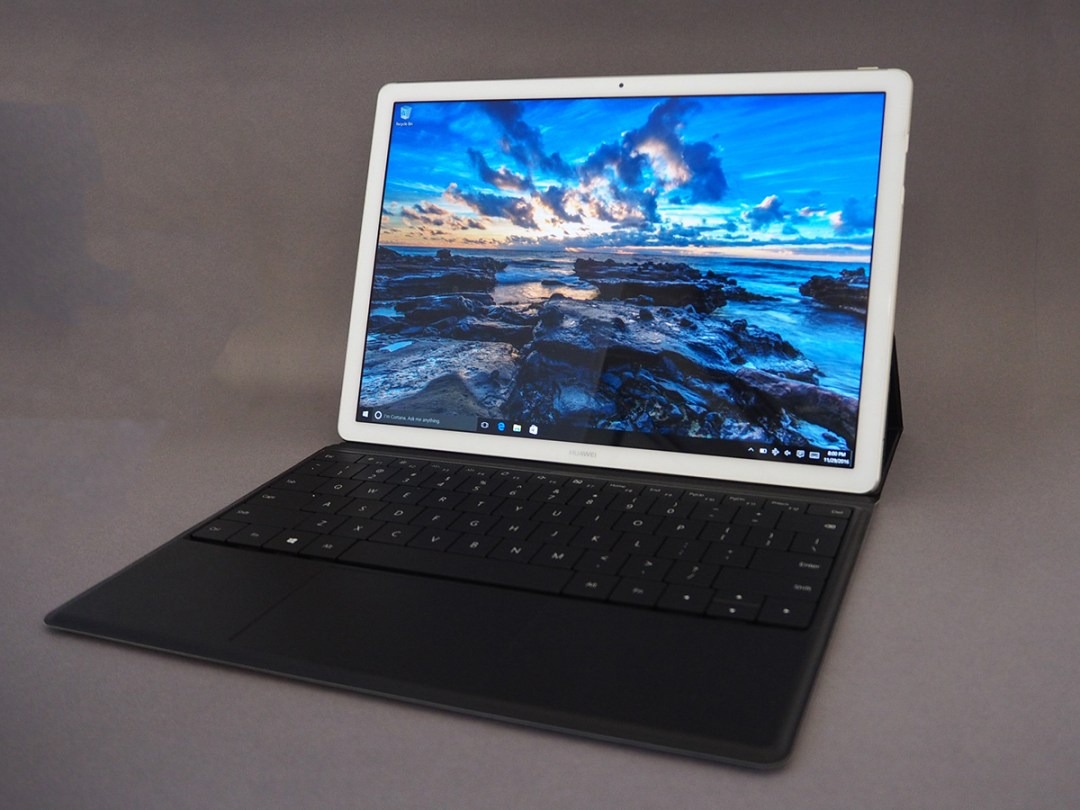 Android will only get you so far – for serious work, you've gotta step up to Windows.
That's been the rule for years, at least when it comes to the photo and video pros, and anyone that just can't face using a touchscreen to bash out epic-length essays.
It's why Huawei has gone with Windows 10 for its first 2-in-1 tablet, a first for the Chinese phone-maker that has pretty much stuck with Android exclusively until now.
That puts the MateBook directly in the firing line of Microsoft's Surface Pro – our go-to Windows tablet when it comes to all things artistic, thanks to a bundled Stylus.
The Huawei costs less, but does it come out on top anywhere else? Let's find out.
HUAWEI MATEBOOK DESIGN: A CLEAN SLATE
You wouldn't guess the MateBook was running Windows when you first take it out of the box – it's just too damn thin. At 6.9mm, it's the thinnest Windows tab around.
Otherwise, it's classic big-screen tablet: a 12in panel up front, aluminium on the back, and rounded edges that are comfortable enough to grip in either one or both hands. At 640g it won't weigh you down, either.
Is it fair to call the design boring? I don't care, I'm going to do it anyway.
With such petite dimensions, don't go expecting much in the way of ports. There's just one single USB-C, which you have to use to charge the thing up – not ideal if you're running low on juice and need to get some files off the 128GB SSD.
At least there's a 3.5mm headphone port on the other side, but that's it. Basically, you'll want to pick up the optional dock add-on if you plan on plugging anything into this.
There is still room for a few handy extras around the edges, though. Physical volume controls are great, but the fingerprint reader sat between them is ace. It works brilliantly with Windows Hello, letting you skip the lock screen with a quick fingerprint scan. It's lightning fast, so there's no reason not to use it instead of cumbersome passwords – especially if you haven't got the keyboard dock attached.
HUAWEI MATEBOOK KEYBOARD DOCK: KEY ISSUE
Tablets running Windows? Great… until it's time to get some work done. You'll definitely want to invest in the Portfolio Keyboard cover, if you've snapped up a MateBook without one.
The faux-leather case completely protects the tablet from scrapes and scratches, and locks in place with magnetic pins – no need for a Bluetooth connection to start typing, or a battery to keep charged.
The cover doubles as a stand, but only has two positions. The first is fine for typing, but the other is a bit too steep – not ideal when you're trying to do anything other than watch Netflix. There are no convenient notches for finding the hidden magnets holding your tablet up, either – it's complete guesswork until you line everything up correctly.
It's not like the keyboard is all that great to type on, either. It's cramped, with smaller than average keys that don't have a lot of travel. It sits flat on a desk, so it feels like you're tapping on a completely flat surface – your wrists will be cursing you after getting through a multi-page document.
You don't get multimedia keys, either. At least it's got a backlight, so you can see what keys you're hitting in the dark, but honestly, you'd be better off with a Bluetooth Keyboard from just about anyone else – at least your work won't be riddled with typos then.
The touchpad underneath is pretty poor, too. It's tiny, and has a little bit of lag that means you'll just end up reaching for the touchscreen instead.
HUAWEI MATEBOOK STYLUS: TAKE NOTE
Microsoft's Surface has its Stylus Pen, so you'd better believe the MateBook has one too. Only this one's called the MatePen, and doesn't come bundled in the box.
Good luck getting hold of one in the UK, too – the only option at the time of writing was to import one from the US, which would probably set you back around £75 with shipping and taxes.
That's a real shame, as it's a pretty decent stylus. It's got 1024 levels of pressure sensitivity, so you can wield it like a fine watercolour brush or jab the screen like a painter-decorator slaps on emulsion.
It's great for sketching and taking notes, too, with the MateBook recognising when you're leaning on the screen and ignoring unwanted prods and nudges. The built-in buttons are handy when apps support them, but with no pre-installed software, you're on your own when it comes to actually finding some.
Annoyingly it charges over microUSB, so that's another cable you'll need to carry around when you're on the move. It'll last about 100 hours on a full charge – a long way behind the Surface Pen's 18 months, although admittedly that uses an old school AAA battery.
The third button turns it into a laser pointer, which is both handy for the office, and something to keep pet cats amused for literally until the end of time.
HUAWEI MATEBOOK SCREEN: STAR OF THE SHOW
A tablet with a sub-par screen just ain't worth your time, but thankfully the MateBook delivers. That 12in panel has a 2160×1440 resolution, putting it on par with Samsung's Galaxy TabPro S. It's less than the Surface Pro 4, but then that costs £300 more.
It's easily enough to let your photos pop with detail, and text looks pin-sharp too. Colours aren't half bad, either, with really vibrant hues when brightness is cranked up to the max.
You shouldn't struggle to see things clearly outdoors, but the glossy screen finish will make light reflections a bit of a headache.
The built-in stereo speakers aren't a great match to the high quality screen. They sound tinny, especially once you crank up the volume. They'll do in a pinch or sharing a funny YouTube clip with your mates, but that's about it.
HUAWEI MATEBOOK PERFORMANCE: TAB OUT
It's a crazy-thin tablet, you surely weren't expecting insane performance too? The MateBook has an Intel Core M CPU, which doesn't need a fan to keep it cool, but isn't exactly a powerhouse.
The low power Core m3 seen here is fine for the basics – think web browsing, editing documents and sending email. Try to get a little more advanced and it'll soon show its limits, though. Photo and video editing can bring it to a crawl after just a few minutes.
For watching YouTube, scrolling through Facebook and keeping on top of Gmail, though? it's fine.
Gaming is a no-go, naturally, unless you've got a serious Minecraft addiction. Anything more demanding won't run smoothly at any resolution.
This would all be forgivable if battery life was fantastic, but the low-power parts don't help the MateBook last any longer than most other 2-in-1s. Forget benchmarks and run-down tests; it lasted about five and a half hours between charges during a normal working day of Google Chrome, Microsoft Word and Spotify.
This wouldn't be so bad if you could plug it into any old USB adapter, but annoyingly it only charges with the bundled plug. So much for using the USB-C standard.
HUAWEI MATEBOOK VERDICT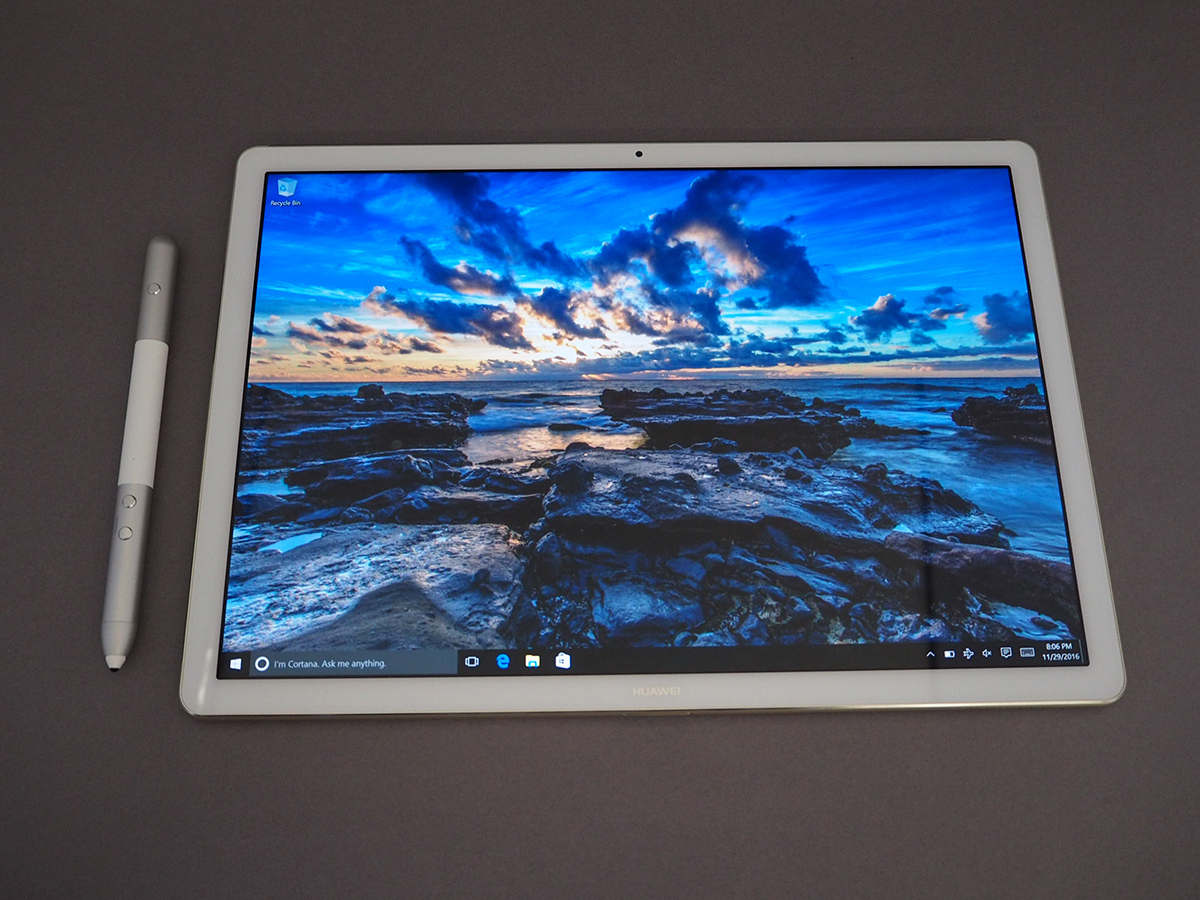 There's no getting around it: the MateBook is clearly a first effort. Huawei gets props for trying something different, but because it isn't significantly cheaper than the Surface Pro, there's not a lot here to recommend.
Great screen quality isn't enough to save the MateBook from its other flaws, especially if you're trying to get any serious work done. That keyboard dock really isn't much cop at all. It gets the job done as a digital sketchbook, but you could probably buy any number of Android tablets (or an iPad Pro) that does it better still.
Either save some more cash and pick up a Surface, or write off Windows altogether and stick to Android.
Tech specs
| | |
| --- | --- |
| SCREEN | 12in, 2160×1440 IPS |
| CPU | Intel Core M |
| MEMORY | 4GB RAM |
| STORAGE | 128GB SSD |
| CONNECTIVITY | 1x USB-C, 3.5mm audio |
| DIMENSIONS | 7x279x194mm, 640g |
Stuff Says…
A solid screen and stylus smarts for your cash, but not the hybrid to steal the show from Microsoft's Surface
Good Stuff
Superb screen for the money
Stylus is great for sketching and note-taking
Fingerprint scanner comes in handy
Bad Stuff
Basic battery life
Weak keyboard dock
Only charges with bundled plug