Huawei MateBook E (2022) review: Huawei's best slate to date
A laptop in tablet's clothing - taking the fight to the Surface Pro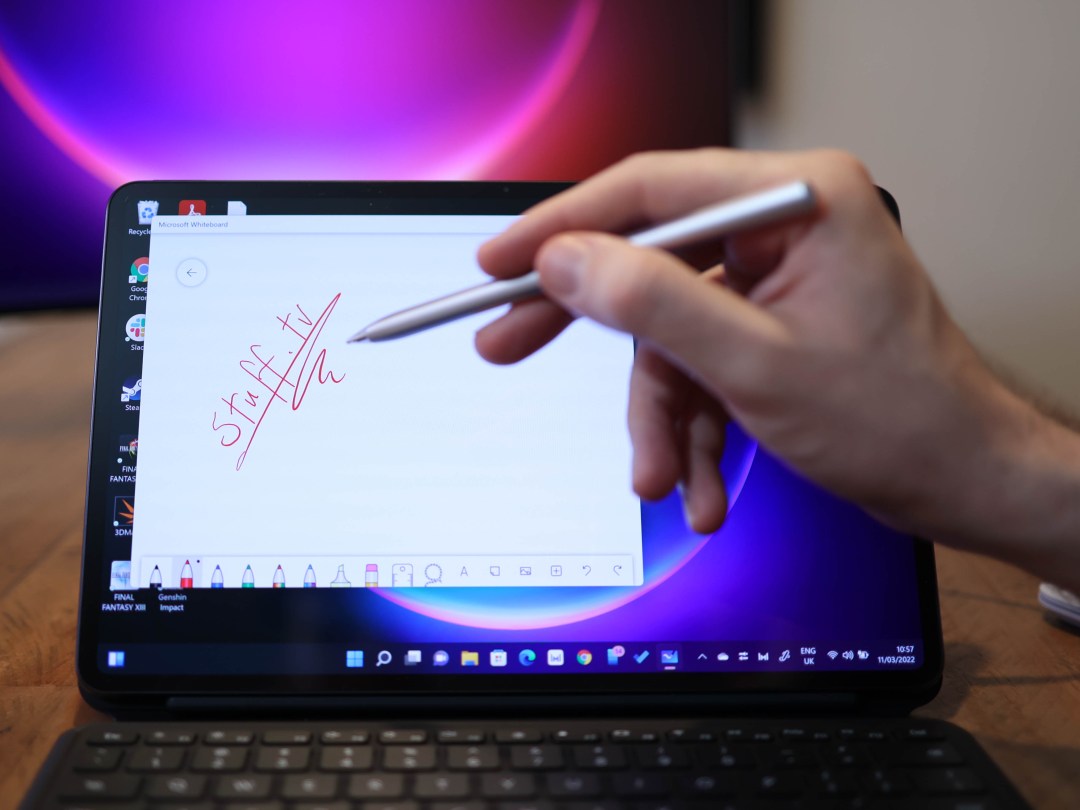 The MateBook E (2022) is a skinny Windows 11 tablet that thinks it's a laptop. It packs with up to Intel Core i7 power, a zingy looking OLED screen, four speakers, as well as nifty pen input. This is exactly the kind of tablet Huawei should be making for folks outside China – not Android or HarmonyOS slates. 
While Huawei has made plenty of excellent tablets in the past, including the MatePad line, its hardware has been held back by software. Even its own Harmony OS, which is based on its past Android experiences haven't had access to a complete app ecosystem – namely Google apps and services. This is the same story that's held back its otherwise great phones like the P50 Pro.
What's so good about the MateBook E is that it bypasses that complication and runs full, unadulterated Windows 11. This means it supports apps like Office and Photoshop and can run most Android apps, too. 
The MateBook E is also much thinner than a laptop, competing against tablets like the Surface Pro. The fact it runs a desktop operating system will also edge it ahead of iPads and Samsung Galaxy Tabs for some professionals.
Starting at £599 for the Intel i3 version and going up to £999 for the i5 in the UK, its pricing starts competitively and climbs into premium territory. In certain regions, Huawei will also be launching an i7 version, costing €1,399.
So what's it actually like to use a Huawei Windows tablet on a business trip, while commuting and indeed, while writing this review?
Design and Screen: Android bod, Windows brain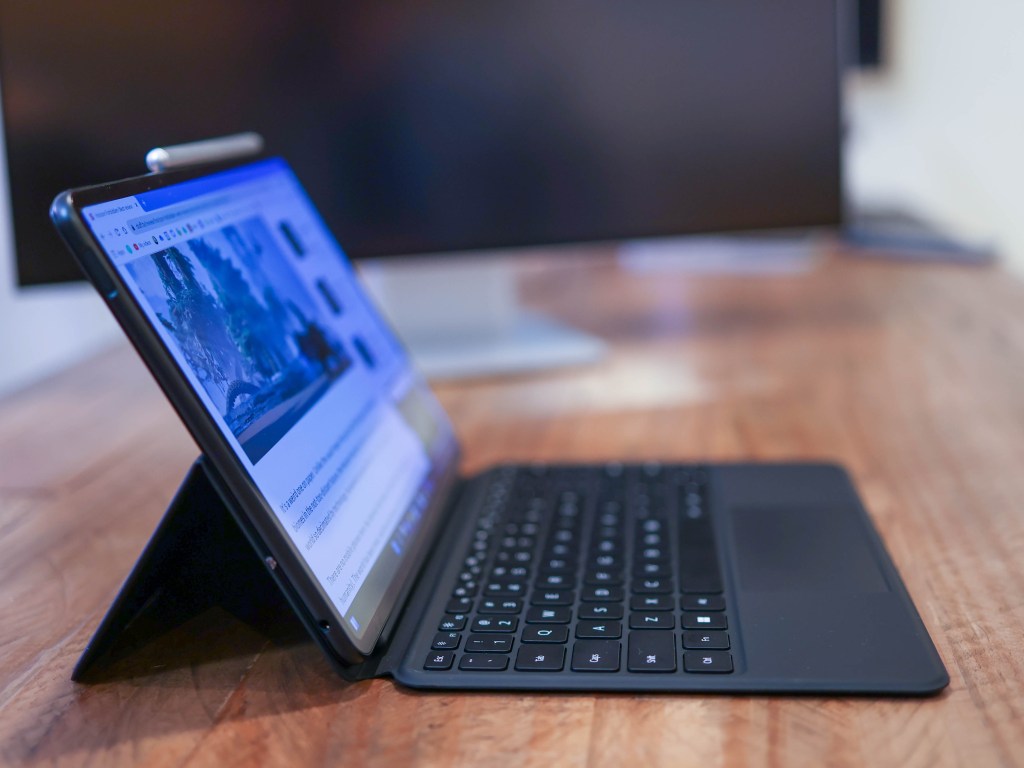 The MateBook E looks more like an Android tablet than a Windows machine. Its 7.99mm thickness means it's probably slimmer than your smartphone, and its simple, dark styling and OLED display are geared towards movie watching versus the IPS screened, silver-rimmed Windows alternatives we've seen in the past.
Matched with minimal ports, the MateBook E's stripped back styling means it's difficult to get confused when navigating around it. There's one Thunderbolt 4 port for connectivity, a power button/fingerprint scanner combo and pogo pins that connect it to a keyboard dock.
The back panel is matte plastic, and the tablet feels comfortable to the touch, but clings onto fingerprints very readily. Available in just one colour, Nebula Gray, it also weighs 709g, making it a solid, slender slab of tech – heavier than the 641g iPad Pro, but over 100g lighter than the Surface Pro 8.
The lack of flourish around the MateBook E's body – just a camera bump around the back and a subtle insignia, make its OLED display pop even more, with the expansive 90 per cent screen-to-body ratio and ample 12.6-inch size shining.
Thanks to a high resolution of 2560 x 1600, the MateBook E is only slightly less sharp than an iPad Pro or Surface Pro. When working on it, you'll be hard-pressed to spot individual pixels unless you peer right up close to the tablet, and brightness and contrast levels both impress.
The picture looks zingy on the MateBook E. After a lifetime of LCD Windows devices, at first, the colours looked a little too full-bodied. We quickly got used to it though, and for editing photos or watching movies, the screen did a great job of being colour accurate and looking sumptuous.
Connectivity and performance – Thunderbolt is go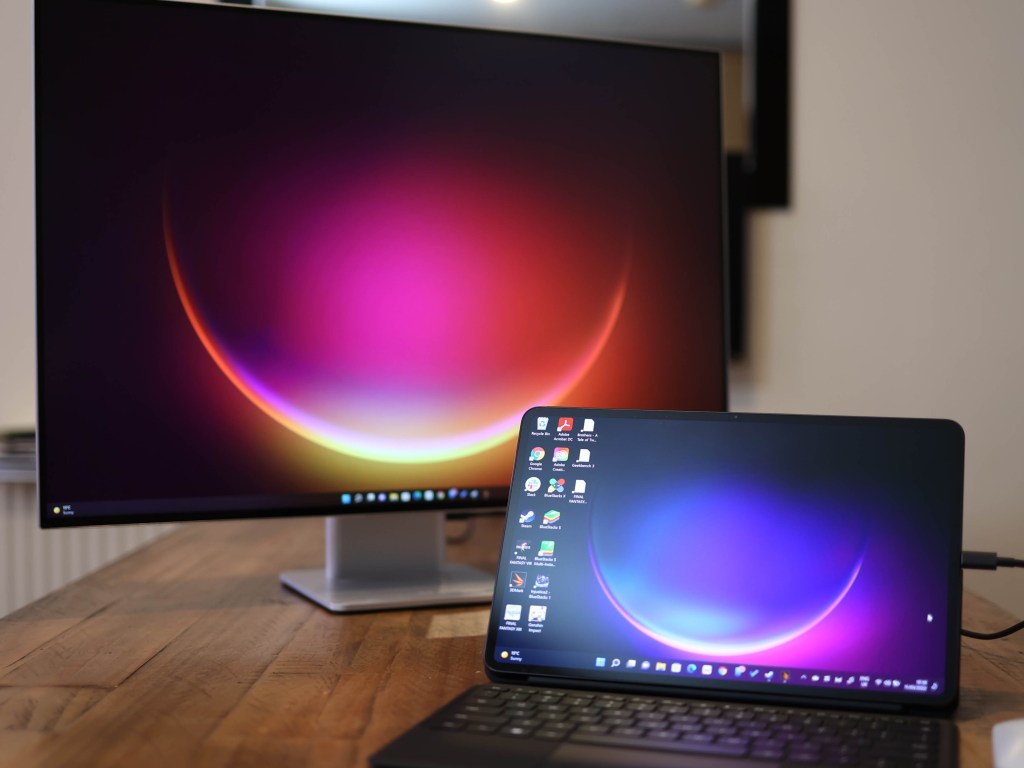 The fact that the MateBook E features a Thunderbolt 4 port is excellent. Thunderbolt 4 means high-speed data transfers at up to 40Gbps, and up to 8K video output, so you can hook up a super-sharp monitor.
You'll definitely want a USB hub setup given the fact there's just one excellent port. We tested the Matebook out with a couple of accessories from Kensington – the Thunderbolt 4 Dual 4K Dock when at home – and the USB-C Mobile Dock when out and about. These add a second screen and SD card support, and the Thunderbolt 4 dock also adds a desktop-grade array of ports.
Once you kit the MateBook E out with a dock and a monitor, its power becomes self-evident. We reviewed the Intel i5 model with 16GB RAM and 512GB storage. This is plenty of power and space to turn the tablet into a modern-day workhorse, running the Office Suite, in addition to Adobe Lightroom and even Photoshop for basic edits. 
You can get a lot more power than the MateBook E offers for its price – don't get us wrong. We'll touch on gaming performance later, but on a practical level, with loads of windows and browser tabs open, you will get a stutter and a delay every now and then.
If you have a Samsung Galaxy Tab S7 or S8 series Android tablet, or a Huawei MatePad, either can be used as a wireless second-screen for the MatePad E. With this set-up, we were able to create a multi-screen workflow in an airport cafe with minimal bulk, and powered through a solid chunk of work with our MatePad and Tab S7+.
What makes the out-and-about experience more workable is the keyboard dock which the tablet ships with in certain configurations. This is a one-component dock, whose back folds halfway to turn into a magnetic kickstand. At a solid table, the dock was fine to use, even if it was a touch cramped for our giant hands. On a lap or a small plane coffee table though, it's clumsy at best.
Huawei plans to launch an iPad Magic Keyboard-style dock, and we'd be keeping an eye on that if we were planning on using the MateBook E for work on the go.
There are a few other highlights that help the MateBook E feel that bit more special. For starters, there's that fingerprint scanner/power button combo which works well for quickly getting you into Windows. Then there's Huawei's M-Pen (2nd gen) which, with its 4,096 levels of pressure sensitivity, turns the MateBook into a fantastic sketching and scribing tool when matched with OneNote and other pen apps.
Gaming and multimedia – Beautiful but basic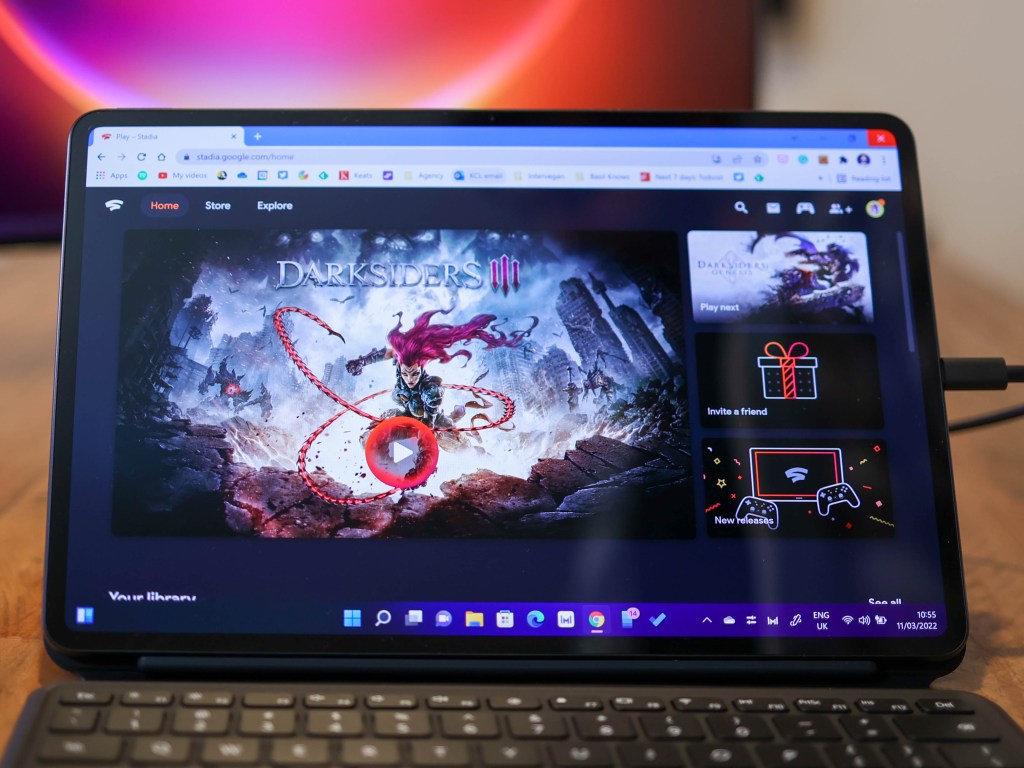 Gaming is a mixed bag on the MateBook E. If your version of an intense session is firing up Wordle at the stroke of midnight, then you'll be fine with Huawei's tablet. It can actually handle a lot more than Wordle, to be fair to it.
The throttled internals have been optimised for the compact size and limited battery, so it won't be as capable as some similarly specced Intel i5 alternatives with dedicated graphics cards. 
In the real world though, we were able to play Genshin Impact at minimum graphics settings, but at full resolution without too much slowdown. If you've got a fast internet connection and a subscription to Stadia, or use Steam of PlayStation Remote Play, that really is the best way to eke even more out of the MateBook E's stunning screen.
The tablet is also great for streaming services like Disney Plus and Netflix, with the native Windows apps working well with the picture and sound from the device doing a great job. An onboard 3.5mm headphone jack and Bluetooth connectivity step in when you want to connect headphones, and if you don't, the quad-speaker is loud and clear.
Battery life – Weakest link
With the ever-capable Windows 11, the MateBook E is encumbered by higher power consumption versus a dedicated mobile operating system like Android or iOS. So it's no surprise the tablet falls victim to inferior battery life when compared to Android alternatives, like the MatePad Pro and Apple's iPad.
You'll be hard-pressed to get a full working day out of the MateBook E without needing to plug in, and if it's an entertainment tablet on a longhaul flight, it might not go the distance.
With 65W charging and a fast charger shipping with the tablet, it powers up in around 90 minutes. Anything under two hours is great going for any tablet – and it's charging speed helps make up for the mediocre battery life.
Verdict
Huawei's done some great stuff with the MateBook E. For starters, it's made a very portable Windows tablet that can do pretty much everything a basic laptop or desktop can. It's also coupled that functionality with an excellent screen that looks fantastic when watching or even gaming on, and there are some really considered software optimisations too. 
While the tablet's price to performance ratio isn't going to give you bang for buck, you can still run basic games on it, and some newer 3D titles with dialled back graphics settings.
Starting at £599, the MateBook E is a premium tablet, and when you climb up to the £999 i5 version we reviewed, you might ask yourself – why don't I just get an iPad?
Windows still has some unique advantages over iPadOS – extended display support, easy to manage file handling, desktop-grade apps like Photoshop to name a few. What's more, Huawei actually undercuts or competes head-on with most Surface models.
We'd go so far as to say the MateBook E is one of the best Windows tablets you can get right now, and the best for a user who values portability above all else.
Stuff Says…
A compact, capable laptop disguised as a tablet – Huawei's best slate to date.
Good Stuff
Quality OLED screen – great for movies
Laptop power in a tablet body
Impressive sound for a tablet
Thunderbolt 4 connectivity
Bad Stuff
Battery life isn't brilliant
Flimsy keyboard dock unusable on lap
Only one port for data and charging
You can get more performance for less
Tech specs
| | |
| --- | --- |
| Display | 12.6in OLED, 2560×1600 |
| Processor | Up to Intel Core i7-1160G7 |
| Memory | Up to 16GB |
| Storage | Up to 512GB NVMe PCIe SSD |
| Battery | Li-polymer, 42Wh |
| OS | Windows 11 |
| Connectivity | Wi-Fi 6, Bluetooth 5.1, Thunderbolt 4 (x1), 3.5mm headset |
| Dimensions | 306x215x146mm, 709g |