HTC Vive Pro review
Hardcore VR fans are finally getting the high-end hardware they've been dreaming of
Just seen Ready Player One and gagging for a simple route into the world of virtual reality? Then throw your bank details at another headset – the Vive Pro is not for you.
Thanks to its extravagant price and the need for a super-specced computer, HTC's Vive Pro is certainly not intended for VR dabblers – especially since the starter pack, which includes the required controllers and base stations, costs a staggering £1048. 
But if you're one of those people who gobble up graphics cards like collectables and added the original Vive to your shopping cart without checking your bank balance, then the Pro might just be what you've been waiting for.
With a massive resolution boost and and a few ergonomic improvements, the Pro is a substantial upgrade on the previous Vive. But are there enough improvements to justify that £799 investment?
Design: Blue in the face
The Vive Pro is more than a Vive with a lick of blue paint – HTC has taken user feedback on board and made some very welcome improvements.
The original Vive was more than a bit top-heavy, and was a nightmare to adjust on the fly. The Pro fixes that with a sizing dial at the back of the redesigned strap, which makes fine adjustments so much easier. The strap does a better job of balancing weight too, so it doesn't feel like it's slowly squeezing the life out of you like Alien's facehugger.
Trying to fit a gaming headset over the original Vive's head strap was awkward at best, and like putting your bonce in a medieval torture device at worst. The Pro has built-in headphones now, which is a massive change for the better. They flip up and out of the way when you don't need 'em, and are easy to adjust to almost any angle. There's plenty of padding on the ear cups for a comfortable fit too.
You get spatial audio support, which is essential for VR games. Volume is a doddle to adjust too, with buttons sitting on the left ear cup for easy access. There's nothing fancy like noise-cancellation, but I like being able to hear a burglar or annoying flatmate sneak up on me.
And what looks like two googly eyes on the front of the headset are actually cameras. They'll be used for augmented reality, once developers get round to supporting them – which could mean big things later down the road, even if we're not quite there today.
Image quality: Pixel power
Something tells me you won't be upgrading to the Pro just because it's more comfy to wear. That's why HTC has given the original Vive's 1080×1200 resolution (for each eye) a bump up to a whopping 1440×1600. Combined, you're getting a 2880×1600 image, barely an inch in front of your face.
Admittedly, the boost in image quality wasn't mind-blowingly obvious at first. A run around Valve's The Lab and a few levels of time-bending action in Superhot left me unconvinced by the graphical upgrade. But then I played Thumper.
With the vanilla Vive strapped to my face, the rhythm-based visual spectacle looked rather fuzzy. Switch to the Pro and everything suddenly looks sharp and clear. Colours flash with more intensity too, improving that trippy rollercoaster ride immeasurably. Then I put on Doom VFR. Those gnarly demons look far more imposing thanks to the added detail, while the shadowy laboratory and fiery explosions benefiting from the improved contrast.
So basically, getting the best visual fidelity out of the Pro really depends on what games you play. The majority of games in Steam's library will automatically upscale for the Pro, but since a lot of these titles have simplistic artwork you won't always notice. Turn on the likes of Thumper, Doom VFR and Fallout 4, though, and you'll never want to go back to the original Vive again. The Pro really is a huge step up.
Setup: Crossed wires
The Pro's enhanced visuals may do a cracking job at improving the immersion of these virtual worlds, but that's all for nothing once you've tripped on the wire and smashed your teeth in on the fireplace.
While the Pro's new streamlined cable is less likely to tangle in a knot than the original Vive's, it's still annoying. The good news is that HTC has a solution to this with an upcoming wireless adapter. The bad news? It's unlikely to come cheap.
Speaking of wires, setup is largely the same for the Pro as it is with the original Vive. The only real difference is the new link box, which doesn't have an HDMI port. That means your PC will require a DisplayPort 1.2 or newer. That's mildly inconvenient, although any PC powerful enough to support the Pro should have it.
How powerful does your PC need to be? Very. You'll ideally need at least a NVIDIA GeForce GTX 1060 graphics card and a processor-equivalent to an Intel Core i5-4590. That's a rather monstrous gaming rig, so unless you already have the required umph, you're going to have to either upgrade your computer or settle for the Oculus Rift/normal Vive.
Luckily for me, this Titan Katana rig, kindly loaned to us by Overclockers, was more than enough to handle the Vive Pro.
HTC VIVE PRO VERDICT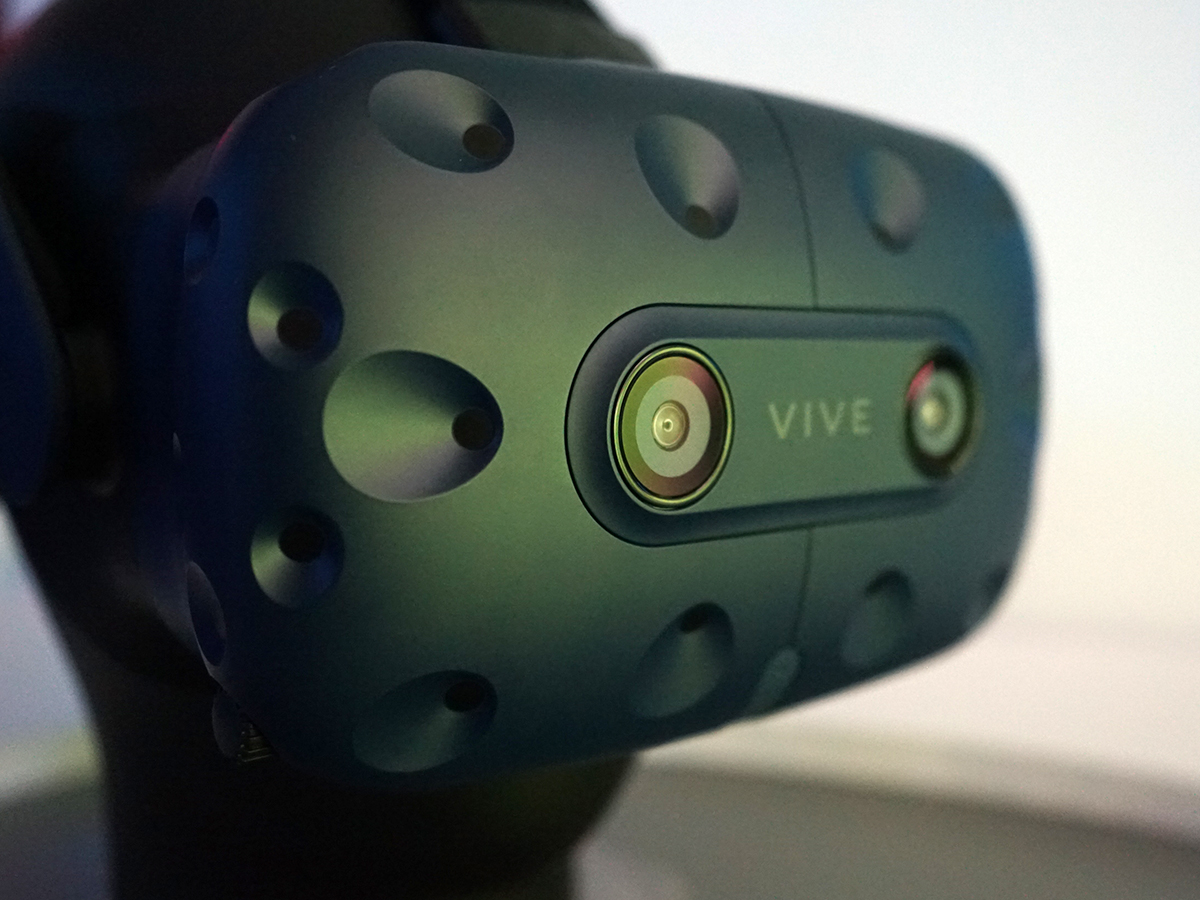 One thing is clear with the Vive Pro: it's not a sequel. HTC is marketing this as a high-end alternative for its die-hard fanbase, while slashing the price of the original headset for VR newbies to a more affordable £499.

Focusing solely on the hardcore audience then, it's mission accomplished for the Pro. With the right games virtual worlds look fantastic thanks to the resolution boost, while the improved design and built-in headphones fix a lot of the vanilla Vive's flaws.
It's expensive (especially if you intend on getting the wireless adapter) and the number of games that get the best out of the Pro is somewhat lacking, but in terms of hardware, the Vive Pro is undoubtedly the best VR headset that you can buy.
Stuff Says…
This super-powered headset is overkill for VR newcomers, but if money is no issue, look no further for the ultimate virtual reality experience
Good Stuff
Certain games look stunning with Pro
An incredibly more comfy and adjustable fit compared to the standard Vive
Built-in headphones are much more convenient
Bad Stuff
Limited graphically-challenging game library
Wireless adapter not included
Overkill and too expensive for most people