HP Envy 15 review
This £500 laptop looks the part, but is its premium mantra only skin deep?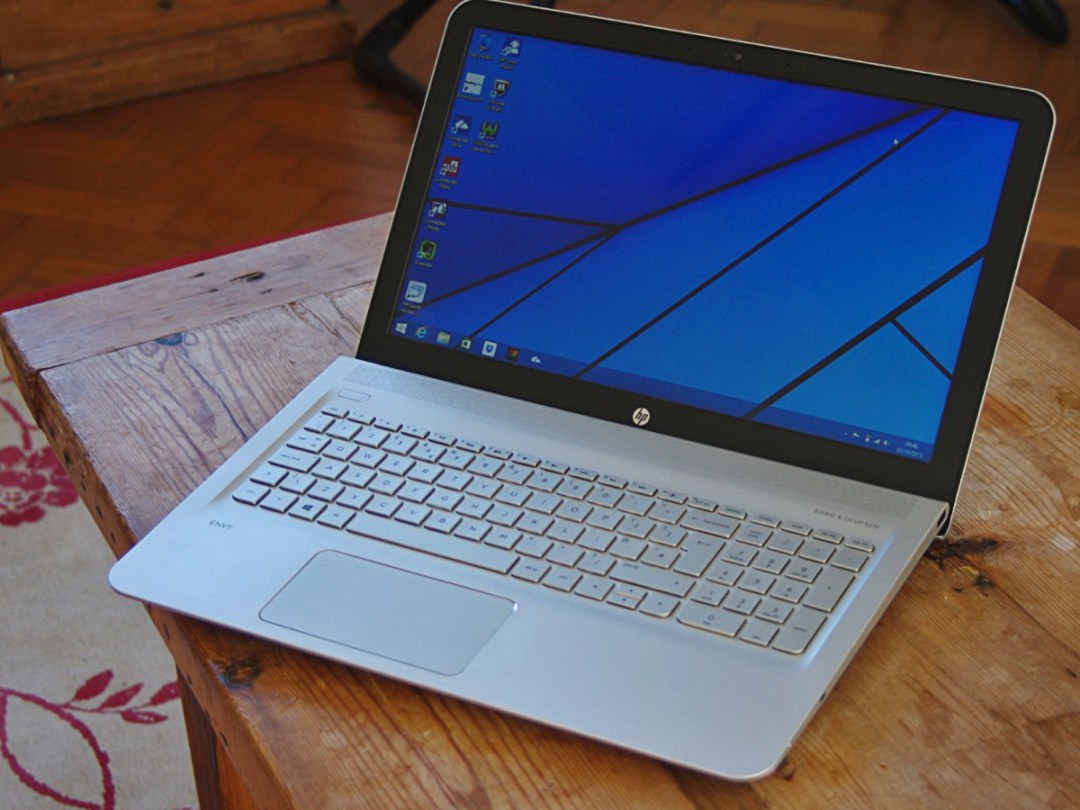 Looking for a premium laptop that won't eviscerate your savings? With the Envy 15, HP thinks it has just the device for you.
This alluring 15.6-incher has the high-end materials and stylish design of HP's usual Envy models, but with a few compromises that mean it comes in for under £500. You'll get a laptop that might still make your friends jealous, but without hammering your credit card to buy it.
This sure sounds like a winning strategy, so we put the Envy 15 to the test.
Good looks in the right places
This Envy looks more pricey than it is because HP has clad the most visible bits – the lid and the keyboard surround – in classy-looking aluminium the given the screen a dark plastic frame for a vaguely Macbook Pro style. Only the base of the unit is formed from shiny silver plastic. This combination is a bit like wearing a tuxedo with sandals. Since you won't be looking at the Envy's feet, it gets away with this shenanigan.
In truth, this laptop is a bit of a beast, roughly 59cm wide and thicker than it appears on first glance. Its 2.18kg weight is easily manageable if you have to lug the thing around, and the Envy should survive the experience as well. There's a little too much flex in the lid for total peace of mind, but it feels a lot more solid than your average budget laptop.
It's not as lightweight as an Ultrabook, of course, but one advantage of the added size is that there's plenty of space for connections. Whether you're looking to plug into a wired network, hook your laptop up to your TV or connect up a fast USB 3.0 hard drive, you're well covered.
In fact, with two USB 3.0 ports and one USB 2, you're spoilt for choice. The Envy also supports 802.11ac Wi-Fi, giving you a faster connection to your router if the latter supports it.
Cutting corners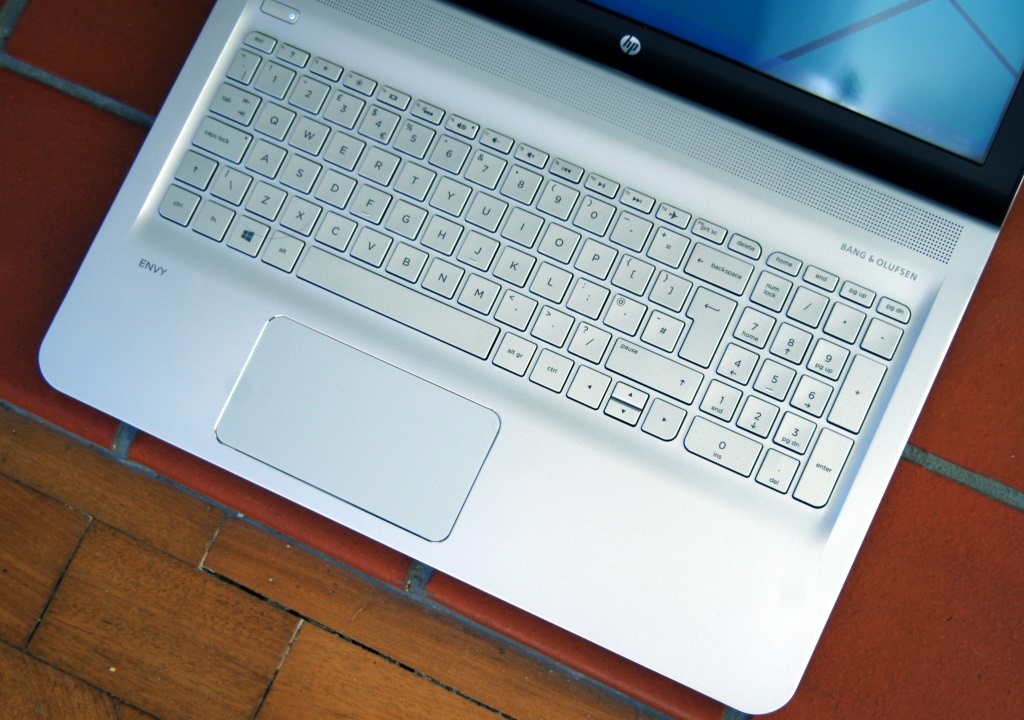 When you dig into its keyboard and trackpad, the Envy 15's premium credentials begin to fray around the edges. The keyboard has a good, spacious layout, but the keys have a very shallow, clattery feel to them, with the space bar clanking whenever you give it a whack. If you're the type to bash away at your laptop like it's done you wrong, then you'll really notice this.
The trackpad is roughly the size of an old iPhone 4, tilting and clicking to left and right-click. It's reasonably responsive, but sometimes failed to register left-clicks or took them as right-clicks instead. Neither is a nightmare to use and you can still get some work done, but both remind you that this is a cut-price model, without the premium feel of a high-end model.
A screen to make you green with envy?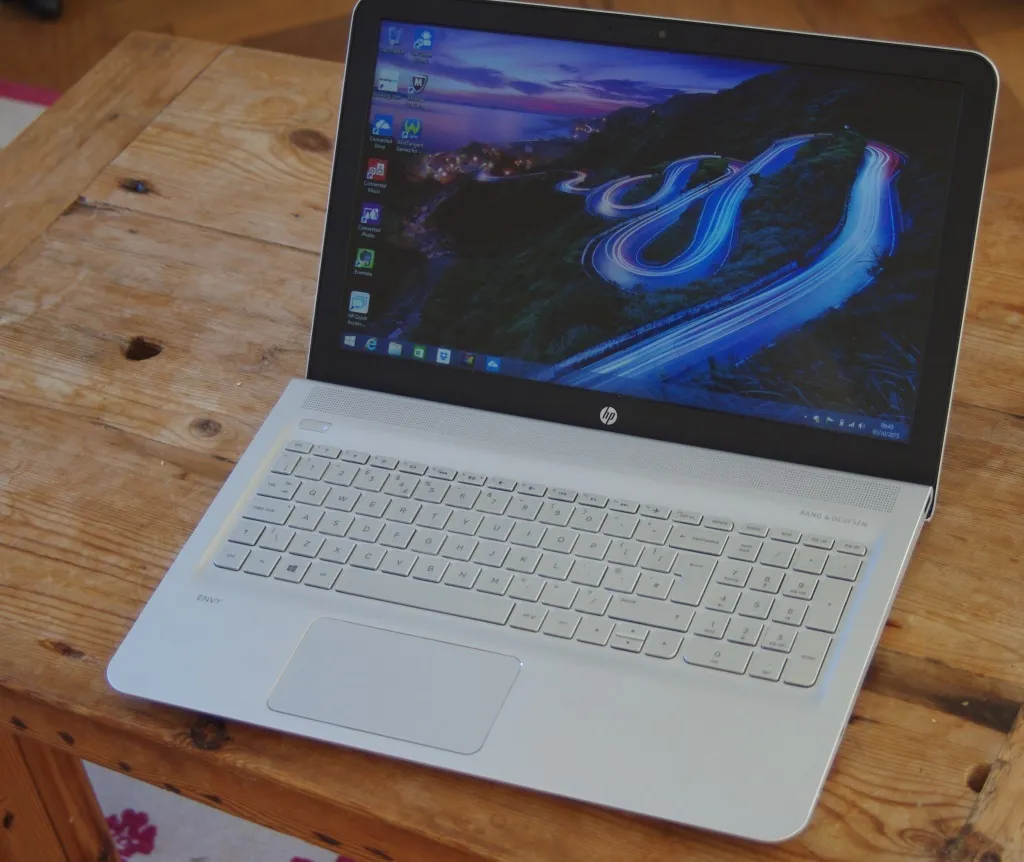 That's a point that's hammered home by the screen. It's reasonably bright in anything but direct sunlight, and while the colours are a little subdued that's an improvement on ridiculously over-egged; you can look at photos on Facebook without wondering why everyone has a Tango-coloured tan. Viewing angles are a little tight, particularly on the vertical, but the real problem is that you're stuck with the most bog-standard 1366 x 768 resolution, giving you pretty chunky pixels on a 15.6-inch screen.
That's the same size/resolution combo we see on many budget and lower-mid-range tablets, but when even the most bargain basement tablets and phones are packing in more pixels per inch, there's no sense that you're being spoiled. What's more, you won't be watching HD movies in proper glorious full HD. With the Envy, it's 720p all the way.
It may still be you who's feeling green with envy when someone else pulls out their 1080p laptop on the train. Rich folk, eh? With their bags full of money and Retina displays.
Still, the Envy 15's sound isn't bad at all, with the Bang & Olufsen branded speakers pumping out a much bigger noise than most low-cost laptops can muster. It's a wide sound with a surprisingly effective sound stage, giving games and movies a half-decent surround sound effect. There's not much bass and the tone's too thin for serious listening, but if you want to play Call of Duty: Black Ops II with the volume turned up, you can do it on your kitchen table.
Game on?
You can actually play Call of Duty: Black Ops II, as well, not to mention many of the big action titles of a certain vintage. That's because instead of an Intel Core processor with a rather weedy built-in GPU, the Envy 15-ah00sa we tested is based around a quad-core AMD A10 processor – one of the latest Carizzo models – with a built-in Radeon R6 GPU.
We're still not in proper gaming laptop territory, but you can run Black Ops II or Bioshock Infinite at low detail settings and still get a playable frame-rate. In fact, you're within a whisker of medium detail settings if you're prepared to tweak a setting or two.
More ambitious games like Crysis 3 are off the menu – even in Low your super-soldier moves like Roger Moore in one of his later Bond movies – and you can forget about the likes of Batman: Arkham Knight or Assassin's Creed: Unity. If all you're after is some lightweight gaming, though, then this Envy will get you further than a lot of Intel-based laptops at this kind of money.
The A10 isn't quite so hot when it comes to straight 2D applications, but with a single-core score of 1952 and a multi-core score of 4561 it's no longer getting sand kicked in its face by Intel's lowliest, cheapest mobile Celerons and Pentiums.
With 8GB of RAM onboard you have the resources you need for basic photo-editing, Web-browsing and office work, and we didn't have any problems running loads of programs in the background and switching between them. As long as you steer clear of video-editing or 3D graphics packages, it will do you fine.
Life's too short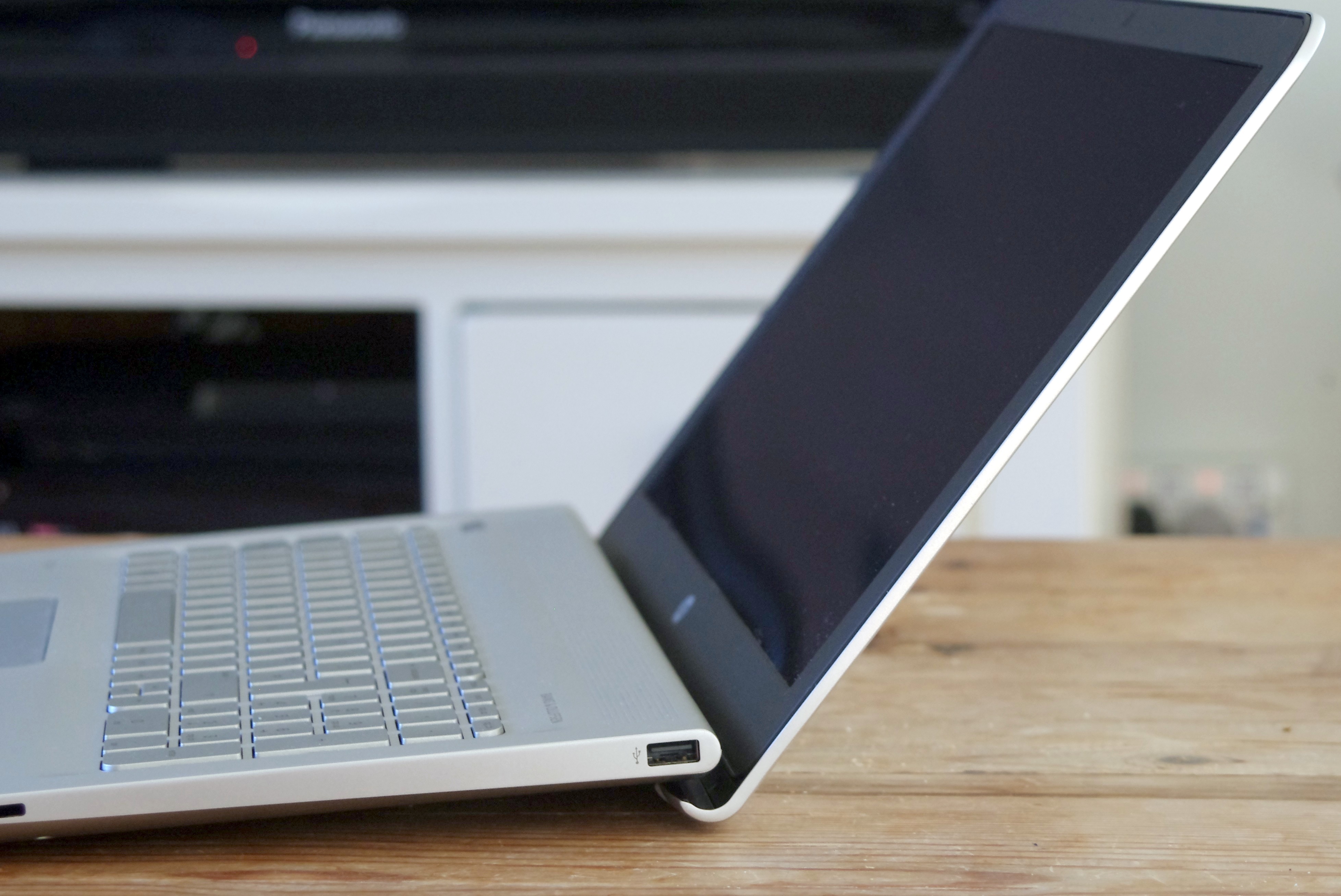 If you're looking for a laptop for life on the road, turn the page. The Envy 15 isn't it. You can get up to six hours of lightweight use out of it, but start playing games or watching Netflix with the sound up and you can almost see the battery meter running down.
It just about scraped five hours of HD video playback, but try watching a double-bill of Avengers movies and you'll be lucky if it lasts long enough to see Ultron bite the dust. This is a laptop for the living room rather than the backpack.
Taking up space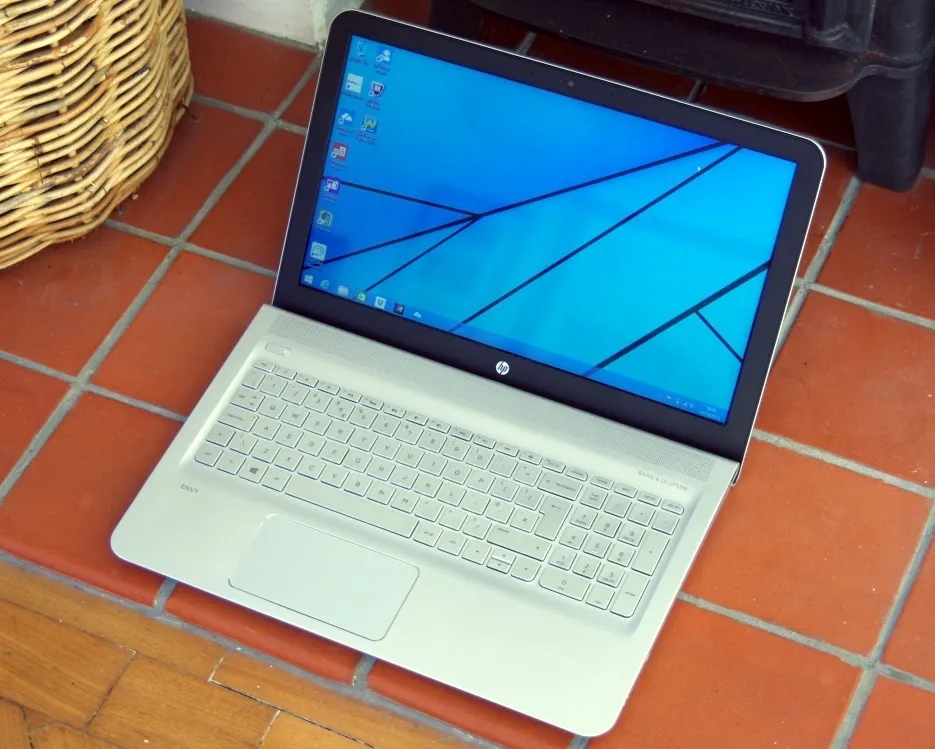 At the moment, HP is selling the Envy with WIndows 8.1 rather than Windows 10 preinstalled, though it's a free and easy upgrade in any case. It's actually more of a shame that HP has added quite a bit of bloatware, some of which is vaguely useful (Cyberlink's Media Suite) and some of which seems vaguely pointless given the presence of better, third-party apps and services (HP's various Connected apps). Luckily, these don't occupy a huge portion of your hard drive. In fact, with a 1TB drive you're spoilt for space.
HP Envy 15 verdict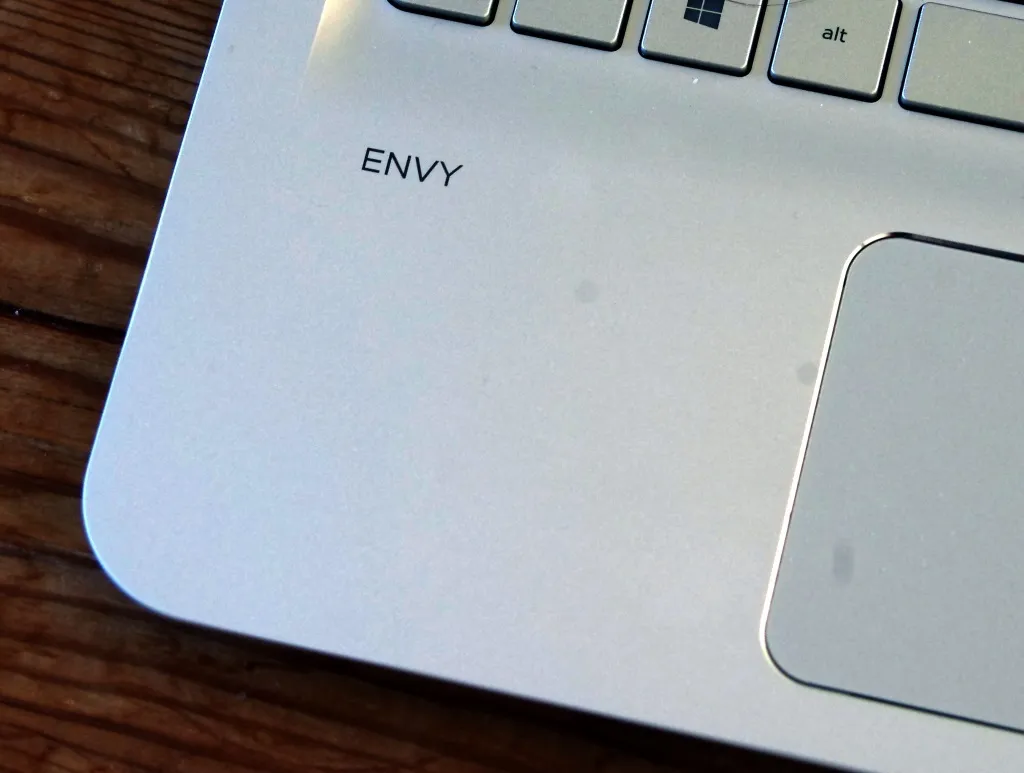 There's a lot to like about this Envy's style, but we're not sure all the compromises make sense. It's good-looking, well-connected and has a decent amount of power for the money, but the keyboard and touchpad mean it doesn't feel as solid as it seems, while the screen is a bit of a let down.
HP almost has a great, affordable all-rounder here, if only it could take more care of the details and spend a bit more on the display. As it is, we have a laptop you'll love for the first few hours, but get frustrated with as time goes on. Spend a little extra on something like Asus' ZenBook UX305 and you'll get a lot more bang for your buck.
Buy the HP Envy 15 here from HP
Tech specs
| | |
| --- | --- |
| Operating system | Windows 8.1 64-bit |
| Screen | 15.6in IPS LCD with 1366 x 768 resolution |
| CPU | AMD A10-8700P 1.8GHz |
| GPU | AMD Radeon R6 |
| RAM | 8GB |
| HDD | 1TB |
| Optical drive | None |
| Connectivity | Wi-Fi 802.11ac, 2x USB3, 1x USB2, 3.5mm, Ethernet, HDMI |
| Dimensions | 384 x 255x 23 mm |
| Weight | 2.18Kg |
Stuff Says…
Good looks for a budget laptop, but good looks aren't everything.
Good Stuff
Stylish aluminium body
Good sound
Enough power to run older games
Fast wi-fi
Bad Stuff
Low-resolution screen
Unimpressive battery life