Harry Potter Kano Coding Kit review
"You're a coder, Harry"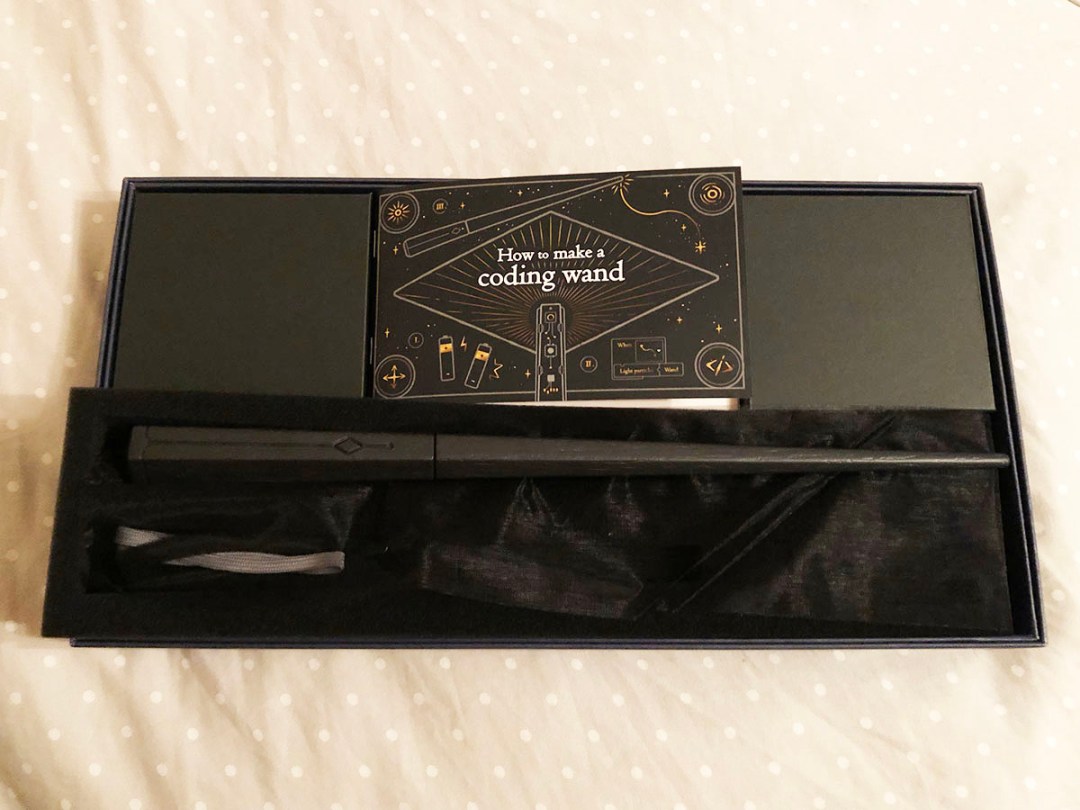 Without coding, most of our gadgets would be as useful as a hair brush without bristles.
It's essentially like casting a spell on an object to make it do neat things. The possibilities are endless.
So it makes sense, then, that Kano – makers of the build-your-own PC kits – has married magic and coding together with its Harry Potter Coding Wand, which aims to teach young people (and Potter fans) everywhere how to code.
From the rollable Sphero Bolt that teaches you code by instructing the ball to move, rotate, play games and light up in different ways, to the Lego Boost Creative Toolbox that develops basic programming skills, there's no shortage of fun ways to get into coding.
And Kano has been making a name for itself in this area already, with a whole variety of buildable gadgets that teach you how to code, like its Computer Kit Touch and light fantastic Pixel Kit.
So, will this wand help you become a bonafide coding wizard? There's only one way to find out… 
Design and build: Hogwarts worthy
When you first open up the box, you'll find your wand parts neatly laid out in foam, along with a booklet lettered in gold. It all looks suitably Potter-esque, and it really does entice you to get stuck into the magic.
The wand handle and casing is mostly made out of plastic and rubber, but it has a textured look to replicate a nice wood finish. It looks like it's plucked right off the set of a Harry Potter movie.
On the front of the handle is a diamond shaped button which you press to sync to the app whenever your wand goes off centre, and at the bottom you can see the bluetooth light, which also indicates it's on.
Even though it's mostly plastic, it's sturdy and well-made, so if you get a bit overzealous with your wand flicking and accidentally catapult it across the room, or get struck with an Expelliarmus spell by a rival witch or wizard, it won't break easily (thankfully it comes with a lanyard attachment to prevent this from happening).
It's around 35cm in length and quite lightweight, so you don't have to worry about tired wrists from all the wand swishing.
On the inside is what they call the 'coding wand brain', which is the printed circuit board (PCB) that makes all of the magic happen. The printed board is made up of a power controller, codeable vibration motor and light, a micro-controller, bluetooth antenna and light, sensors, and a button.
The set up: accio, wand!
Getting stuck into the magic really is a breeze, with a very simple set-up process.
You start by building the wand following clear easy steps in the booklet that comes in the box.
Building the wand involves putting AA batteries (which are provided) into the back of the printed circuit board (PCB).
The batteries are said to give you up to 6 hours of constant playtime, but you're advised to remove them when you're not using it to get the most power of your battery life.
You then place a button into a hole in the wand handle, followed by the PCB which slots into place quite easily.
Then all that's left is slotting the wand handle cover over the back and clicking it into place. And viola, you've just made yourself a coding wand. You're practically a wizard already at this point.
Next up is getting the dedicated Kano app set up, which can be downloaded on Windows and Mac, or on most tablet models.
After entering a username, password and email address (kids can use their parents email if need be), you then point the wand at the centre of your computer screen or tablet and press the button on the front of the handle to connect your wand to the app via Bluetooth.
Your wand will then have to do a firmware update, which takes no longer than a few minutes.
All that remains is to create your little witch or wizard's avatar. The avatar has a selection of customisable looks, with plenty of options to change their facial expressions, hair, clothes, accessories and familiars.
A lot of the accessories, clothing and familiars will be locked to start off with, but we'll get on to that later.
Once your avatar is ready, you're all set to get stuck into the magical wizarding world of coding.
The app: the wizarding world
The app is made up of 3 different modes.
'Challenges' lets you try different spells and tricks in Diagon Alley, the Hogwarts Grounds and Hogwarts Castle. This is where you'll likely spend most of your time, as this mode helps you get the hang of coding and in turn, casting spells.
The coding aspect comes in the form of block code, which you assemble like puzzle peices to form a sequence. The peices click together, and some will have different settings you can play around.
For example, the first challenge gets you to levitate a feather. You place the blocks into the right order as the app instructs you to, and some blocks of code will have different settings you can alter, like speed and direction.
You move the code on the screen with your cursor if you're on PC, or with your finger if you're using a tablet. Once all the blocks are placed and you've changed the settings as instructed, you simply move your wand to the motions you've set.
In this case, you just flick the wand in an upwards motion and the feather will fly up into the air. You don't have to say Wingardium Leviosa as you do it, but where's the fun in that?
You'll go from lifting up cauldrons, to casting colourful fireworks and summoning Bertie Bott's every flavour beans.
Completing different challenges levels you up and unlocks accessories and familiars to add more incentive to learning different tricks.
To start off with, the challenges are quite similar so you can practise using the wand and performing different spell motions, and get the hang of how to put the code in the right sequence. The app guides you the whole way, so you want be at a loss at any point.
The sense of progression feels rewarding, and as you cast more complex spells that you've coded yourself, you really will feel like you've gotten the hang of magical wand wielding.
'Play' lets you not so surprisingly play around with coding in a kind of customisable creative mode, so you can pretty much do whatever you want and save any spells you code.
'Kano World' lets you try out creations made by people all over the world, so you can get an idea of the possibilities and share your own with the community.
The animations of the spells are colourful and enchanting, and there's something so novel about being able to lift up a virtual feather with the flick of your real-world wand.
It's also very easy to follow, which helps make it very accessible and fun, and each challenge you complete really does help you gain a better understanding of how to code and craft spells.
Harry Potter Kano Coding Kit Verdict
When it comes to coding, Kano knows its stuff. Everything about this coding kit is fun and inventive.
Harry Potter fans will lap it up, and it's very approachable for any first-time coders who want to learn in an engaging, creative way.
The 3 modes give you plenty to play around with, and the challenges are very instructive and easy to follow.
The look and feel of the wand adds to the whole experience, and honestly, who doesn't want to be a coding wizard?
Stuff Says…
A magical way to make coding accessible and fun to learn
Good Stuff
Magical design
Creative and colourful
Easy to follow and understand
Great sense of progression
Bad Stuff
Can be a little repetitive at times