Lego Boost Creative Toolbox review
This shapeshifting Lego classic is a tinkerer's delight
Judgement Day is coming. No, we're not talking about North Korea's impending nuclear threat. This is something much worse – the robot uprising.
After all those years thinking it would be one of Apple, Google or Facebook gunning for the role of Skynet we forgot to keep an eye on Lego. No longer content with constructing inanimate models, Lego has released the Boost Creative Toolbox – a kit that lets you build an interactive robot almost entirely from colourful plastic bricks.
What's more, rather than just pressing buttons on a remote to get your robot moving and firing projectiles, you can use simple coding to order it about instead. And if you get bored of the robot, you can simply rebuild it into one of the four other models.
It really is a genius piece of kit, and could well be the number one gift for your kid this Christmas… or you could keep it for yourself. Can't put your children in the firing line of the robot revolution after all.
Getting started: Fussbot
Anyone who's built a whopping Lego masterpiece will know that it takes a lot of time and organisation to complete. This isn't made any easier when there's nothing but numbered plastic bags to store the 847 pieces.
This isn't so much of an issue the first time you rip open those bags, but since this is a Lego set designed to be repeatedly reassembled, I wish there was some sort of tray included for systematic storing. I was forced to sort them all by colour into multiple ceramic bowls – great for quickly locating pieces, but not so great for my cereal-loving flatmates.
There's also no instructions inside the box. Instead, you'll have to download the app to see the picturesque building diagrams. Only problem with that is the app can only be downloaded via a tablet with at least iOS 10.3 or Android 5.0. There's no getting round the tablet dilemma either, as it's also required for the coding.
And if you thought this robot couldn't get any more demanding, it also guzzles battery juice like a marathon runner downing a post-race pint. Lego could at the very least include the necessary six AAA batteries in the box.
Despite all the initial annoying niggles, the building process was still immensely fun. And when I saw Vernie spring to life for the first time after being built, I felt like a proud mama hen – an attachment that far surpassed anything I felt for toy robots of old such as Teksta and Furby. Even nostalgia can't compete with Vernie.
Coding: Brain 'bot
Once you've finished building most Lego models, the fun is essentially over. Not so with Vernie the robot. Rather than just ogling him like a piece of Lego furniture you can use simple coding to order him to engage in a number of activities.
You can code him to move, fire projectiles, set vocal greetings or even play games such as a cowboy quickdraw – and believe me, Vernie's so good that if it were a real shootout I'd currently be ten feet under.
However, Lego's marketing campaign slightly overstates Boost's ability to teach your children how to code. It's a simple drag and drop process of pre-programmed commands. It does get more complex after you complete a series of tutorials, but that still only involves cramming multiple orders into one function.
You could argue that this is a great introduction for coding at its simplest form. Viewed purely as a toy for entertainment though, the Lego Boost truly excels, especially when you consider the range of options at your fingertips.
Value for money: Five alive
For £150, Vernie the robot alone is worth every penny, especially compared to the price of other Lego sets. But since Vernie can also be rebuilt into four other models, then this is easily one of the best deals of the year.
What's the catch? Are the other four models rubbish? My conspiracy alarms were ringing too, but every model offers a uniquely entertaining experience, from a functioning guitar that plays various notes thanks to the built-in motion and colour-sensing camera, to the auto builder that assembles miniature robot figurines.
The diversity of each build means that there's something here for every kid too, whether they love a purring cat than can play the harmonica or they'd rather a driveable rover that can launch small objects into the air.
The app has its own mini games and functions for each model too, so don't worry about the prospect of your guitar meowing – although it can be programmed to do so if you fancy some head-splitting chaos.
As mentioned before, it's frustrating that the app can't be downloaded via a smartphone. Sure, the app's beautiful presentation and ease of use would have been hampered significantly were it on a smartphone, but I'd still like the option. Not everyone has access to a tablet after all.
Aside from that though, and a couple of bugs that forced me to reboot the app, there's not much to complain about. The instructions are clear, the coding simple and the animations a real eye-pleaser.
Since Lego Boost is designed for children between the ages of seven and twelve, the app's tutorials do a fantastic job of easing you into the world of coding, gradually increasing the complexity as you complete each challenge. Still, as even I occasionally fell into a bit of trouble, this is a toy best played accompanied by an adult.
Lego Boost Verdict: Toy Glory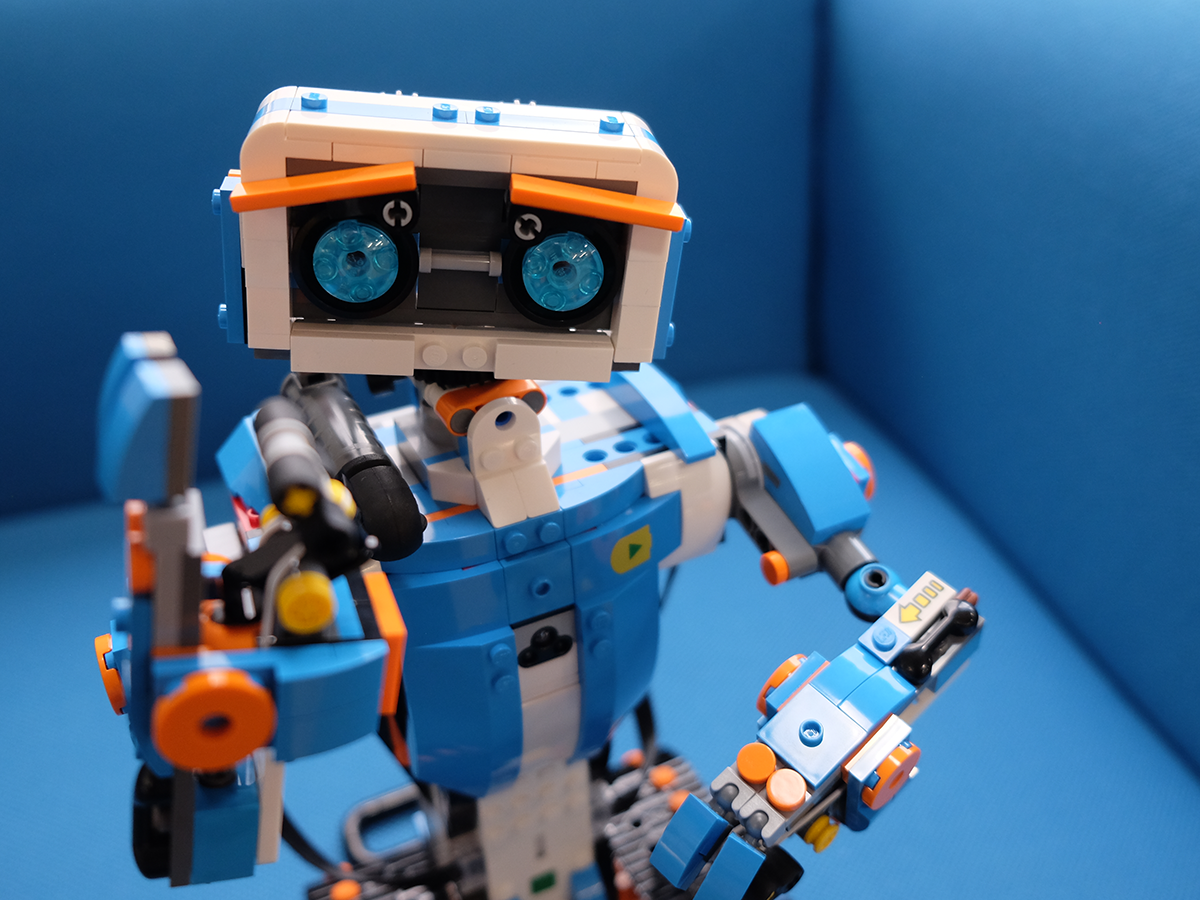 This Lego set is far from perfect. It requires a tablet, lacks any sort of practical storage for the Lego pieces and is a far cry from the educational programme it claims to be.
But as soon as you start strumming tunes on the guitar or playing games with Vernie, you'll soon forget its flaws. Boost isn't just ridiculously fun during assembly, but also for its many, many programmable talents.
The killer feature, though, is that you get five for the price of one. Buy a separate toy robot, rover, cat, auto-builder and guitar and the price will likely approach the thousands. For just £150 you get them all-in-one here, plus the pleasure of building them all yourself.
It's a win-win situation. You save a few bucks, your kids will be entertained for months and Vernie… well, he'll take another stride towards human annihilation. But I'll take that any day if it means temporary peace from the younglings.
Stuff Says…
All hail Vernie and friends – for value and sheer fun, it's hard to beat this programmable Lego kit
Good Stuff
5-in-1 value
Super fun coding
Mind-blowing tech for a toy
Bad Stuff
Requires tablet
No practical Lego storage
Limited educational benefit