GoPro Hero 10 review
Perfect 10?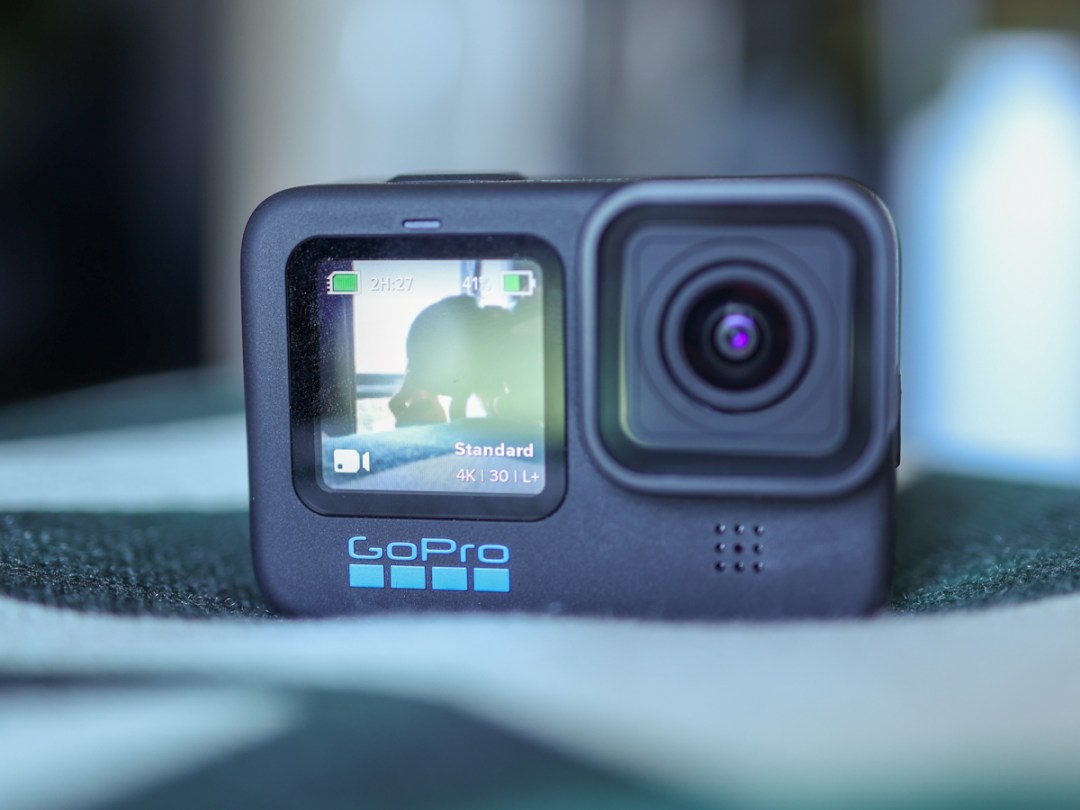 It's another case of brand names becoming bywords: Hoover, Kleenex, Biro and now GoPro. The US action cam maker clearly knows its marketing, but are its cameras still any good?
After a few with the GoPro Hero 10, it fast becomes clear just why the brand is so popular. This camera is the culmination of incremental improvements seen year after year – and tenth time is definitely a charm.
So what's new? On the surface, not that much. It's a black box with screens front and rear, and a lens housing that juts out. Under the hood, however, GoPro has truly levelled up its latest camera. This is the first really responsive GoPro we've ever used, thanks to a nippy new GP2 processor. It's also equipped with better photo and video processing, so it doesn't totally crumble in low light. Plus it can shoot 4K super slow-mo at up to 120fps.
GoPro Hero 10 design: You again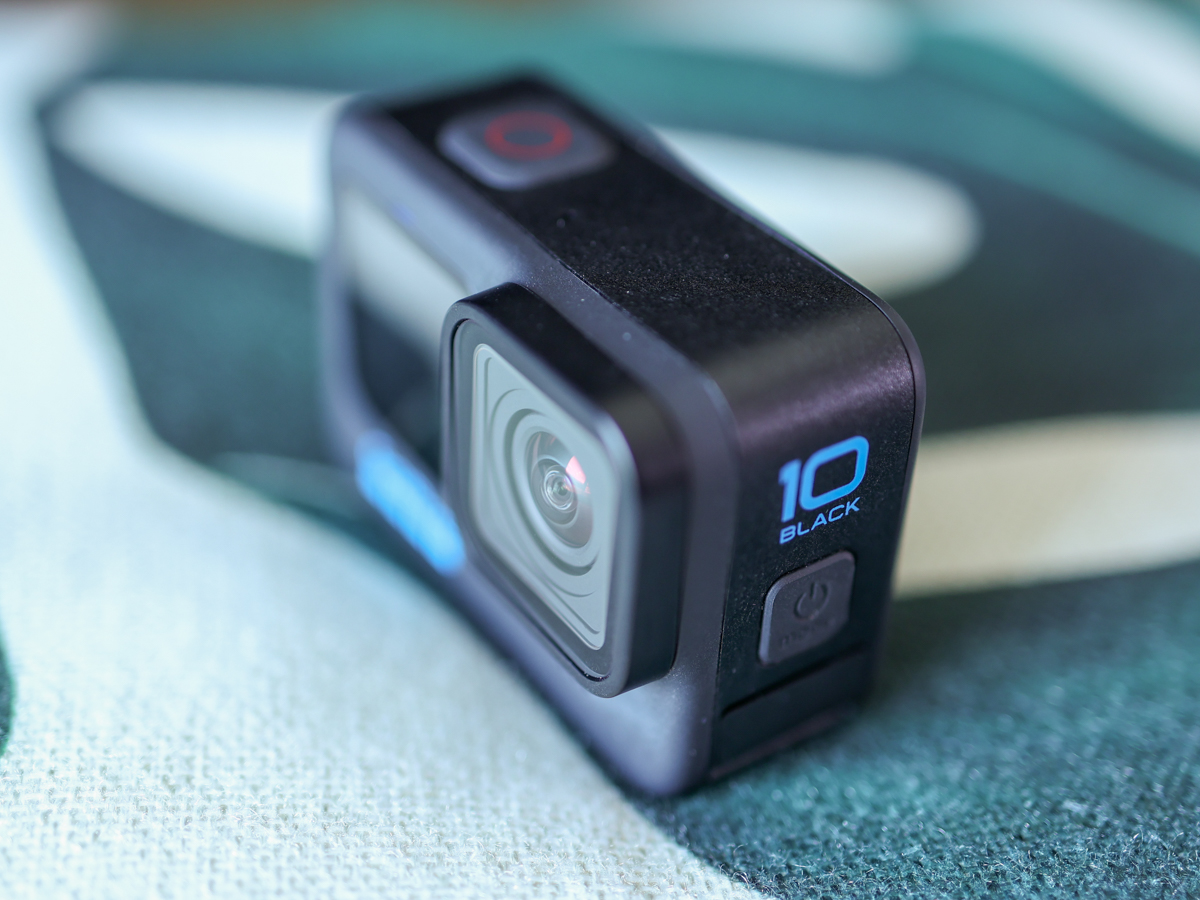 Design-wise, the GoPro Hero 9 and 10 Black are twinning hard. The only difference between the two generations is the colour of the GoPro logo and the product name insignia. On the front of the case you'll find a square full-colour screen, alongside the lens. On one side is a power button, while the other harbours a door that slides out to reveal a USB-C port, a microSD card slot and the battery. Along the bottom are GoPro's flip-out mounting feet, while the rear is home to the main touchscreen.
While the Hero 10 Black sports the same dimensions as the Hero 9 Black, it's a little lighter at 153g (versus 158g). And while both cameras benefit from a 2.27in display, the latest GoPro offers improved touch sensitivity and a smoother interface, which makes the whole experience feel way more responsive.
The front screen isn't touch sensitive, but it will showcase a preview of whatever the camera is shooting, which is especially handy for vloggers. It can also be disable to save battery life.
When it comes to toughness, the Hero 10's lens cover uses more scratch-resistant materials than previous GoPros. It's still removable, so you can slip on a Max Lens Mod for an even wider field of view. The whole camera is as dunkable as you'd expect from GoPro too, so you can submerge it in water as deep as 10m without the need for any additional underwater housing.
GoPro's flip-out feet are also back, which make for incredibly easy mounting. For anyone who didn't hear about them when they arrived with the Hero 8, they flip-out from the base of the camera and connect the camera to virtually every action cam attachment on the market. Prior to the Hero 9, you had to stick your GoPro into a case if you wanted to mount it, which, after five minutes with a Hero 8, 9 or 10 seems like far too much faff.
GoPro Hero 10 features: Better in all but battery life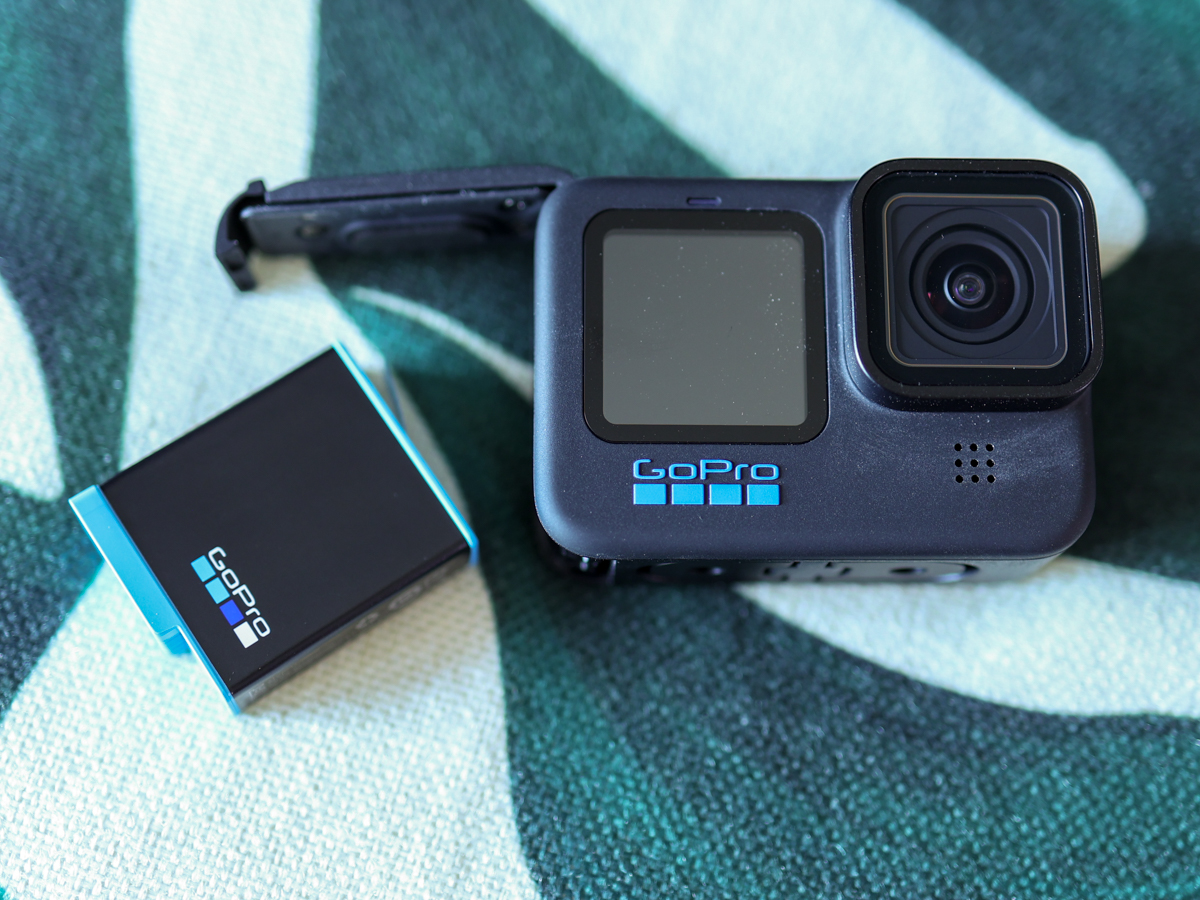 At the heart of what makes the latest GoPro so much better than older models is its new GP2 processor.
It's the first chip upgrade in four years – and it was much needed. While the Hero 9 Black was great, its responsiveness was not. In addition to overall speed boosts within menus, the Hero 10 can also upload your footage 30% faster than the Hero 9 could, which makes a significant difference when you're talking about gigs of 5.3K video. You can also directly hook up your Hero to your smartphone for even faster uploads.
The camera also brings back the high-resolution 23MP sensor introduced last year, which, in tandem with the GP2, delivers shooting options that are unmatched. Even at high-res, high frame rates, the Hero 10 Black saves photos and videos much faster than previous-gen devices, so you won't be waiting around to get back to shooting, which is critical for an action cam.
Photos from the Hero 10 are improved as well, though we wouldn't recommend it as a stills camera; your smartphone is likely to outperform it. One area where we did have an issue was shooting HDR photos in heavily backlit scenes. The dark areas can carry a lot of grain, which feels like something that should be fixable with a software update.
Paired with a GoPro subscription (£50 per year), the Hero 10 Black can automatically ping files over to your smartphone and they can be backed up to the cloud automatically. GoPro's also brought back live streaming, voice control, webcam mode and compatibility with all the Hero 9 Mods, which is ideal for anyone looking for flexible upgrades.
Less excellent is the Hero 10 Black's battery. With the new shooting frame rates matched with the mightier GP2 processor, continuous shooting time falls behind the Hero 9. You still get enough juice from a single charge for a day of short clips that you can stitch together, but for longer hyperlapse shots, you'll want to pick up some spare cells (helpfully, the Hero 10 Black uses the same batteries as the Hero 9). Alternatively, you could use a USB-C power bank to keep it ticking along (though that requires the battery door to remain open, nullifying the camera's waterproofing).
GoPro Hero 10 camera: Frames per second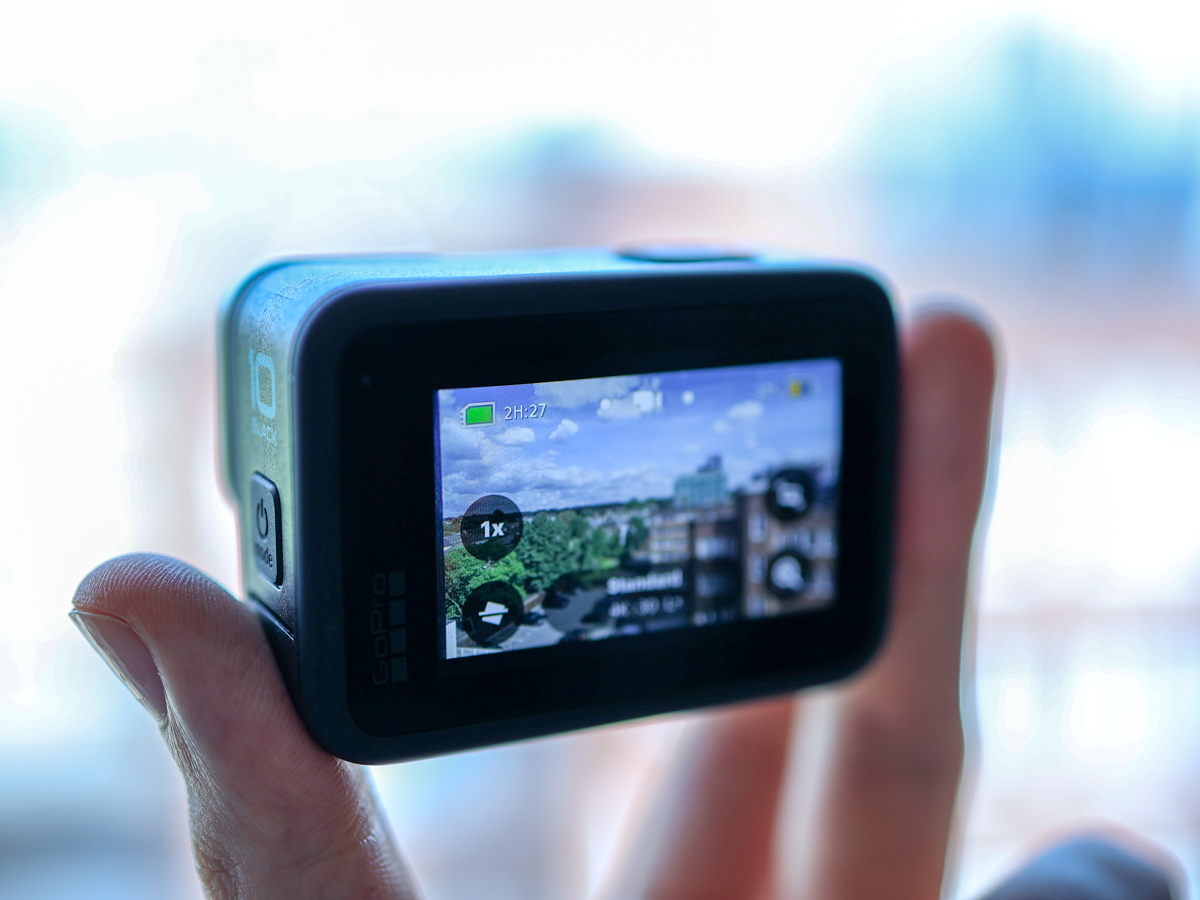 The Hero 10 Black shares the Hero 9 Black's sensor, but performance is clearly better this time around. Starting with video specs, you can get double the frame rates across the board when compared to anything GoPro's done before. That means 5.3K at up to 60fps and 4K at a OnePlus 9 Pro rivalling 120fps.
We also saw an improvement in video quality when compared to earlier GoPros, especially in low light. That's not to say the Hero 10 is a good camera for dimly lit scenes, but it won't fall completely flat – which is a first for the line. Even with that familiar sensor, GoPro claims the GP2 processor introduces new algorithms that apply local tone mapping and 3D noise reduction, which could explain the improvements in low-light performance.
We're also fans of the camera's output in well-lit scenes. In video, colours are rich and detail is ample. Dynamic range is good (not quite fantastic), but exposure compensation is on the money most of the time. There's mild judder when the Hypersmooth 4.0 stabilisation is working overtime, but compared to a smartphone, it's relatively minimal.
The GoPro Hero 10 really does make for a great vlogging and action cam. We were also impressed by the sensitivity of the onboard microphones, even in the face of moderate wind. If you need higher quality audio, you can also hook up a Media Mod and plug in an external mic or a Rode Wireless Go to level things up.
GoPro's new in-camera horizon levelling is also a phenomenal party trick. With a range increase from 27 degrees to 45 degrees, you can tilt the camera either way and the image is held magically level. It works at full 5.3K resolution (albeit with a little less range) and is ideal if you're shooting on a rocking boat and the GoPro's on a tripod tilting from side to side.
GoPro Hero 10 competition: Old versus new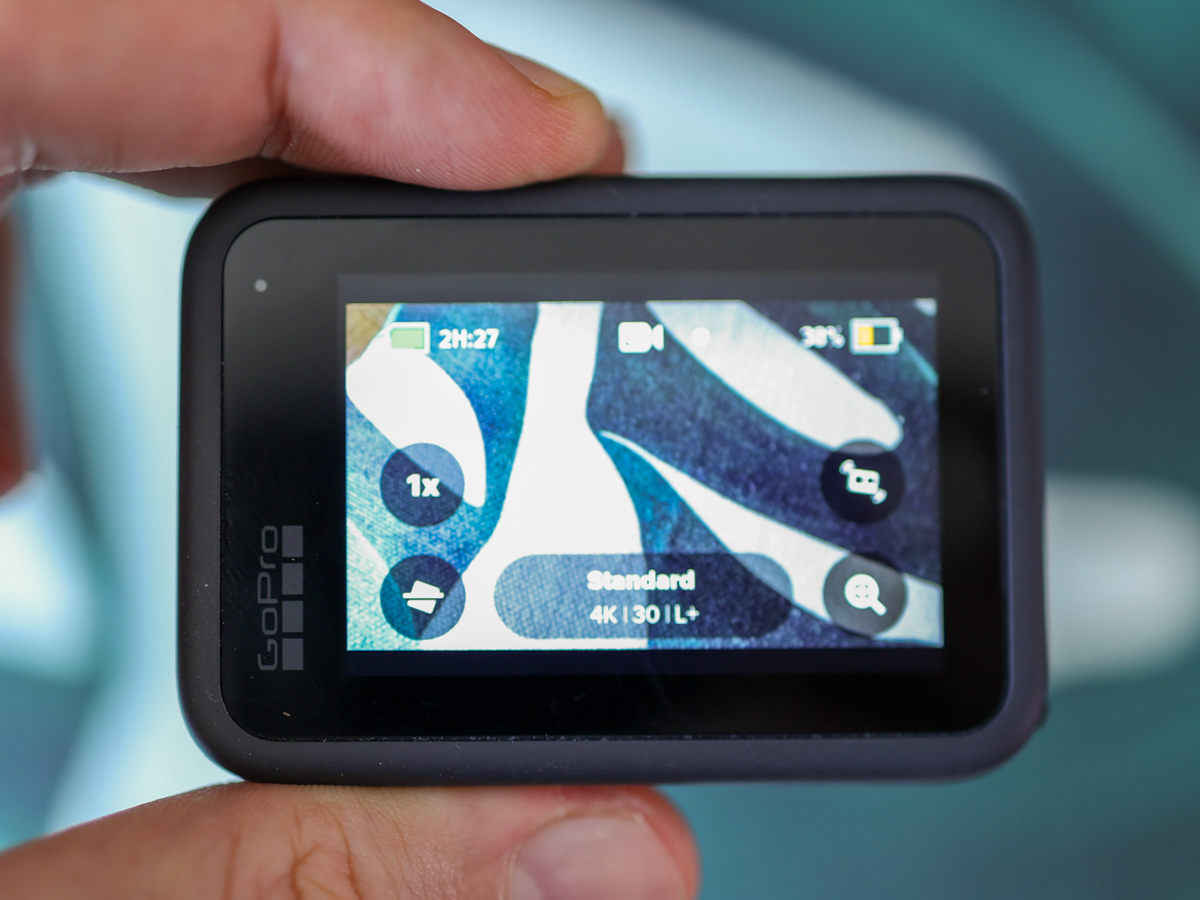 The GoPro Hero 10's main competition comes from its predecessors. The Hero 9 is an option if you don't need the GP2 processor and nippy frame rates, while the Hero 8 continues to offer solid value for those who don't fancy a full-colour front display.
You could also pick up the excellent DJI Osmo Action, which is a few years old but still a great alternative – albeit without the 5.3K capture.
Alternatively, for a wider view of your adventure, the Insta360 One R Twin Edition offers a 360-degree vantage point, as does the GoPro Max.
GoPro Hero 10 verdict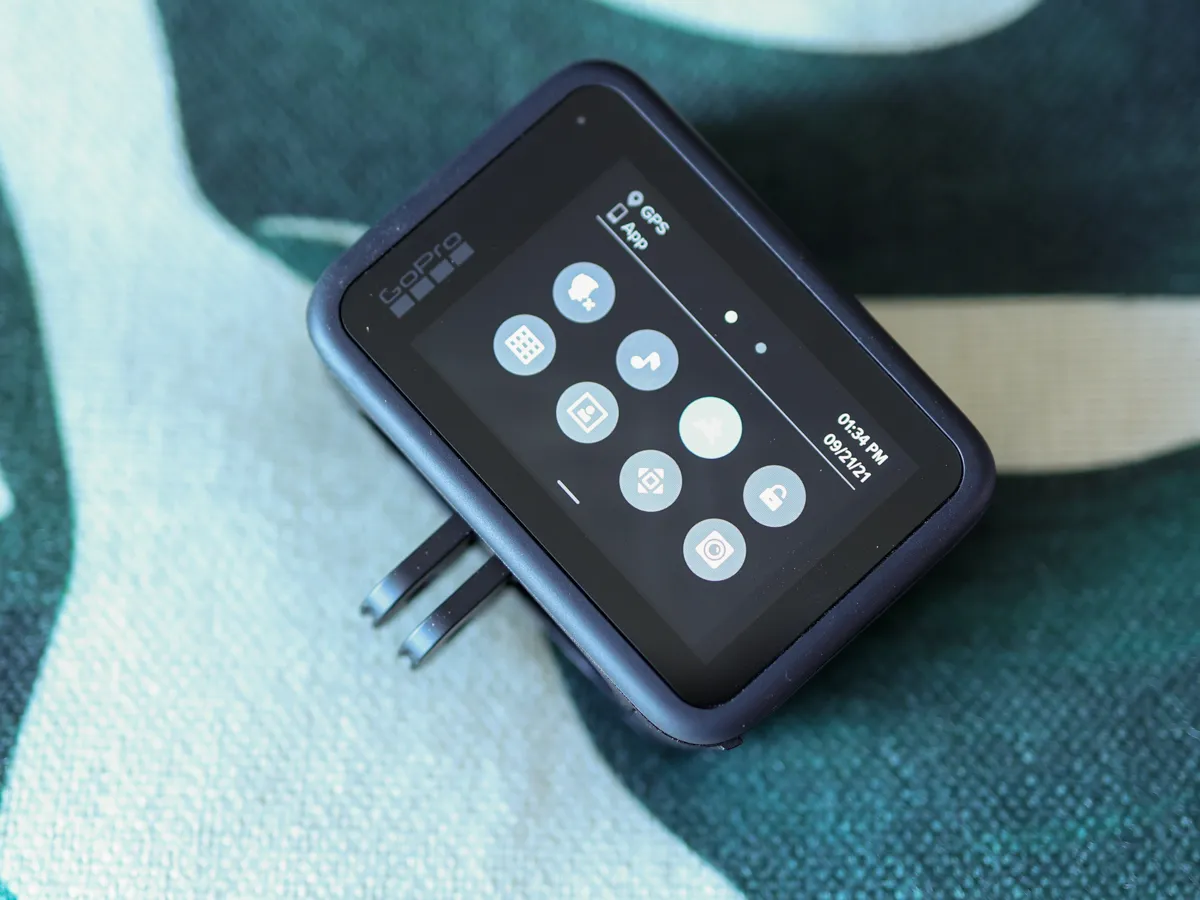 The GoPro Hero 10 Black is a fantastic action camera. While on the surface it's a rehash of the Hero 9 Black (and its shooting resolutions are virtually identical), it's a very different camera in day to day use.
Thanks to the GP2 processor, together with updates to photo and video processing, the Hero 10 Black captures a better image across all lighting conditions. It's much more responsive than any previous HoPro. The boosted frame rates are stellar for fans of slow motion, while the camera's nice-to-have features (from better live-streaming and webcam support to faster wireless and wired transfer of video) iron out niggles that plagued older editions.
If you're planning to pick up a Hero 10 Black, make sure you sign up for a GoPro subscription to save a packet. Besides unlimited cloud backup and camera replacements, the £50 annual membership bags you a discount that brings the price of the Hero 10 Black down from £529 to £379. While we wouldn't normally highlight optional offers in a review, this one is unlikely to go anywhere: GoPro's been doing it for years, and the lower camera price ultimately makes it even easier to score this Hero full marks.
Tech specs
| | |
| --- | --- |
| Sensor resolution | 23MP |
| Video resolution | 5.3K up to 60fps, 4K up to 120fps |
| Image stabilisation | HyperSmooth 4.0 |
| Screen | 2.27in touch (rear), 1.4in (front) |
| Battery | 1720mAh |
| Waterproof | 10m |
| Weight | 153g |
Stuff Says…
Beefed up internals make the Hero 10 Black a nippy, powerful, polished action cam – and a slow-mo fiend
Good Stuff
Lag-free interface
Fantastic slow-motion capture
Improved upload/app experience
Bad Stuff
Mediocre battery life
Low-light performance still not great
Grain in HDR photos