Google Home Hub review
Compact, stylish and good value for money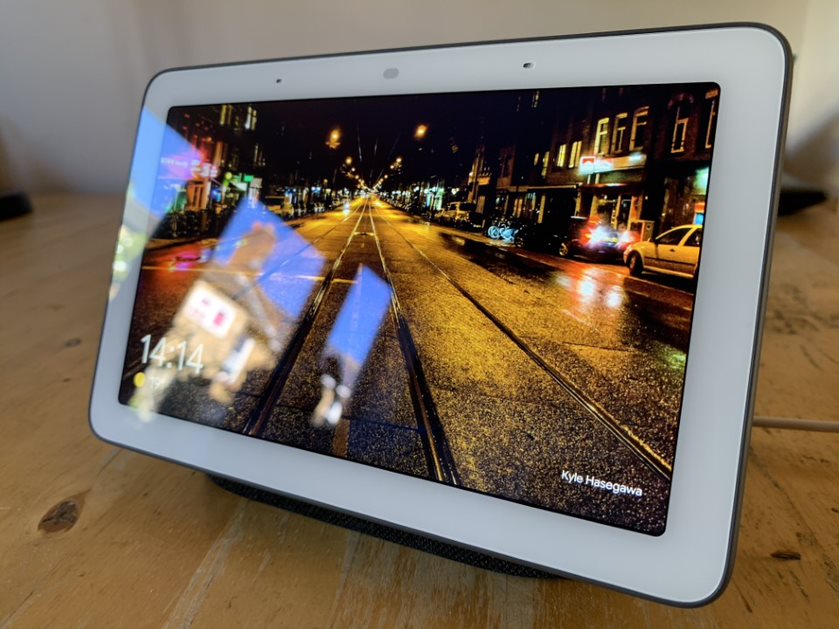 When Amazon decided to add a screen-based device to its Echo smart assistant lineup, it didn't exactly set the world on fire.
Sure, it was nice to have a screen to show you information as well as tell it to you, but it struggled to do even basic things such as showing YouTube videos, and it's a lot more expensive than its speaker lineup.
The new Echo Show certainly offers more screen for the money, but it's still £220. You could buy four Echo Dots for the same amount.
Google, on the other hand, has been modest when it comes to its first screen-based device, the Home Hub. It's more compact and stylish than the Echo Show, and it's only £140, making it much more affordable than Amazon's equivalent.
There are still issues with the limited amount of things it could do at launch, and it lacks the video conferencing ability of the Echo Show, but it's a neat little device that won't break the bank.
Having used the Google Home Hub for the last week, we'd say that if youe smart assistant does have to have a screen, Google's Home Hub is the one to go for.
DESIGN: SMALL BUT MIGHTY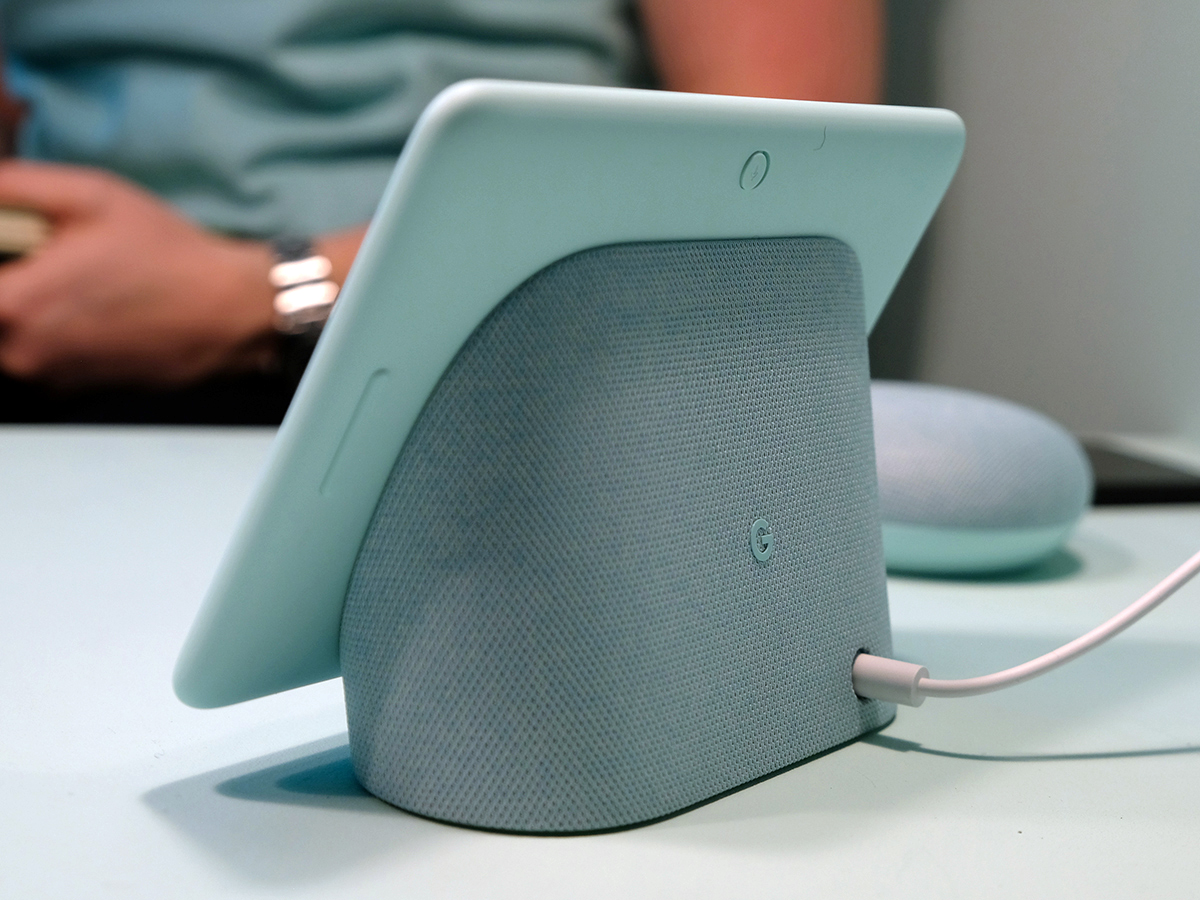 Google Home Hub is relatively compact, certainly next to Amazon's Echo Show. Everything is focused on a 7-inch touchscreen display (the new Echo Show is 10-inch), surrounded by a white bezel. You can't choose the colour of the bezel, but you can choose the colour of the stand, which is covered in a nice fabric (ours was grey, but black, green and pink are also available). The benefit of the screen is that it can display information, rather than just telling you about it, so you can see at a glance what the weather's going to be like, what events you've got in the calendar for the day, or what the score of the game was last night. The screen itself looks fantastic, but it doesn't tilt or turn, so if you can't see it, you have to move the whole unit. Also, it's worth noting this is a mains-powered device, so there's no taking it outside or on-the-go.
FEATURES: STRONG START, MORE TO GO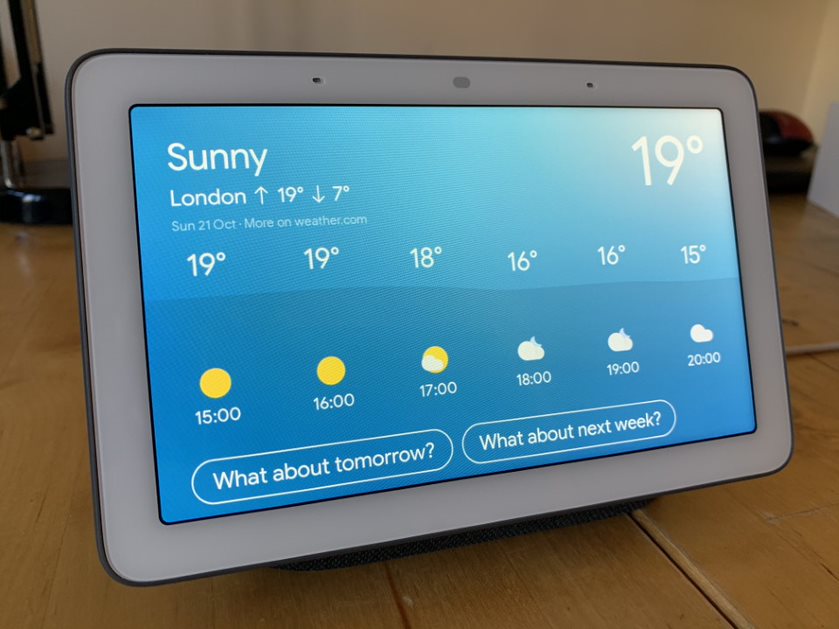 The amount you're going to get out of the Google Home Hub depends on how much you're invested in the Google ecosystem.
If you're using Google's services such as Calendar, Reminders and Photos, you'll likely love the Home Hub from the off. If you're more of an Apple or a Microsoft kid, well, let's just say you might want to think about moving all of your personal data over to Google as soon as possible.
Setting the Home Hub up is a simple case of downloading the Home app to your Android or iOS device, logging into your account and connecting it to your home's WiFi.
From there, you can choose what apps you want to add, like Spotify or Deezer on the music side, and Netflix and All 4 on the video side.
You can also personalise the screensaver with arty photos, or those stored in Google Photos, and as long as they're tagged you can set it to display photos of a specific person or album.
Right now, the number of supported music and video apps is relatively low. There's a free version of Spotify as well as the option to use Deezer, Google Music or YouTube Music, but there are still a lot of services missing, including Tidal and Apple Music.
If you're on a Google Android device, you can cast other services to the Home Hub, but you can't easily cast to it from an iOS device. Voice control works well across the supported services though, allowing you to say "Play pop music on Spotify", or "Play BBC Radio 2" and Google will do as you command.
On the video side, YouTube is supported, so you can search for the latest trailers, music videos and Fortnite videos using your voice. Even better, right now adverts seemed to have been removed, which made the viewing experience better than if you were on a phone or computer.
Also, All 4, the on-demand service from UK broadcaster 4 is supported, so as long as you have an account, you can ask your Home Hub to play 8 Out Of 10 Cats or other shows from 4. Right now, that's it in terms of apps embedded on the device itself.
You can link your Netflix account, but confusingly, you can't view Netflix content on the device (you can ask the Home Hub to play Stranger things on your Google-powered TV, though).
You can also cast from some apps on your phone to the Home Hub, like iPlayer and ITV Hub, but not others, like Google's own Slides app. Not that you'd really want to show a slideshow on there, but the point is, it is a little limited right now. We also couldn't get Netflix to cast from our iPhone at launch, despite the device showing up as an option in the app.
Really, the only big thing missing from the Google Home Hub is that it doesn't have a video camera, which the Amazon Echo Show does. This means that it doesn't support video calls, but it also means that the device can't film you and send that footage back to Google, which has been a concern for people around these sorts of devices.
Personally, I've had an Amazon Echo Show for around a year, and I've used the Drop In feature like, once, and that was to test it out for a fellow Stuff staff member's review. If I need to video chat with someone, I'm much more likely to use my phone or a computer. You can, however, broadcast voice messages across your various Google Home devices using Home Hub, and make Google Voice calls.
SMART HOME: CONTROL CENTRE
One of the biggest reasons people choose Amazon's voice assistants over Apple and Google ones is that Amazon seemed to get the head start over the competition when it came to smart devices. Now, though, the playing field is pretty much even, and both Amazon and Google support the majority of the big brands on the market.
Our smart home contains devices from Philips Hue, Hive, Nvidia, Sonos and Netatmo. Both Google and Amazon controlled the lights and heating from Philips and Hive just fine without any setup required.
Google's Home Hub was able to see our Android-powered Nvidia Shield and Philips OLED TV and use them as a display if we wanted to watch YouTube clips on there instead of the Home Hub, whereas Amazon only supports this functionality via its own Fire TV devices.
However, Amazon does have one up on Google when it comes to multi-room audio on Sonos speakers, which isn't yet supported on Google (but is supposedly on the way). Neither Amazon or Google connected to our Netatmo cameras or Healthy Home Coach, whereas Apple won here thanks to Homekit support which would allow Siri to report on temperature readouts.
If you're buying the Google Home Hub, just bear in mind that other Google-owned companies such as Nest are more likely to have compatible products, just as Amazon has the Ring doorbells which work better with Alexa.
We really liked the Google Home Hub's visual interface when interacting with a smart home though. It was much more preferable to switch the lights using the display than just voice, as you get a preview of what the colour and the brightness is going to look like on the screen itself.
As long as you've got your pictures backed up to Google's Photos app, we also liked how easy it was to create a slideshow of certain people or recent highlights, which it then displays in Ambient (screensaver) mode. You can also display art on the screen or content from Facebook and Flickr, which is more than is offered on the Amazon Echo Show.
There are also routines that you can program for certain occasions. For example, when you say "OK Google, Good Night", you can get the Home Hub to dim the lights, set your alarm, and play soothing music from the speakers.
The cooking feature is one of the more compelling reasons to buy the Home Hub over a smart speaker, because you can visually see the ingredients and follow along to step-by-step instructions as you go. We did find that sometimes Google didn't know how to do step-by-step instructions for certain recipes (such as vegetarian recipes — Google must just hate herbivores), but we expect this will improve over time.
The interface is also really snappy and never slows down — if you ask for a party playlist, the device will figure out it needs to open Spotify and start playing music within seconds. If you ask for Kiss FM, it'll open TuneIn, and again it's all pretty much instantaneous. //We also liked that you can add various profiles to the Google Home Hub and allow other people to access their information through the device.
Finally, we also really liked that Google had integrated YouTube into the News app, so that stories were delivered in video form, rather than being in text or read out by the AI assistant.
SCREEN & SOUND: IMPRESSIVE VISUALS, DISAPPOINTING AUDIO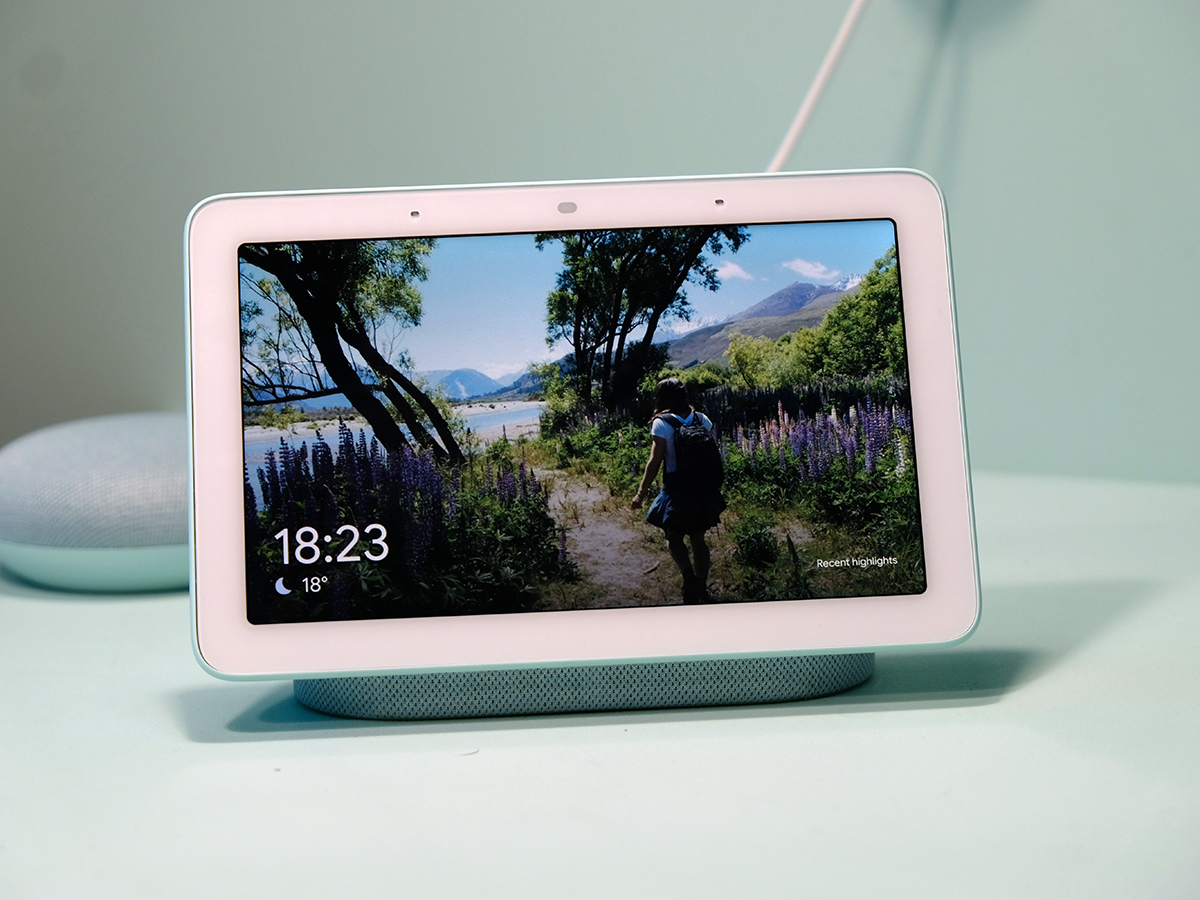 Google hasn't released the specification for its LCD display, but it's excellent for the price. Photos and videos look beautiful, with great colour reproduction and superb viewing angles. The interface is also beautifully presented, with nice big icons and text that you can read from across a room.
The device only has two front-facing microphones, but we found voice pickup to be excellent, even from afar. Sound is less good, lacking punch in the bass, so if you're looking for a music-playing device, we'd suggest a dedicated speaker as the Google Home Hub has no audio out port.
GOOGLE HOME HUB VERDICT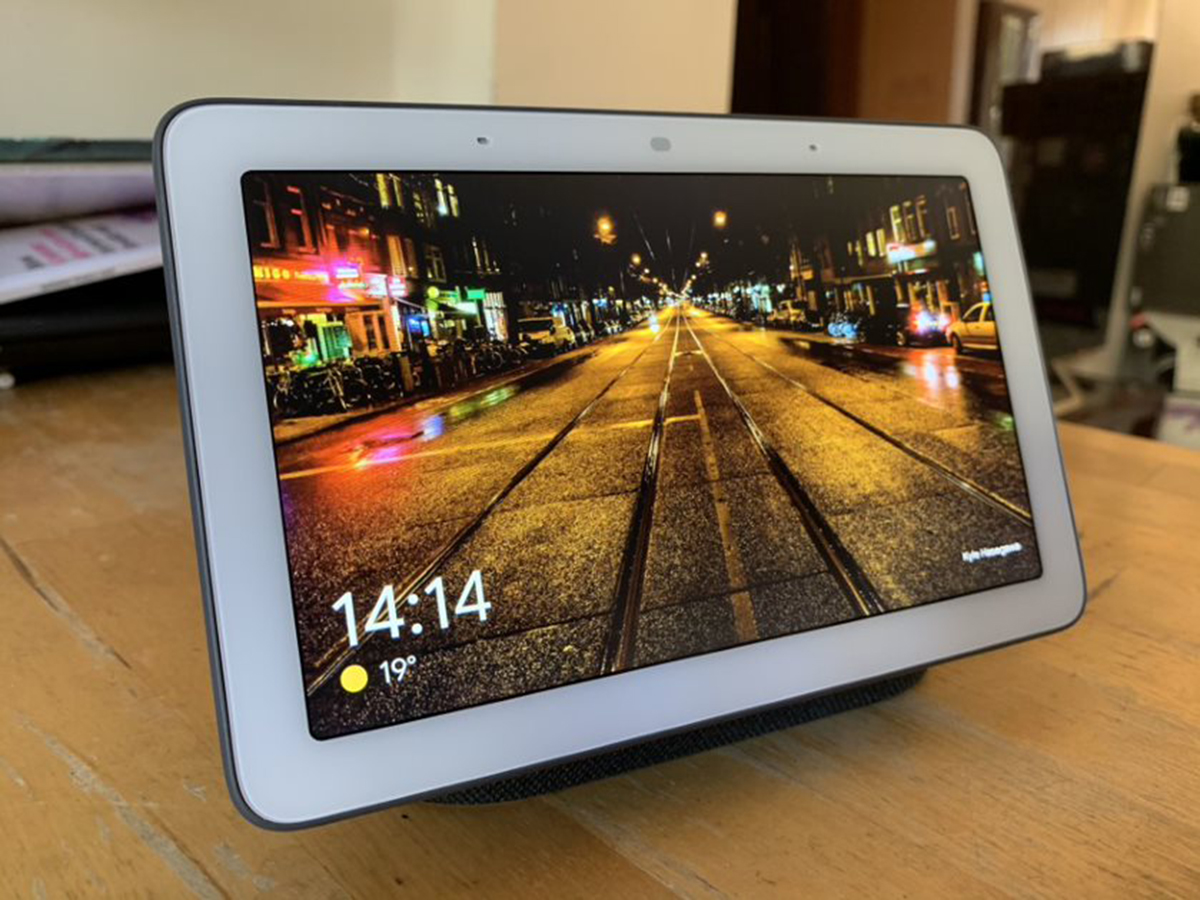 The Google Home Hub doesn't cost too much more than a standard smart speaker and it's much more tempting to plump up the extra cash to have the option of a screen for things like recipes, morning briefings and Youtube.
There are caveats though. Google still doesn't support all the smart home devices that Alexa does, the audio quality isn't as good as on a dedicated speaker, and there are a lack of basic video apps at this stage. The ability to Chromecast covers some of these issues, but we had problems casting from Netflix and Google's own apps at launch.
That said though, there's lots to love about the Google Home Hub, and given that highly attractive price, we can easily recommend it as the best screen-based assistant on the market right now.
Stuff Says…
Google's first screen-based smart helper is not only great, it offers real value for money
Good Stuff
Compact design
Fantastic screen
High value price point
Bad Stuff
No camera for video calls
Limited number of apps at launch
Lacks oomph in the bass