Garmin Vivosmart 5 review: a pared-back tracker that's tricky to tap
Is Garmin's fifth-gen fitness band worthy of your wrist?
Four years is a long time to wait for a follow-up. Like Adele's 30, Craig's No Time To Die and Liverpool's latest FA Cup win, the Garmin Vivosmart 5 took its sweet time to arrive. But it's here now. So on to the next question: is it any good?
At first glance, the fifth-generation of Garmin's lightweight fitness tracker isn't drastically different from its predecessor. It's still a pared-back band with a dinky display, seven-day battery life and an arsenal of activity tracking tools. But competition is hotter today than when the Vivosmart 4 first competed for wrist space.
Are swappable bands, a physical button and a larger OLED screen enough to make up for a monochrome readout, fiddly interface and lack of in-built GPS? Or is the now-discounted Fitbit Charge 5 a better bet for daily data? We strapped on the Vivosmart 5 for a fortnight to find out.
Garmin Vivosmart 5: design & build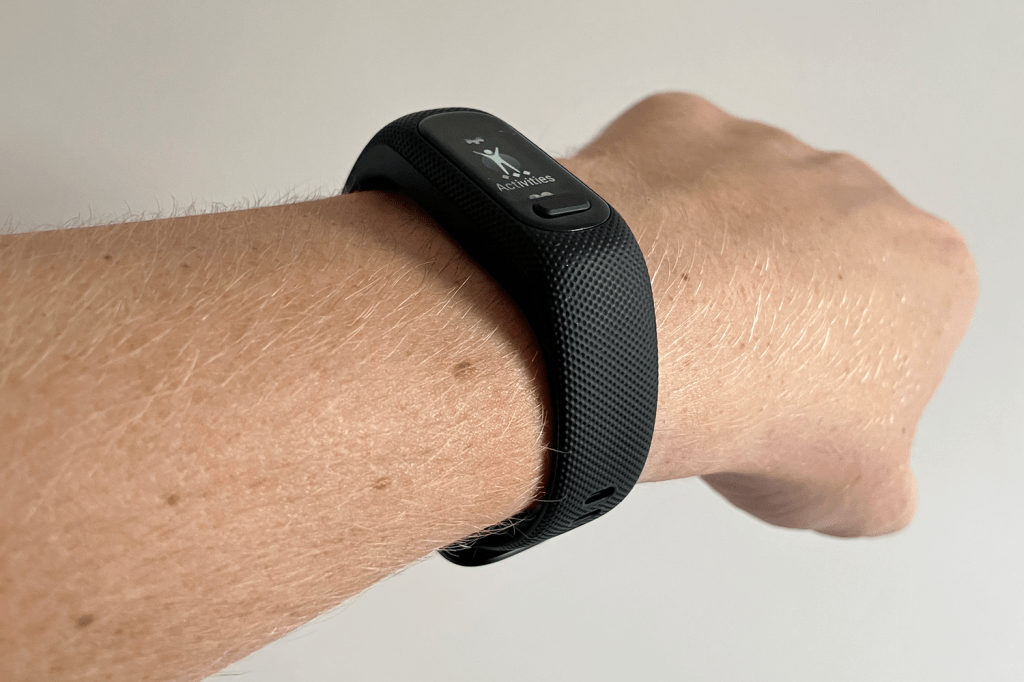 Like the Vivosmart 4 before it, Garmin's updated tracker keeps things lightweight and low-profile. Shipped in two sizes to fit wrists big and small, both variants sit neatly at 10.7mm slim. And at less than 27g for the larger band, the Vivosmart 5 won't add ballast beneath your sleeve.
In fact, you'll readily forget that you're wearing it – partly because it's comfortably streamlined and partly because it looks generic. With a polycarbonate case skinned in silicone, it jogs squarely down the middle of the road. Could the uninitiated pick Garmin's tracker out of a line-up with recent Xiaomi and Huawei bands? The jury's out – but perhaps that's no bad thing, particularly if you prefer your wristwear understated.
It's not all black and white, either: there's a Cool Mint option for those keen to coordinate with their Pantone activewear. And unlike the fixed bands of the Vivosmart 4, straps are swappable on the Vivosmart 5. Simply push out the main pod and you can switch up colours to suit the season – no pin-poking necessary.
Fitted securely in place, the tracking package feels sturdy enough. You won't mistake the acrylic screen coating for something more premium – no sapphire glass here – but the Vivosmart 5 seems fit to survive a few scrapes. It's swim-proof too, so you've no need to fear sudden downpours while you pound around town.
Garmin Vivosmart 5: screen & interface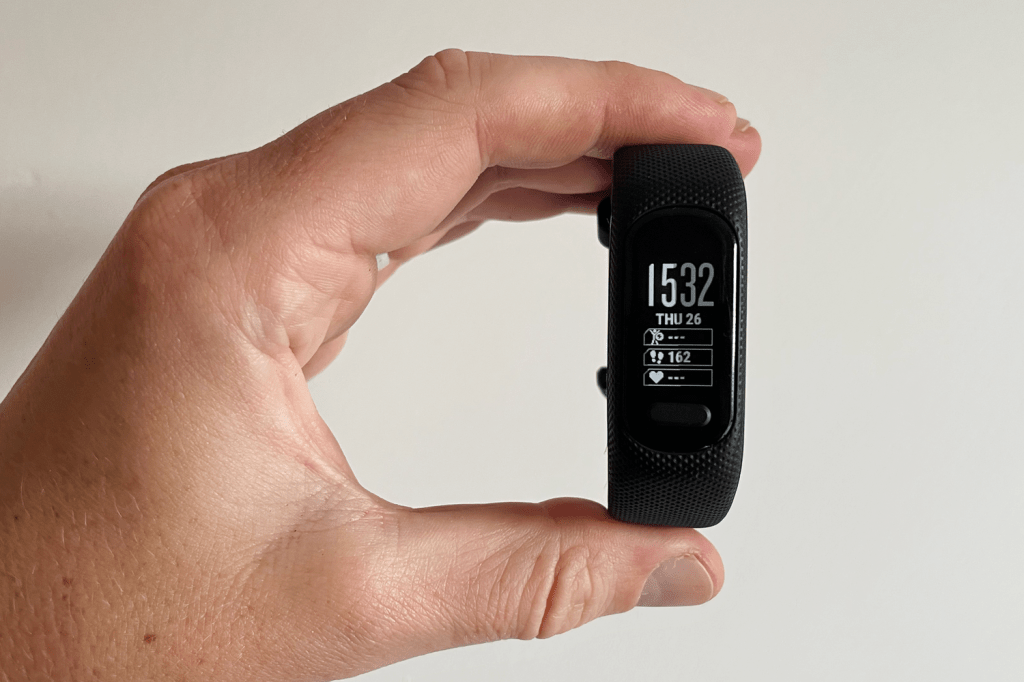 Front and centre on the Vivosmart 5 is an OLED touchscreen that's some 66% bigger than before. While that sounds like a sizeable increase, the Vivosmart 4's display was tiny to start with. Which means the updated version is still a pretty miniature readout, measuring just 0.41×0.73in.
It's also a monochrome number, with an 88×154 resolution. That's sharper than the Vivosmart 4, but compared to the vibrant AMOLED panel found on the Fitbit Charge 5, the Vivosmart 5 feels like something from a different era. There's no always-on display option, either – so you'll need to flick your wrist or hit the button (below) to wake it.
Garmin's designers have done admirably to create an interface which squeezes a lot of data onto the dinky display, often helped by the use of scrolling text. But it's not ideal. Widgets are fine for quick glances, but smartphone notifications can feel cramped, with some squinting required to read them.
The touchscreen itself is also fiddly for bigger fingers. Swiping between widget screens is easy and swift, but you'll need to get your taps on target – which can be tricky when you're halfway through a sweaty session. What helps here is the button which lives on the front of the Vivosmart 5: gone is the capacitive touch surface of before, in favour of a physical input.
This can be used to wake the Garmin Vivosmart 5 and open its menu, but otherwise it functions as a back button. There is a little learning curve when it comes to activity commands – you have to press and hold to pause a recording – but it doesn't take long to get the hang of it. Before long, you'll be hammering your way back to the home screen, happy to have something that responds with a reassuringly tactile click.
Garmin Vivosmart 5: features & connectivity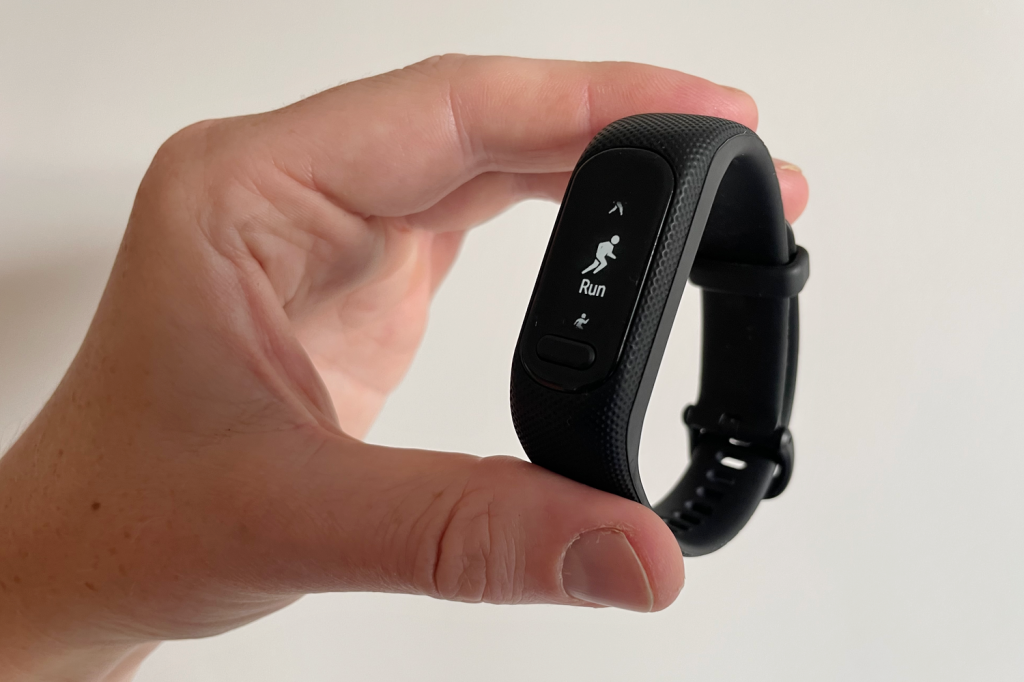 Smartphone notifications aren't the limit of the Vivosmart 5's smarts – but you don't get too much more to play with. There's no Garmin Pay for contactless transactions, no third-party apps available through Connect IQ and no built-in storage for offline listening – although you do get connected music controls, assuming your digits are deft enough to land on the right icon.
Swipe through the widgets and you will find a few useful screens which sync data from your smartphone. There's a calendar display which lists your upcoming appointments and a weather readout which provides a brief forecast. These are welcome additions to an otherwise fitness-focused tracker, but their usefulness is realistically limited by the tiny size of the display. At most, they're good for glancing, rather than deep-dive updates.
There's limited scope to customise the widgets themselves, but they can be added, removed and rearranged through Garmin Connect – a partner app which puts a shine on the Vivosmart 5 experience. Unlike Fitbit, Garmin doesn't hide any features or data behind a subscription paywall. You get the full-fat experience for free, complete with comprehensive, in-depth insights into your activity. And while the level of feedback on offer might be more than most Vivosmart 5 users need, the app is also intuitive, attractive and accessible.
The Garmin Vivosmart 5 will also present you with a daily morning report based on your wake time. This compact summary covers calendar events and weather, as well as a handful of health metrics. It's a neat feature which adds a dash of value – plus an equal measure of frustration, because it's surprisingly difficult to dismiss when you don't want to read it.
Garmin Vivosmart 5: tracking & performance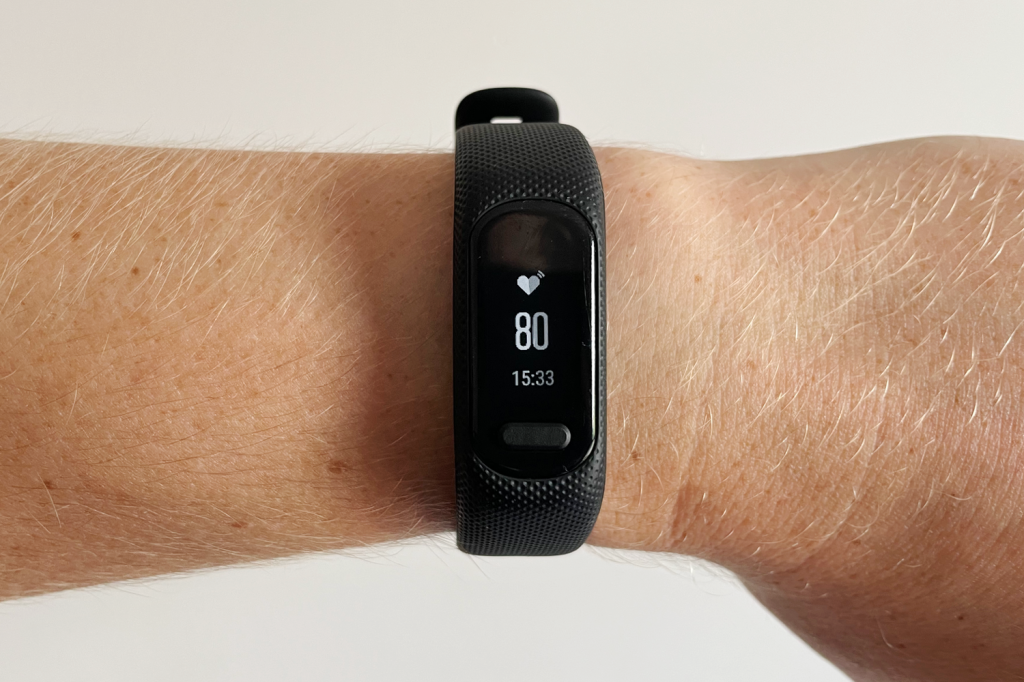 There's nothing groundbreaking about the Garmin's sensor setup. You get optical heart rate and blood oxygen monitors, together with an ambient light sensor and accelerometer. But there is one major omission: GPS. With none on-board, you'll need to connect the Vivosmart 5 to your phone to log location data. Pairing is generally swift and seamless, with routes recorded relatively accurately compared to the built-in GPS of a Polar Vantage V2.
Given that the Vivosmart 5 can't store music, there's a good chance you'll use your phone for soundtrack duty. If so, the absence of integrated GPS isn't a massive deal, because you'll already have your blower nearby. The bigger issue? The Fitbit Charge 5 offers both integrated and connected GPS.
Location limitations aside, the Vivosmart 5 supports up to 10 sport profiles, selected from 14 in the Garmin Connect app. These span classic activities such as running, cycling and pool swimming, plus broader pursuits including HIIT, indoor rowing and Pilates. Oddly, an absent indoor cycling option is absent. The metrics shown on screen vary based on your chosen discipline, although these are often too small to see quickly during a workout. Left to its own devices, the Vivosmart 5 can also detect and track activities automatically. It does this well, whether you're circling the park or sprinting for the Tube.
On a daily basis, the Vivosmart 5 will deploy its sensors to monitor your general wellbeing. Besides heart rate and blood oxygen, it tracks sleep as standard, as well as respiration and stress levels. How useful you'll find these features depends on how much you buy into them, but the sleep score generally reflected the quality of my shut-eye. Unlike the Fitbit Charge 5, the Vivosmart 5 doesn't feature an electrodermal sensor, so the stress assessment is instead based on heart rate variability. Whatever your score, the heart rate monitor performs well during workouts and at rest, sticking within 2-3bpm of a chest strap on average.
Like Fitbit's Daily Readiness Score, the Garmin Vivosmart 5 also uses all of the data it gathers to assess your energy levels in real time. The resulting Body Battery score is an holistic indicator of your physical condition – and whether you're 'charging' or 'draining'. On the tracker itself, it's little more than a number. But dive into the Garmin Connect app and, as above, you'll find a wealth of data to digest.
Garmin Vivosmart 5: battery life & charging
Garmin rates the Vivosmart 5 as good for seven days on a single charge. In practice, that's pretty spot on: our fully fuelled Vivosmart 5 conked out halfway through the seventh day.
Ramp up the brightness to its highest setting and you'll lose around a day versus the 'auto' mode. But if you really want to drain the cell fast, switch the Pulse Ox sensor to 24/7. This will limit battery life to less than four days.
Unless you're studiously charting your SpO2 for a science project, you're unlikely to find much use in having the blood oxygen sensor constantly enabled. You can limit it to spot checks for maximum longevity, or set the tracker to monitor levels only during sleep for a more efficient middle ground.
At seven days, the Vivosmart 5 comfortably trumps the Apple Watch Series 7 – but that's a full-bore smartwatch. And it falls far short of the 18 days promised by the Garmin Fenix 7. Most interestingly, it exactly matches the seven-day claim of the Fitbit Charge 5 – a claim which dwindles when the always-on display is enabled.
Garmin Vivosmart 5 verdict
In some ways, Garmin's Vivosmart 5 could be the last of a dying breed: a pared-back fitness tracker that accepts its own simplicity. Its design is familiar, bordering on uninspiring. Its display is small, monochrome and fiddly to interact with. And you need a connected smartphone for location data.
But despite its shortcomings, the Vivosmart 5 performs well where it matters: fitness tracking. Its catalogue of sport profiles might not be as extensive as those found on Garmin's top-tier watches. And you'd be daft to use it as a serious training tool. But as a straightforward way to log steps, sleep and exercise – and get surprisingly detailed feedback – it delivers.
You get a lightweight tracker that's comfortable to wear, with a useful physical button and the option to swap its strap. You get a respectable seven days of battery life. And you get a generous range of tracking modes and health metrics, all synced to an excellent app that doesn't charge you for the pleasure of giving feedback.
The only obstacle for the Vivosmart 5? The Fitbit Charge 5 does all that and a lot more. Find it for a similar price – which you can – and it's the better buy.
Stuff Says…
Its lightweight design might be forgettable, but if you can deal with the dinky screen and lack of built-in GPS, the streamlined Vivosmart 5 offers a lot of tracking smarts for a relatively affordable price
Good Stuff
Lightweight, comfortable fit
Streamlined, swappable design
Comprehensive tracking features
Seven-day battery life
Bad Stuff
Underwhelming display
Slightly fiddly interface
No built-in GPS tracking
Tech specs
| | |
| --- | --- |
| Display | 0.41×0.73in OLED touchscreen, 88×154 pixels |
| Dimensions | 19.5×10.7x217mm (small), 19.5×10.7x255mm (large) |
| Weight | 24.5g (small), 26.5g (large) |
| Software | Garmin Watch OS |
| Battery | 7 days |
| Waterproofing | 5 ATM |
| GPS | No (connected only) |
| Sensors | Heart rate, blood oxygen, accelerometer, ambient light |
| Connectivity | Bluetooth, ANT+ |
| Garmin Pay | No |