Garmin Forerunner 935 review
This flagship Forerunner might just be your cue to the Garmy army...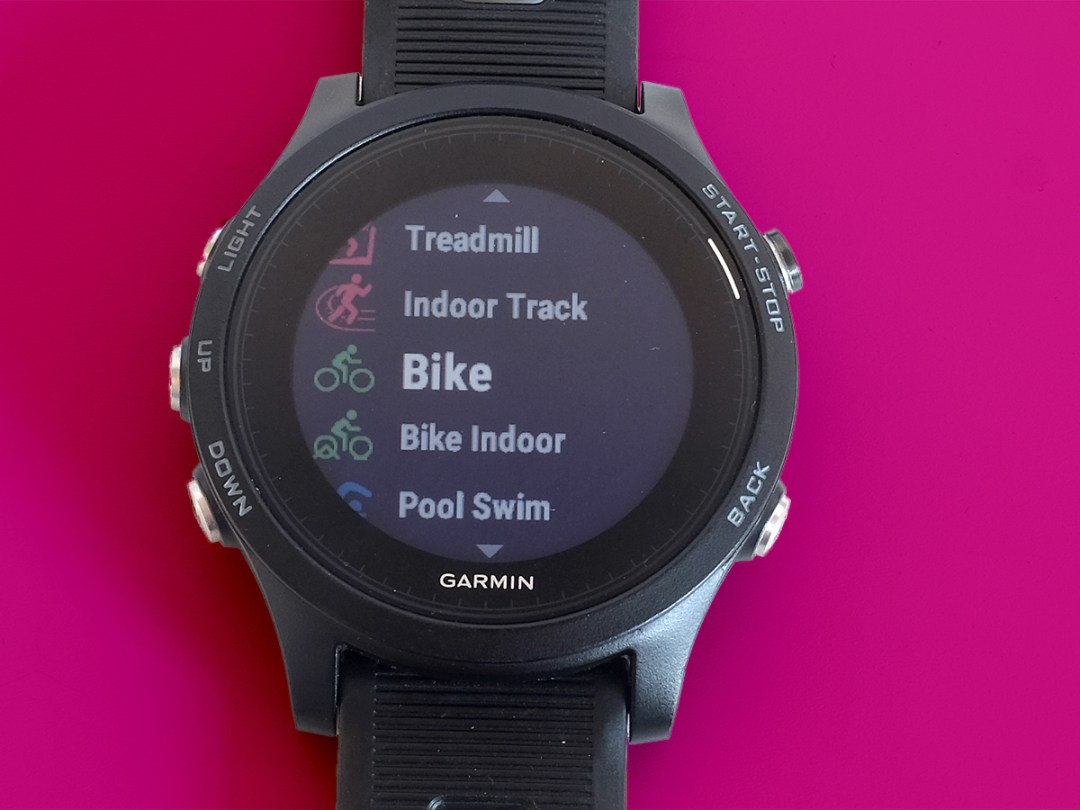 Garmin's sports watches are completely different athletes to those hailing from Apple or Samsung.
Rather than lead off on their smartwatch foot, they're the tactical genius who races from the back and relies on their meticulous attention to detail.
A Forerunner's meat and drink (or rather, carbs and energy gel) is being a serious coaching companion for runners, swimmers and triathletes, while offering some smartwatch basics on the side.
This flagship model is no different. Effectively a souped-up Forerunner 735XT with a new design and some nifty new training analysis tools, the 935 is the slightly cheaper sibling of the excellent Fenix 5. 
Like its pricier brother, it destroys the Apple Watch Series 3 for battery life and serves up notifications and music controls from your phone.
Sure, it isn't the fanciest-looking runner's watch going, but it is about as close as you can get to the ultimate wrist-based motivator right now…
Garmin Forerunner 935 design: A better everyday companion
The Forerunner 935 and Fenix 5 might look the same on paper, but there's a big design difference between the two.
This watch is smaller, less likely to attract unwanted attention and won't make everyone assume you have three marathons to run in the next four weeks.
It's all-black and, aside from the toughened glass on the top, the shell is fibre-reinforced plastic rather than steel or another metal. Next to the Fenix 5 it looks plain, but it's a lot lighter and almost 2mm thinner.
I find it more comfortable than your average jumbo sport watch. And as someone who runs 5Ks rather than ultramarathons, I feel much less of a sham wearing a Forerunner 935.
If anything, it's a constant reminder to not fall off the training wagon. If you spend more time downing protein shakes than cocktails, it'll probably be a good match for you too.
The Forerunner 935 has lots of minor improvements over the older 735XT too. The screen is slightly larger (particularly handy for the bike leg of a triathlon), the bezel a little less cluttered with symbols and, crucially, the optical heart rate sensor doesn't protrude as much from the back.
The extra comfort this provides is quite a big deal, because Garmin wants the Forerunner 935 to be your everyday watch. I found the 735XT's sensor to be a tad uncomfortable for nightly sleep-tracking, but the 935 feels like a real 24/7 watch. Particularly as it also pairs with your phone and serves up basic notifications.
Garmin Forerunner 935 features: A sports coach on your wrist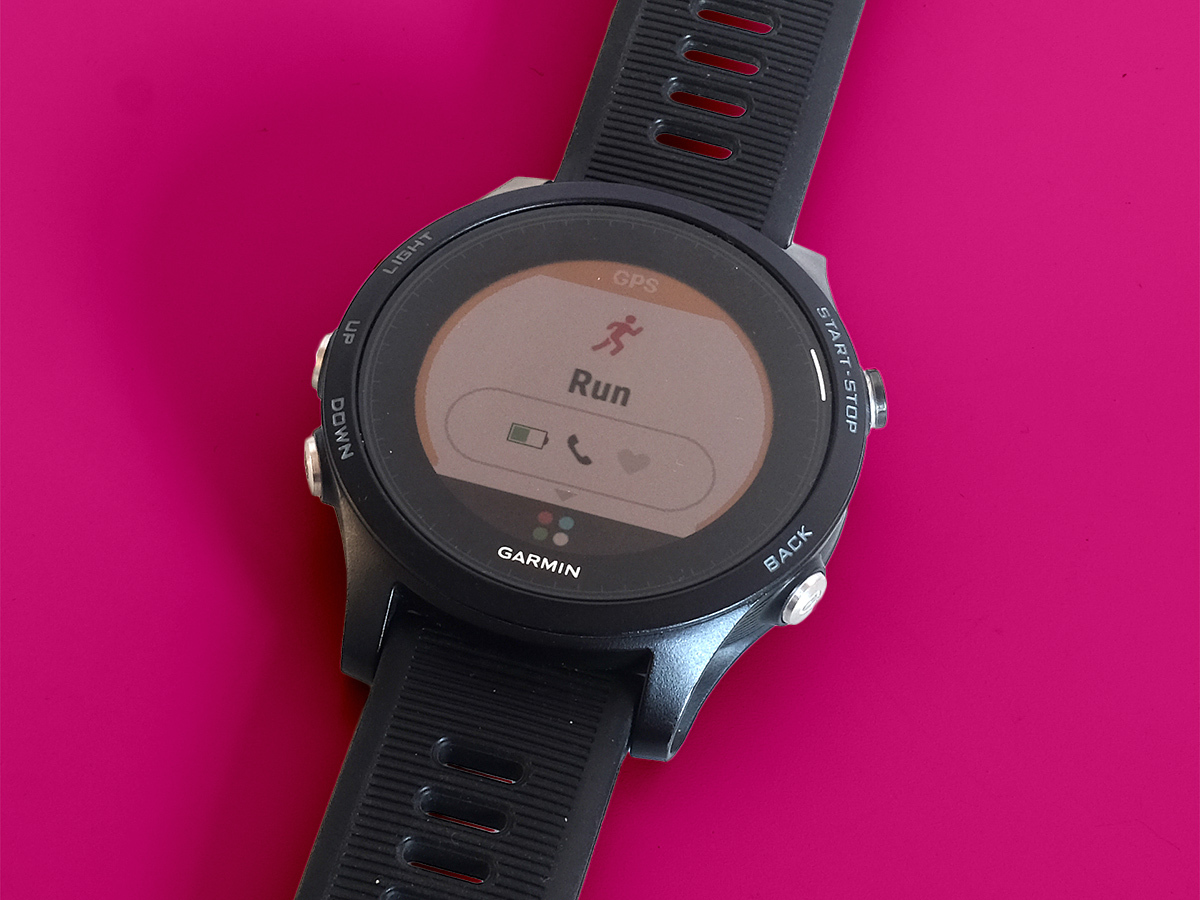 Unlike the Vivoactive 3, this watch is controlled entirely using buttons rather than a touchscreen. It's a real no-nonsense sport watch.
Button control works well, though, eradicating all of the accidental commands I occasionally experience using the Vivoactive 3.
The buttons are metal and don't spoil the Garmin Forerunner 935's water resistance. It's rated to 5 ATM, which does the job for swimming, though the Fenix 5 goes further with 10 ATM resistance.
Their screens are more-or-less the same, though. The Forerunner 935 has a 1.2in, 240×240 circular MIP screen. This is a kind of LCD that has duller colour and worse contrast than your average smartwatch, but barely uses any power and only gets clearer as ambient light increases.
In darkness or a dim room, you just press the light button on the side to fire up the front light, which is little like the light of a classic Casio digital watch.
You can't approach a Forerunner 935 expecting smartwatch screen pop, but the consolation prize is excellent outdoors clarity and killer battery life.
The Forerunner 935 will last for a couple of weeks when just used as a watch, or for 24 hours of GPS run tracking. It's a fantastic watch for all-day hiking, which even the Vivoactive 3 will struggle to last through.
Garmin Forerunner 935 performance: Marginal gains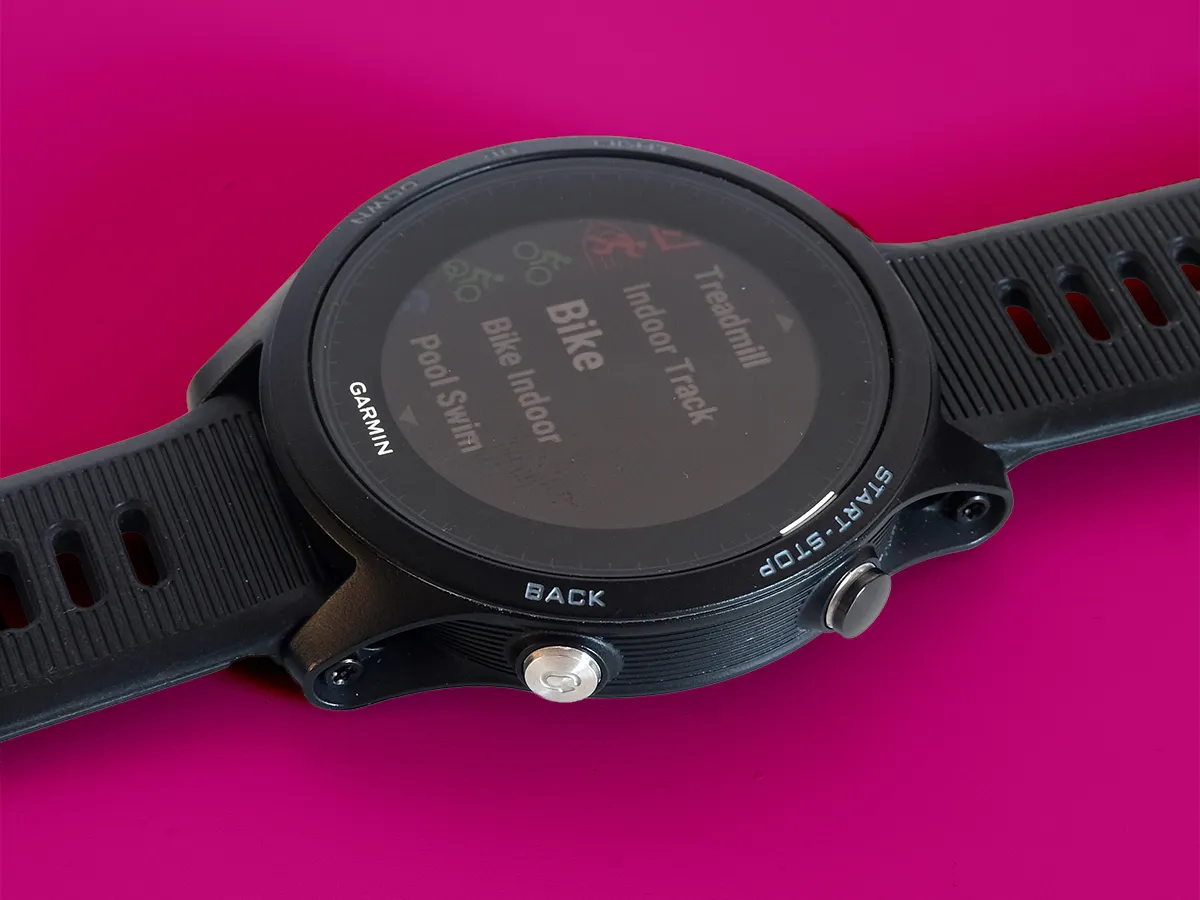 Though it's predominantly aimed at triathletes and runners, the 935 has broader sporting tastes too. Press the Start/Stop button from the watch face and you'll see a whole list of activities, including cycling, gym exercise and even golf.
For the latter it'll actually use real golf course information alongside the GPS to tell where you are on the course. Spoiler: I don't play golf. I've used the Forerunner for walks, runs and in the gym. And for these it uses its heart rate sensor, GPS and, when outdoors, the altimeter.
The GPS is as accurate as any of Garmin's watches, and the heart-rate sensor does seem among the better of the wrist-worn types, although a chest strap is still needed to measure heart-rate variability.
It monitors your rate all the time, taking readings around every second, which means it reacts to changes nice and quick.
The 935 also brings some handy new training analysis tools, which are particularly handy for those times you don't fancy leafing through stats and graphs.
Garmin's Forerunners and Connect software have always excelled at setting up training plans and tracking your minutiae, but now they can match the likes of Polar's V800 by showing exactly how well (or not) your body is coping with the load.
The new 'Training Status' and 'Training Load' tools analyse your workouts and fitness levels over a week and beyond, then tell you whether you're overtraining, race ready or going a bit easy in your sessions. This is the kind of detail that you just don't get with other smartwatches.
Another feature I particularly liked is 'Training effect', which marks your session out of five for both aerobic and anaerobic benefit. To run a faster triathlon or distance race, you need a bit of both in your training diet – so it's very useful to see your session broken down in such a clear way.
So are there any black marks? Though the Forerunner 935 is waterproof, its optical heart rate monitor still doesn't work underwater, so you'll need the HRM-Tri or HRM-Swim straps to get data about your ticker while swimming.
That's understandable if Garmin doesn't think underwater optical HR readings are accurate, but I've been enjoying getting a ballpark idea of my swimming heart-rate with the Apple Watch. And the Forerunner 935's 'Tri bundle' with HR straps costs an eye-watering £590.
Garmin Forerunner 935: app and smartwatch features
As usual, your data ends up in the Garmin app, which has finally, finally been given a proper work-over.
I've been complaining about the Garmin app for years, about how unfriendly it can seem. Now it has a proper glossy-looking front page that acts like a news feed of your latest stats.
It's still not Fitbit-grade in its gloss, but stats still matter with a Garmin. And under the new friendly face, the app still has all the ultra-deep stats training obsessives are after.
You can check out a good amount of info on the Forerunner 935 itself too. Below the watch face is a whole series of info screens. There's your weekly running, cycling and swimming stats, your heart rate graph for the last four hours, recent notifications and the weather.
It'll receive notifications from your phone, not just SMS/call ones either, and you can install the usual smattering of ConnectIQ apps. These aren't plentiful or all that high-quality. But you can get Tetris.
By packing-in notifications, vibrate alerts and step counts, the Garmin Forerunner 935 has the bread and butter of a smartwatch anyway. And switching from an Apple Watch the sheer low-maintenance effort of it all is a dream.
Once a week you just plug the charge cable into the back for a few hours. That's more like it. There's just one missing bit – you can't store music and play it through wireless headphones, just control the tunes from your phone. Maybe next time.
Garmin Forerunner 935 verdict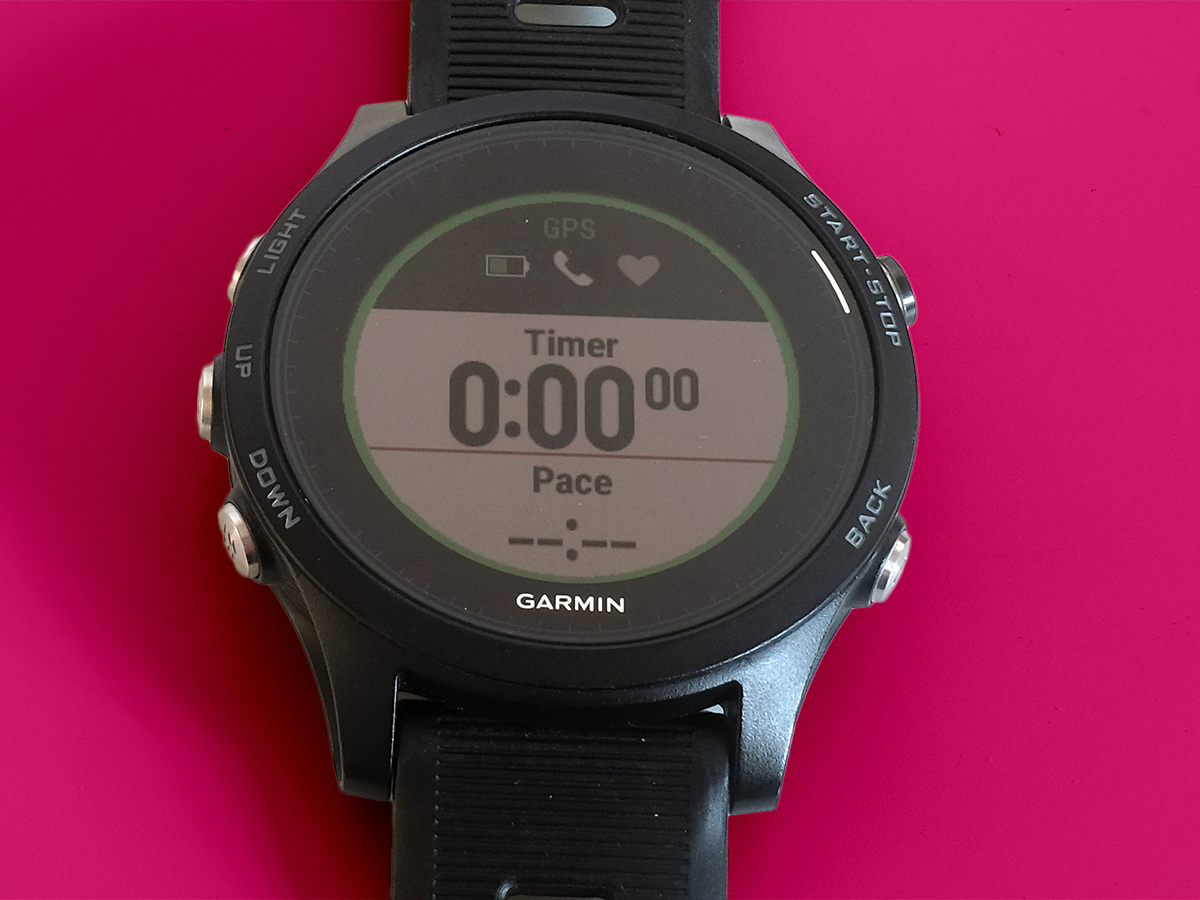 Buying a Garmin Forerunner 935 won't suddenly make you lose 20lbs and earn calves of steel, but it is just about the best training buddy you could hope for.
It has great battery life, all the tech a sports watch needs, and squeezes this all into a surprisingly slim, comfortable package.
Only the Suunto Spartan Sport Wrist HR and slightly older Polar V800 can compete in terms of features. But neither of these can match the Forerunner 935's versatility or support for the likes of Strava Live segments and live weather.
If you want a professional trainer on your wrist, and prefer your watches to look sporty rather than shiny, it's one of the best around.
Stuff Says…
The ultimate sports watch for those not bothered about the extra gloss of the Fenix 5
Good Stuff
Great fitness tracking
Light and comfortable
Excellent battery life
Bad Stuff
No local music playback
Not cheap, is it?