Fitbit Blaze review
Can Fitbit's latest smart ticker set the sports watch world alight?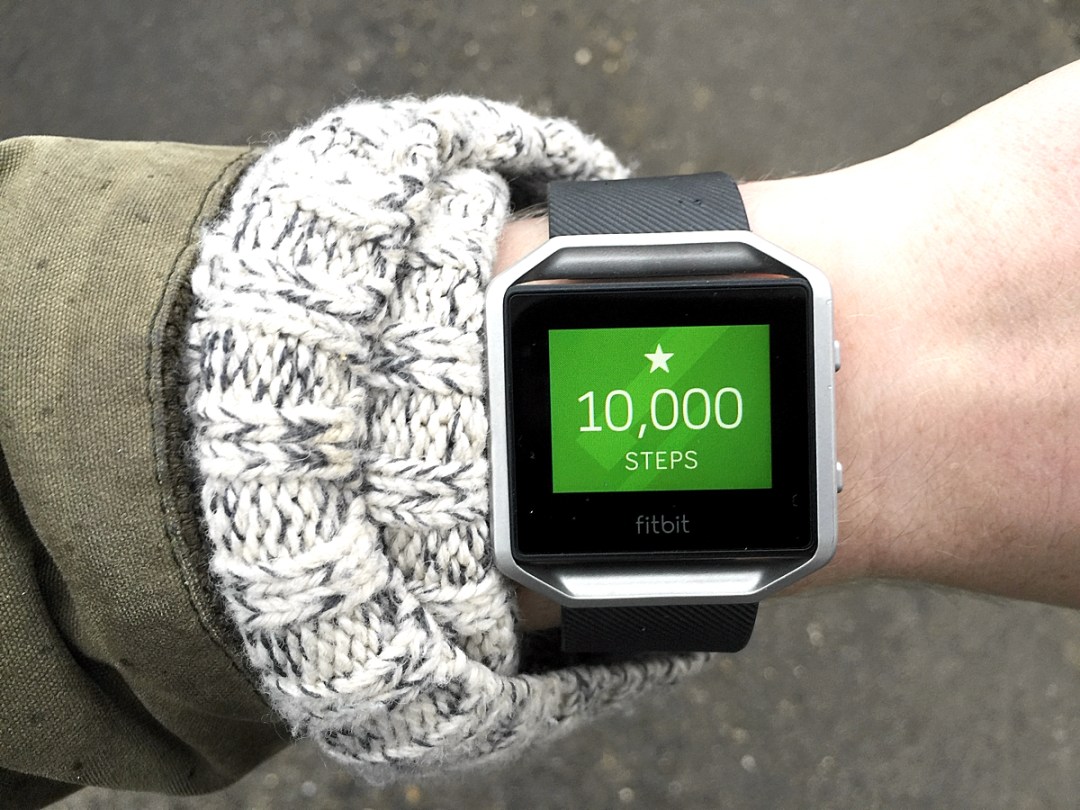 Like a tech-toting member of the Kardashian clan, Fitbit knows its best assets and exactly how to work them. Fitbit is synonymous with tech that forgoes unnecessary frills in its pursuit of activity-tracking glory – and the Blaze is no exception.
Harbouring heaps of motion-monitoring kit inside its angular shell, it's all about paired-back brilliance, with a very light sprinkling of smarts for the connected gym-goer. Can its fitness-first focus tempt stat-lovers away from the do-it-all watches of Apple, Samsung and the rest? It's time to find out.
A design that divides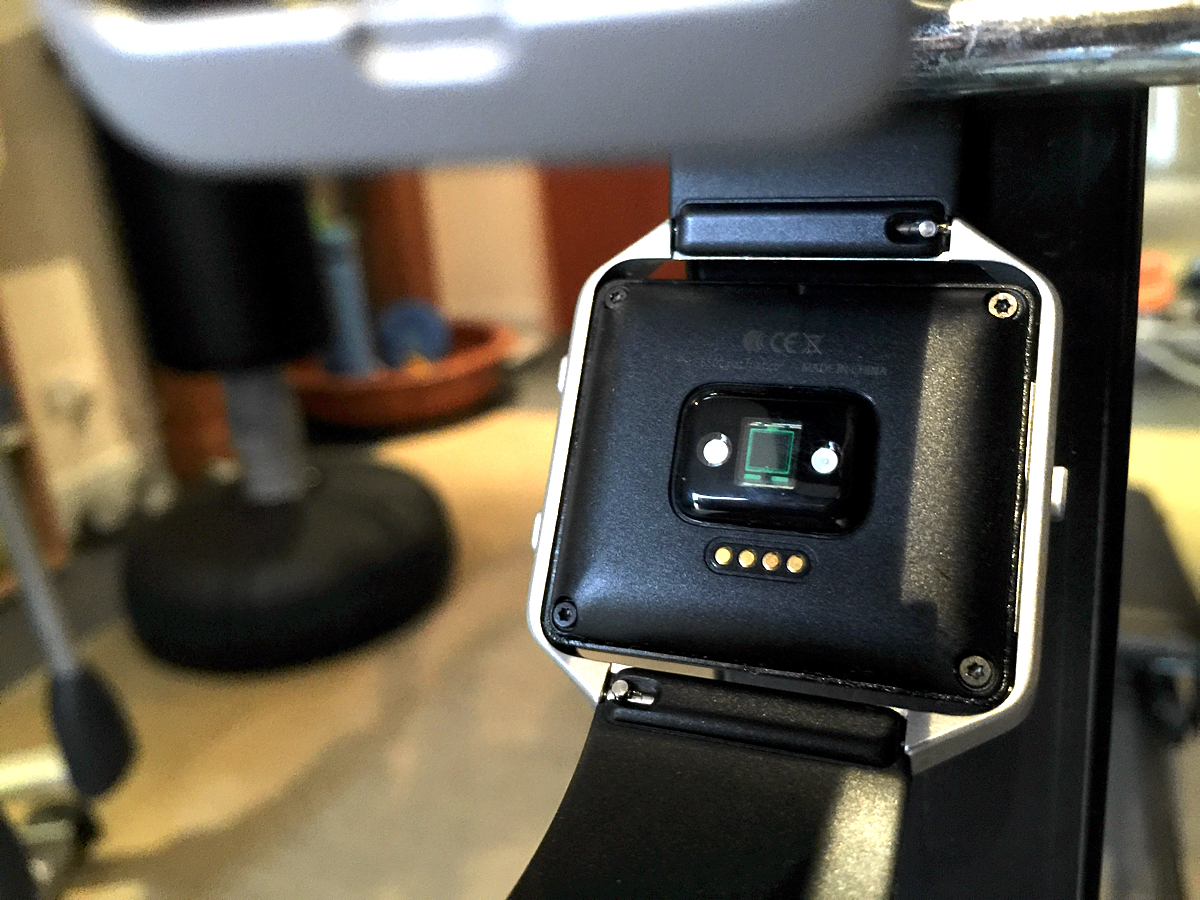 A smart sports ticker designed to scythe through the quagmire of smartwatch mediocrity, Fitbit has delivered in the Blaze a hardy piece of wrist wear that feels like it could take a serious bump.
That said, the Blaze's heavily-bevelled hexagonal housing is hardly Gear S2 sleek, adding the appearance of bulk to what is actually a pretty slender device.
What's more, with a removable central module (for changing straps and charging) that's reminiscent of a plastic iPod Nano, there's a lot of play in the plastic buttons, while the styled gaps act as dastardly dust magnets, detracting from the otherwise solid-feel.
Still, my review sample, fitted with silicon straps, is perfectly comfortable to wear all day and sufficiently subtle, too.
Straightforward fitness friend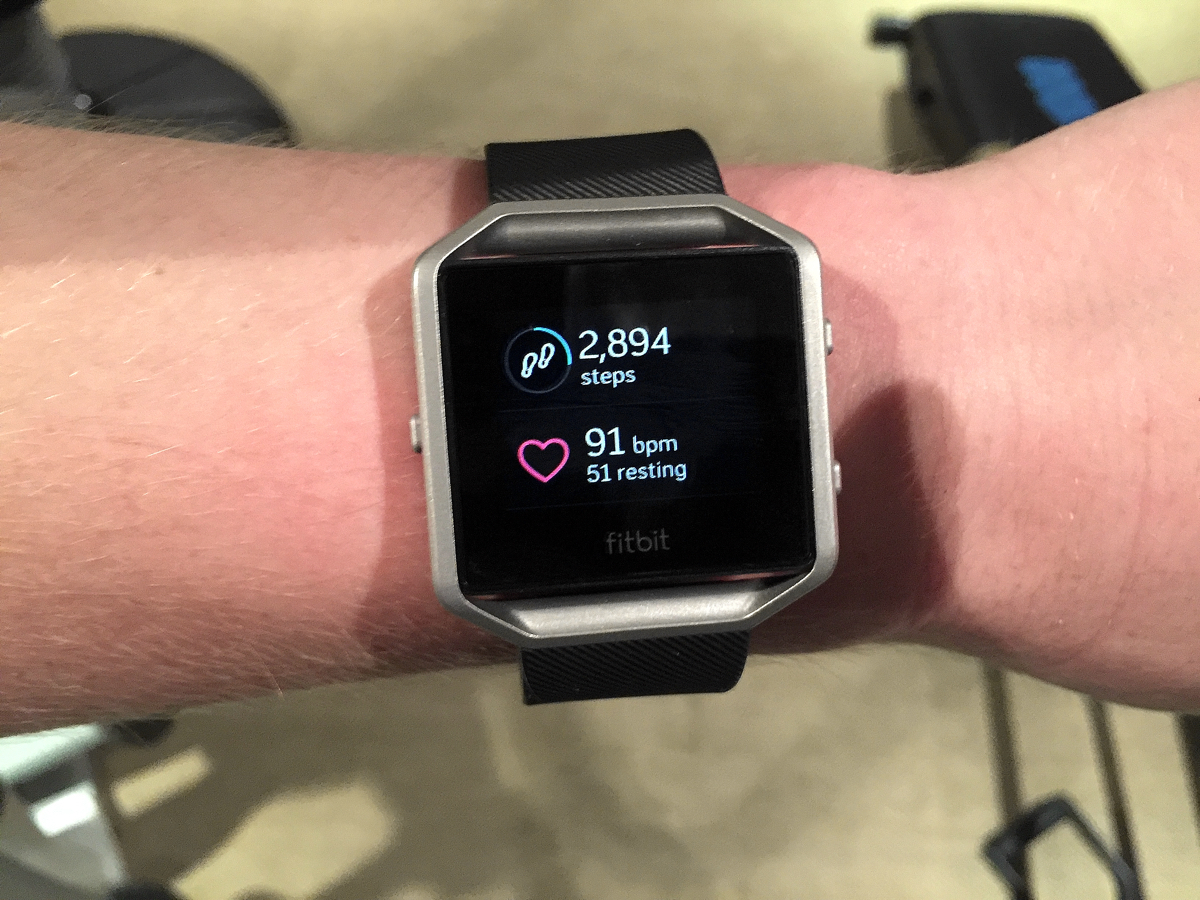 What's it like to use? In short, dreamy: the Blaze has easily one of the best interfaces going. What seems at first to be a small display is actually a beautifully vibrant, clear screen that's a corker both indoors and out.
Better still, Fitbit has banished software clutter in favour of a neon-on-black OS that's a delight to swipe and a cinch to navigate.
You do get music controls and calendar, text and call alerts – but that's it. There are no half-baked attempts to make the Blaze smarter and you'll find no app store. Instead, you get a sports-to-the-core watch that'll track just about anything that involves movement.
It's a joy to use and, whilst it can get a bit smeary with finger marks, is incredibly intuitive. An in-app guide explains how to work the Blaze, but anyone who finds iOS inherently understandable will have no trouble here.
Admittedly, there are moments when the interplay of button pushes versus touch inputs can be a little baffling. Once you're accustomed to what each of the Blaze's buttons (one on the left, two on the right) do, though, they actually make a lot more sense than a touch-only setup – especially when you're in a mid-marathon mess.
On-tap tracking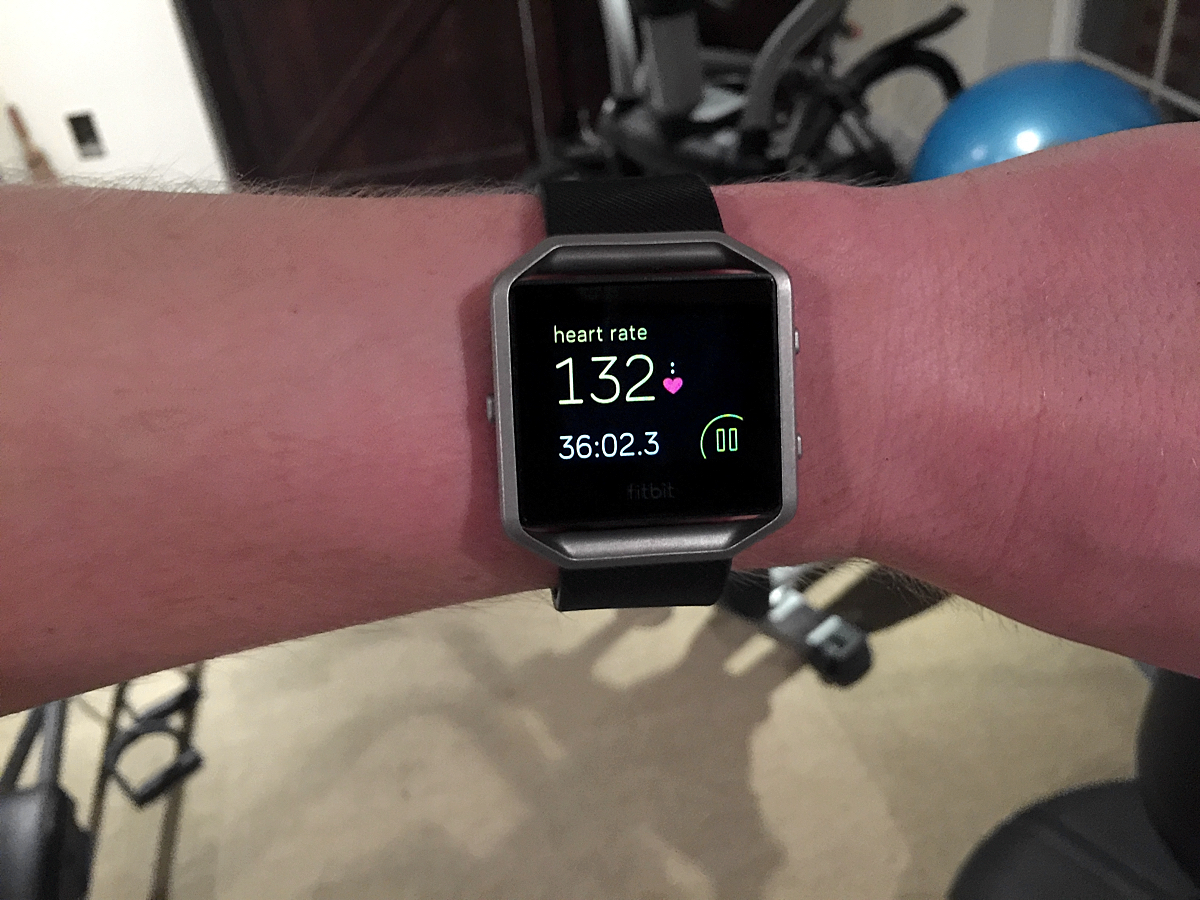 Ready to get sweaty? You can choose a discipline or let the Blaze automatically detect your exercise with SmartTrack.
The latter generally works well, recording data after a set period of activity. It missed one of my workouts – possibly because my heart rate dropped too low – but tracked two others without issue.
For more specific tracking, the multi-sport menu offers a selection of seven activities that you can customise in the app, including running, cycling, weights, golf, yoga, martial arts and more, for instant access to your favourite fitness pursuits.
And, when you're active, the Blaze is a breeze. Data is displayed clearly on-screen, whilst swiping up or down changes which metric is shown above the time – from distance to heart rate to a whole lot more, depending on the exercise.
For those who like to see all their data, all at once, the Blaze's swipe-to-see approach will be frustrating. For everyone else it makes the info incredibly easy to digest.
Logging how you're jogging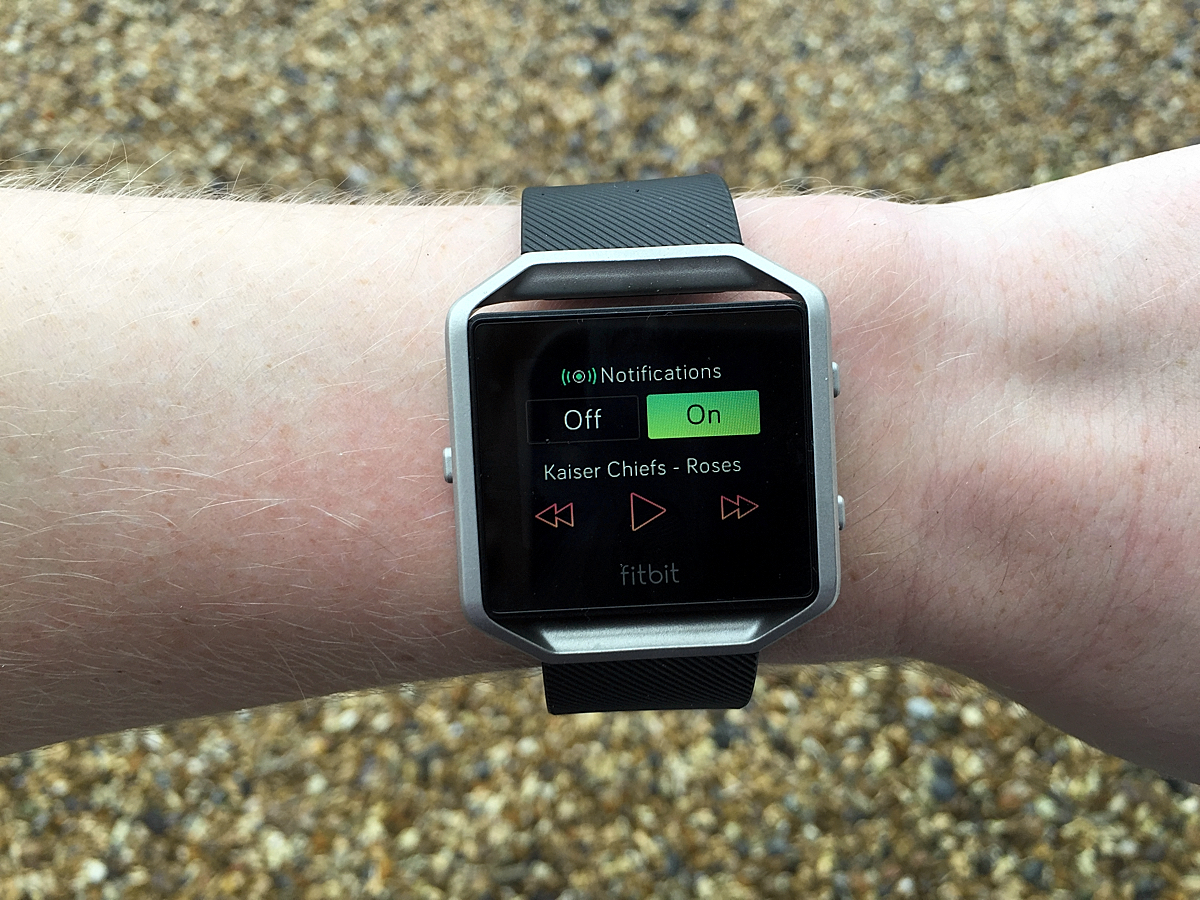 Certain exercises also benefit from location logging, using your phone's GPS. This delivers accurate route tracking and I didn't experience any issues with Bluetooth dropout.
It does mean you have to lug your smartphone around as you sprint, cycle or swing, which, if you have a phablet, can be properly inconvenient – but at least the option's there.
Where the Blaze really gets pumping is with its heart-rate tech. Dubbed PurePulse, an optical sensor continuously measures your ticker's performance, day and night, for more accurate activity and sleep tracking, as well as offering zonal data for high-intensity workouts.
Fitbit recommends wearing the Blaze three fingers from the wrist for the best results. This feels a little high but, in practice, captures surprisingly accurate readings for a wrist-based device.
During a weights workout the Blaze had a few wobbles, but it was nothing a quick pause-and-adjust couldn't fix, and running results were rarely more than 3-5bpm off the averages recorded by a chest strap.
Everyday companion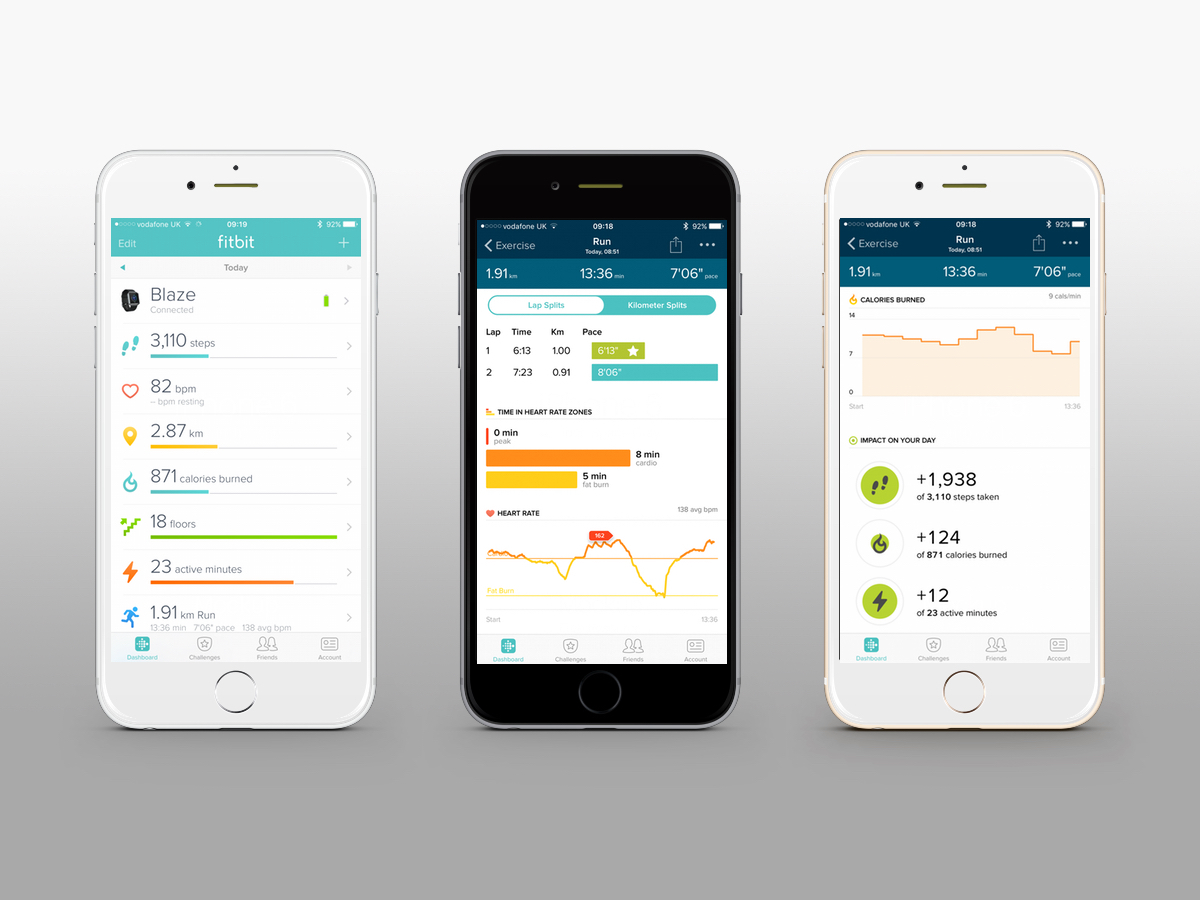 The Blaze will also measure the daily essentials: steps taken, calories burned and floors climbed, as well as hours slept – and you can set your daily target accordingly.
Step counts are reasonably accurate, though do tend towards generous – and on one day the Blaze differed from the Withings Activité Pop by a whopping 900 steps. I believe that was down to an arm-heavy workout confusing the Blaze, so that's something to bear in mind.
Totals can be found under the 'Today' icon, with summaries also shown on the home screen. The default clock-face shows daily progress in a ring around the circumference, with each of the four selectable frontages showing data in their own way.
In need of some workout inspiration? The Blaze even has three FitStar workouts built-in. They're not up there with the Moov Now's bank of guided sessions, but they do still feel well-thought out and add real value.
As for the app experience, it's everything you'd expect from Fitbit: syncing is quick, and data is easy to delve into. Exercise totals are a tap away, whilst weight-logging, water-tracking and food plan options are all available from the hub screen.
Always ready to rumble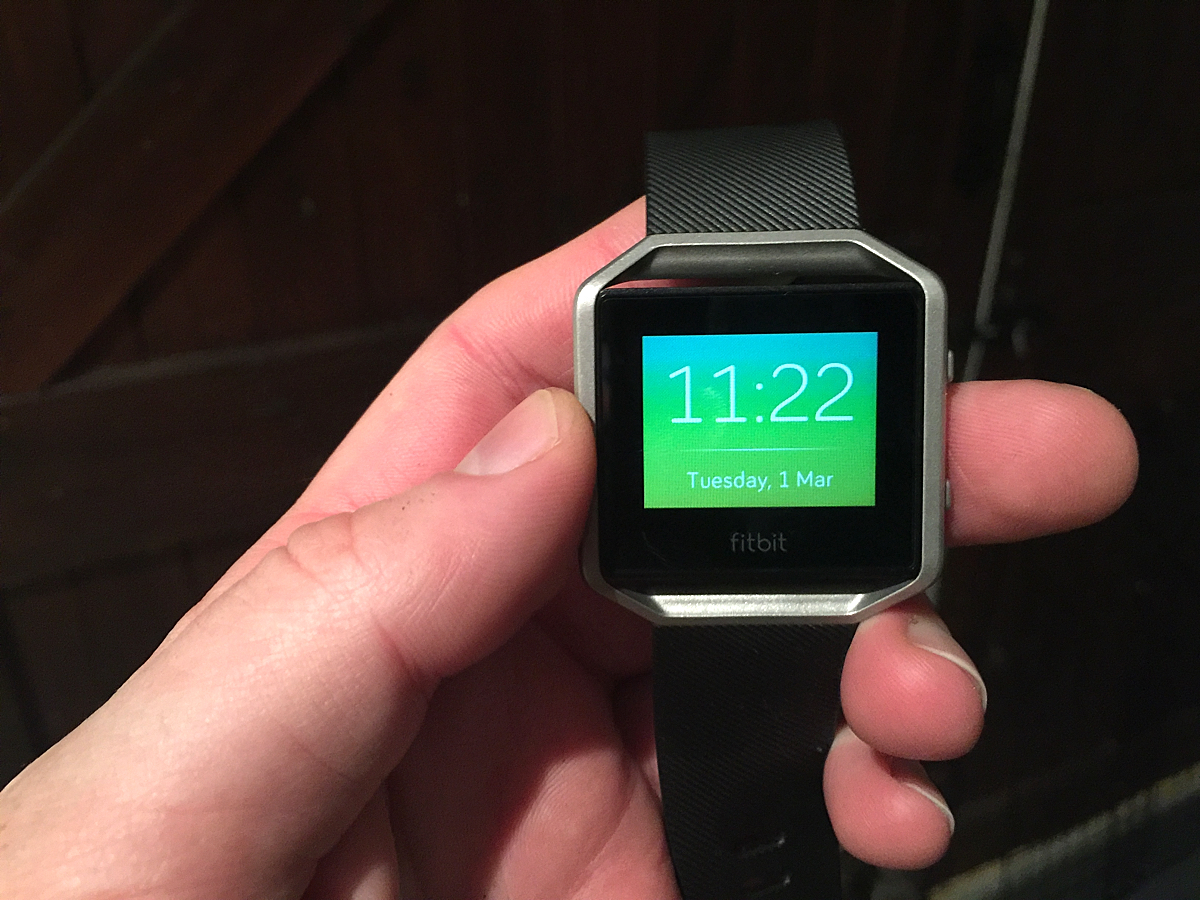 Worried all that tracking tech will take its toll on the Blaze's battery life? You needn't be: the Blaze will last 5 days from a single charge.
How has Fitbit achieved this battery pack wizardry? It might have something to do with how quickly the display goes to sleep: after around 10 seconds.
Sounds inconvenient? The Blaze is easy to wake: with QuickView enabled, simply raising your wrist will bring it back to life. During exercise this is less effective, especially if you're moving your arms a lot – but you can always rely on a press of the left button, instead.
What's more, because GPS is handled by your phone, the Blaze only uses Bluetooth to gather the info – which helps preserve the battery life and avoids sudden drops in juice levels. Charging means popping the main module out and into an odd plastic frame, but, with a flat to full time of around an hour, there's little to complain about.
Fitbit Blaze verdict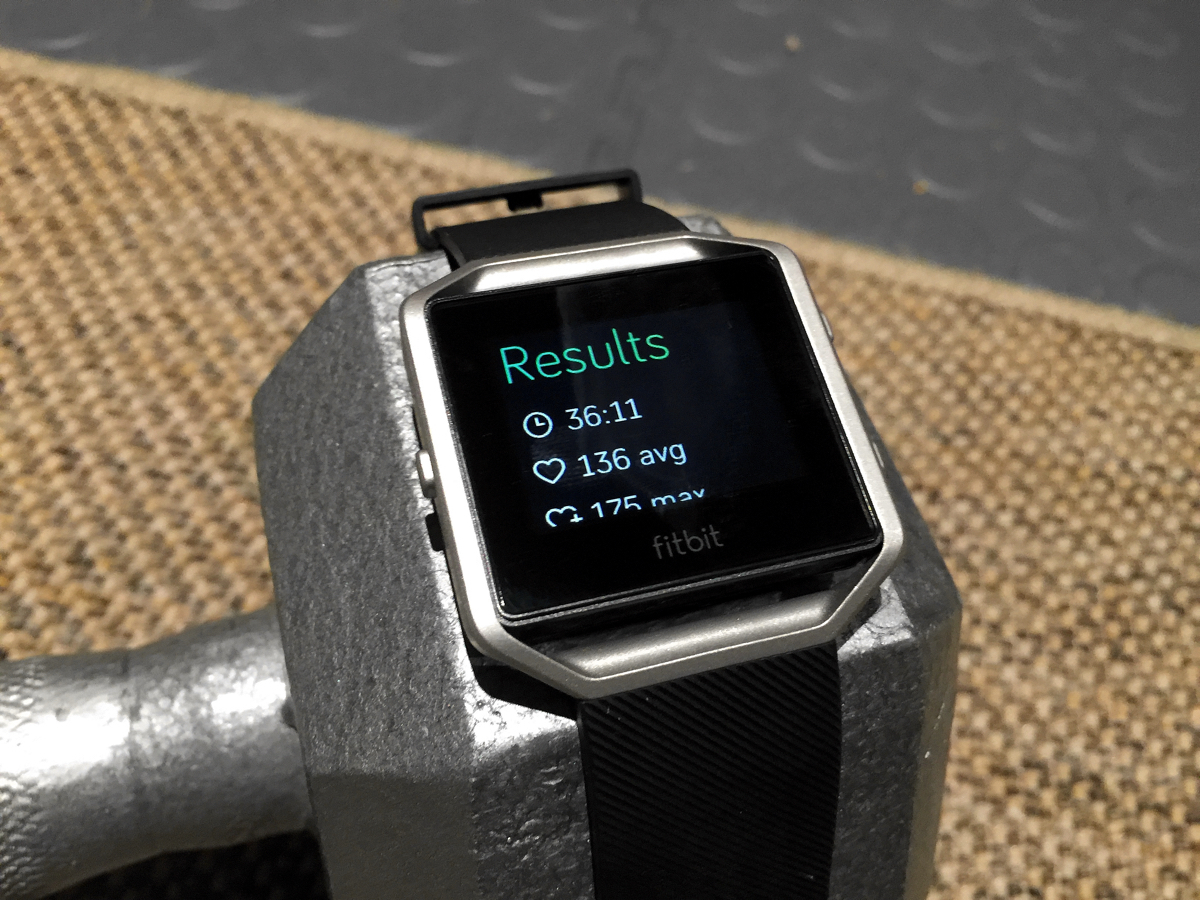 The Fitbit Blaze is a sports strap-on that knows its mark and hits it. For those after a smartwatch with sporting pedigree, look elsewhere: the Blaze is well-and-truly a sports watch, and a darn good one at that.
Sure, off-device GPS isn't ideal, and there are a few aspects of its design and functionality that won't appeal to everyone – but surprisingly accurate heart-rate tracking, multi-sports modes and a lovely interface make it a properly appealing activity companion.
Fitness-first, smart-second: the Blaze is built to be a brilliant workout buddy.
Stuff Says…
A sports-first fitness watch with a subtle dash of smarts, the Blaze is a joy to use – with a brill battery to boot
Good Stuff
5-day battery life
Accurate heart-rate tracking
Bright and clear display, indoors and out
Inherently intuitive interface
Bad Stuff
Buttons feel cheap on such a sturdy device
No standalone GPS tracking
Water resistant, not waterproof – so no good for swimmers