Dyson Zone review: in the air tone right
Each half of the Dyson Zone makes sense – a pair of noise cancelling headphones and a personal air purifier. But putting them together makes a hybrid that's hard to pin down
Trying to reach a verdict on the Dyson Zone is like trying to catch a falling jelly – you can grasp it, but you won't catch it. Even so, we need to catch the jelly. Dyson's website and recent publicity materials put more emphasis on the audio, calling them "headphones with air purification" which does clarify a little how we should see the product – the purification is the add-on technology. Want a more standard pair of headphones? Check out our roundup of the best noise-cancelling headphones.
The price may be eye-watering but there's some stellar bespoke tech on show here: there are 11 microphones used for example, eight of which are for advanced noise cancelling due to the air compressors. The years-in-design air spinners are in the ear cups and have totally bespoke flexible mountings that completely neutralise vibration.
Our initial verdict a year ago called them the "wildest gadget we've ever tried" and it's hard to disagree with that now, even if the tech behind the Zone is deadly serious, aimed at reducing the effect of prolonged exposure to air pollution. The filters target gases most associated with bad city air, including NO2 and SO2.
Design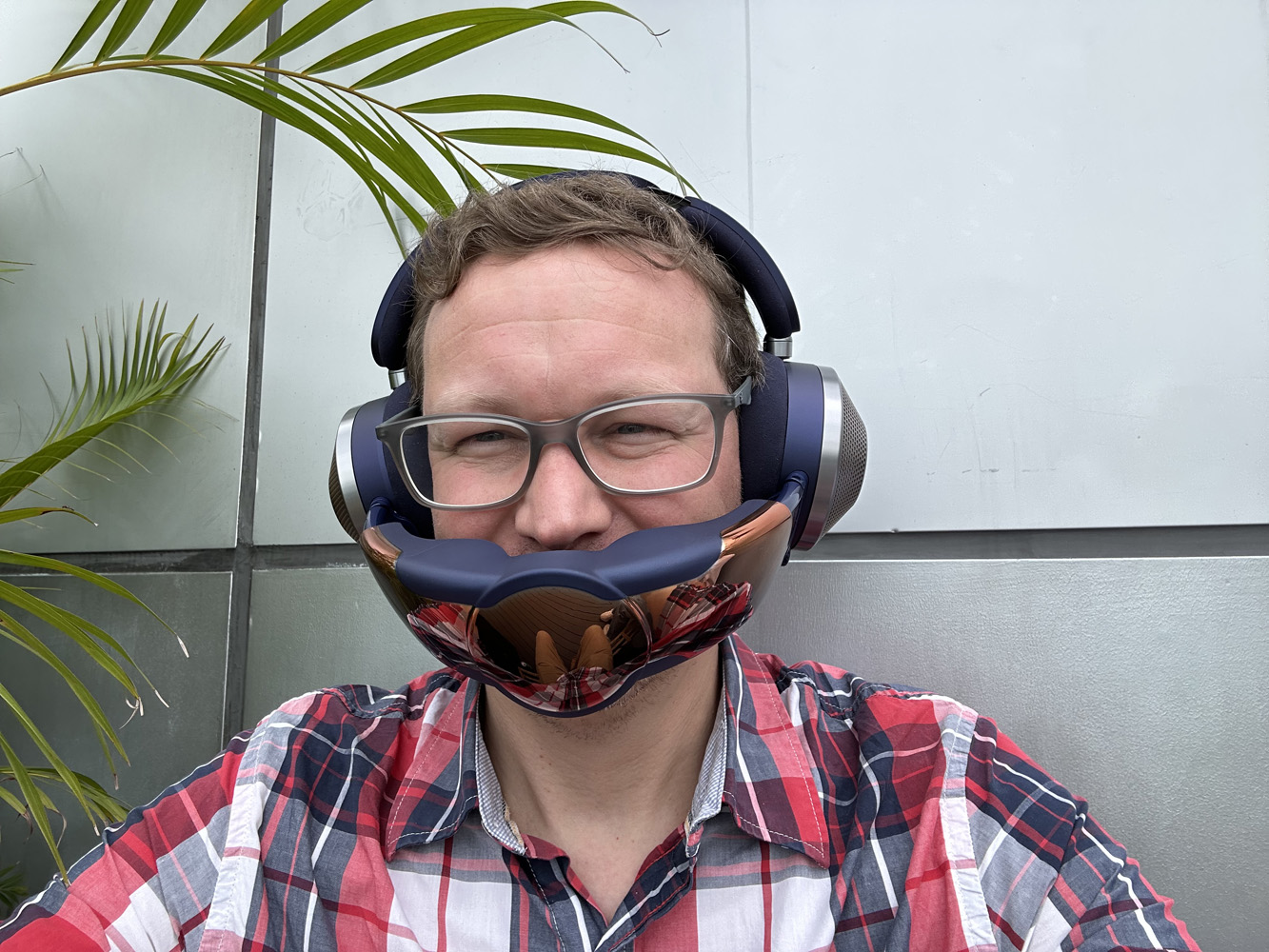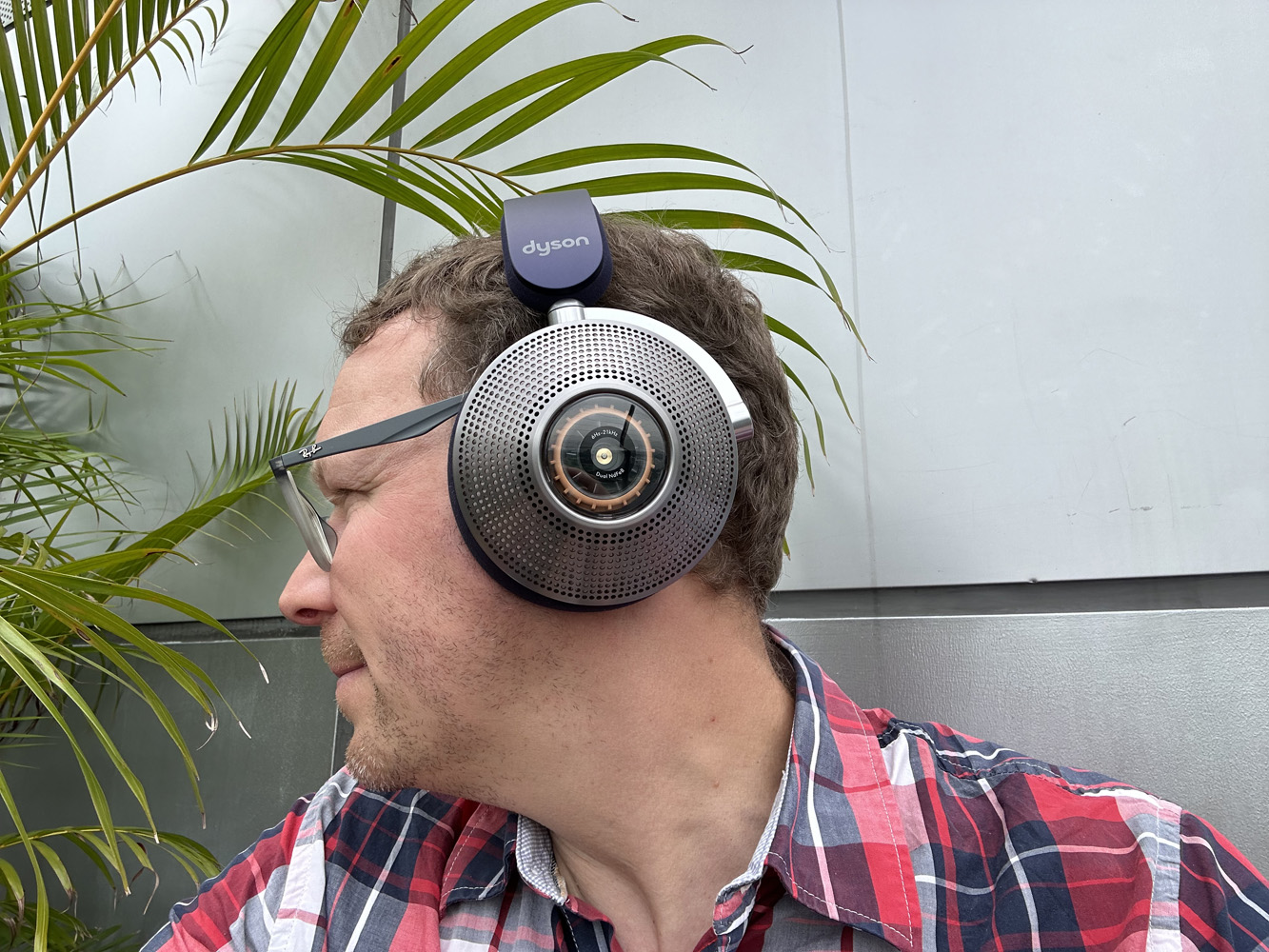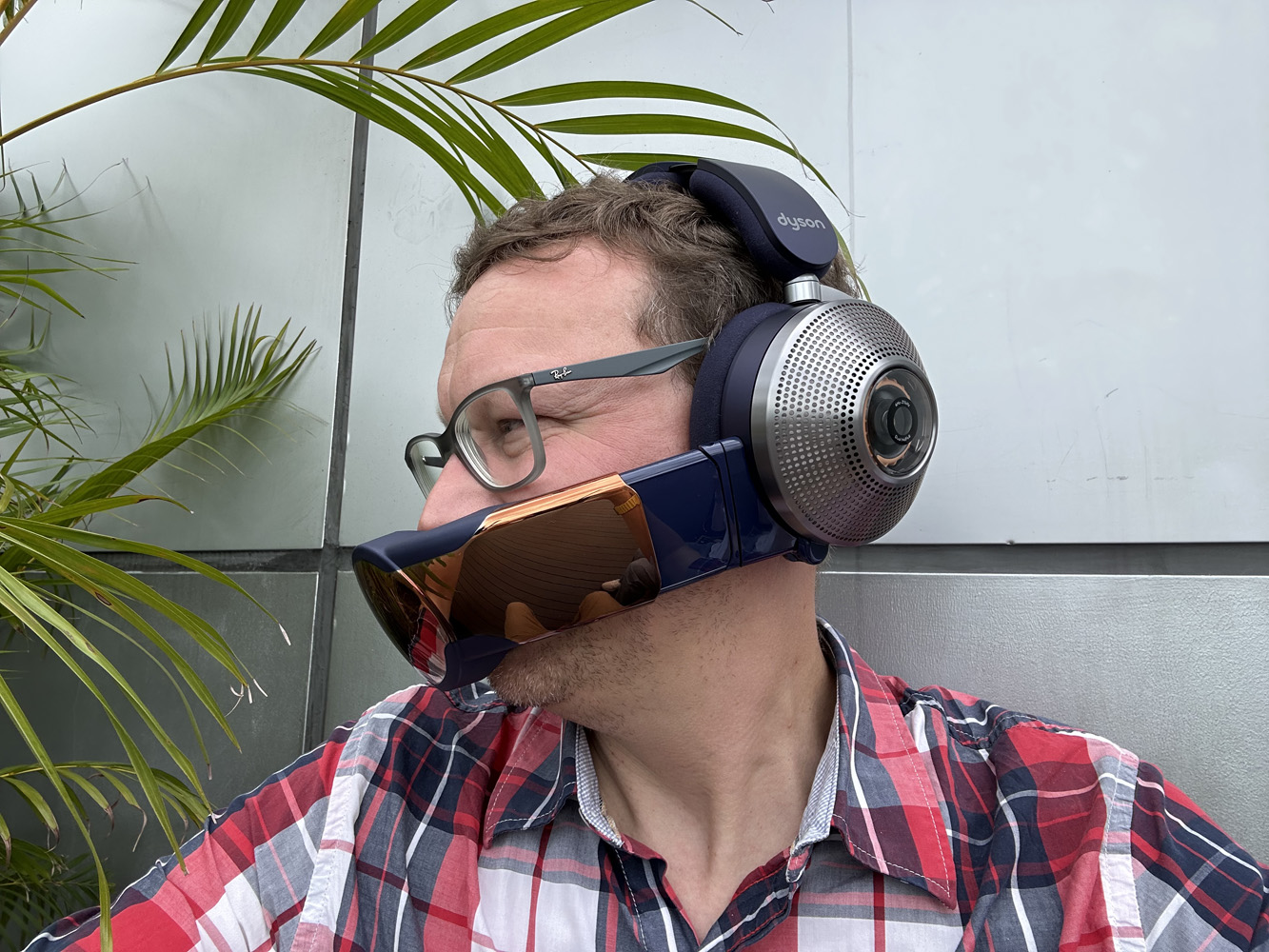 Yes. It's quite a look, isn't it? People will certainly look round at you if you have the visor on, but relax – people stared at us wearing our Apple AirPods when they first arrived. Of course, this is a rather different proposition than a pair of compact in-ear headphones.
At around 600g without the visor (670g with) they're fine to wear for a commute but they are heavy – though the chunky headband has been designed to distribute the weight – you can see it's pretty thick in the images below. You won't be wearing the headset for more than a few hours at a time we're sure, as you'll get fatigue.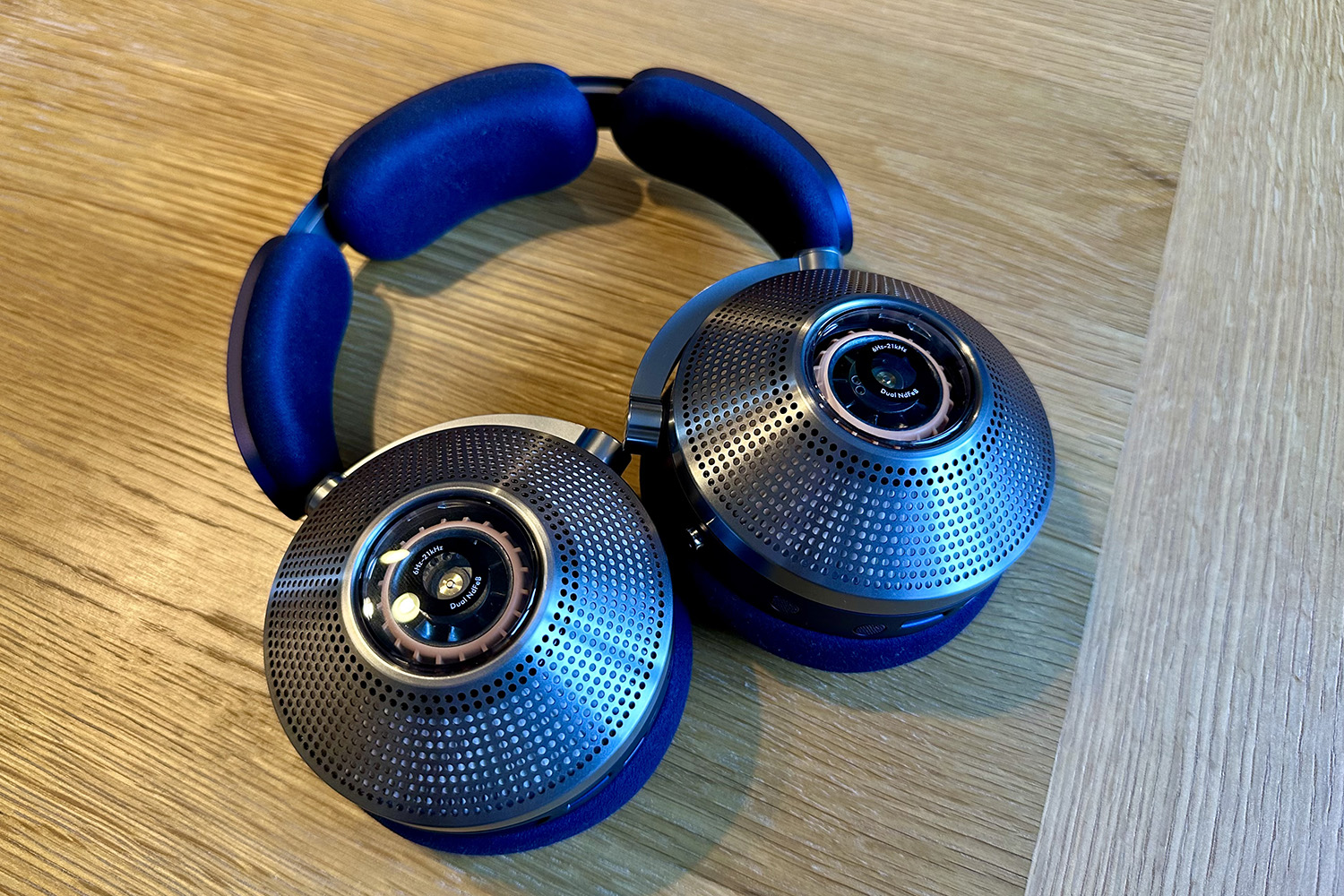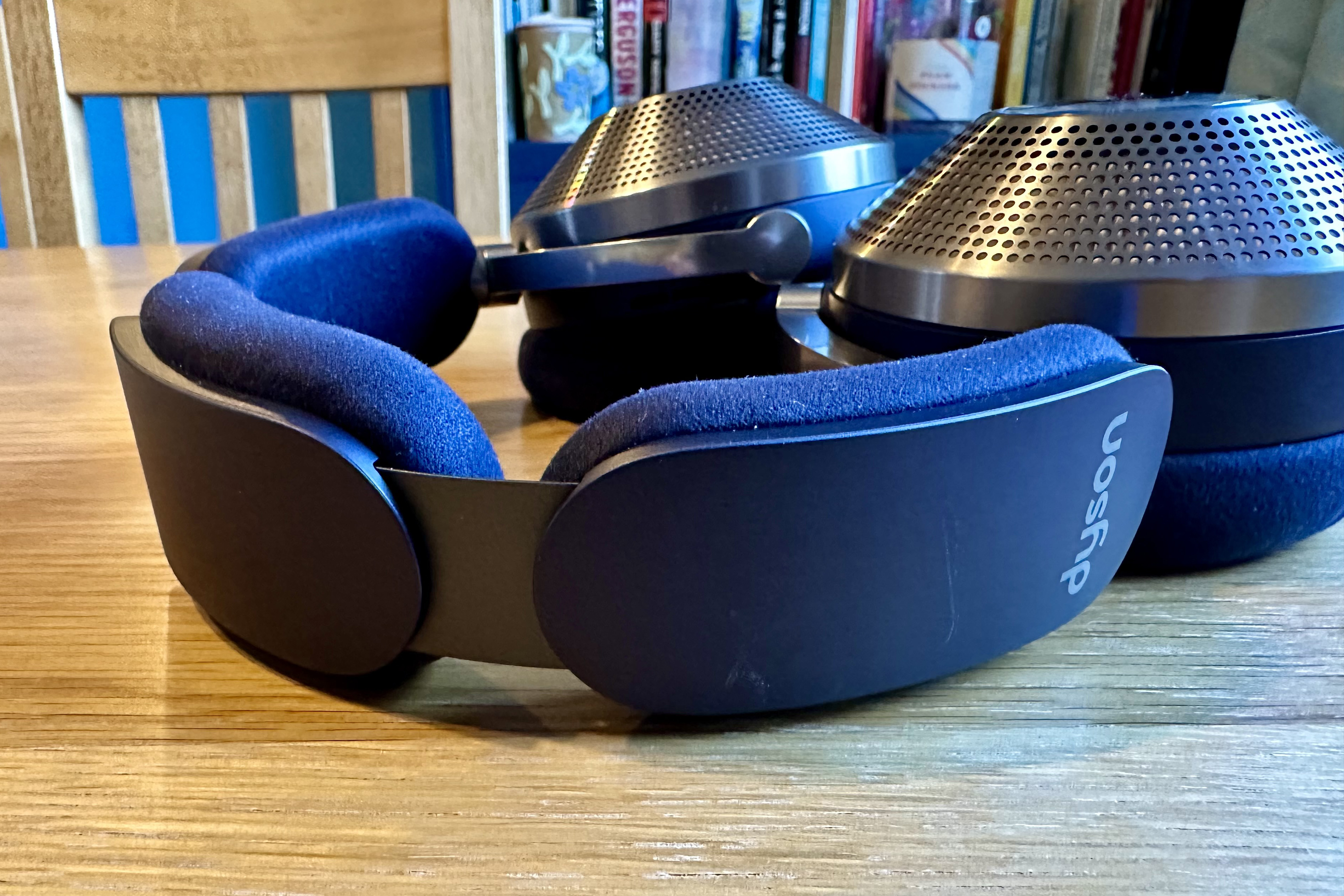 The air compressor is located in the centre of each earcup, with the metal shroud covering the filter and, as you'd think, acting as the air intake. As is its way, Dyson experimented with numerous options for this finish, but the polished aluminum looks pretty sophisticated. Indeed, without the visor the earphones look like a very premium pair of over-ears, it's just that they jut out quite a bit from the ear, while the headband's chunk is very noticeable. As for the visor, we've talked a lot more about its design below in the section about the air purification.
The ear cushions are purposefully flatter than conventional cushions for both passive attenuation in addition to comfort and they are indeed, comfortable in terms of how they feel. It's just that the weightiness eventually takes over from the feeling of comfort.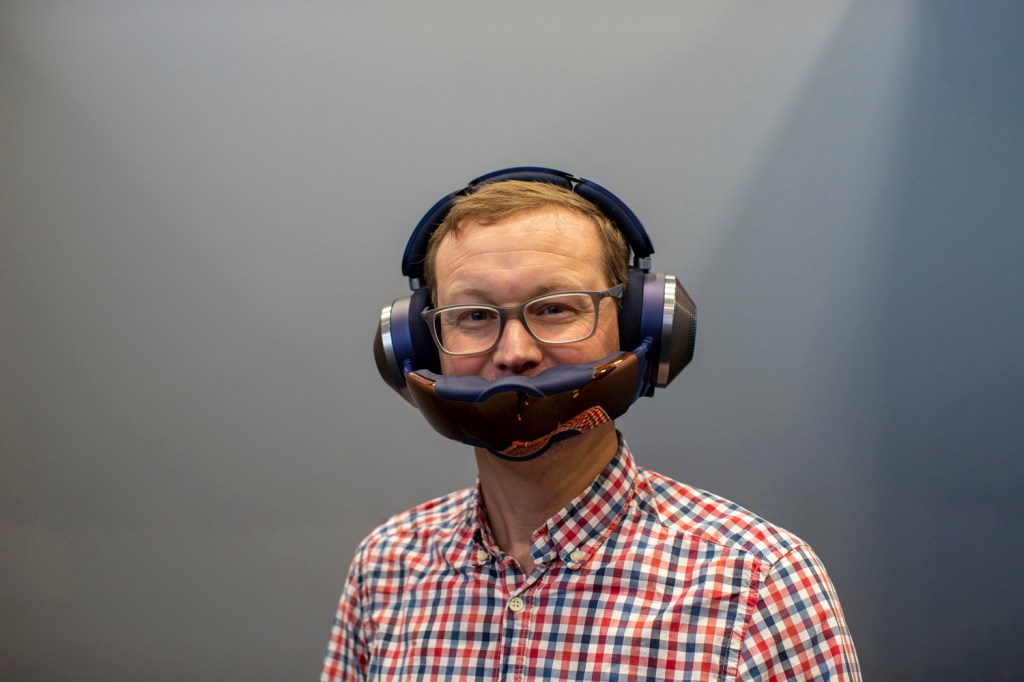 An IP51 rating means that Dyson Zone is rain resistant, but you aren't going to want to be taking them for a dip.The Zone is available in three colourways – satin silver/ultra blue, ultra blue/Prussian blue and Prussian blue/bright copper.
The price of the entry-level model is $949/£749 with the Prussian Blue + Bright Copper model (called the Absolute+) clocking in at $999/£829. This latter model basically has more spares as well as a trendy binocular–style travel case and flight adapters.
Setup
The setup process is very simple using the My Dyson app which is used for all Dyson's connected gear. The only physical bit of setup aside from sizing the headband and visor is to insert the filters (NB this had already been done for us on our review sample, but the earcups just twist off). As you can see from the image above, the on/off button is also the airflow adjust button. Holding it down for two seconds turns them on but you need to hold the button down for five seconds to turn them off which is a bit of a pain – it's too long a delay and a couple of times we left them powered on in the case. A separate on/off button would have been better here we think.
An audio 'joystick' on the right earcup means you can control the music volume, invoke your phone's voice assistant and move between tracks.
Purification tech
We'll come onto the sound quality shortly, but let's talk about the slightly more intriguing part of the proposition first. So as we mentioned, each earcup contains a motor that spins an air compressor.
The compressors rotate up to a whacky 9,750 rpm to draw air through the filters – up to a maximum of 150L of air per minute. The removable filters last up to 12 months, depending on where you live – you can specify this in the MyDyson app which will remind you to change them.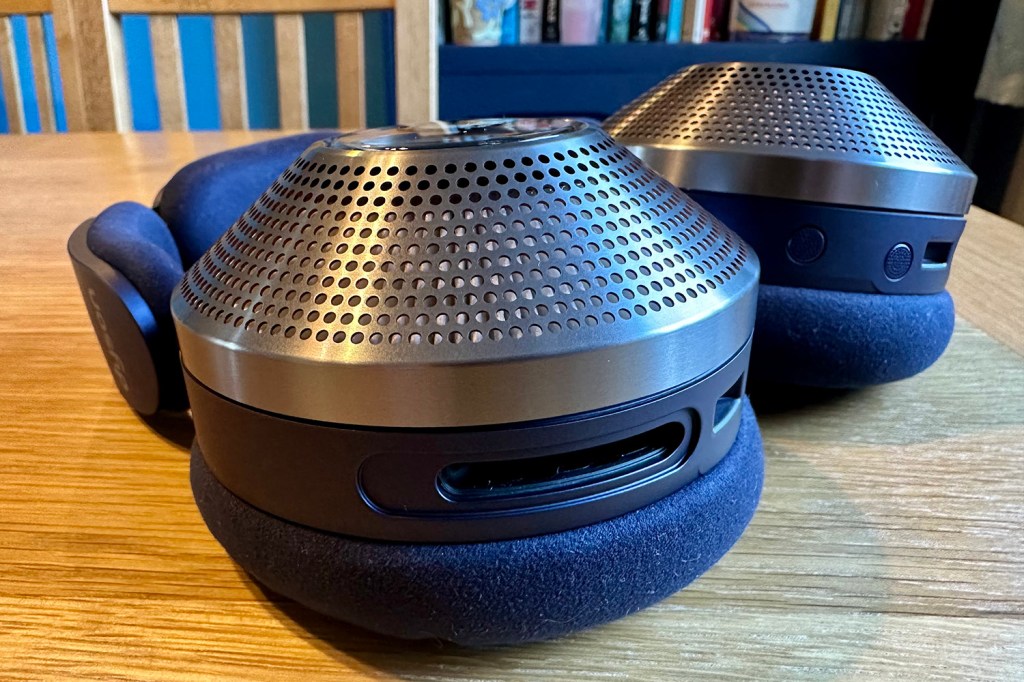 As you might expect, the air purification part of the device will only work if you have the magnetic visor attached; it's easy to attach and unattach it even if you're not looking as it is magnetised. It attaches into an aperture on each earcup, you can see the large-ish opening on the image above.
Thanks to sliding sections it's easy to adjust the visor for position, too. It sits a few centimetres from your face and isn't a mask – it is not designed to be in contact with your face. Two streams of purified air are directed towards your nose and mouth, one from each compressor in both earcups. It feels a little cool as the air passes your face, but it isn't designed to cool the air, just purify it.
The visor is flexible and adjustable, but you won't want to sit on it as it will surely snap… spares will be available.
Generally, you'd use the Zone in auto mode, so the airflow automatically adjusts depending on what you're doing. You can turn the airflow down in the app to rest/light/moderate but you can't turn it up manually – however if you start needing more air, it'll spin up thanks to sensors that detect activity levels. If you remove the visor they automatically stop and so you can use the headphones independently at that point (you can also 'dip' the visor at which point the airflow will also stop – Dyson calls this conversation mode).
Note that as well as in the app, you can use the airflow button to do this when the Zone is powered on.
As you can see from these app screens, you can see air quality information in the app, although unless you're somewhere you know to be particularly poluted, you're unlikely to be religiously looking at it. Because Zone is also intended to help with noise pollution, environmental dB levels are also tracked. You can also see how long you've had the purification tech switched on for, as well as how long you've had the headphones on generally. As you can see in the example above, we've used the headphones for just over three hours here with an hour of air purification.
Sound quality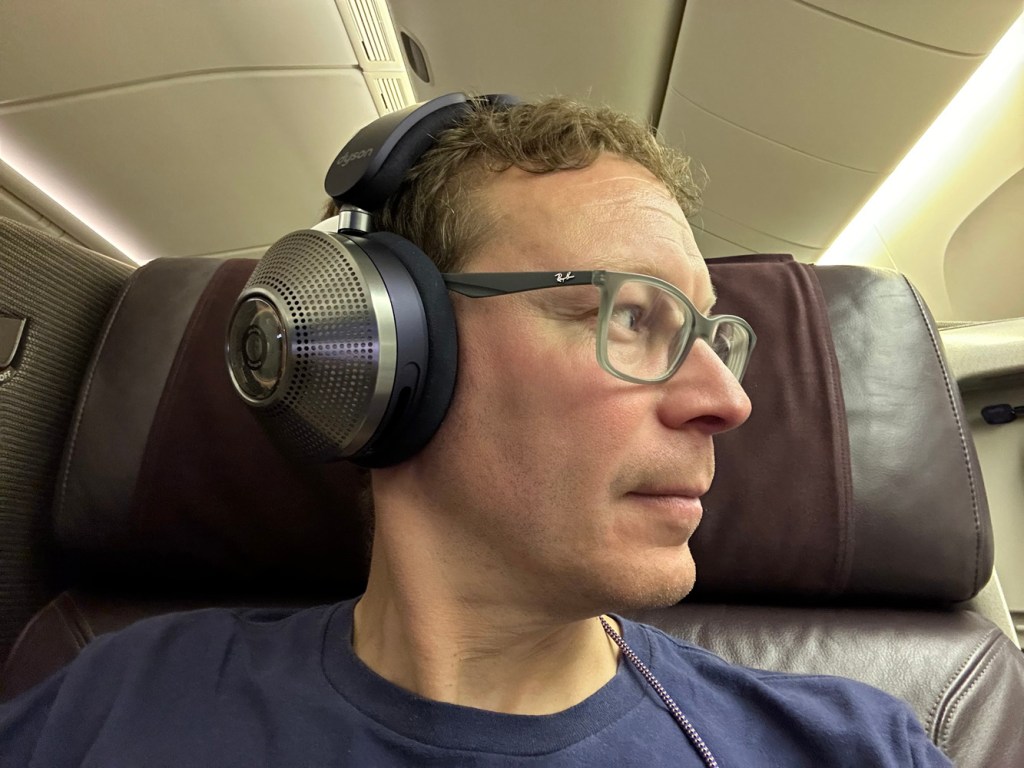 As headphones, the Zone excel in terms of audio quality and are very well-balanced (they use 40mm neodymium drivers). Dyson was quite clear in responding to journalist questions at a Zone preview that the Bluetooth 5.0 chip used was off the shelf – not surprising – but that the EQ setting has been developed by Dyson internally and a huge amount of optimisation has been done on this and the noise cancellation as a result of in-person testing in real world locations as well as bespoke sound labs. The reason this is so important with this particular product is, of course, the slight issue of a motor spinning alongside your ear at just shy of 10000rpm.
As we mentioned earlier, we first heard a seemingly complete Dyson Zone a year ago and twice since before getting it for review. Even in that time we've noticed improvement in the noise cancelling to block out the noise of the compressors. The noise cancellation can't be switched off if the motors are running – in other words, if the visor is fully attached.
But however well the noise-cancelling does for the compressor noise, they don't do the job for general noise such as chit-chat on a plane as well as class leaders such as the Sony WH-1000XM5. It's good, but it's just not quite good enough. You can double-tap on the earcup to switch to transparency mode or do it in the app if you wish. In reality though, you'll barely need to touch the app, as you'll hear shortly.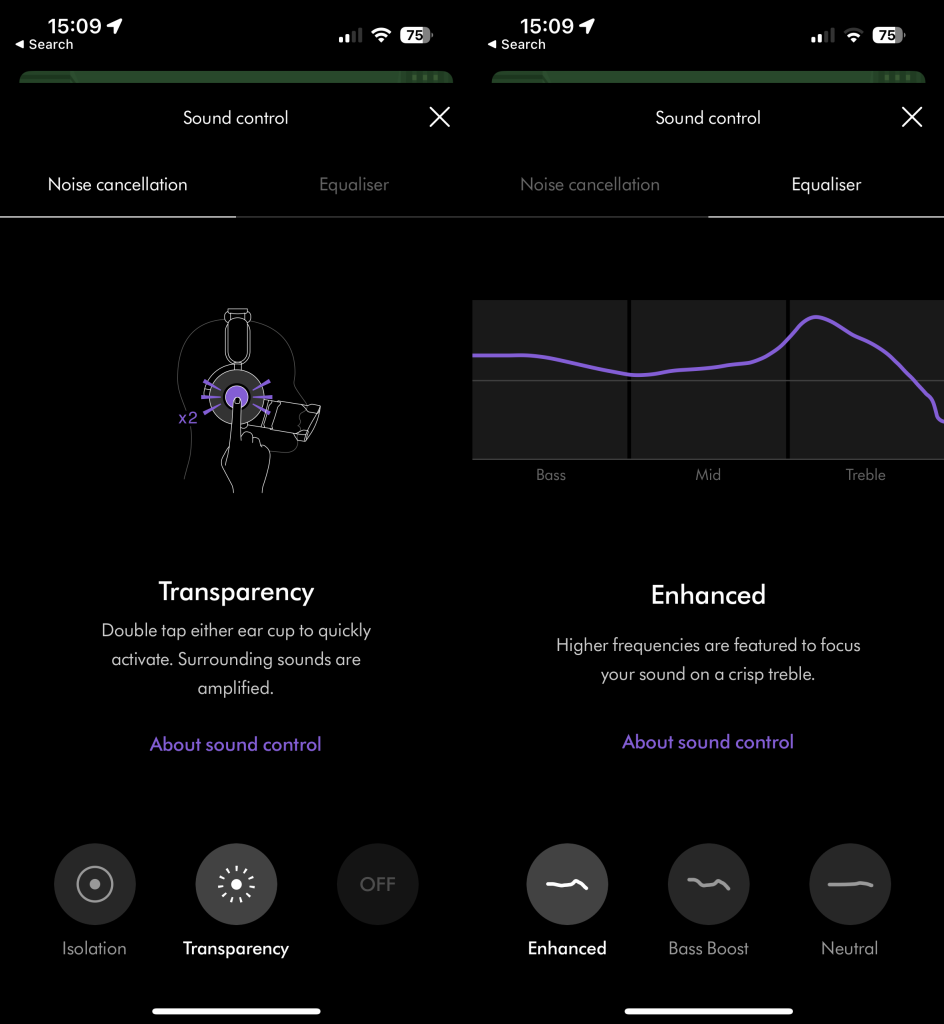 The EQ can't be adjusted. But you can choose from two other modes: Bass Boost and Neutral (a flatter response curve). Bass boost is effective, but we weren't that keen on Neutral to be honest, it just felt a little lifeless. As you'd expect, the cans will automatically pause if you remove them.
Like many other headsets, there are two microphones using beamforming and noise suppression tech to make voice calls clearer (the telephony microphone combines with the feed forward ANC microphone). Call quality is excellent as you'd expect.
Battery life for the headphones themselves is around 50 hours with noise cancellation switched on. With the purifying also in action, though this drops like a stone – down to 4 hours of combined purification and audio run-time – less if the airflow speed is high. They'll charge to 100% in three hours.
Dyson Zone verdict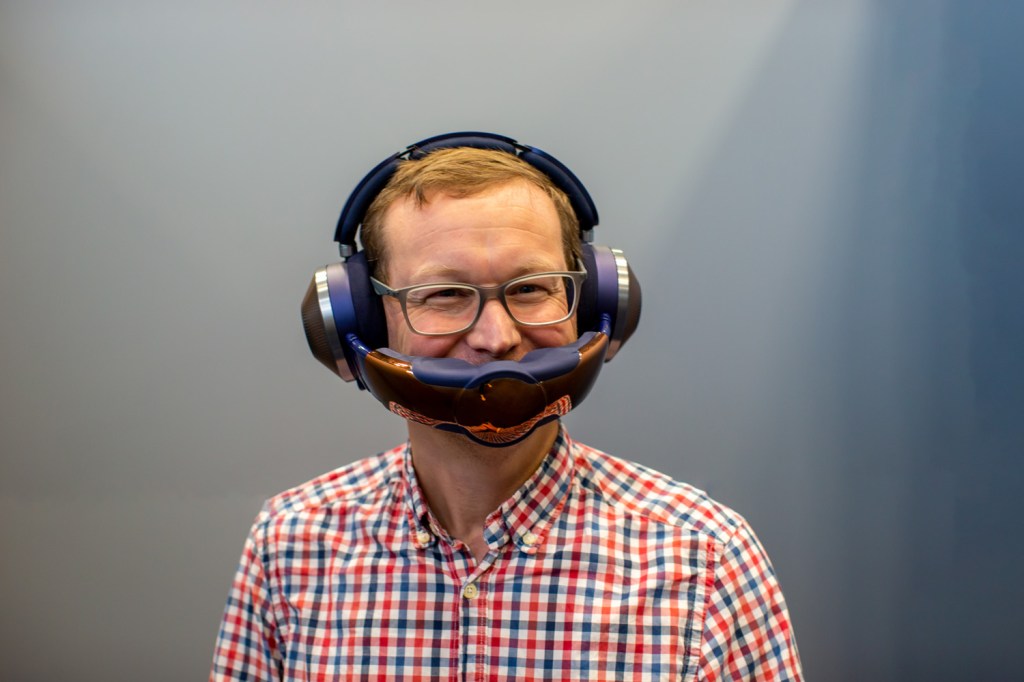 Dyson has made a worthy stab at premium headphones with a rather big twist, but they're incredibly expensive and need to be lighter and have better noise cancellation to stand a chance. Still, it's hard not to be impressed by the purification capability and sheer amount of bespoke tech – even if the comparisons to Bane/Daft Punk/a lesser-known Star Wars character are fairly irresistible. We'd be very interested to test a standalone pair of Dyson headphones that don't have the purification tech and therefore could possibly take on the best that rivals have to offer in the audio space…
Stuff Says…
Fine audio, brilliant design – but you need to want the purification tech to make Zone anywhere near worthwhile.
Good Stuff
Undeniably brilliant tech
Excellent audio
Quality design
Bad Stuff
The ANC could be better.
The visor isn't a great look
They weigh too much
Dyson Zone tech specs
| | |
| --- | --- |
| Connectivity, | Bluetooth 5.0, USB-C (3.5mm via supplied cable) |
| Microphones | 11 for ANC and phone calls |
| Audio | 40mm neodymium drivers, SBC, AAC & LHDC support, 6Hz – 21kHz frequency response |
| Battery | 2,600mAh (50 hours audio, up to 4 hours with purification) |
| Filters | Replaceable, last up to 12 months |
| Weight | 595g (without visor), 670g (with visor) |