Devialet Phantom 1 108dB review
Great balls of ire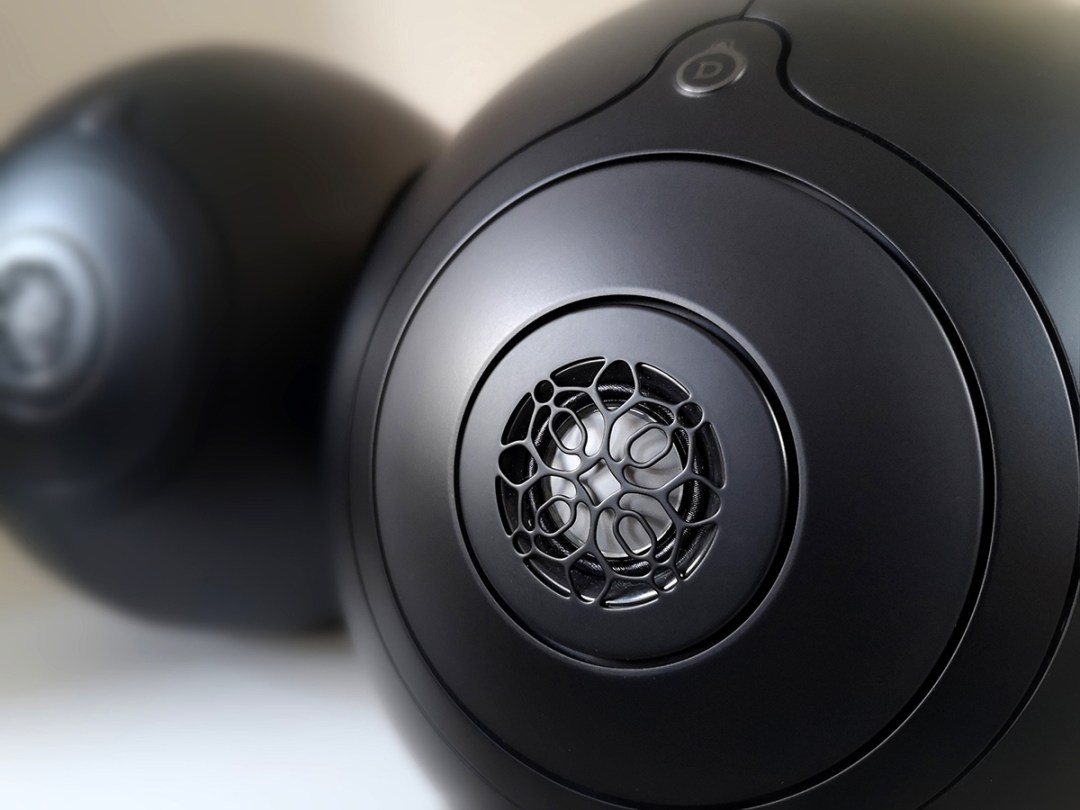 Devialet is a French company that hates your neighbours. It specialises in designer audio products that cost quite a lot of money, look uniquely stylish and offer impressive sonic refinement… sometimes at very high decibel levels.
In the case of this little monster of a wireless speaker, the clue is in the name. One-hundred and eight decibels is about the same as the average live gig – and the scary news is they've sent us two of them, to make up a stereo pair. Be warned, you might go partially deaf just from reading this.
But first of all, let's untangle the somewhat fiddly history of the Devialet Phantom 1 108dB. You see, the Phantom Reactor that we reviewed back in 2019 is now called the Phantom II, and the original Phantom is now the Phantom I… and it's now available in two versions, rated 103 or 108dB.
So this, in short, is the new extra-loud Phantom. With two of them working together, you're looking at a staggering total output power of 2200 Watts RMS… and an even more staggering total price of £5580.
DESIGN: SCROTAL ECLIPSE OF THE HEART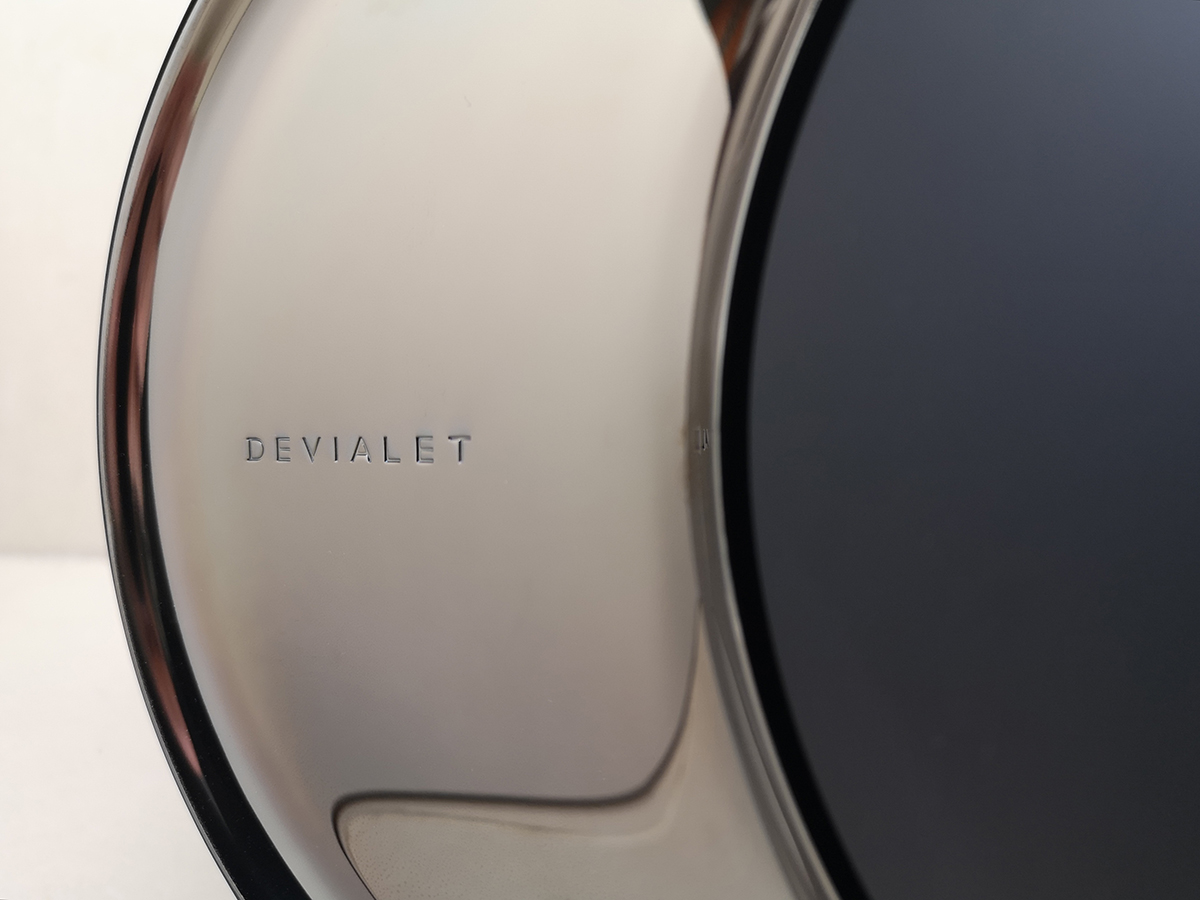 They don't look like speakers, but that's the point: it's maverick design brilliance, innit? What they do look like is a couple of misshapen crown green bowling balls, or the testicles of a giant mechanical whale.
Each speaker has a titanium tweeter at the front, protected by a distinctively elegant grille that's apparently inspired by 18th-century French garden design; but most of the shunting is done by aluminium-domed drivers on either side. The way these pump in and out when the music is cranked up loud is really something to behold… but we'll come to that later.
The only physical connections round the back are for Ethernet, optical audio and, of course, mains power – well, you're not going to get very far trying to fuel a 1100W amp with a battery. If you want to connect a turntable you'll need to add an Arch phono stage (£349), which links to the Phantom over Wi-Fi.
Want to spend even more money? These things are 34cm deep and weigh over 11kg, so unless you have a substantial shelf you'll also want to invest in a Devialet Tree (£349) for each speaker. This elegant stand will hold a Phantom 1 at 'ideal listening height' and hide the power cable in its stem. See also the dinky little Treepod (£279).
Our twin Phantoms look suitably mean in black, but they're also available in white with gold highlights. Settle for the puny 103dB model and those highlights will be chrome, so everyone will be able to see what a cheapskate you are. (They're a mere £1890 each.)
SETUP: GIVE 'EM ENOUGH GROPE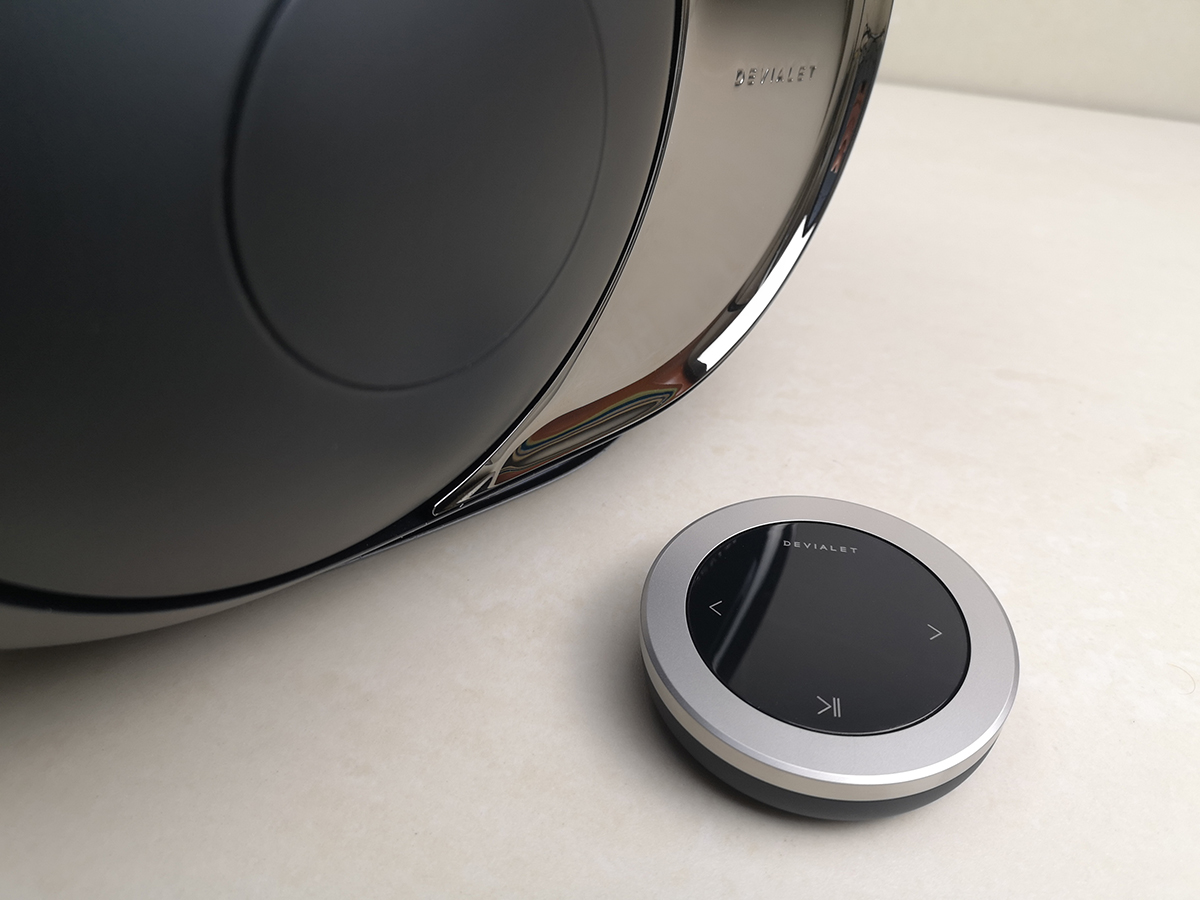 Getting a Phantom 1 operational involves installing a simple app (Android or iOS), connecting to your Wi-Fi and then, before you can actually pair up your music source, giving the speaker a little pat, to which it responds with a gentle throb. No, we don't know why.
You can use that app to control the volume, and to engage a night mode that reins in the bass a little bit. Prefer to have a proper screen break while you're basking in your favourite Supertramp rarities playlist? There's also a stylish and extremely slick puck-like remote for adjusting volume and the usual play/pause/skip controls.
Obviously this is a Bluetooth speaker, but you also get Apple AirPlay 2 and Spotify Connect compatibility, and it's certified for use with the Roon music management platform.
PERFORMANCE: LIVING IN THE BLAST
This latest Phantom has a new audio processing chip that claims less distortion and better energy consumption than previous models. Which is fine, but really we're here for the acronyms: ADH is for analogue/digital hybrid amplification, SAM is for speaker active matching (an algorithm ensuring 'extreme fidelity'), and HBI is for heart bass implosion. Yeah, that one's a bit silly – it just means the bottom end sounds good. Perhaps more important is Devialet's 24-bit/96kHz DAC, expertly converting your digital source files into a driver-shifting analogue audio signal.
The sound of one speaker in mono is impressive; the sound of two is just spectacular. They are absurdly loud but totally controlled, and stay free of distortion almost all the way up to full blast. It can be a little disconcerting to see those aluminium domes pounding away in time with the beat, but they certainly seem to be enjoying themselves – and so are we.
The bass is phenomenal but there's real fidelity to the whole stereo image: adopt the perfect dead-centre listening position and you can almost see it in front of you like a tennis net stretched between the speakers, with instruments and voices perched along the tape like individual sonic pigeons.
Night mode is something you can almost feel rather than hear: the sound is still huge but there's noticeably less 'whump' in the bottom end; in some situations, and with some kinds of music, you might actually prefer it. Either way, there's no loss of clarity or balance when you do turn the volume down to conversation-friendly levels.
The noisefloor is low enough that you can almost forget they're on, even when they're turned up pretty high, but be careful: at one point we lost the Bluetooth connection for a moment, and when we got it back up again the volume had for some evil reason defaulted to 100% – in mid-song, at 11pm. Cue three seconds of chaos while we battled the rampaging decibels to turn it down.
DEVIALET PHANTOM 1 108DB VERDICT
We're not going to fret over questions of value for money here: if you can afford a Phantom 1 108dB, or preferably two of them – and as long as you have a room that's big enough (and chic enough) to accommodate them – then there's no reason why you shouldn't treat yourself. They're beautiful, they sound superb, and your neighbours bloody deserve it.
Stuff Says…
High-end sound to match the bold design… but most of all, sheer loudness
Good Stuff
Stupidly, stupidly loud
But also highly refined
Mecha-cetacean-testicular design
Bad Stuff
Very expensive indeed
Stands aren't cheap either