Bang & Olufsen Beosound Theatre hands-on review
Luxury all-in-one is a design piece as much as it is an audio upgrade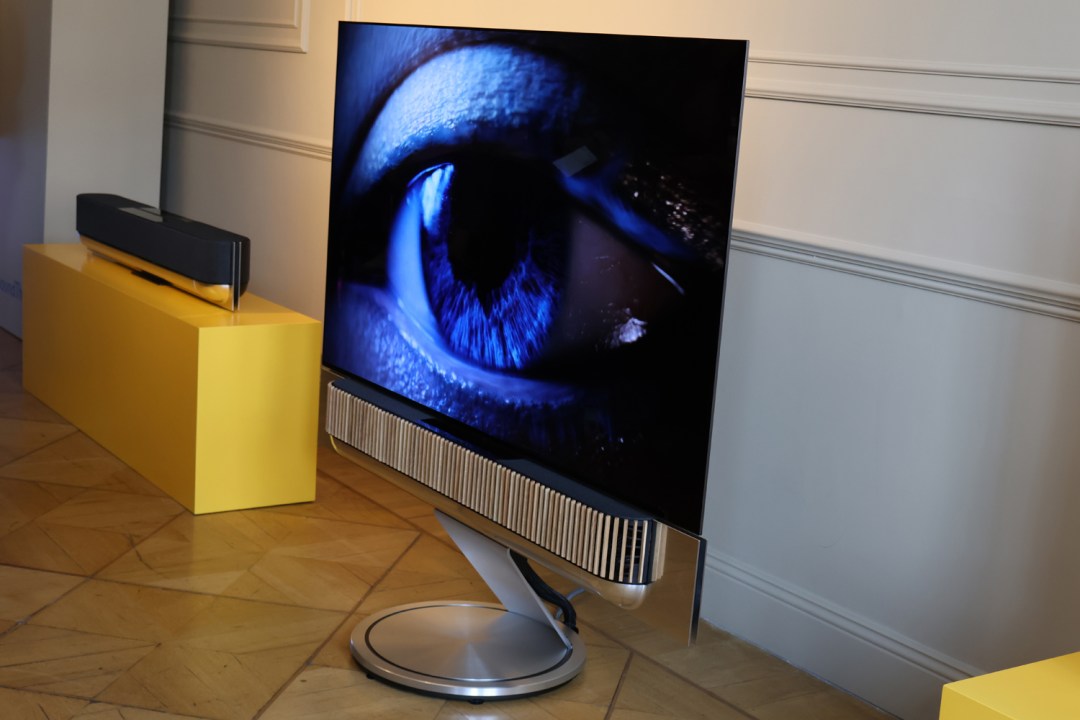 If you like your gadgets to be equal parts tech showcase and style showpiece, few do it better than Bang & Olufsen. The Danish firm has been crafting speakers that sound as good as they look for the best part of a century, and most of 'em are still able to crank out top tunes today. The Beosound Theatre is an attempt to wrap all that up in a soundbar.
To succeed, then, it not only needs to sound incredible and look unlike anything else you might stick under your telly to give it a sonic step up – it's also got to last for generations. Bang and Olufsen reckons it has achieved that goal with a focus on longevity, hardware that can be upgraded as software standards evolve, and extensive TV support.
We were among the first to listen in to a demo of the new luxury soundbar at the firm's launch event at IFA, to find out if it's as easy on the ears as it is on the eyes.
Design & build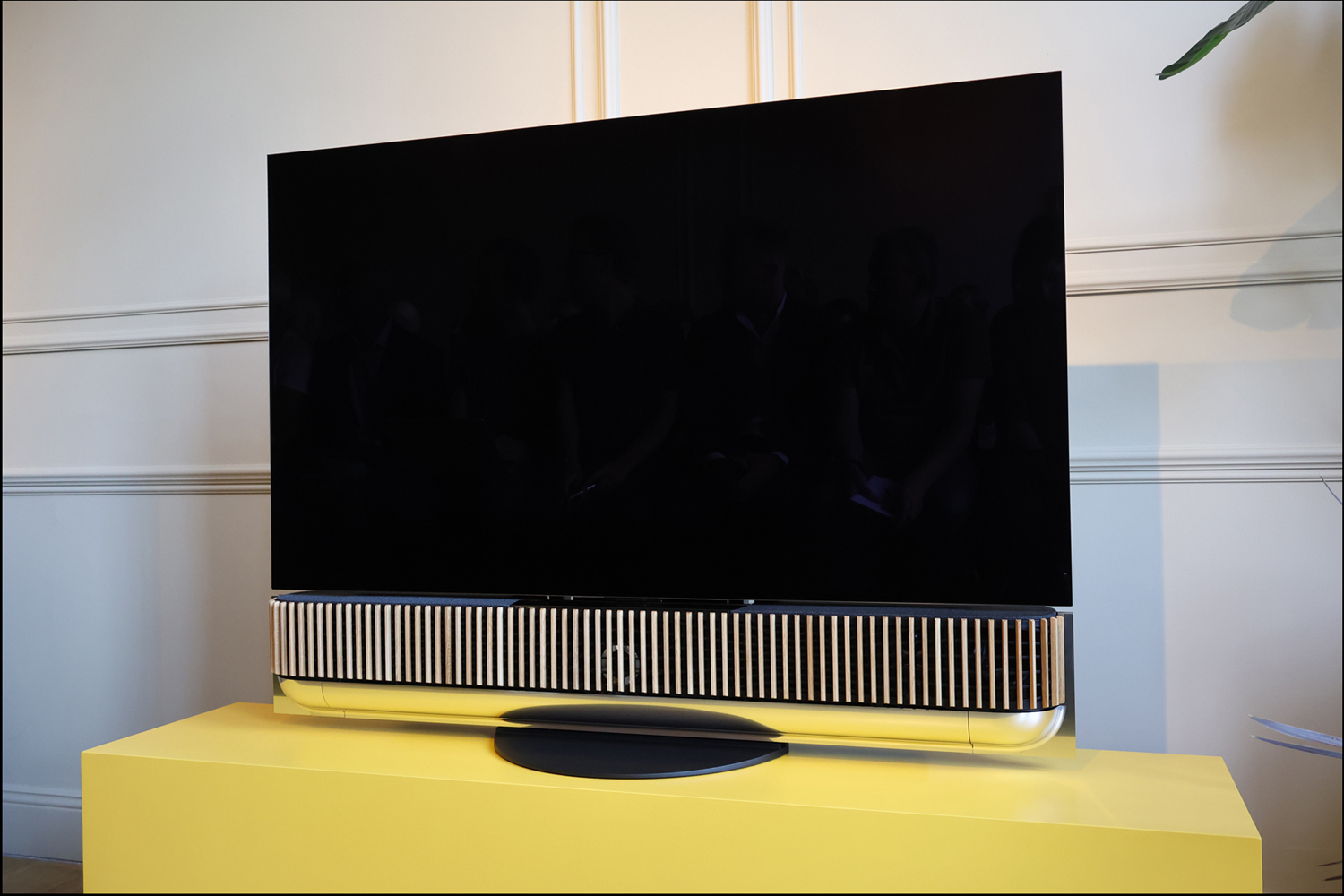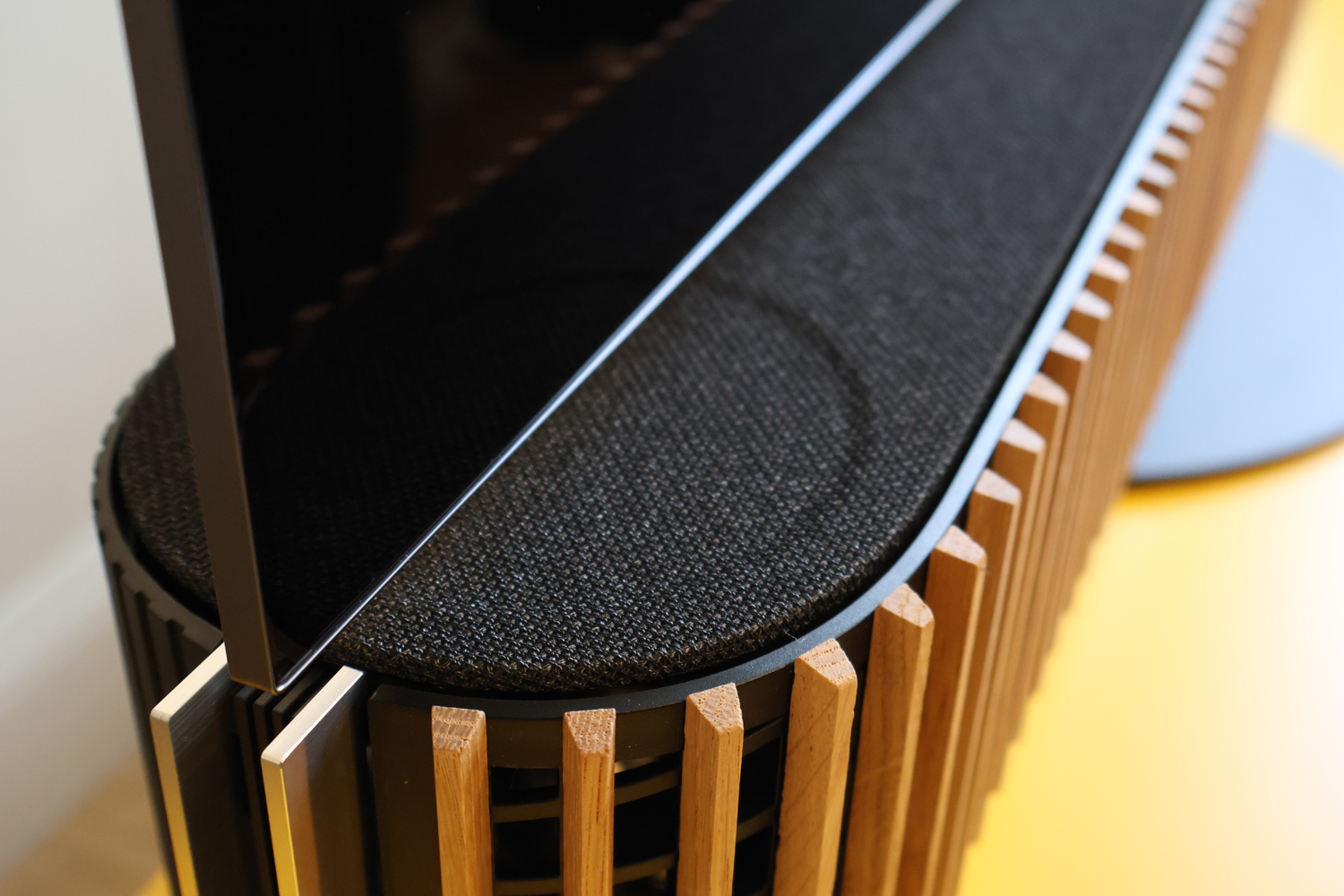 With a polished aluminium base and lamella speaker cover made from a solid oak, the Beosound Theatre is undeniably distinctive. It's seen here in silver, but you can have it in black or gold if you like. We're partial to the latter – it sounds gaudy but is actually very subtle. The wood perfectly matches the firm's Beolab speakers, in case you're looking to expand an existing setup, although it does carry a price premium over the more subtle fabric version. All the materials were picked to age gracefully over time, and feel suitably premium to the touch (not that you'll want to get your grubby fingerprints all over the cool aluminium fins).
Bang and Olufsen will shortly add it to the Bespoke service, where customers can request specific materials and colours like you might when ordering a Rolls-Royce or Bentley. As with those luxury cars, though, if you have to ask how much it'll cost you probably can't afford it.
You can order the Beosound Theatre as a standalone unit, but B&O expects most customers to go for one of three mounting options that are millimetre-precise for certain makes of OLED TV. There's a choice of table stand, wall bracket and floor stand, with the latter two being motorised for an extra dash of theatre. The wall mount swings open as silently and smoothly as we'd expect from a firm that properly sweats over the small stuff.
The main unit is sized to suit a 55in TV, but the aluminium 'wings' on either end can be swapped out for ones that match larger 65in and 77in models. It just takes a few screws and some careful, preferably gloved hands to make the swap, and if there's customer demand B&O will produce even longer ones to match larger TVs. The joins are practically invisible from the front, and really help give the whole thing a sense of symmetry.
If you go down the table stand route, B&O has found room inside the mounting bracket to stash an Apple TV or other streaming media box, along with any cables snaking between screen and soundbar. It uses standard VESA mounting so you don't need a specific brand of telly to get a perfect height, letting the bar sit basically flush to the TV bezel, although the firm admits it had LG's excellent OLEDs in mind when picking the dimensions.
It doesn't even need to sit under a TV, of course: this is a soundbar that demands attention in isolation, and wouldn't look out of place on a sideboard or as part of a sound system sans screen.
Features & connectivity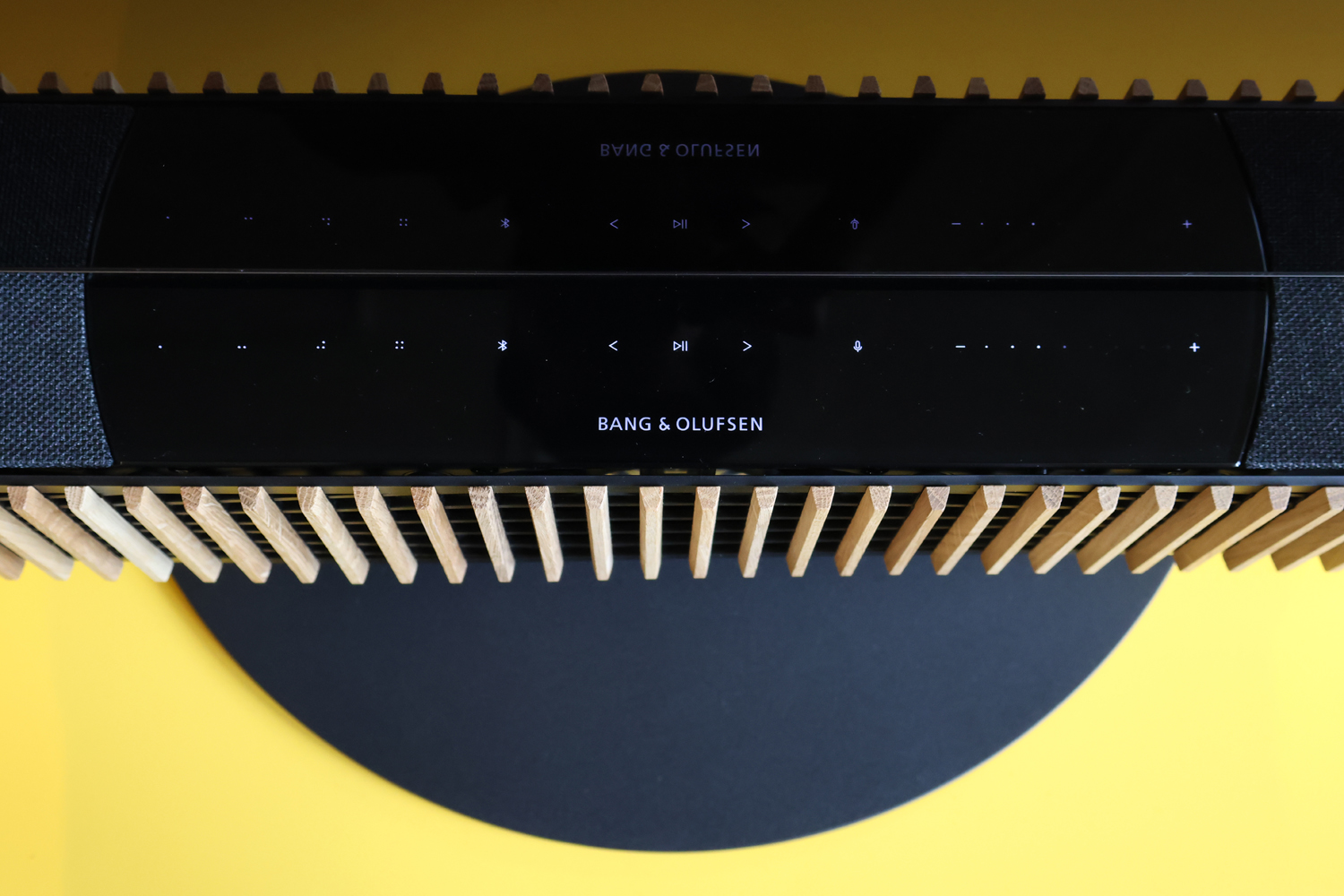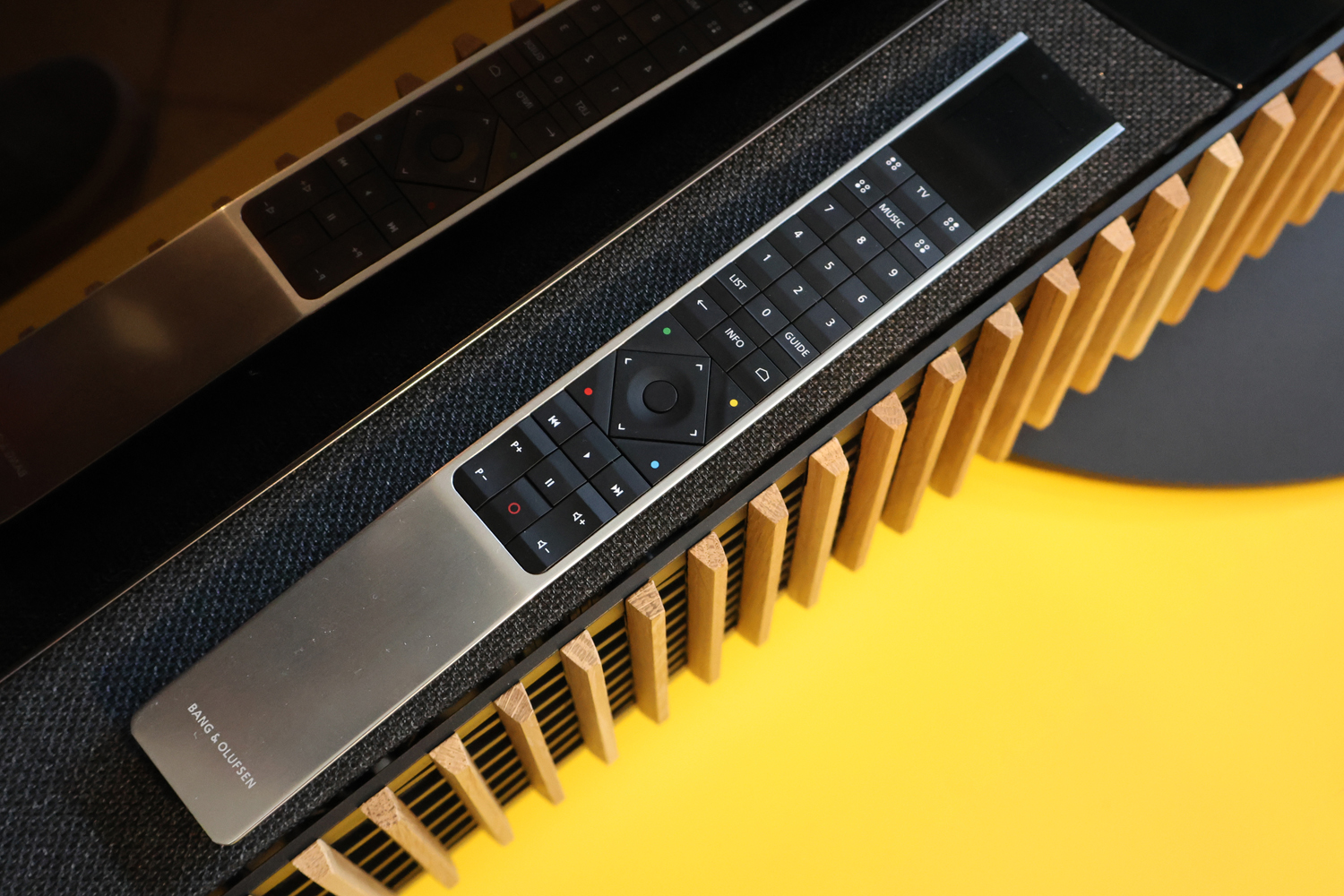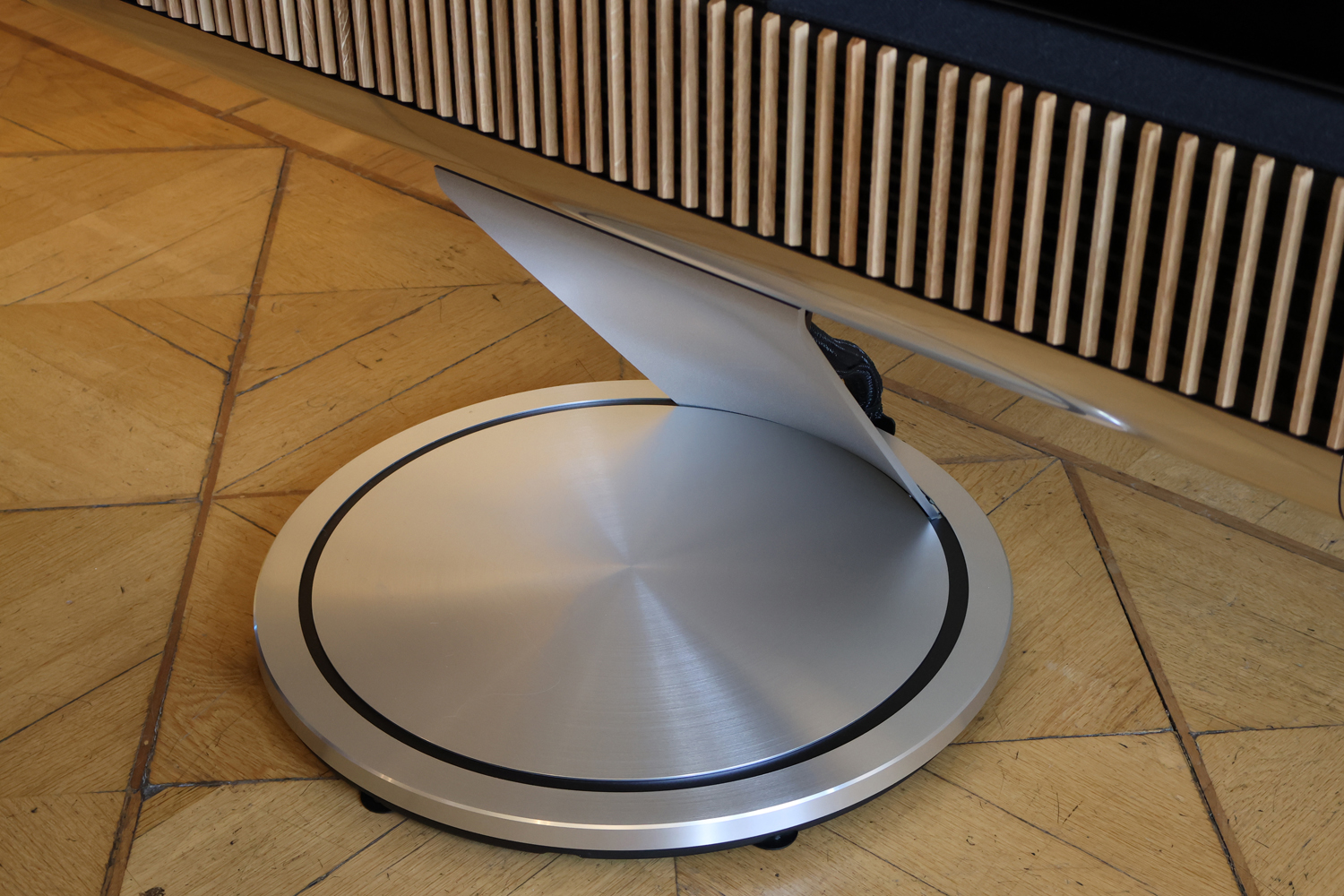 OK, enough about the looks. What's lurking underneath? A whopping 12 separate speaker drivers, that's what. The Beosound Theatre gets two bespoke 6.5in woofers you won't find anywhere else in the Bang & Olufsen line-up. The central mid-range driver has a tweeter floating directly in front of it for clearer vocals, with a further mid-range driver and tweeter at each side. There are also side-facing and upward-facing drivers at the sides for effective spacial audio. All in you're looking at a substantial 800W of power.
It has four HDMI ports with 8K passthrough, so it can become the go-between for any games consoles, Blu-ray players or set-top boxes, and it'll happily decode Dolby Atmos audio. Chromecast, Spotify Connect, Airplay and Beolink multiroom are all on-board too. That sounds like a lot to keep track of, but it's smart enough to recognise when a particular source has started playing and swaps inputs accordingly, without needing to reach for the remote control.
The touch-sensitive controls built into the top of the unit are begging to be touched, though. They illuminate as you step up to the system, then dim again as you move away.
So far, so standalone – but if you've got a few B&O speakers already, it can quickly assimilate them into a surround sound setup using the bundled calibration microphone. It sits on a tripod at head-height, and does room compensation, speaker detection and phase balancing in less than two minutes.
There are outputs for adding eight wired loudspeakers, and a further eight wireless ones using the firm's Powerlink cables. You can start small and add speakers over time, eventually growing to a 7.1.4 setup, with the unit becoming a dedicated centre channel.
Audio quality & surround sound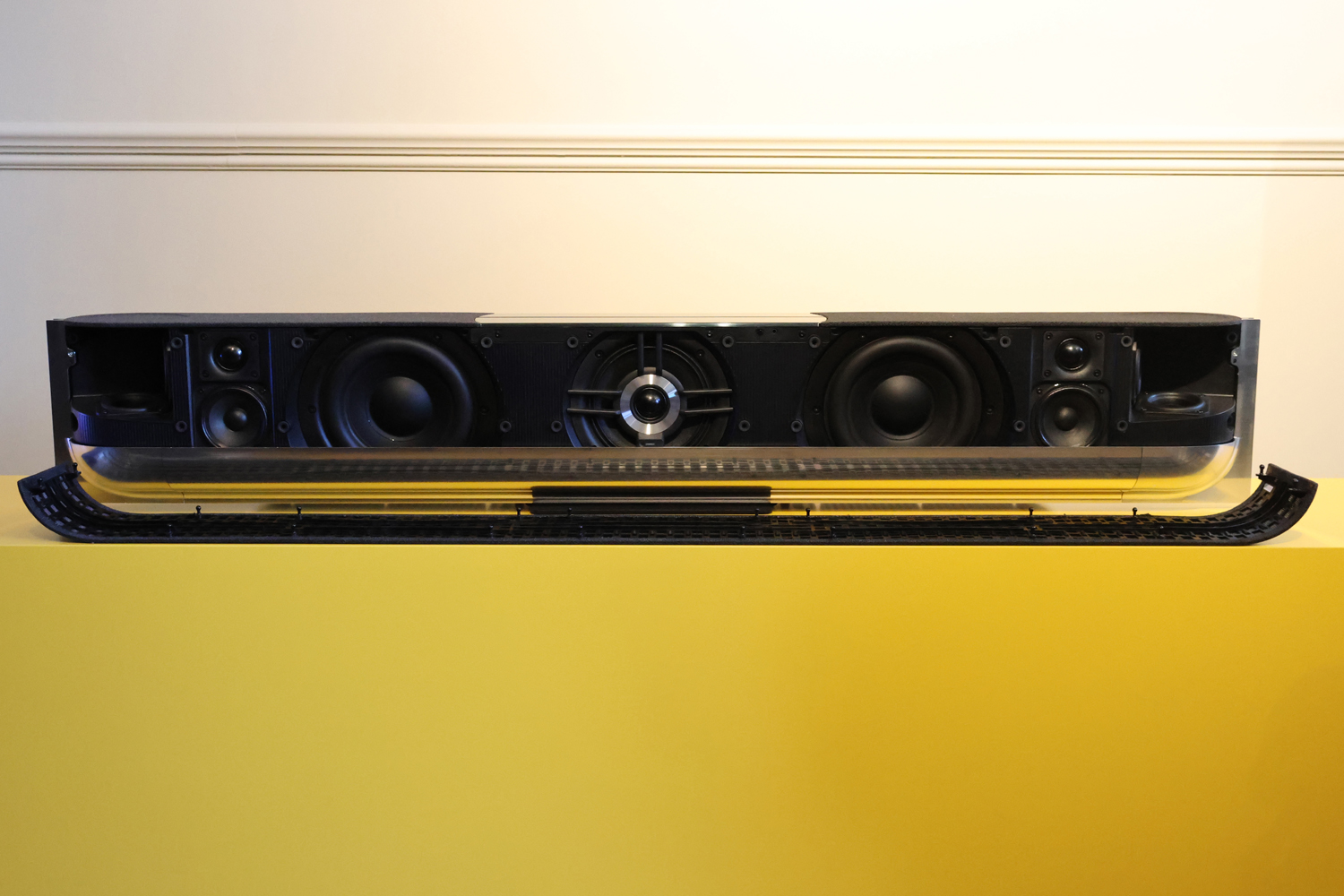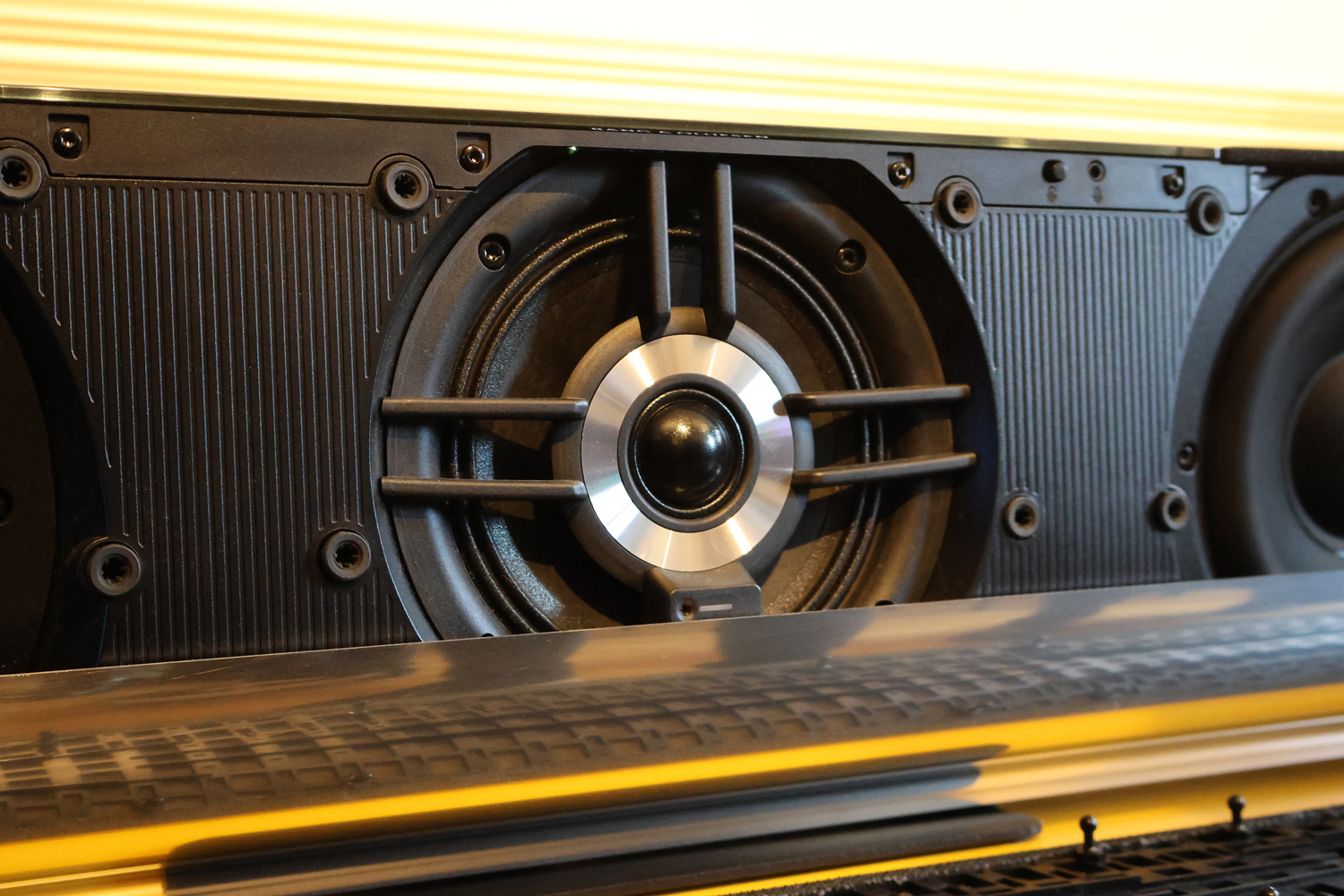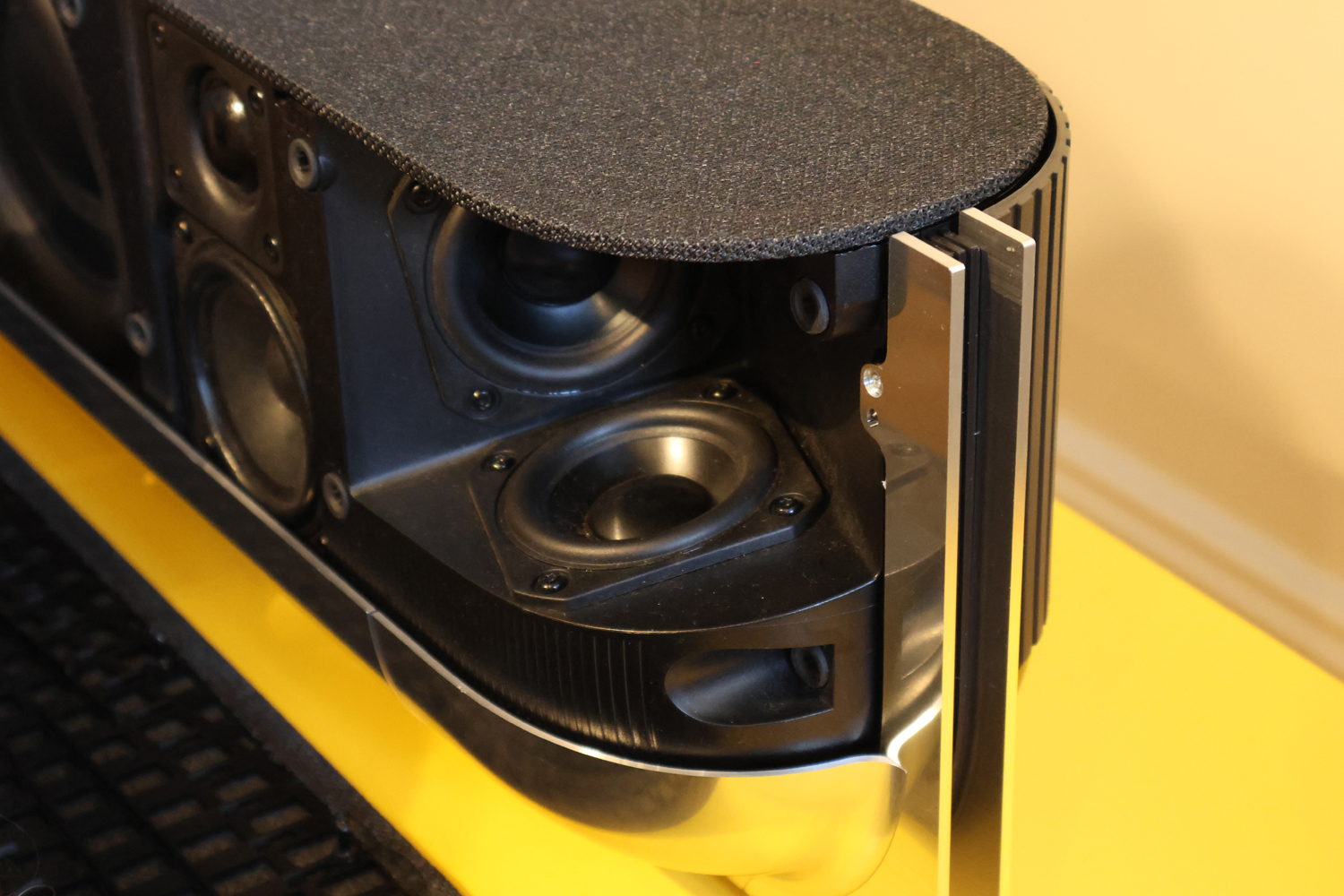 It'll come as no surprise that the Beosound Theatre delivers astonishingly good sound. We got to listen to a mix of vinyl and high resolution digital tracks, plus some film footage to check out its surround sound abilities, and each time we couldn't help but be impressed.
The soundbar had no trouble filling a fairly large space that wasn't acoustically treated, and creates a much wider soundstage than you expect from a single unit. The double bass part of a jazz track seemed to come from elsewhere in the room, while giving the vocals room to really breathe.
There was superb instrument separation on a big band track, with the horn and rhythm sections complimenting each other rather than competing for space. Vocals stayed central to the mix throughout with exceptional detail, even amongst the heavy guitars of Rammstein's Adieu. The low-end had presence even at lower volumes and on delicate tracks, like the opener to Adele's 30 album.
Switching from music to movies, Bohemian Rhapsody's concert scenes had properly impactful bass; it never sounded boomy or imprecise, but had real presence throughout the mix. Vocals again shone through clearly, and the surround separation was rather good – although we'll withhold judgment until we've had the chance to listen to a few Dolby Atmos-mastered films we know a little better.
The final demo saw a pair of Beolab 28 floorstanders added in as rear channels. They absolutely elevated the surround sound experience in the opening car chase scene of No Time To Die, with bullets whizzing and church bells tolling convincingly. Because the soundbar calculates how much each connected speaker can contribute to the mix during initial calibration, it's able to distribute the bass accordingly so they don't drown out the rest of the mix.
Bang & Olufsen Beosound Theatre initial verdict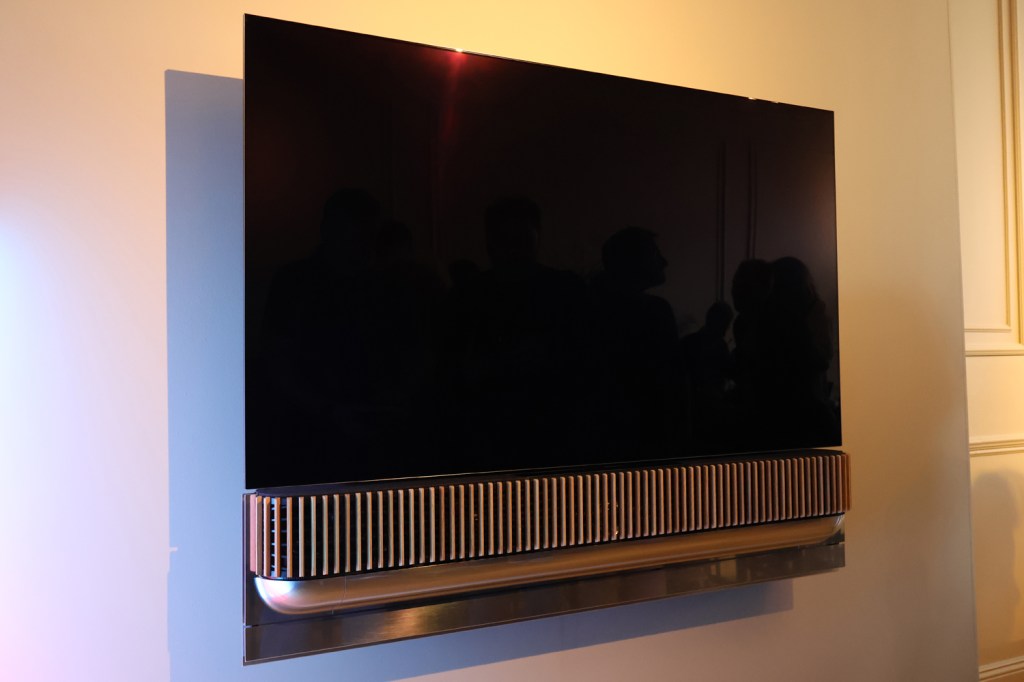 Only after a head-to-head with something like the Sennheiser Ambeo and Devialet Dionne will it be clear where the Beosound Theatre falls on our list of best soundbars, but initial impressions suggest it is something rather special.
It's as much a visual statement as it is a sound upgrade, and one that has the scope to grow and upgrade over time like the firm's speakers. We'll be waiting years to see if Bang & Olufsen is able to make that last part work, but anything that encourages sustainability gets a thumbs up from us.
Recommending one is a bit like suggesting you buy a Ferrari when a Fiat will get you to the shops just fine – but for the small subset of home cinema fans with Ferrari budgets, there's plenty here to like.
The Beosound Theatre is available to order now, with the first units set to land with customers later this year.
Bang & Olufsen Beosound Theatre technical specifications
| | |
| --- | --- |
| Speakers | 12 (2x 6.5in woofer, 1x 5.25in midrange + 1in coaxial tweeter, 2x 3in midrange, 4x 2.5in full range, 2x 1in tweeter) |
| Amplifiers | 12 (2x 100, 10x 60w) |
| Inputs | 1x HDMI eARC, 3x HDMI CEC, 8x Powerlink, 8x wireless powerlink, Ethernet |
| Connectivity | Bluetooth, Spotify Connect, Apple AirPlay 2, Chromecast, BeoLink Multiroom, DLNA |
| Dimensions | 197x157x1222mm, 18kg |