Asus Zenbook 17 Fold OLED hands-on review: not the future (yet)
The giant, Westworld-style laptop you've been waiting for?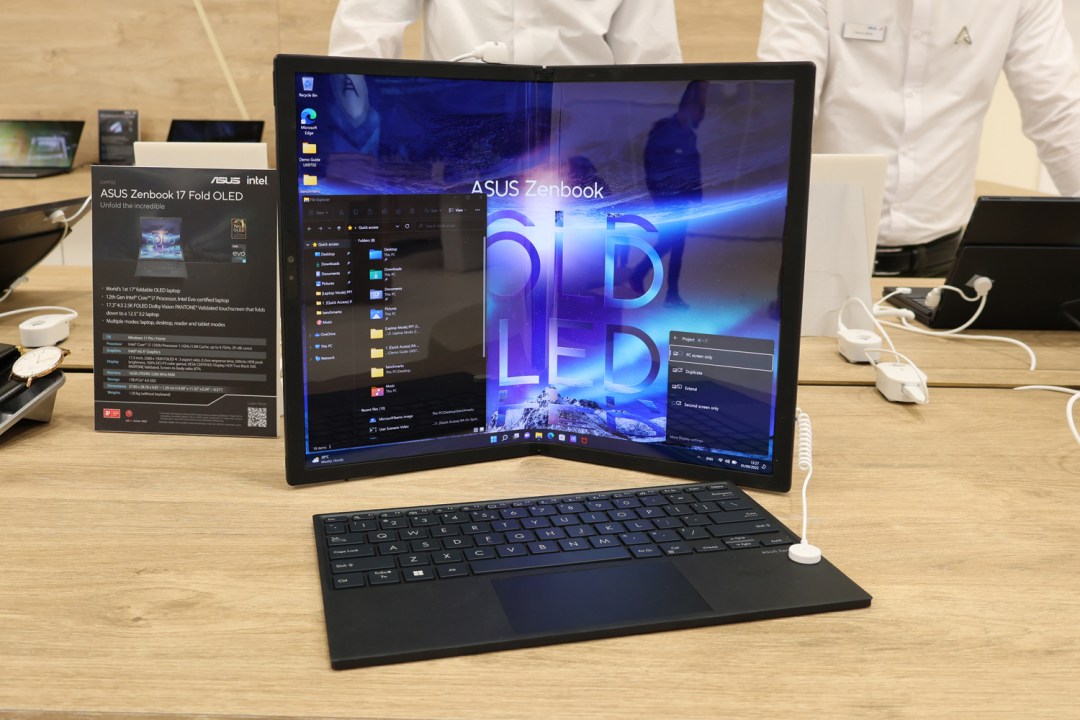 Once foldable screens were a thing – an actual thing people could go out and buy, not just see in sci-fi films – it was inevitable the tech world would want to put 'em in everything. We've had folding phones and roll-up TVs, and now it's time for laptops to take a turn. The Zenbook 17 Fold OLED is Asus' attempt: a clamshell with a single, unbroken 17.3in display that folds in half.
It was originally shown off in prototype form at CES back in January, but later this year Asus will finally let punters plonk down their cash for one. After trying it out at IFA, though, we reckon there might be a few kinks left to iron out.
Folded shut, the Zenbook 17 Fold OLED has the same footprint as a 13in ultraportable – it's just a whole lot chunkier. Open it up and you're either getting a 3:2 aspect ratio laptop with a screen where the keyboard should be, or a 17.3in, 4:3 aspect tablet.
A built-in kick stand helps prop the whole thing up, or you can hold it like a book – becoming perhaps the most baller ebook reader the world has ever seen. We're not sure we'd manage the entire Song of Ice and Fire series without a few trips to the gym first, though: it weighs a substantial 1.8kg. There's also bundled Bluetooth keyboard/touchpad combo, which can be used separately or laid on top of the screen's lower half and used like a traditional laptop.
Asus has stealthily hidden the hinge mechanism between lashings of faux leather, with the rest of the outer case covered in glass for a premium feel. The bezels might not be the skinniest, but they leave room for a decent-ish webcam and help protect the screen when you shut the thing closed. It doesn't sit completely flush when folded, y'see – there's a gap down the middle. It does leave room to stow the external keyboard, but makes the Fold OLED nearly twice as thick as a regular ultraportable laptop.
The typing experience was pretty mixed. The keys themselves are fine, with a surprising amount of travel for something so svelte, but the touchpad was fiddly, and felt a little sluggish. The whole thing flexes quite a bit while sitting over (rather than completely on) the folding display, and doesn't sit completely still either, moving around despite the rubber display bezels providing plenty of purchase.
You've also got to charge it separately, with no clever powershare function between laptop and keyboard. There's only two Thunderbolt 4 ports here, and plugging in the laptop takes up one, so topping up the keyboard at the same time means having nowhere else to plug in any accessories.
Naturally the OLED screen delivers near-perfect blacks, infinite contrast and vibrant, punchy colours. The 2560×1920 resolution is pretty sharp, and it plays nicely with Dolby Vision HDR footage thanks to a peak 500nit peak brightness. Even the crease is particularly subtle, only showing up at certain angles when the light hits it just right. The only weak link? A 60Hz refresh rate. Having seen Asus' other OLED-equipped models, like the Zenbook Pro Duo OLED, we can't help but feel it's missing out on some super-smooth scrolling action. Oh, and there's also no stylus support here, unlike the Lenovo X1 Fold, so digital artists are out of luck.
We weren't able to get a proper feel for how well the quad speakers performed on the IFA show floor, but Asus promises Dolby Atmos support and tuning courtesy of Harman Kardon, so they should pack a reasonable sonic punch.
Inside, performance comes from a 12th-gen Intel Processor. That sounds promising – until you notice the i7-1250U is an efficiency-minded U-series chip with only a handful of P cores (the ones that do all the heavy lifting) and many E cores (the ones best suited to the basics). Asus has paired it with 16GB of RAM and up to 1TB of SSD storage. The combo will be fine for daily use – but can't hold a candle to similarly-priced machines like the 16in MacBook Pro once asked to run anything demanding. It also relies on Intel Iris Xe integrated graphics, at a price where dedicated GPUs tend to be the norm.
On the plus side, it stayed very cool and quiet during our hands-on session, and there's a sizeable battery inside that the firm reckons is good for 'a full working day' of use between top-ups.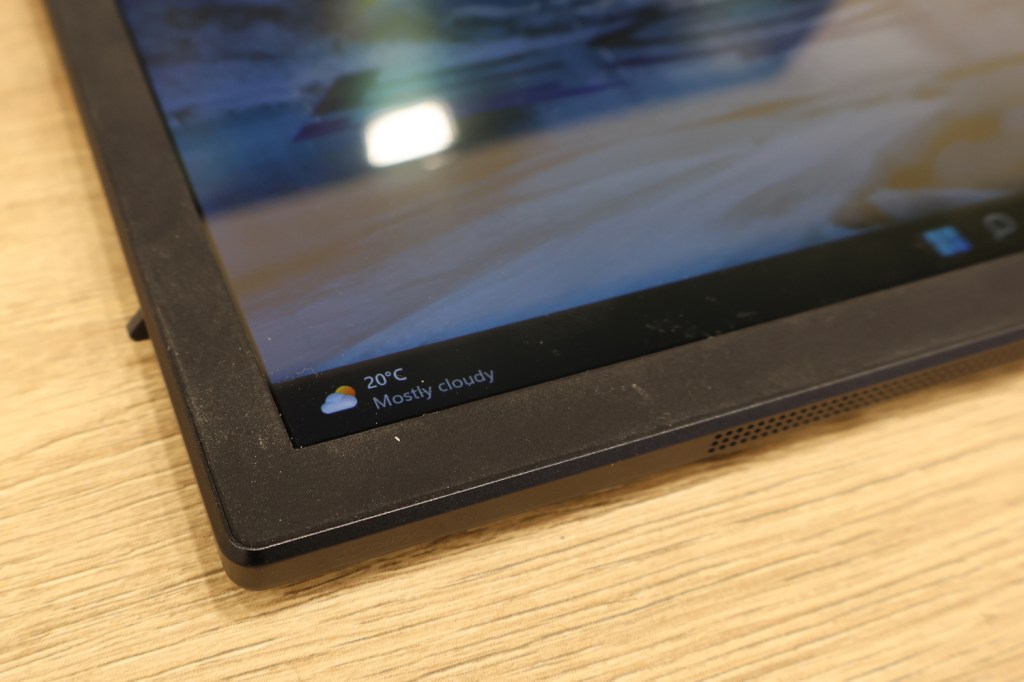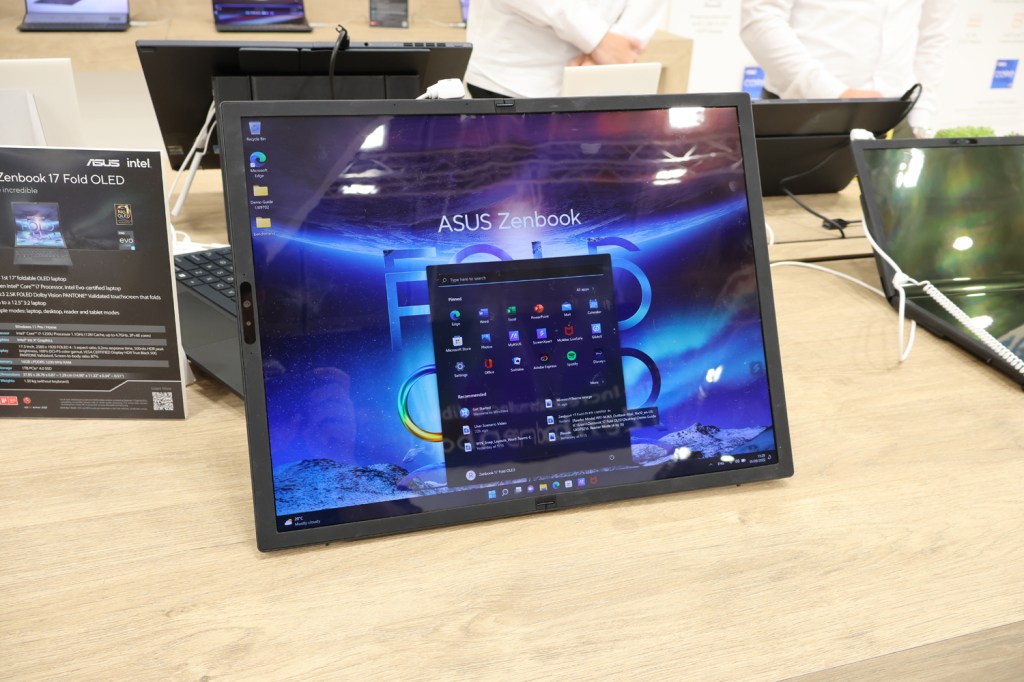 It's neat to see foldable display tech make it into more products, even if those products aren't necessarily ready to replace the gear that's currently doing the rounds. The Zenbook 17 Fold OLED feels like a showcase of what's to come, only one you can go out and buy right now.
Don't think of it as a laptop, but as a big screen tablet that folds for transport, and it makes more sense. It's still super niche, though, and crazy expensive. It'll set US customers back an eye-watering $3500, putting it on par with a considerably more powerful 16in MacBook Pro.
As a debut attempt it's got a real wow factor, but early impressions suggest only those that live on the truly bleeding edge will want to add it to their shortlist.