Asus ROG Phone 5s Pro review
Roars while others whimper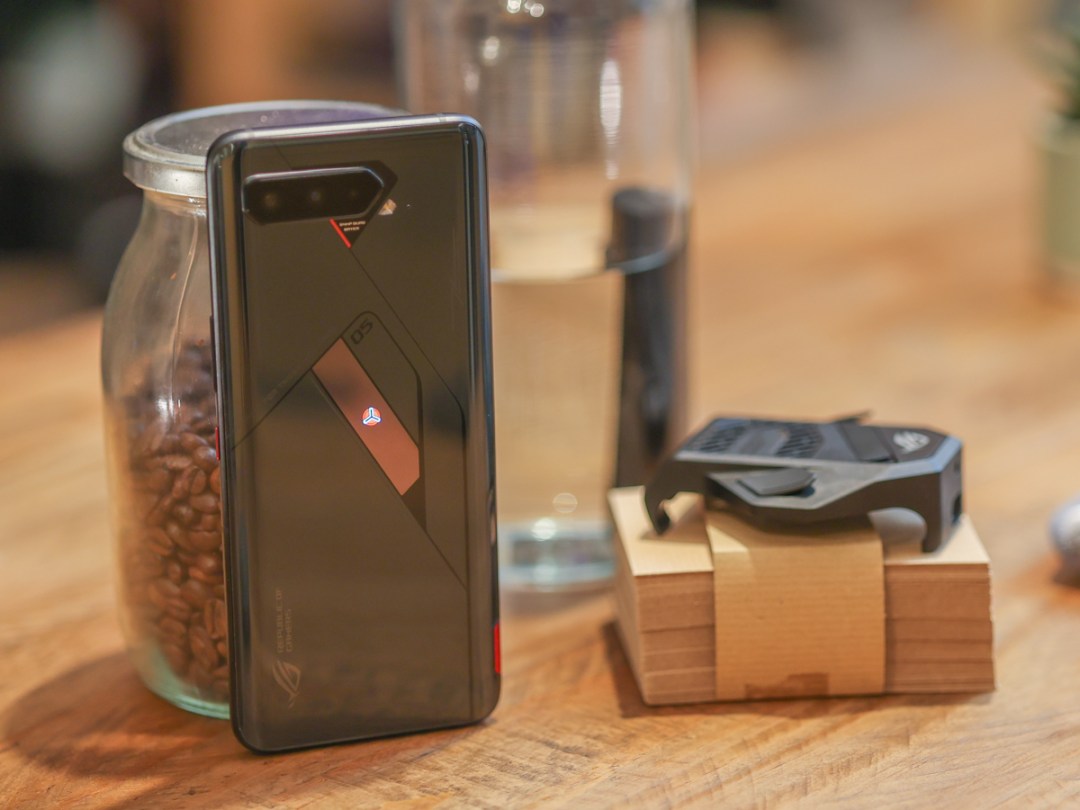 Anyone getting a sense of deja-vu, it's well-founded. The ROG Phone 5s and 5s Pro are very similar to the ROG Phone 5 line that launched in April 2021. Fast forward seven months to November, and Asus has refreshed its flagship gaming phones with an overclocked processor – the Qualcomm Snapdragon 888+, and slightly boosted responsiveness.
What is special about the ROG Phone 5s Pro is that it shares a few over-the-top features with the ROG Phone 5 Pro, such as a rear display – missing on the vanilla ROG Phone 5 we reviewed. The 5s Pro also boasts a bonkers spec roster, including 18GB RAM – more than most computers – and more than half a terabyte of storage.
At £1,099, you could almost buy two Pixel 6s for the price of one ROG Phone 5s Pro though. The question is, are all its angry loud design flourishes and through the roof specs worth the premium price for mobile gamers?
Design: Flashing its behind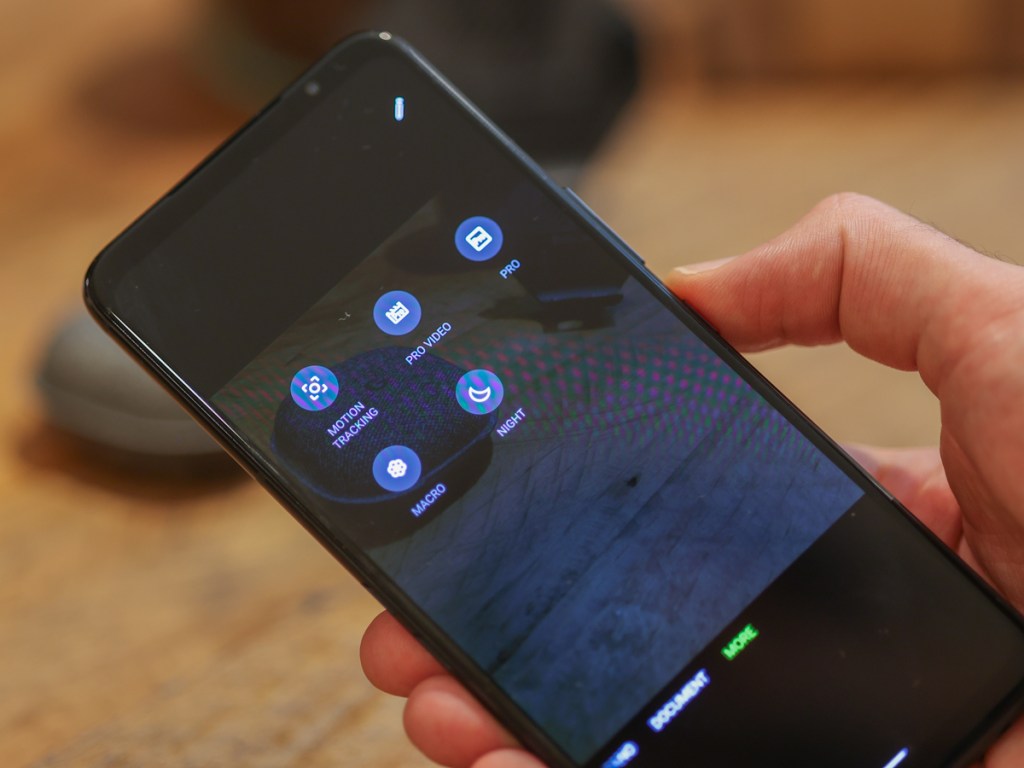 The ROG Phone 5s Pro takes flashy design to a whole new level – its back actually flashes. And not just with a few colours and RGB lighting effects like most gaming gear – there's actually a screen sliced diagonally into the back panel of the 5s Pro, which showcases your UI theme. This is pure, unapologetic gaming phone indulgence.
A chunky beast, this 238g smartphone is tall and weighty, sporting unmistakably gaming phone styling, with that rear-lighting complemented by glyphs drawn into its Gorilla Glass 3 back and aluminium frame. Meanwhile, the front is Gorilla Glass Victus, for some hardiness. That said, there's no IP-rated water or dust-proofing on this phone, so it isn't as hardy as most flagships today like the Samsung Galaxy S21 Ultra and OPPO Find X3 Pro.
What it lacks in water protection it makes up for with ports – there are two USB-C ports and a trusty headphone jack. That means you can charge it up whether holding it in portrait orientation (like a phone) or landscape (like a Nintendo Switch).
Screen: Punchy and smooth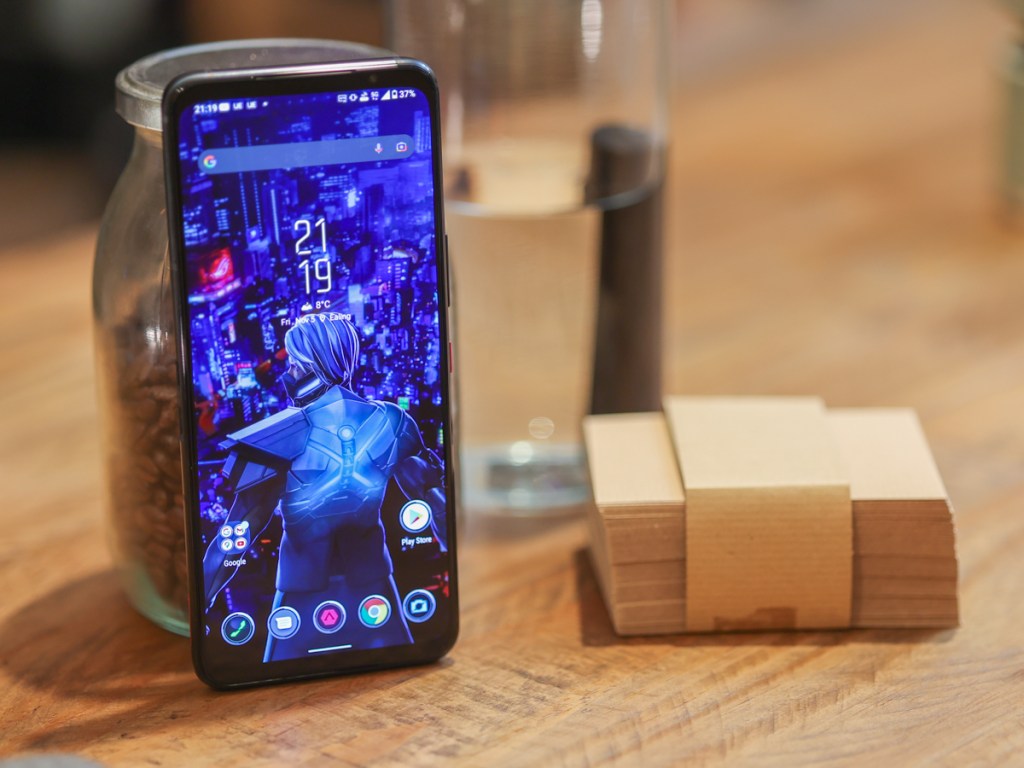 The striking 6.78in AMOLED display on the ROG Phone 5 and 5s series is stellar. Boasting HDR and impressive colour accuracy, it shows off everything from interface swipes to exploding enemies beautifully. Being AMOLED, it's got stacks of punch and pop, matched with wonderfully inky blacks and support and always-on display support.
The ROG Phone 5s Pro benefits from a 144Hz refresh rate support, which supports select titles like Vainglory, and within the gaming hub – Armory Crate – it filters games that have high refresh rate support which is handy. The refresh rate is matched with a 360Hz touch sampling rate, which betters the ROG Phone 5's 300Hz rate. This makes it ideal for competitive online gaming, and with a peak manual brightness of 800 nits, while it isn't iPhone 13 Pro Max bright, it still beams with enough pizzazz to be visible in direct sunlight, and shines a bit brighter when in direct sunlight.
Camera: Good enough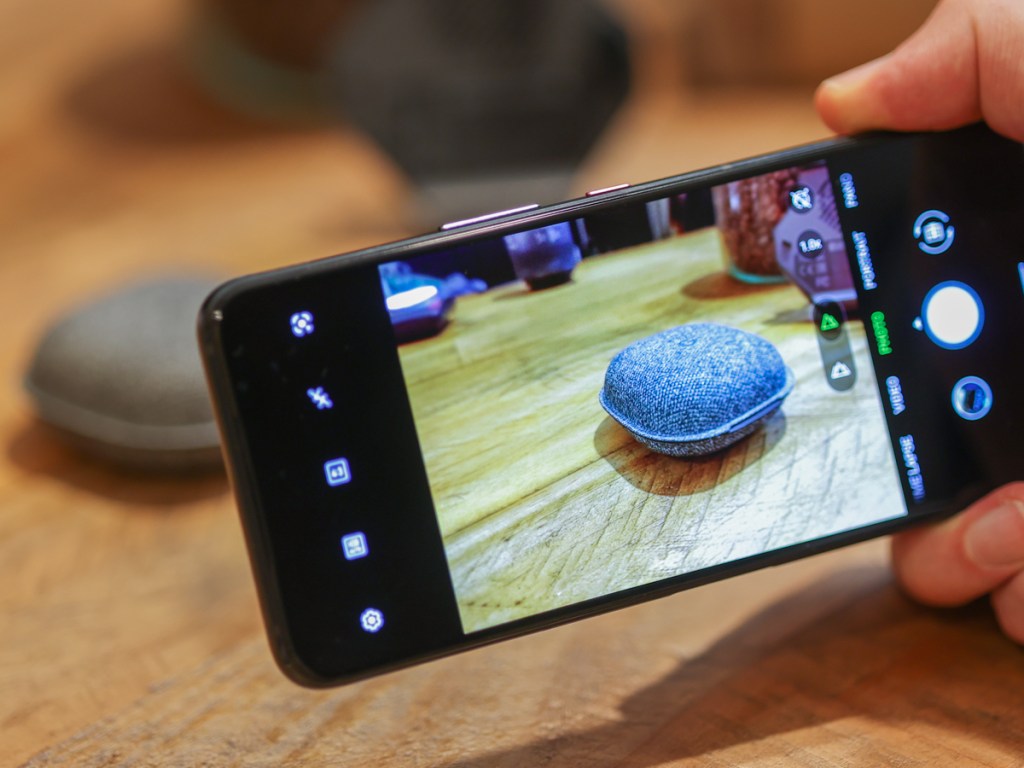 If you want imaging clout to match those garish glyphs and that glaring second screen, you're out of luck. The primary sensor on the ROG Phone 5s Pro is a pretty middle of the road 64MP option and it lacks any kind of OIS. While the main camera takes a great shot given its specs, and the low light performance is competitive – Asus clearly knows how to process out a photo – it definitely isn't an iPhone or Pixel-beater.
You also get a 13MP ultra-wide camera which is fine, and a 5MP macro lens which is less than fine. Add to the mix a 24MP selfie camera that can broadcast in HD – one of the phone's main imaging highlights, and Asus covers the basics and little more when it comes to photos and videos.
Performance: Asus smash!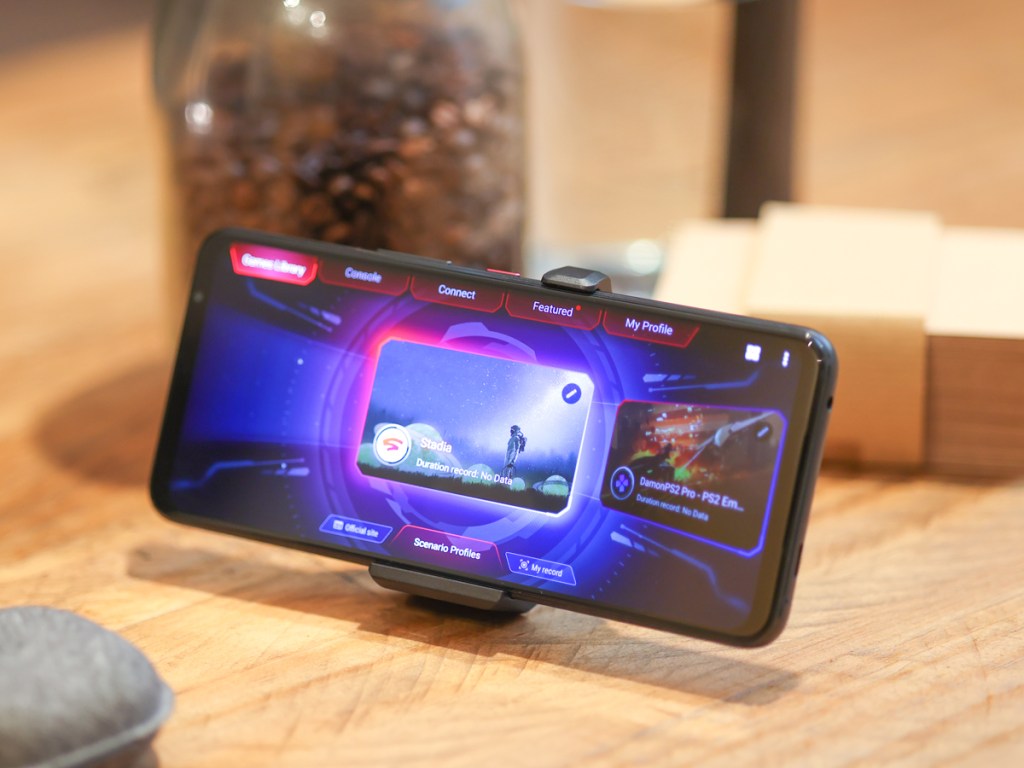 The ROG Phone 5s Pro is the first phone we've tested to feature Qualcomm's super-powered Snapdragon 888 Plus chipset, which is matched with 18GB of DDR5 RAM. This kind of grunt means if you can download the game, the ROG Phone 5s Pro will tear through it. While Geekbench benchmarks were good, but nothing we haven't seen before, it performed exceptionally on 3DMark, and most importantly, in real-world tests.
When playing even the most demanding Android titles like Genshin Impact at maximum frame rates, it played fast and smooth, while staying cooler than some of the hot competition, like the Xiaomi Mi 11 Ultra. Asus has also added a special X Mode which maxes out the CPU and GPU performance, to keep those frame rates sky-high.
In the box, you also get a clip-on fan, which works in tandem with the phone's multiple cooling methods (including an enlarged vapour chamber) to help keep it cool under pressure.
The phone's Armory Crate gaming hub also features an Advanced Mode which allows you to manually tweak the CPU & GPU performance, refresh rate and visual settings. This is also where you can control the rear display, access your games, accessories and more.
Asus' clever Esports Mode which was introduced in the ROG Phone 5 is back, and can be activated any time to block all notifications, while also disabling features that aren't permitted in mobile gaming tournaments, such as the phone's Air Triggers.
Bringing back Air Triggers, the 5s Pro enjoys a pair of 'ultrasonic' touch-sensitive shoulder buttons which can be mapped to perform any action when tapped or stroked. Not only are these Triggers perfectly responsive with zero latency, but they also offer haptic feedback when touched.
Better than the Air Triggers for serious gamers, Asus's 'Kunai' gamepad can be attached via a bumper for a Nintendo Switch-style experience. Matched with incredible key mapping, and we were living our best Pikatchu life in Pokemon UNITE, and navigating Trials of Mana with ease using the Kunai gamepad – and these are two games not optimised for gaming controller input.
Also worth noting, between its ear pounding stereo speakers and that headphone jack, the ROG Phone 5s Pro is a feast for audiophile's senses when compared to most phones. Thanks to Asus's Audio Wizard, you can also tweak the EQ and switch audio profiles.
Add to the mix 512GB storage, which is an appropriately over the top capacity for this terminator of a smartphone, and you'll have space for all your games, though there's no microSD card slot.
Battery life: Optimized 
The ROG Phone 5s Pro enjoys a massive 6000mAh battery, which is the same capacity as that found on the ROG Phone 5, but Asus has upped its behind the scenes power management processes, with our 5s Pro outlasting the original by a few hours, despite its overclocked processor.
You can eke more battery life out of it if you fire up Ultra Durable mode, and you can drain it faster with X Mode active, but in our experience, the default settings gave us impressive gaming with day-long battery life.
Thanks to its 65W 'Hyper Charge' tech, you can power up the phone's massive battery fully in around an hour. If you're okay with a partial charge, you can get 70 per cent with a 30-minute charge, and a quick 15-minute charge will take you to 50 per cent.
Verdict
Whether you get the ROG Phone 5 or the ROG Phone 5s Pro, you're getting the best gaming phone ecosystem in the Android camp.
Does Asus make the best gaming phone of them all? That's debatable. Apple's iPhones get iOS's gaming catalogue, which is more polished than that of Android, and there are gazillions of iPhone gaming accessories.
With Asus making quality gaming accessories for its phone – an excellent controller and a smart fan and kickstand, as well as loading the ROG Phone 5s Pro with nifty touch-sensitive buttons, it's definitely the one for out and proud gaming nerds. Factor in the levelled-up RGB lighting, a plethora of ports and mighty audio options, and nothing comes close.
Where the Asus ROG Phone 5s Pro drops the ball is its camera. Is it bad? Definitely not. Can you get more for less? Absolutely; not least of all in the Google Pixel camp.
So there you have it; if media playback and gaming is your thing, you consider yourself a gaming nut and you don't mind spending big to get the most extra phone on the block; buy the ROG Phone 5s Pro. If you want to save a bit of cash, you can get the bones of the device in the ROG Phone 5 or 5s vanilla versions. And if you're a more casual gamer, then you can opt for another phone, be it an iPhone or an Android alternative from the likes of Google, OnePlus, OPPO or Samsung.
Stuff Says…
Yes, the ROG Phone 5s Pro is a spec refresh in familiar hardware, but it's still the best gaming phone we've tested.
Good Stuff
Ultimate power
Responsive inputs
Striking screen
Mighty speakers
World-class accessories
Impressive battery
Bad Stuff
It's a beefcake
No wireless charging
Mediocre camera
Tech specs
| | |
| --- | --- |
| Screen | 6.78in, 1080 x 2448 AMOLED, 10-bit, 144Hz refresh rate, HDR10+ |
| CPU | Qualcomm Snapdragon 888 Plus |
| Memory | 18GB RAM |
| Camera | 64MP, f/1.8 primary, 13MP, f/2.4 ultra-wide, 5MP, f/2.0 macro, 24MP, f/2.5 front camera |
| Storage | 512GB on-board, no SD card slot |
| Operating System | Android 11, upgradeable to Android 12 |
| Battery | 6000mAh non-removable |
| Dimensions | 172.8 x 77.3 x 9.9 mm, 238g |