Asus ROG Ally review: one heroic handheld
Windows-powered portable majors on performance, but software holds it back (for now)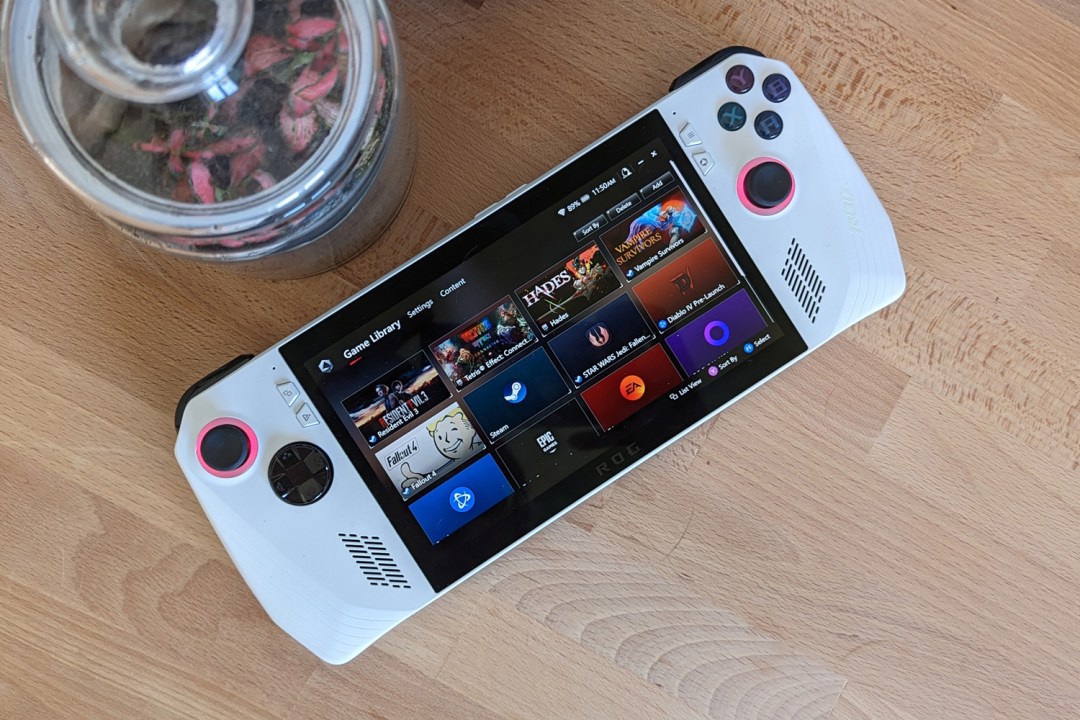 "Steam Deck rival" must be the 2023 tech world version of calling any nineties FPS a "Doom clone". Valve wasn't first with a handheld PC designed as a go-anywhere alternative to your games console, just as there were shooters before id Software's masterpiece – but both brought their respective concepts to the masses. To call the Asus ROG Ally a Deck rival would be an understatement.
This Windows-powered portable is considerably more potent than Valve's hardware, yet mostly stays whisper quiet. It has a higher resolution screen, with a variable refresh rate for smooth motion. It'll run any PC game you like, not just the ones that play nicely with Linux. And all for $50 more than a top-tier Steam Deck. The UK price difference is larger, but still close enough to raise an eyebrow if you were about to pull the trigger on Valve's handheld.
Superior hardware can't always make up for a ropey software experience, though – and Windows has never been easy to use on a small screen. Can the ROG Ally impress where others have failed, and fully step out of the Steam Deck's shadow?
Design & build: the white stuff
The Asus ROG Ally is an all-white Stormtrooper to the Steam Deck's Darth Vader. It's a distinctive look, especially once the RGB lighting around each thumbstick kicks in, although the colour scheme makes the black screen bezels that much more noticeable. A reflective strip on the back of the machine also glints like the shiny side of a CD when it catches the light.
With no touchpads to find room for it's slightly smaller than a Deck, and weighs a little less, but you barely notice when swapping between the two. Slimmer hand grips mean it's not quite as comfortable to hold, but the angular shape leaves plenty of room so your digits don't obscure the multiple air vents dotted around the front, top and rear. We could play for hours without our hands cramping up – a recurring problem with the Nintendo Switch.
There's a full contingent of inputs, including an eight-way D-pad that's easier to roll between directions than the Steam Deck's four-way one, ABXY face buttons, left right trigger/bumper combos, and a pair of configurable paddles at the rear. Four navigation keys act as Start and Select buttons, as well as shortcuts to Asus' Armoury Crate Command Center overlay menu and the Armoury Crate game library. Everything is within easy reach and the shoulder buttons are satisfyingly clicky, but were prone to sticking on our early review unit.
The funny looking port at the top of the unit is Asus' proprietary XGm connector, which lets you hook up an external graphics dock (a cool $2000 for one with Nvidia RTX 4090 power). It works like a regular USB-C port the rest of the time, with support for 65W fast charging. A microSD card slot alongside it lets you easily boost the 512GB of on-board SSD storage, and there's a 3.5mm headphone port for good measure. Volume and power keys also live at the top, with the latter doubling as a fingerprint sensor for skipping the Windows lock screen.
Screen & sound: High def hero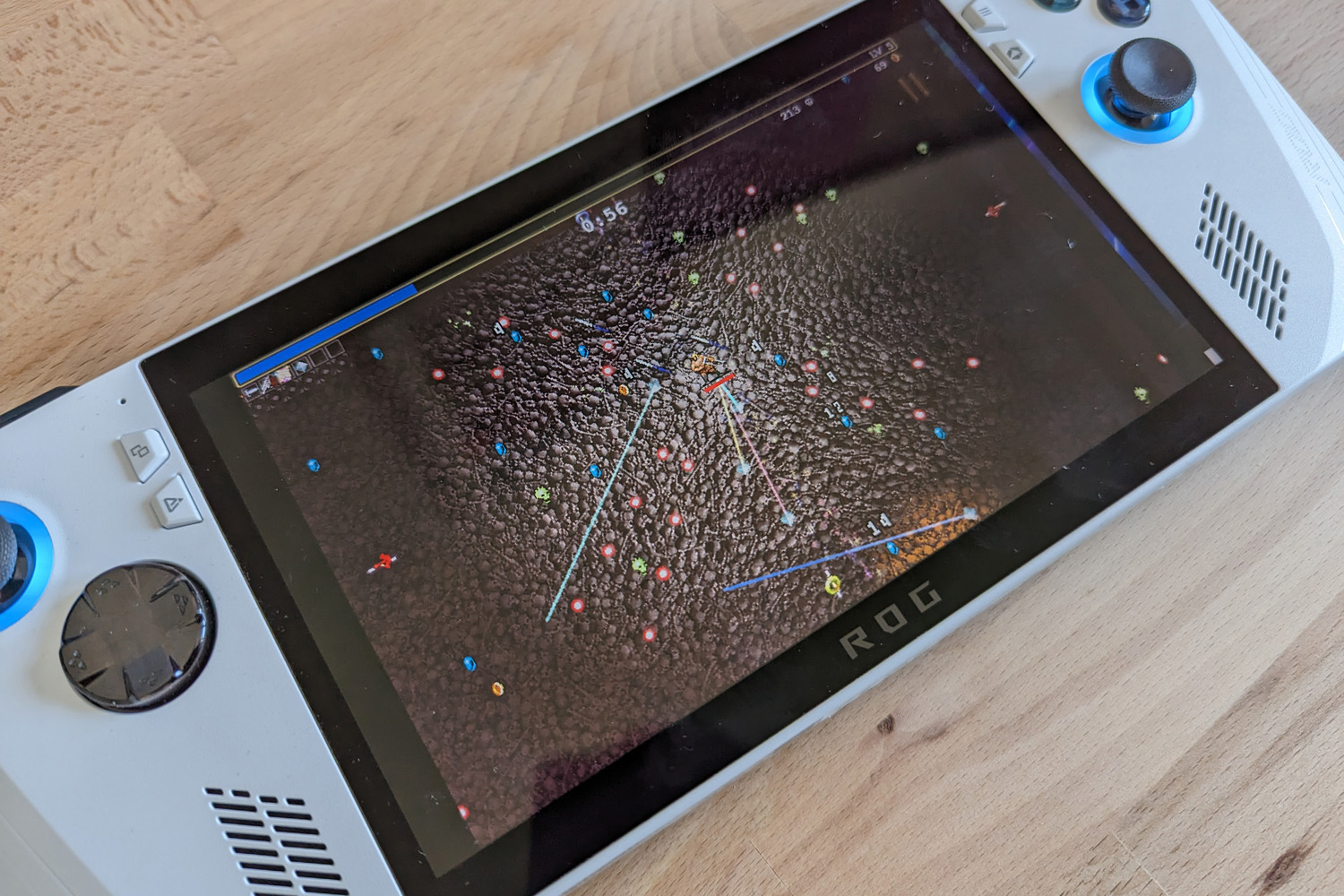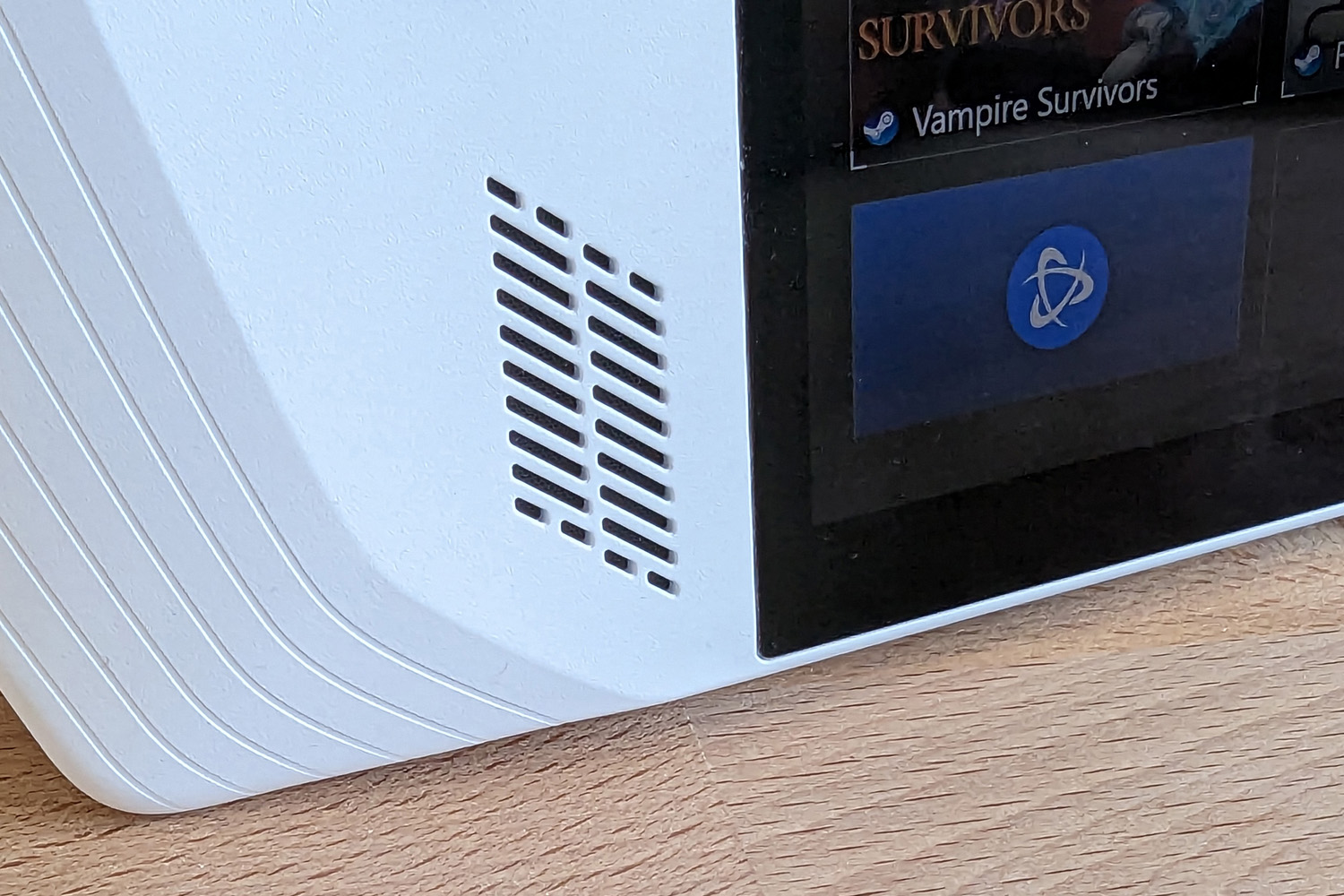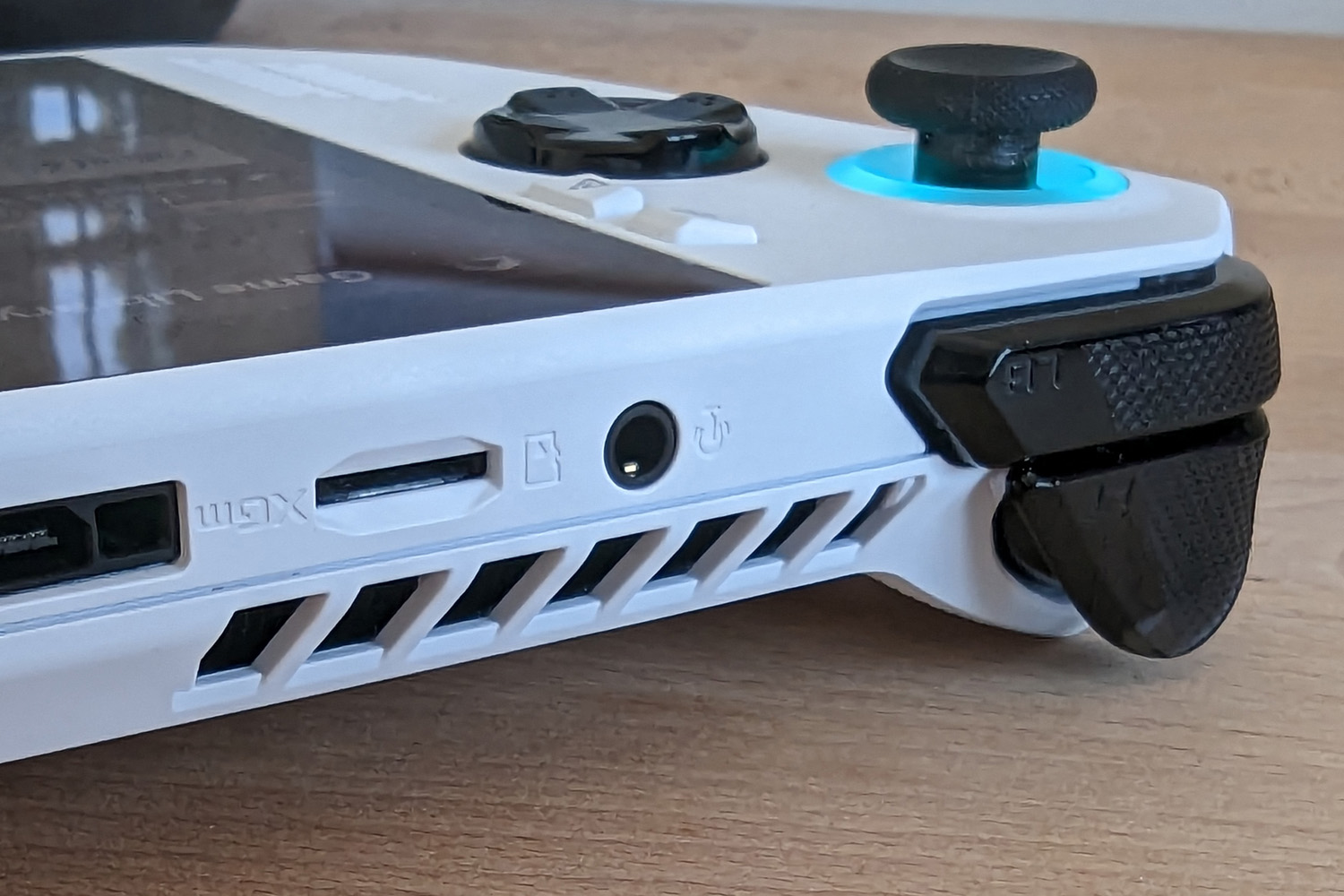 Display is one area the Asus ROG Ally comfortably spanks the Steam Deck. It's physically smaller, with a 16:9 aspect ratio to the Deck's 16:10, but has a higher Full HD resolution. Games that can look soft and fuzzy on Valve's handheld look crisp and detailed here. Even in games that require dropping down to 720p for better performance, the Ally is just plain easier on the eyes.
A faster 120Hz refresh rate makes motion feel a whole lot smoother, while AMD's FreeSync variable refresh tech means screen tearing and stuttering are practically non-existent – even on games that barely break 30fps. It's enough to tip certain demanding titles, which would otherwise be a no-go on a handheld, into playable territory.
The panel has a much wider colour gamut than the Deck's, with impressive accuracy that really helps give games more visual oomph. Viewing angles are consistently good, and brightness is also much higher than its close rival's. The highest settings come with a battery life penalty, but we were perfectly happy playing between 25 and 50% brightness, even in well-lit rooms.
The Atmos-approved stereo speakers are about as good as a mid-range laptop's, with a clear enough mid-range but no real bass presence. They get impressively loud, but max out the volume slider and the highs can sound a little harsh. This is partly down to the Dolby presets, which default to Game mode – swap to Dynamic or Music and the mix mellows out. It can't manage properly immersive spatial audio, but there's decent stereo separation in games.
Performance & battery life: get your game on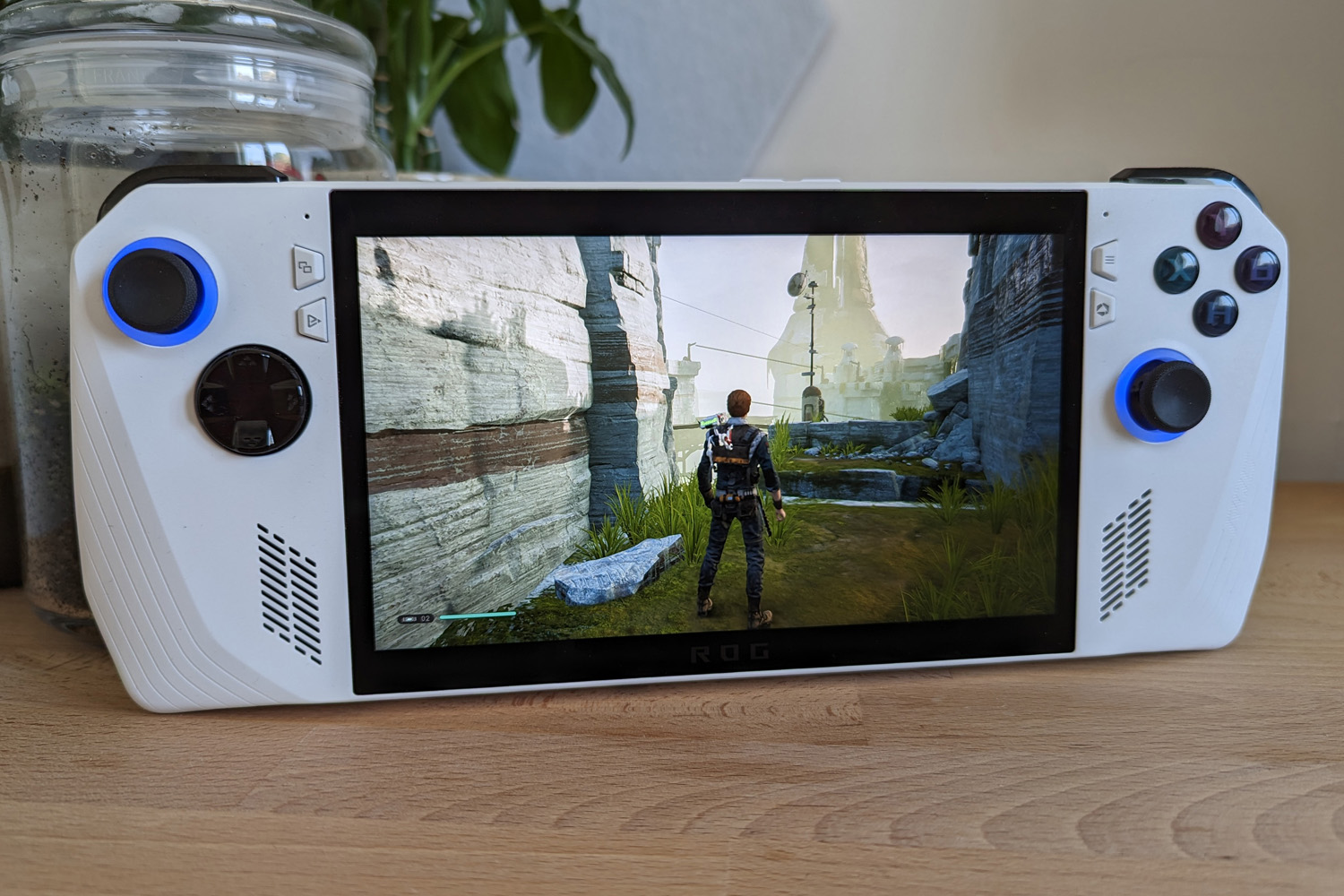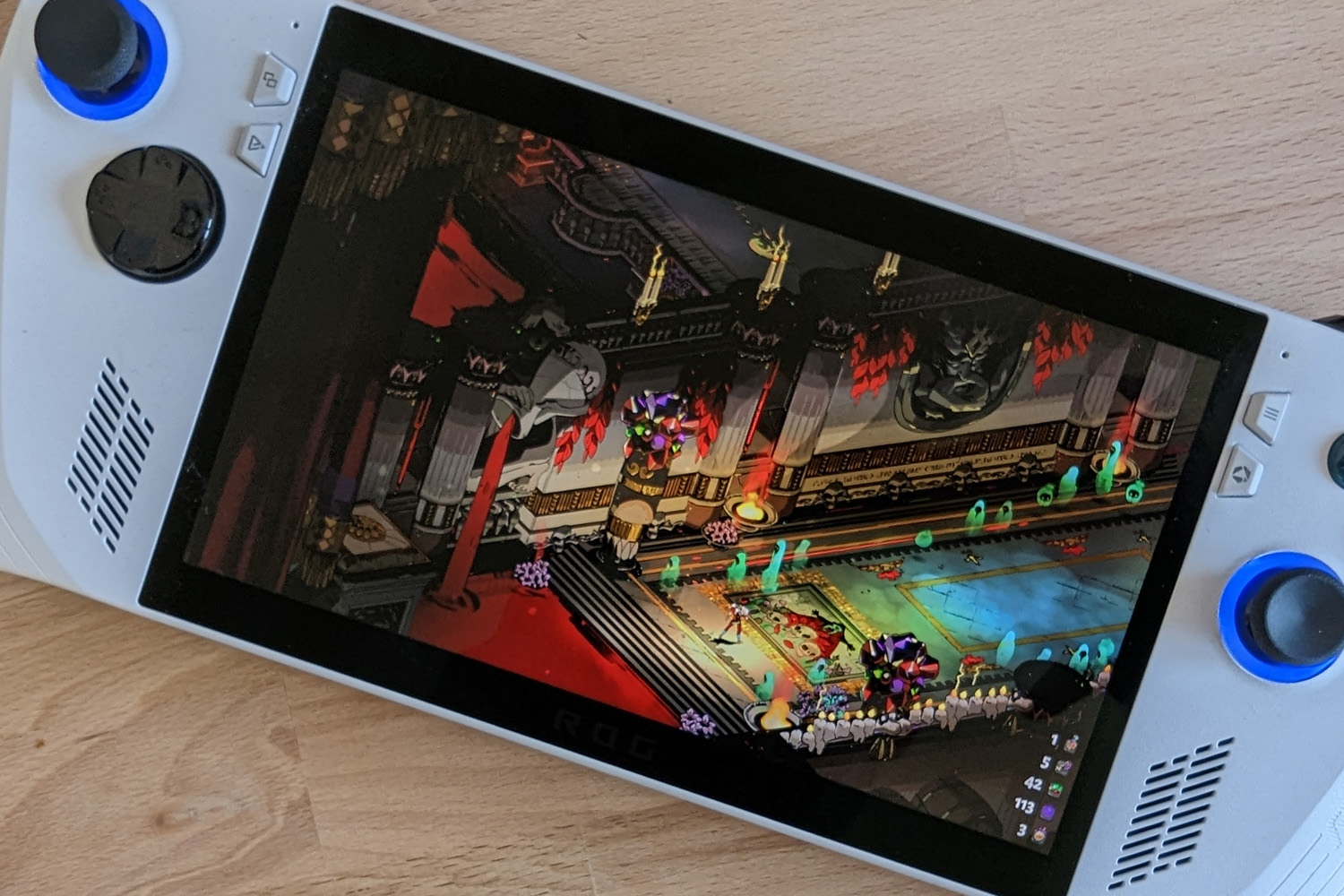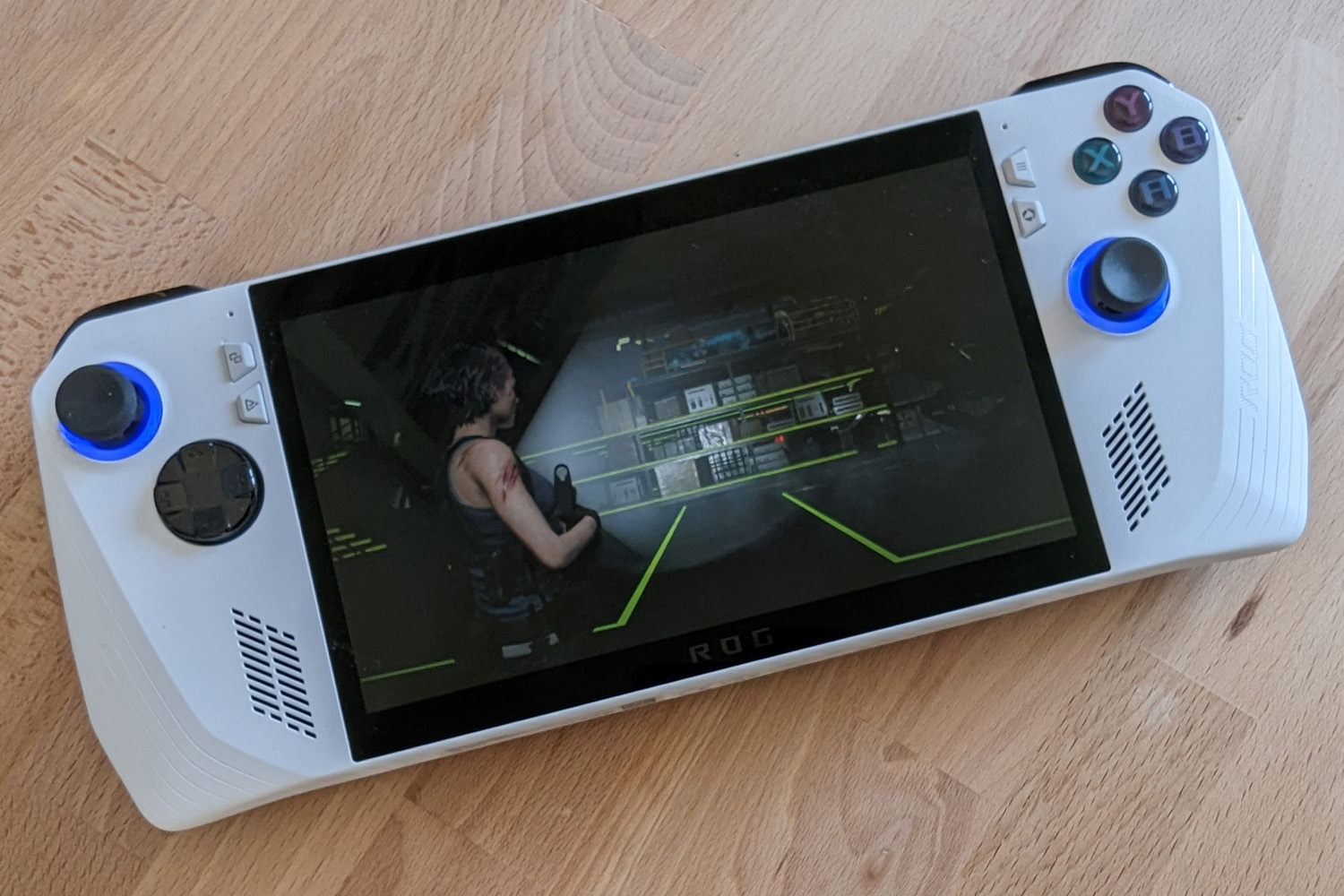 The Z1 Extreme chip powering the ROG Ally is a generational leap over the 'Aerith' CPU found in the Steam Deck. It uses eight of AMD's latest-gen Zen 4 cores, can boost up to a heady 5.1GHz, and is paired with potent RDNA3 graphics. Add in 16GB of DDR5 memory and a 512GB SSD, and you're looking at a handheld which (on paper, at least) should wipe the floor with its closest rival. But it's not that simple in practice.
The processor has to work harder to play at the Ally's native 1080p, whereas the Steam Deck maxes out at a less demanding 1200×800. The Ally must also restrict its power draw when running on batteries. In Shadow of the Tomb Raider at Medium settings, it managed 25fps to the Steam Deck's 41fps – but once we dropped to 720p it clawed back the lead with a 48fps result. It was a similar story in Cyberpunk 2077's graphics test using the Steam Deck graphics preset: the Ally scored 27fps at 1080p to the Steam Deck's 36fps at 1200×800, but climbed to 40fps with resolution set to 720p.
With the screen's variable refresh rate helping to smooth out gameplay, we could get most titles to play comfortably on battery power using a mix of detail settings and AMD's FSR resolution upscaling. And if you don't mind playing tethered to a plug socket, the Ally's Turbo mode brings significant gains: we saw anywhere between 10 and 40% improvements to frame rates depending on the game at 720p. This also meant performance at 1080p was either on par or better than what the Steam Deck could manage at 1200×800. And because the Ally is a Windows-powered machine, it will happily tackle desktop tasks as well as games. In synthetic tests it competes with Intel Core i5-powered mid-range laptops.
The downside to having extra power on tap is how quickly the Ally can drain its battery. We averaged between three and four hours of gameplay, even with all power settings set to their lowest and playing graphically tame titles like Vampire Survivors. We lasted the full length of a three hour flight playing the 2020 Resident Evil 3 remake, but had to use the Silent power preset and lower details to manage it. A Steam Deck can manage close to seven hours in certain games, and four or five in more demanding ones.
On the plus side, the Ally is much faster to charge. Its 65W power brick is far quicker than the Deck's 40W adaptor, meaning a 50% top-up takes less than an hour – even if you're playing games at the same time. Put the Ally down and it needs under 30 minutes for the same amount of juice.
Software & UI: Windows the weak link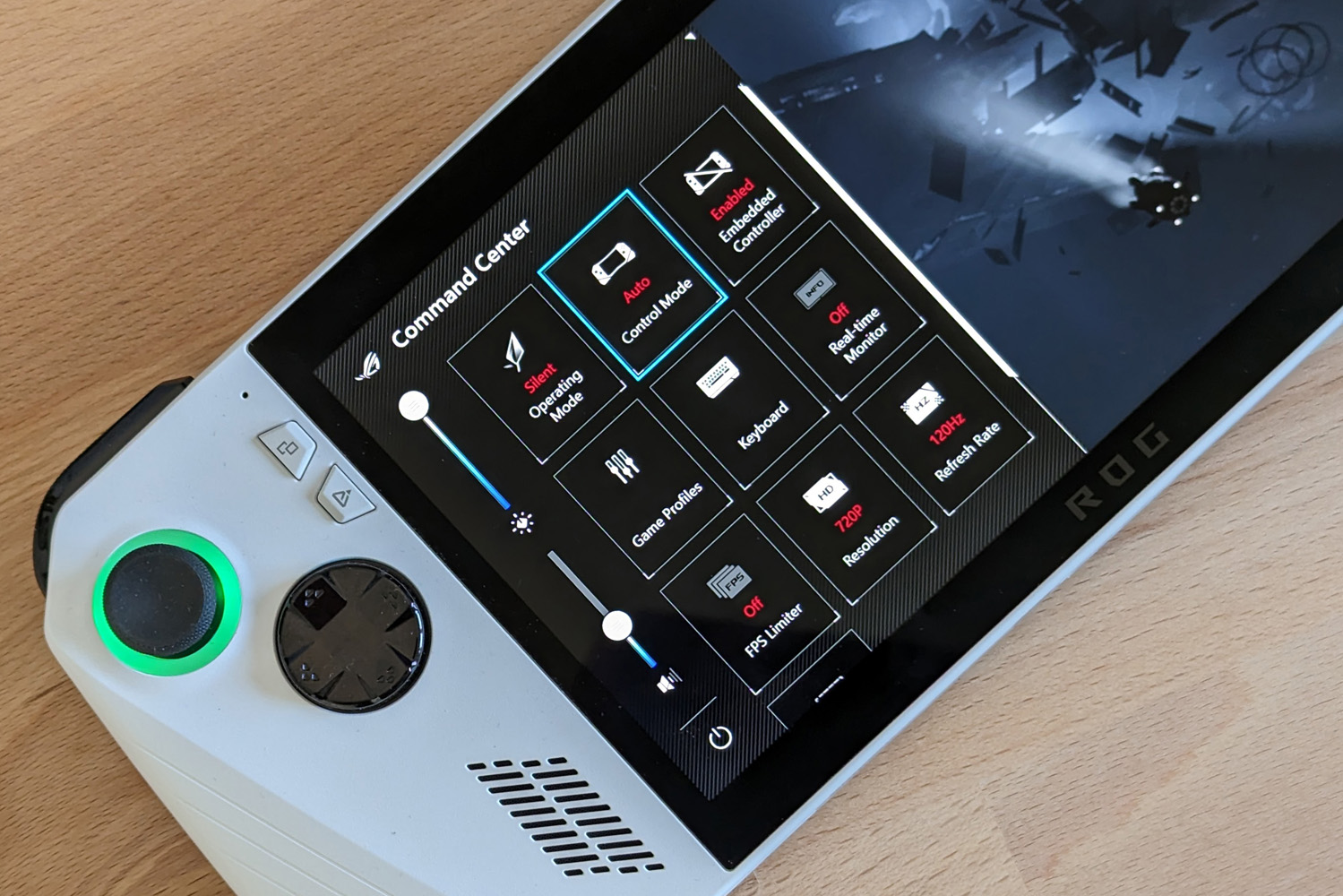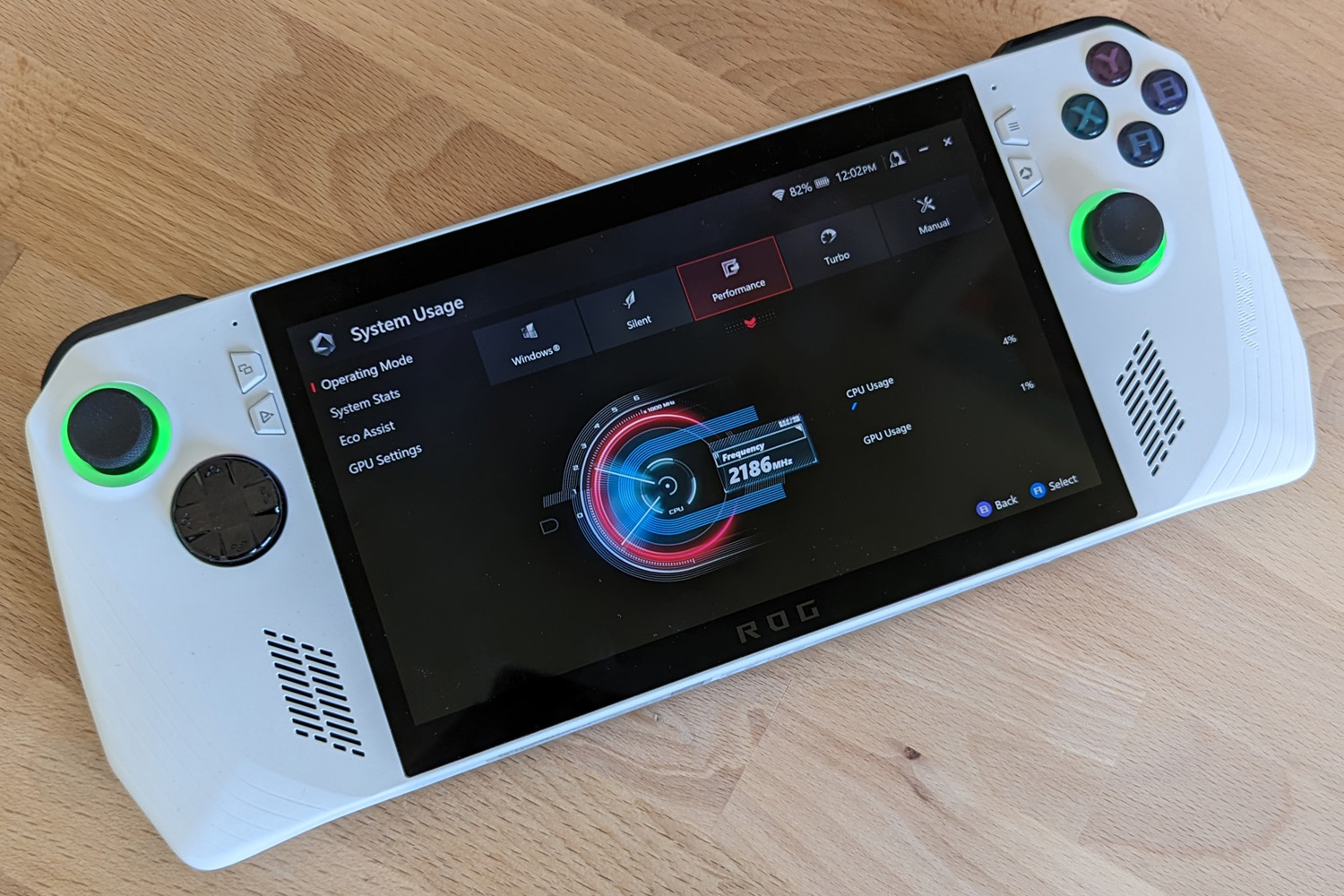 Gaming handhelds like the Ally that run Windows have their ups and downs. Owners that don't know their way around Linux will be happy they can use software they're familiar with, and games that insist on specific launchers or anti-cheat software will play without complaint. But the Steam Deck gets bespoke hardware drivers instead of generic ones, an operating system that's better optimised for gamepad controls, and a Verified programme that guarantees games will play perfectly.
Asus has worked hard to level the playing field with its Armoury Crate software, which launched automatically when powering the Ally on, but it feels very much like a work in progress, and can't fix all of Windows' foibles.
While it puts all your installed games in easy reach, their respective launchers don't always play nicely with the joysticks, forcing you to tap tiny touchscreen icons instead. Quick settings let you pick performance profiles, adjust inputs and remap buttons on the fly, but there's no gyro aiming, and joystick sensitivity customisation is minimal; out of the box, we found it just that bit too high for precision aiming in fast-paced shooters, meaning we regularly overshot our targets. We'd also like to dim the RGB lights even further than their minimum setting allows for night-time play.
Bugs were a little too common, although Asus released several software updates during our testing that ironed out the worst ones. Still, there would sometimes be a delay between changing control schemes and them being updated in our games. There's also no database of presets to choose from like with the Steam Deck. Armoury Crate's UI doesn't scale well when going higher than the Windows default of 150%, and the Windows keyboard didn't always appear when tapping on text boxes.
The Steam Deck was a bit of a mess at launch on the software front, though, so we're hopeful Asus can fix these remaining issues sharpish.
Asus ROG Ally verdict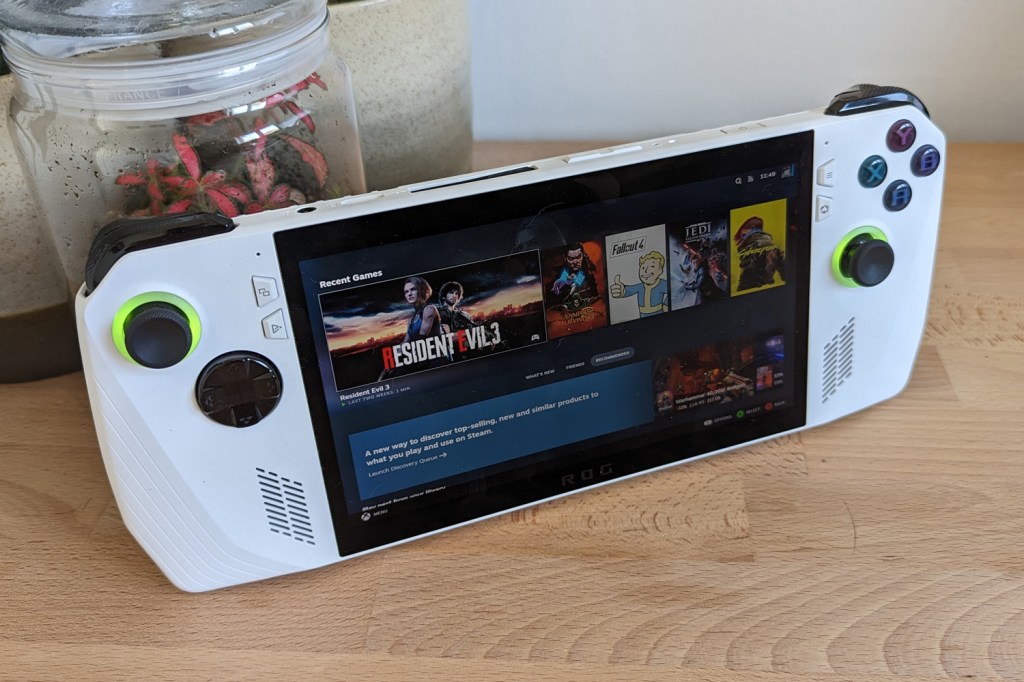 None of the other Windows-powered handhelds we've tried in the past felt as fit-for-purpose as the Asus ROG Ally. It has ample gaming performance, comfortable controls and a variable refresh rate display that makes all the difference to demanding titles. It doesn't cost a silly amount more than its closest competition, either.
That said, a Steam Deck has considerably better battery life, isn't that much slower using comparable graphics settings, and has much slicker software. Sure, you've got to tinker in order to play non-Steam games, but it's otherwise ideal for taking on the move. The Ally is at its best when plugged into mains power, and has further to go on the UI front.
Valve maintains its lead for now, then – but it's far from a one horse race.
Stuff Says…
Windows has a way to go on this new breed of gaming gadget, and battery life isn't stellar, but the ROG Ally is otherwise a high-powered handheld with a great screen and excellent ergonomics.
Good Stuff
Powerful yet quiet internals great for gaming
Crisp, variable refresh screen a delight
Ergonomic controls
Bad Stuff
Software has lots of room for improvement
Battery life isn't all that great
Needs more control customisation
Asus ROG Ally technical specifications
| | |
| --- | --- |
| Screen | 7in, 1920×1080 IPS LCD w/ 120Hz |
| CPU | AMD Ryzen Z1 octa-core |
| Memory | 16GB LPDDR5 |
| Graphics | RDNA 3 integrated |
| Storage | 512GB SSD, microSD expansion |
| Operating system | Windows 11 |
| Battery | 40WHrs |
| Connectivity | USB-C, XGm, 3.5mm |
| Dimensions | 280x111x21~33mm, 608g |