Apple HomePod Mini review
Can Apple's petite smart speaker beat the Echo at its own game?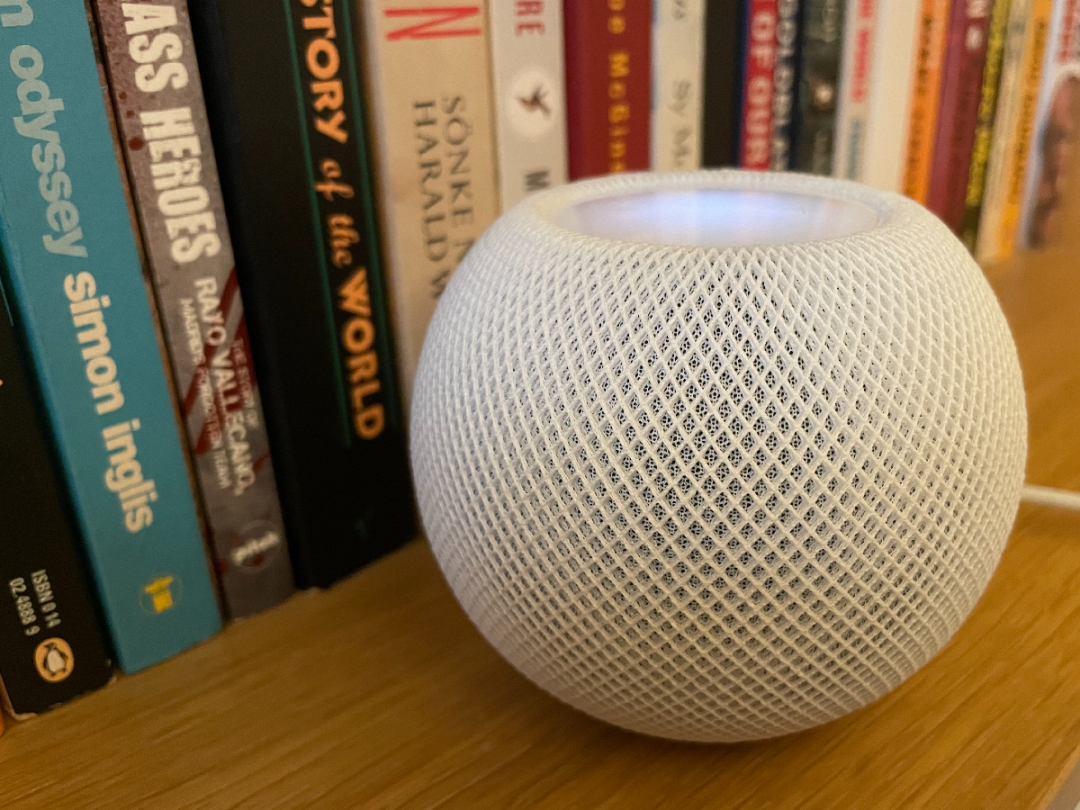 Which of the following Apple products do you think is the cheapest: a two-metre Thunderbolt 3 Pro cable, a set of wheels for a Mac Pro, or the new HomePod Mini?
If you said either of the first two, prepare to be both amazed at how much it's possible to pay for four chunks of spherical stainless steel (hint: you can get seven HomePod Minis for the price of one set) and pleasantly surprised by how affordable Apple's tiny new smart speaker is.
Its £99 price tag is even more surprising when you consider how expensive the – admittedly excellent – original HomePod was. But the Mini is an altogether different proposition, despite being almost identical in operation. That asking price puts it in direct competition with the Amazon Echo and Google's Nest Audio and makes owning more than one a realistic option.
But has Apple made it more welcoming to Android phones and other third-parties? And is it better value for money than a £129 Thunderbolt cable?
Design: Seriously compact
However big the HomePod Mini is in your head, shrink it a bit because this thing is seriously compact – just 3.3in from top to bottom and 3.9in across the middle. You've almost certainly eaten bigger ice creams. Or is that just us?
It's more rounded than the original HomePod, but there's no doubt they're related. It wears the same fabric coat (available in space grey or white) and has an almost identical touch-sensitive disc on top, which illuminates with an ethereal glimmer when it's playing music or Siri's listening. There's no visual indicator of how loud the volume is set though, so you have to be careful when interacting with the HomePod Mini late at night or early in the morning.
The Mini is lighter than a can of soup at 345g, yet still feels robust. Its USB-C power cable is hardwired and there's no 3.5mm socket, physical mute button or any other ports – what you see is what you get. It's certainly a bit more sci-fi than the Echo, but feels friendly enough to fit into most rooms.
While a relatively recent iPhone, iPad or iPod Touch (remember those?) is required to set it up, getting the HomePod Mini up and running really is a masterclass in simplicity. Plug it in, hold your iThing nearby to transfer the Wi-Fi details, and with a few taps it's all done. The process really does put most other tech companies to shame.
Features: A kind of magic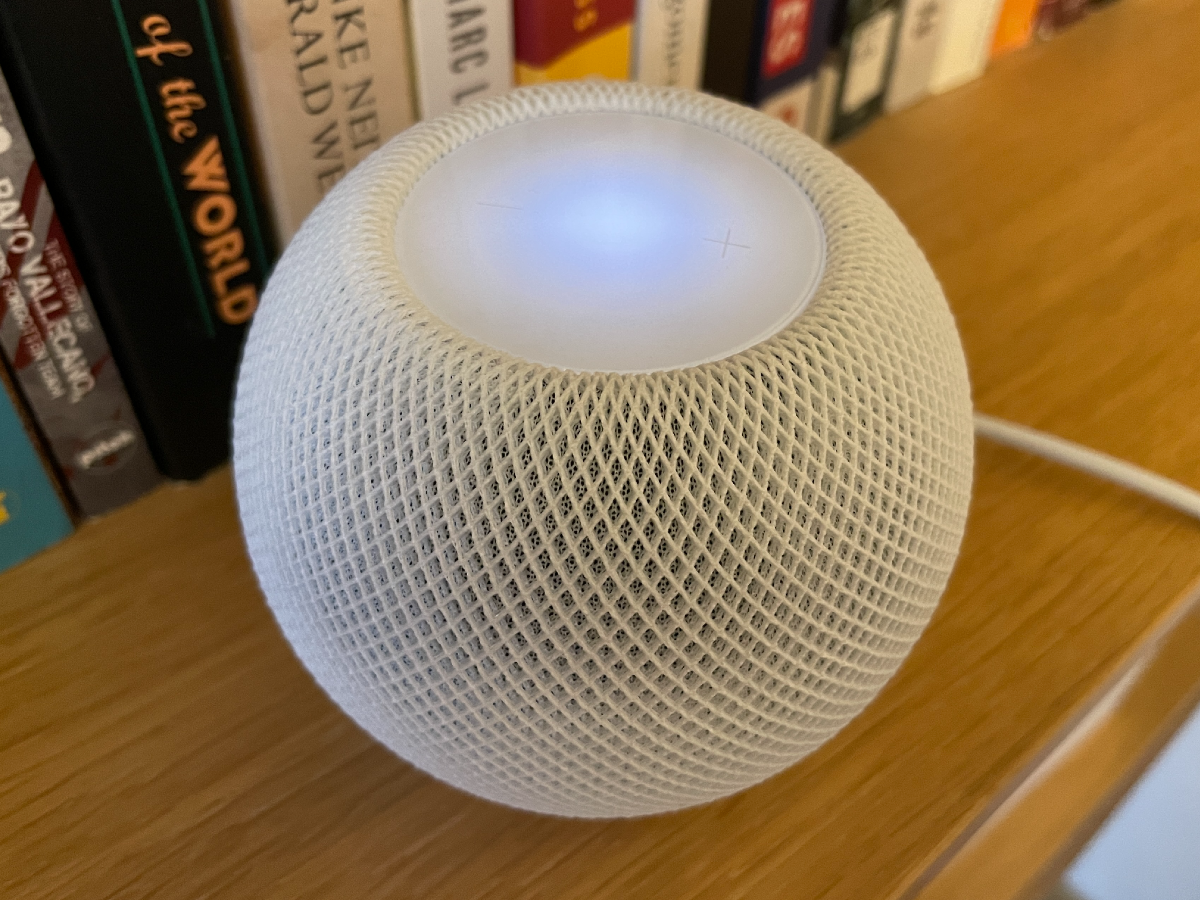 With Siri onboard, the HomePod Mini can do all the usual smart speaker stuff – set timers, check the weather forecast, add events to your calendar – but it also works as a HomeKit Hub to give you control over products from the likes of Philips Hue, Nanoleaf, Lifx, Netatmo, Eve, Tado, and Belkin.
It's simple to set up new gear but you don't get quite as much choice compared to Alexa or Google Home, although that might not be the case for much longer. Apple has made the HomePod Mini compatible with Thread – a relatively new smart home standard developed in conjunction with Amazon, Google and the Zigbee Alliance, with Ikea, Samsung and others onboard too. While it doesn't mean much right now, it's a step in the right direction for a more open smart home landscape in the future.
In the meantime, the HomePod Mini does have a couple of cool new features that set it apart from the competition. Ask Siri for anything image-based and the results from Bing will pop up on your phone's screen instead. It's a neat trick, although one that seems to have limited real-world use, and while it works pretty flawlessly, the on-screen execution lacks a little of the usual Apple finesse.
Even better is the ability to transfer songs between your phone and the HomePod Mini just by holding them close together, so you don't have to miss a beat when you leave the house for your morning jog. You'll need an iPhone 11 or newer for this to work as it uses the U1 chip inside, but it feels a bit like magic every time you do it. That may well wear off over time, but it's a decent substitute for the kind of flexibility of playback offered by Spotify Connect that would otherwise be absent.
Apple has also added an Intercom function, which allows you to send short voice messages to other Apple devices inside and outside your home, although it only seems to work on HomePods at the moment. It could potentially come in handy if you're a family of Apple fans, although it's got a tough job if it thinks it can usurp the trusty WhatsApp group.
Performance: No shrinking violet
The original HomePod felt like a hi-fi product first and a smart speaker second, and while you can't really say that about the Mini you certainly don't have to make do with second-rate sound quality.
The HomePod Mini has a single full-range driver that fires the sound downwards through a 360-degree waveguide at the bottom, with a couple of passive radiators to help, but you'd be forgiven for thinking there was much more going on inside its diminutive frame. It produces a far more rounded and well-balanced sound than you'd expect from something the size of an orange. Even ramshackle, energetic punk, which can often end up sounding a bit like musical soup, is reproduced well.
The HomePod Mini inevitably falls a little short on sheer room-filling power, but goes anti-socially loud without any complaints (unless you include those from the neighbours). Creating a stereo pair from two of them is enough to rectify most issues regarding sonic heft – and doing so only takes a few taps in the Home app. The wider soundstage and extra clarity you get from doubling up makes a pair of HomePod Minis a viable everyday option for all but the most demanding musical snob – and they probably wouldn't be caught dead using Apple Music anyway.
That's right, you'll still need an Apple Music subscription to get the most out of a HomePod Mini. There's an AirPlay-based workaround that allows you to use Spotify or another streaming service of your choice, but that rules out voice control and generally feels a bit disjointed. The good news is that third-party support is on the way, although only Amazon Music is confirmed so far. Until then, owning a HomePod Mini is largely pointless without an Apple Music subscription to go with it.
Even with music playing the Mini's four microphones mean Siri is keen to respond and there's no real need to speak more deliberately or raise your voice. Unusual or foreign words can cause problems but that's a general issue with voice assistants rather than being specific to Siri.
The display on top isn't always easy to see from across a room, but if you've got music playing the volume will lower so you can be sure she's listening. The HomePod also adds an effect that's reminiscent of hearing music from outside a building, which is just one of those small details that makes it so nice to use.
Apple HomePod Mini verdict
In terms of price and performance the HomePod Mini is a direct rival for Amazon's five-star Echo, but in size it's more comparable to the smaller Dot. So why is it harder to recommend?
From a musical point of view it comfortably outperforms expectations, offering a more balanced sound than something of this size would usually manage, but for now it still makes too many demands about where it gets its tunes from.
Smart home skills still lag behind the competition a little too, and while Siri's conversation skills are good, it can still sound a touch mechanical at times.
Apple fans won't mind those limitations much and there's still a lot to love here, but for now the HomePod Mini falls just short of greatness. We'd still take one over that Thunderbolt cable though.
Stuff Says…
This shrunken smart speaker is a sonic success – but old issues still remain for now
Good Stuff
Sounds great
Neat proximity features
Siri responds well
Bad Stuff
Basically requires Apple Music
Won't work with Android
Smart home skills slightly limited