Amazon Fire HD 8 (2020) review
Stoking the Fire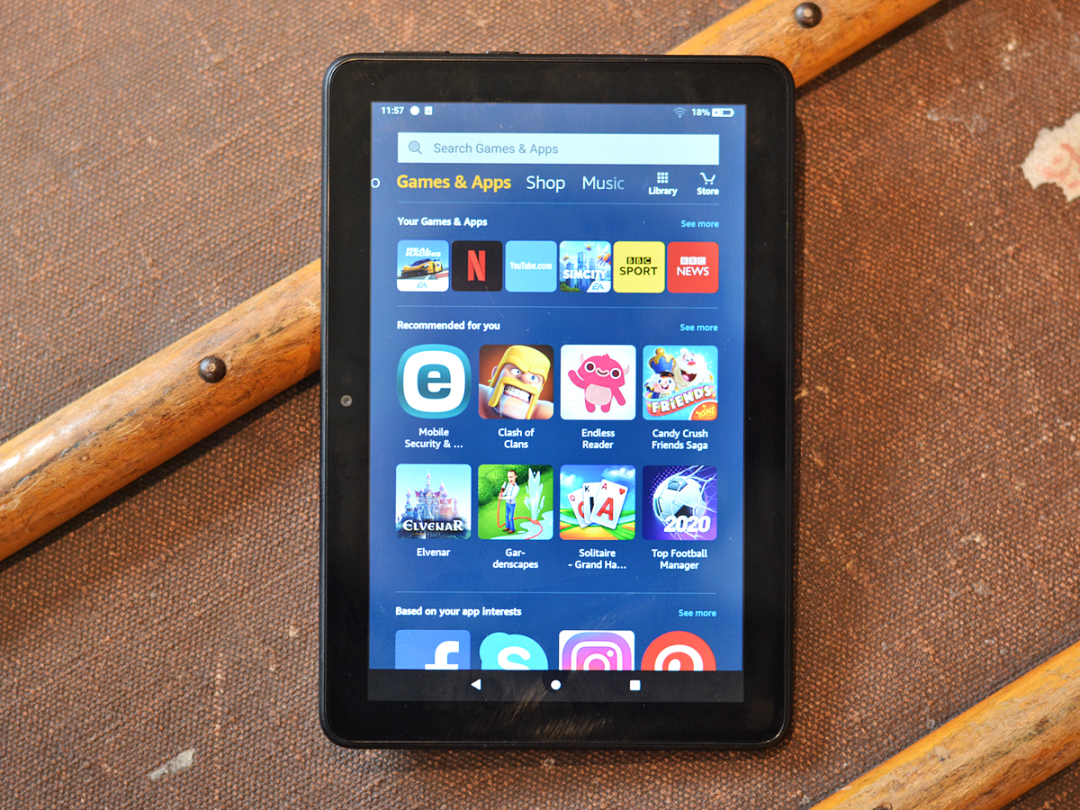 Imagine if Amazon made cars. Every few years, the e-commerce kingpin would upgrade its budget runaround with a slightly larger petrol tank, a bit more horsepower and twice as many seats. It would probably be called the All-New Ignite. And it would definitely be the best cheap car around.
So it is with the Fire HD 8. Last refreshed in 2018, the latest iteration of Amazon's 8-inch tablet is very much evolution over revolution. Its specs still won't set your world alight, its screen is still average and it's still entirely tied-in to the Amazon ecosystem.
Yet the updated slate also packs just enough new elements to maintain its status as the best tablet you can buy for less than £100. It goes faster, lasts longer and packs twice as much storage than the previous generation. It also ships with a slightly revised shell, a USB-C port and camera that's better-placed for video chat. Provided you're a Prime subscriber, it's a bona fide bargain.
But what if you already own the older Fire HD 8? With limited improvements and no Charging Dock support, is the 'all-new' Fire quite new enough to justify upgrading your Amazon slate? The answer lies below.
Design & build: no surprises
Unless you're a seasoned eBay hawk, you won't find a device of iPad standards for less than £100. That's never been the case with Amazon's tablets and the latest Fire HD 8 is no exception. Forget smooth aluminium and slim bezels: plastic backs and black borders remain the order of the day.
The new one has better proportions, mind. It's 12mm shorter and 9mm wider than the 2018 edition and, while it's still a fairly generic mid-size slate, a uniform frame around the 8-inch display gives it a cleaner, neater look. At 355g, it's also perfectly portable.
No-one will accuse the plastic shell of feeling premium, but it is both smooth and solid. There's very little flex in the frame and, besides a bit of play in the power button, the build quality is reassuringly sound for such an affordable device – though the Kid-Proof Case is still an advisable accessory for ham-fisted handlers.
Up top, Amazon's slightly tweaked the inputs since 2018. The power button and headphone port have now switched spots – a subtle adjustment that makes the controls easier to reach in landscape mode. But things are perplexing to poke in portrait: for a reason known only to the Fire HD 8's designers, the volume rocker reverses its roles when you change the tablet's orientation. Up becomes down, down becomes up and the user becomes confounded. Hopefully an option to disable this will be introduced in a future update.
Picture & sound: more of the same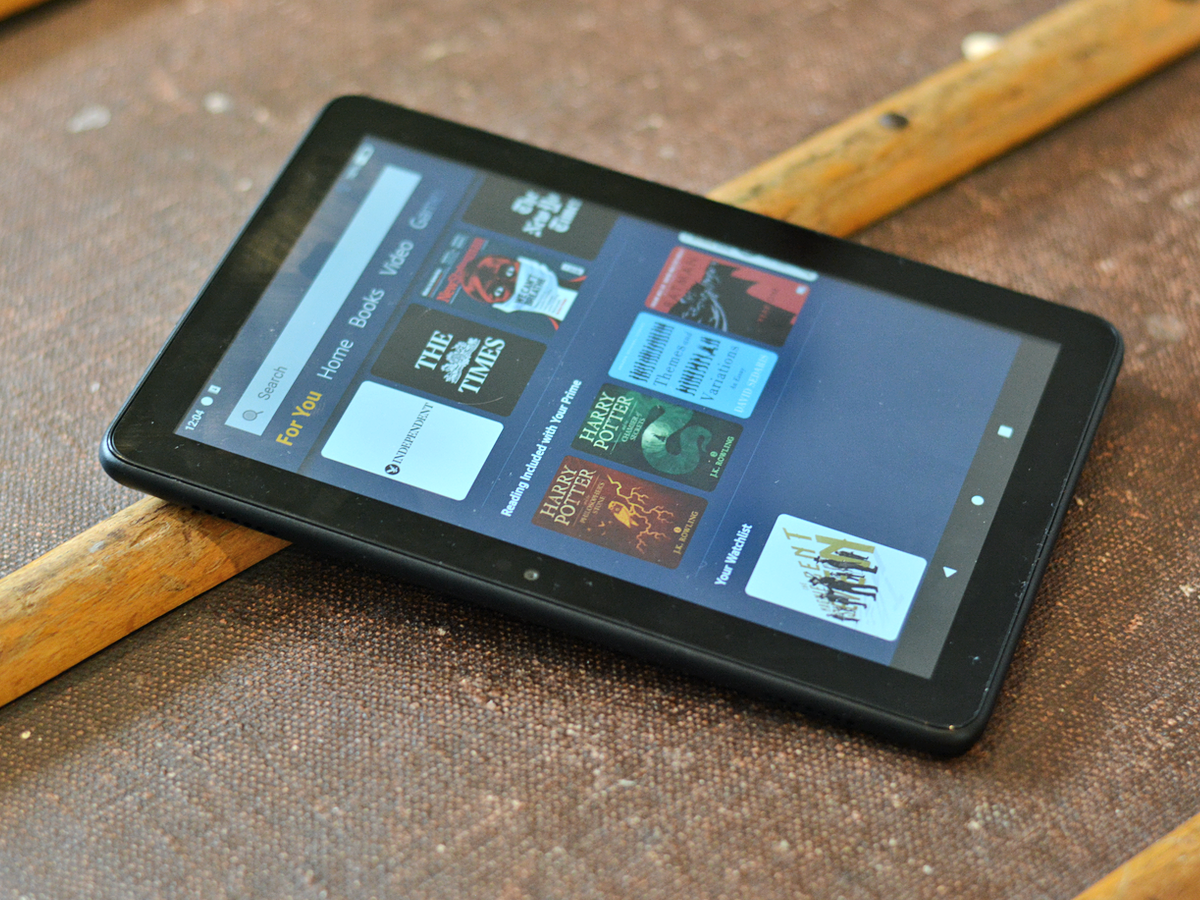 Like whisky without a barrel, two years have yielded no change in the flavour of the Fire HD 8's display: it's still an LCD panel, still has a 1200 x 800 resolution and, as the name suggests, still measures 8 inches diagonally.
All of which adds up to a distinctly average viewing experience. Brightness is decent indoors, but the reflective panel limits outdoor visibility. Pixelation is also noticeable when playing games, while videos and home icons suffer from a significant lack of clarity. Only when reading text are these rough edges a little less evident.
Given its entertainment bent and the solid quality of its stereo speakers – and the fact that most smartphones now pack far more pixels per inch – this seems like a missed opportunity. Even an increase to 1920 x 1080 would've boosted the media chops of the Fire HD 8 and helped distinguish the new edition from its predecessor.
It's a similar story with the lenses front and back. Both cameras stick with the same 2MP resolutions as before, offering mediocre image quality that won't do anything to upset the superior snapper likely found on your smartphone.
The front-facing lens has improved in one regard, though: it now sits in the middle of the top bezel in landscape mode, which is better suited to video calling. The centred position makes it easier to squeeze groups into the picture and avoids the sideways gaze associated with offset lenses. And disinterested relatives.
Performance & battery: medium heat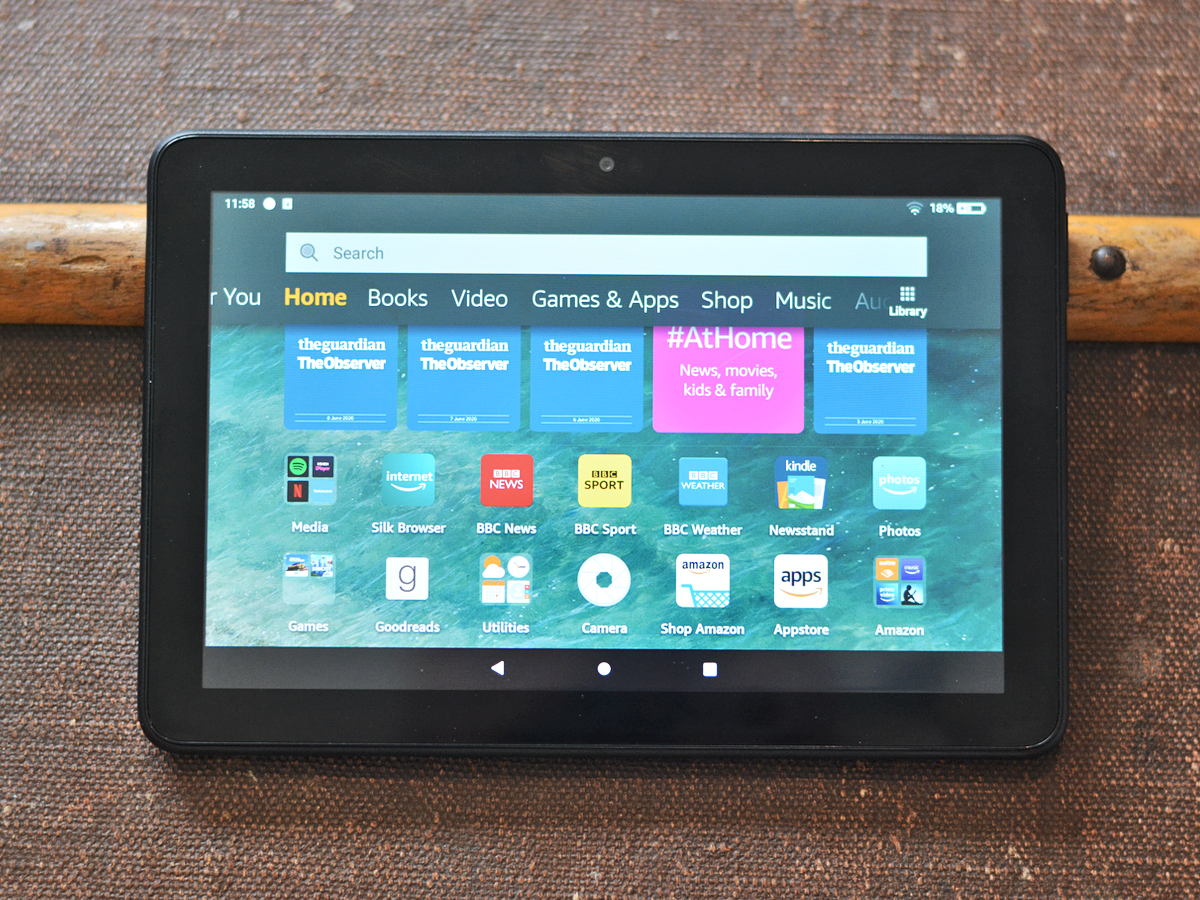 Check the spec sheet of the new Fire HD 8 and the eagle-eyed will notice two key tweaks. The processor is now a 2GHz chip, while RAM has been boosted to 2GB. Does this make the slate a smooth operator? Not exactly.
While it's perfectly usable, the budget tablet remains more pedestrian than powerhouse. There's noticeable lag when unlocking, launching apps, swiping across home screens, switching browser tabs and enabling Show Mode. Lighter tasks don't cause too much trouble, but even with the new Game Mode enabled – disabling Alexa and optimising performance – certain graphics-heavy games caused it to stumble.
Is it fair to criticise middling performance at this price? That depends on your expectations – and if you're only planning to deploy the Fire HD 8 for streaming duties, you shouldn't encounter too many stutters.
Battery life has also been bolstered, with a claimed 12 hours now possible from a single charge, versus the 10-hour endurance of the previous model. It's not clear under which conditions Amazon calculated this nominal figure, but the number is certainly achievable if you stick to lightweight activities – think reading, listening to music and watching downloaded videos.
The cell will naturally drain more rapidly if you fire up a game or stream HD videos, but longevity is otherwise pretty consistent. It's economical on standby, too: if you only pick up the slate a few times a day – to read the morning paper, check the weather, watch a few videos over lunch – you'll find the Fire HD 8 can easily last several days without needing a recharge.
When it does, the new USB-C port means it'll refill that little bit quicker. Amazon reckons it takes an hour less than the 2018 model to fully charge – not pivotal if you plug in overnight, but useful if you're a last-minute booster.
Software & interface: Prime time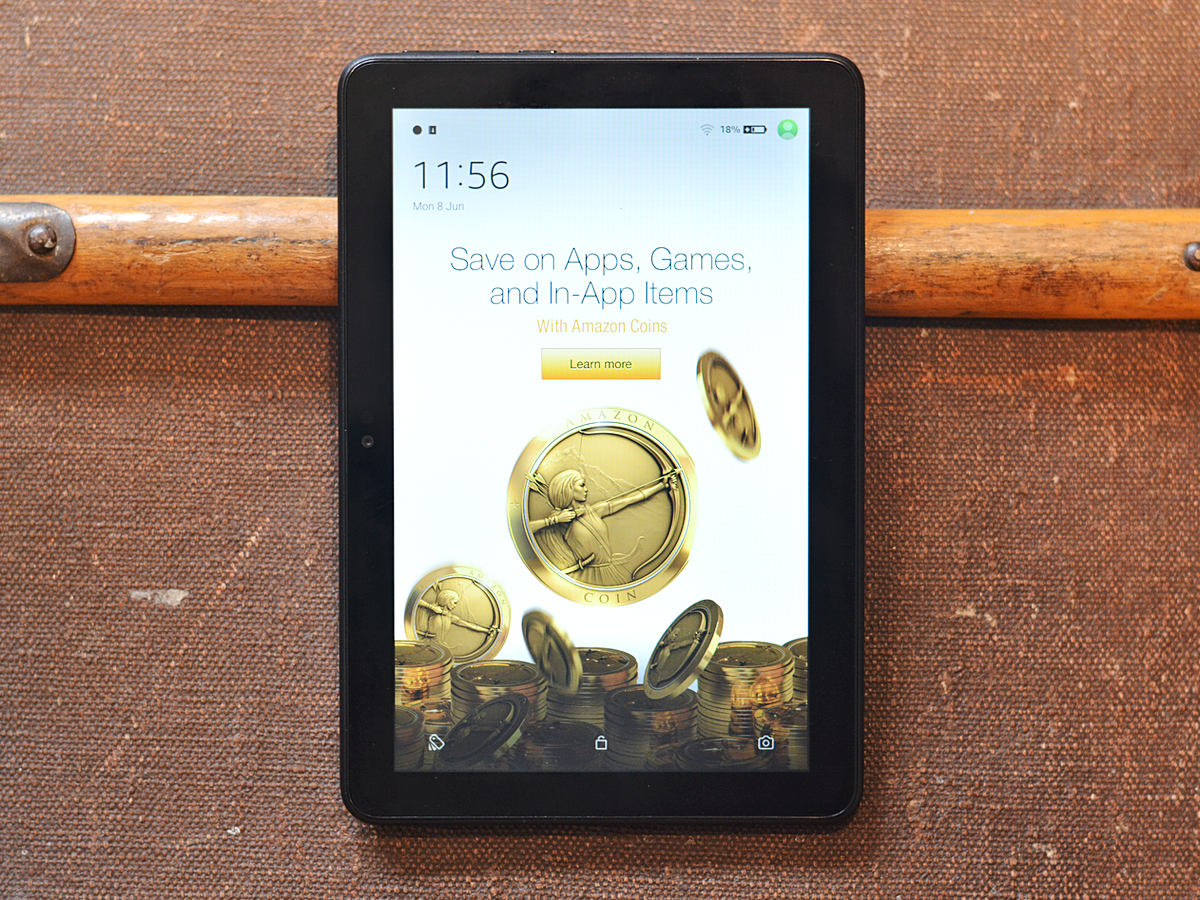 Prime. Audible. Goodreads. Like an Apprentice candidate after several espressos, Amazon tries to sell subscriptions from the moment you hit the power button – or at least tempt you with free trials. It's an initiation that reflects the entire FireOS experience: a heavily skinned Android derivative with little room for customisation, the software feels like an extension of the Amazon website – particularly if you haven't paid the extra £10 to remove its offers from the lock screen.
Home screens are divided by media category – think Books, Video, Music – and each is occupied almost exclusively by Amazon content. The more you use the tablet, the more its recommendations will start to reflect your preferences, but finding content sometimes requires some delving – especially as the search bar isn't the most intuitive way to filter results.
Fancy poking your head out of the Amazon bubble? You'll find the Appstore strangely restrictive. From Spotify to Netflix to iPlayer, most of the major streaming services are there, but several mainstream apps and games are absent that you'd expect to find on a standard Android tablet. You can't, for example, get the official YouTube app, WWE Network or, ironically, Monopoly. Some of the gaps have been partially filled, but only by a mixed bag of third-party apps.
That said, if you are a Prime subscriber, the Fire HD 8 still makes a lot of sense. With twice as much storage as before (32GB or 64GB) as well as the option to expand it with a microSD card, there's even more capacity for offline Prime content. If you're happy with all-Amazon, all the time, then you'll never run out of things to buy, read and stream.
And you also get Alexa along for the ride. The voice assistant always has an ear out for requests and commands (including ones she overhears from the TV), while Show Mode puts her skills front and centre as a smart display. The snag? The optional Wireless Charging Dock is reserved for the more expensive HD 8 Plus, so if you want your standard edition to sub in for an Echo Show, you'll need to prop it up with a compatible case and manually change to Show Mode. It works, but it's much clumsier than dropping the tablet onto a dock.
Amazon Fire HD 8 (2020) verdict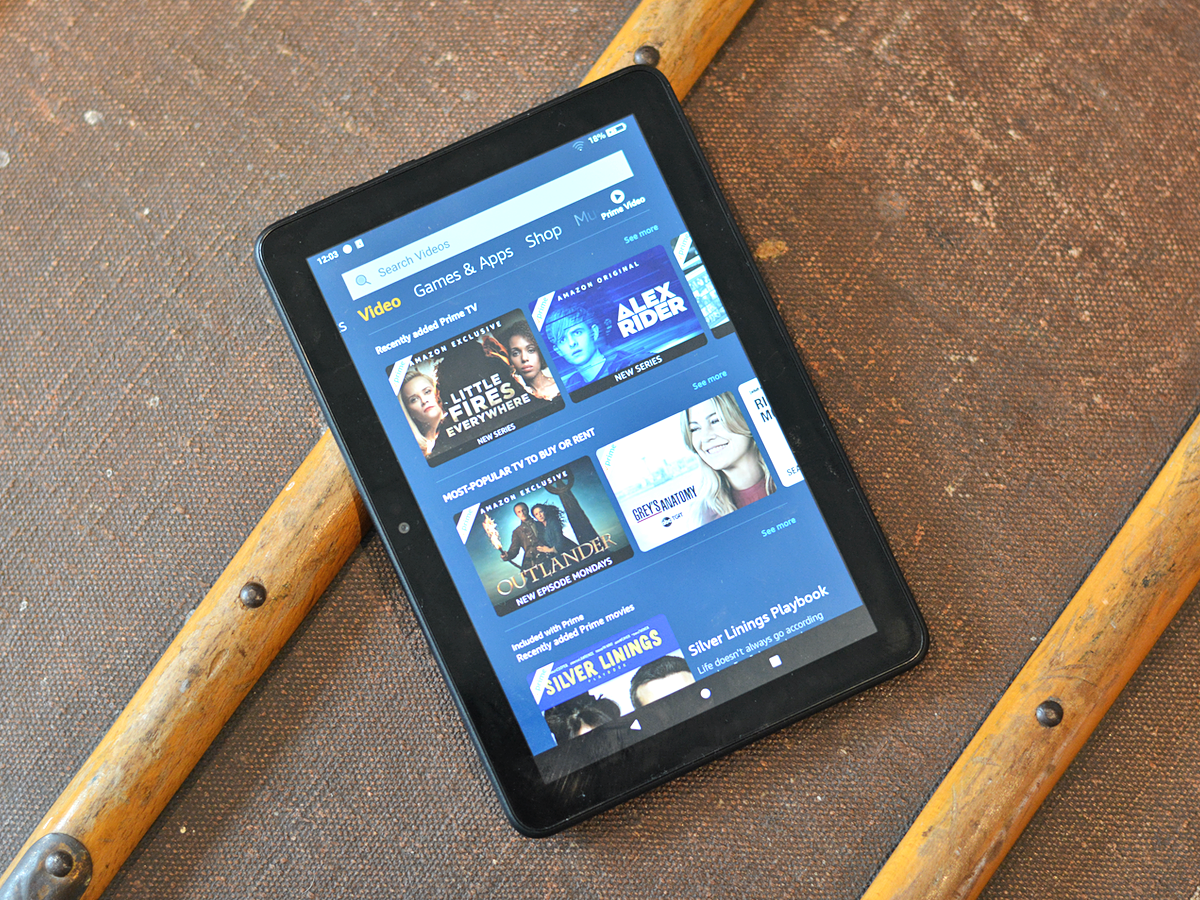 Make no mistake: the new Amazon Fire HD 8 is the best tablet you can buy for less than £100. It's capable enough to tackle everyday tasks, offering decent battery life, impressive speakers and reassuring build quality – all tied together by Alexa's assistance. But there are several caveats.
Screen quality is average, performance mediocre and there's no longer support for a Charging Dock, which means it can't meaningfully stand in for an Echo Show.
More fundamentally, it only makes sense if you're a Prime subscriber. Stump up £7.99 a month and you'll unlock a vast catalogue of content, transforming the tablet into an entertainment companion you can take anywhere. If you don't, you'll instead find the Fire a middling device with a restrictive Amazon skin and a limited selection of apps and games.
Should you buy it? If the previous Fire HD 8 already has a place in your satchel, you won't notice a huge difference. But if you're a Prime member in the market for a fresh slate, it's an unbeatable proposition at £90.
Tech specs
| | |
| --- | --- |
| Screen | 8-inch 1280 x 800 LCD |
| Processor | Quad-core 2.0GHz |
| RAM | 2GB |
| Storage | 32/64GB |
| Camera | 2MP rear camera + 2MP front camera |
| Dimensions | 202 x 137 x 9.7mm |
| Weight | 355g |
Stuff Says…
A limited update for Amazon's bargain slate, but it's still the best mid-size tablet you can get for less than £100 – provided you're a Prime subscriber
Good Stuff
Properly affordable
Solid battery life
Decent stereo speakers
Bad Stuff
Restrictive Amazon interface
Screen quality remains average
No Charging Dock option