World Cup – 5 best boots
Never underestimate the power of a pair of shoes, especially ones that have been designed to thwack a bit of leather past an expert keeper. We've sele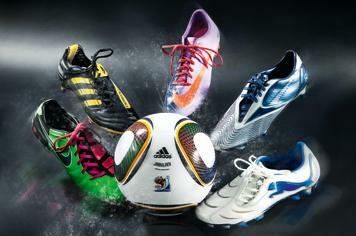 Never underestimate the power of a pair of shoes, especially ones that have been designed to thwack a bit of leather past an expert keeper. We've selected six pairs – they're not guaranteed to get you selected for your national side, but they'll look the part when you rock up for your weekly five-a-side.
1. Nike T90 Laser III
£100, kitbag.com
Electric-green boots don't go down well with burly defenders, but Nike's grippy insteps will help you get round them, while memory foam around the tongue keeps the striking area smooth for a truer hit.
2. Adidas Predator X
£80, adidas.com/football  
The Predator – first seen in 1994 – remains the most techie-looking football boot. A new "Powerspine" has been added to the swerve-some rubber-silicone panel to reduce lost energy when you shoot.
3. Nike Mercurial Superfly II
£275, nikefootball.com
Most boots have either moulded or screw-in studs, but these offer the benefits of both by extending or retracting by up to 3mm depending on your playing surface.
4. Reebok Instante II Pro SG
£110, www.prodirectsoccer.com  
The U-Form tech in these boots means you can pop them in the oven for a few minutes then put them on to mould them around your feet. The microfibre upper is also water-resistant.
5. Puma PowerCat 1.10
£125, www.prodirectsoccer.com
Get extra shooting zing with Puma's "3D Power Shooting Technology", which is a layer of foam in the forefoot. Side lacing makes for a bigger sweet spot (unless you favour a toe-punt).
More stories on Stuff.tv
– Rewind to the last World Cup (2006)
– Fooball Manager 2010 handheld
– World Cup – 5 things you must do