Welcome to the future of transport – the 3D-printed car
And the good news is, it looks amazing...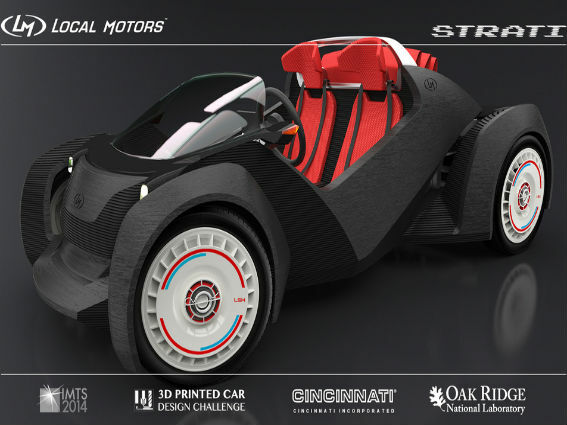 From World Cup gear to robots and from make-up to Braille mobile phones, you can now 3D print almost anything. But surely a car would be impossible? Well not any more.
The Strati is the work of innovative vehicle makers Local Motors, and will be printed out in full at the International Manufacturing Technologies Show in Chicage in September.
There's already a working model, though, which uses the battery and motor from a Renault Twizy inside a 3D-printed chassis and body. And it's even been driven around – check the video below.
The project began with a competition held by Local Motors, which crowdsources its designs from its community of enthusiasts, back in May.
The winning entry was picked for its retractable roof and "excellent balance between innovation, complexity and practicality", while six further designs were named runners up. Elements from the runners-up may find their way into the final design.
But while a 3D-printed car is undeniably cool, we're personally holding out for the first 3D-printed hoverboard. Come on, inventor types, make the future happen!
READ MORE: Will.i.am's eco-friendly 3D printer runs on recycled Coca Cola bottles
[Source and image: The Verge]