Virgin TV Anywhere hands-on review
We pulled up a couch and put Virgin's new TV app through its paces – but did it beat Sky Go?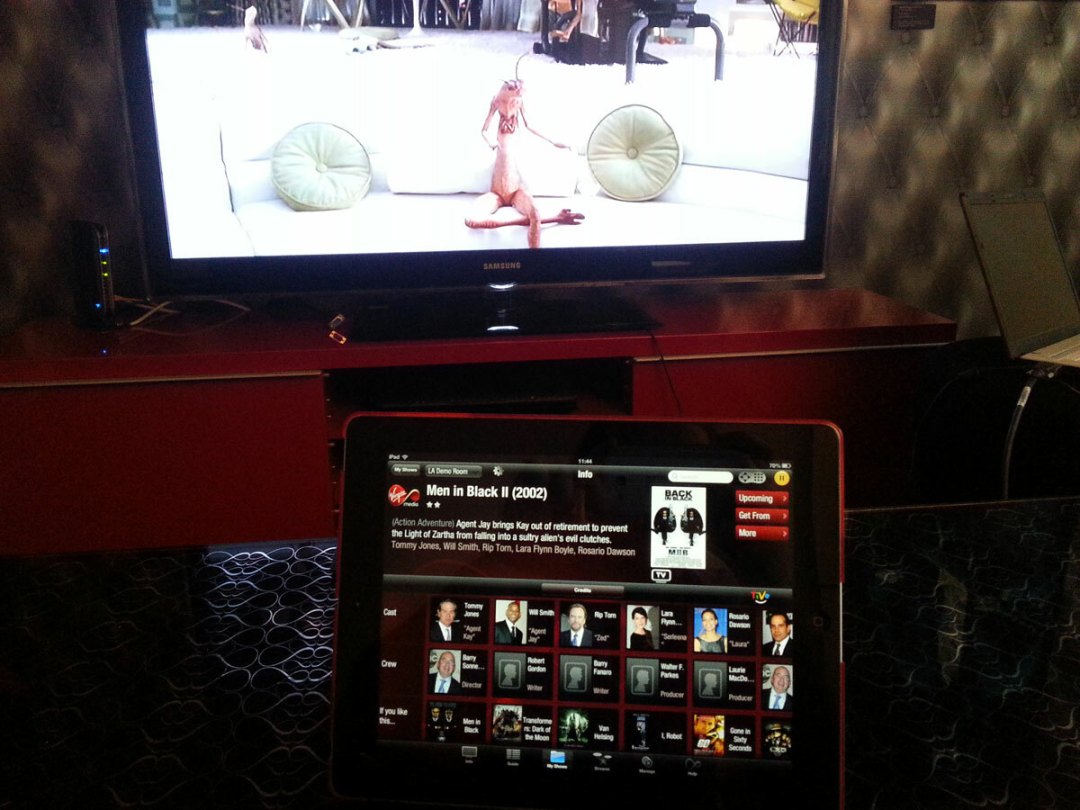 Virgin TV Anywhere hands-on review – at a glance
Before even firing up the Virgin TV Anywhere app for iOS, or its online PC version, we're told to expect access to 45 live channels and 4000 hours of on demand entertainment – including everything Sky has on offer. Plenty to keep us busy for the half hour hands-on time then. But the real issue isn't content but accessibility. From the tiled, personally tailored home screen layout things look promising.
Virgin TV Anywhere hands-on review – smart viewing
Virgin could have easily thrown all its TV and films into the cloud, accessible via tablet and PC, chucked a TV guide in and it would be great. But it's taken mobile interaction much further with the personally tailored intelligent viewing that Virgin is famous for. Although the app is not available for non Tivo subscribers – who can stream TV but don't have use of On Demand. While searching, not only can you view shows via name searches, My Thumbs of what you've liked before, or TV guide browsing, but there are also collections like Bond, TV Box Sets, or New Shows that all help you discover different things you might enjoy. And watching them is as easy as hitting Watch Now and letting the intelligent bitrate stream adapt to your connection for the best viewing quality.
Virgin TV Anywhere hands-on review – record from afar
If you want to set a show to record when out and about just hit Record and your box at home instantly starts – we saw the record light on the box right away. And unlike certain other services this also lets you cancel any recordings from the app – rending them totally deleted from your box without a trace. Another nice touch is an intelligent clash check that will warn you of a clash if you have set a show to record later in the day. But with three tuners in the Tivo box that shouldn't be an issue often. Plus, since the last update overrides the one before, someone at home can easily cancel a recording if they need to watch something.
Virgin TV Anywhere hands-on review – home mode
When sharing the same Wi-Fi network as your Virgin box the app can act as a smart remote. This was great – we turned over on the TV and the app updated its screen with myriad facts and figures about what was on – instantly. It also acts as a full remote for controlling what you're watching – which was particularly useful when dragging the timeline bar to the exact second of a show you want. And if you're browsing shows on the app, the TV still displays what you're watching – then when you find something else you simply swipe it towards the TV and it changes the channel. And it works both ways – if someone else wants the TV you can hit Watch on iPad and let them turn over while you keep watching on your tablet. This only works for streaming channels though – of which there are 45 that work on the app for now.
Virgin TV Anywhere hands-on review – extras
While the Twitter and Facebook apps let you socialise while watching on the big screen, they aren't yet smart. But work is underway to make them instantly update as you view – for example pulling in any hashtags associated with the show your watching so you're totally immersed socially when you turn over. Don't expect these updates to land until mid 2013 though, as is the same for the Android version of the app and HD viewing. On Demand – which only works on the PC version – isn't on the app yet, with only live streaming and recording – but this too may be addressed in the future. As a first step Virgin has really taken a giant leap providing a comprehensive service – all for free.
You may also like
Intel NUC to show Raspberry Pi how DIY PCs are done
Join the Revolights cycle revolution
Confederate X132 Hellcat Combat motorcycle is a wolf in wolf's clothing