Video preview – Dell Streak
The Streak has to be one of the worst kept secrets in tech. But Dell's tiny 5-inch tablet finally got its official public outing yesterday. So we wast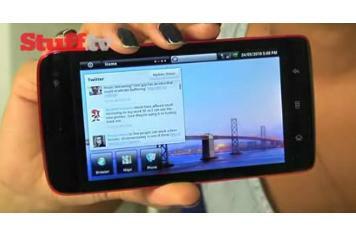 The Streak has to be one of the worst kept secrets in tech. But Dell's tiny 5-inch tablet finally got its official public outing yesterday. So we wasted no time in bringing you a preview video.
The long-rumoured Android tablet is powered by the 1GHz Snapdragon processor and features the holy trinity of connectivity – 3G, WiFi and Bluetooth. The only factor that seems to cripple the tiny device is Android 1.6, but this will be rectified with an Android update available later in the year. The Streak currently doesn't support Flash, but Dell has said it will in the future. A Froyo update, perhaps?
Based on its slim outer body, it would be easy to mistake the Streak for an oversized smartphone. This isn't helped by the fact it packs phone functionality. But dell has made it very clear the Streak is NOT a smartphone replacement. Got that.
As always, tell us what you think in the comments below. Will you be picking one up when it launches early next month?
More stories on stuff.tv
– Unboxed – Dells new 5-inch Streak tablet
– Exclusive ICD Gemini hands-on
– Samsung S-Pad tablet coming in August?
– Dell's new phone line-up leaked