Stuff's jam-packed Christmas issue is out now!
Featuring a bulging sack of geeky gift ideas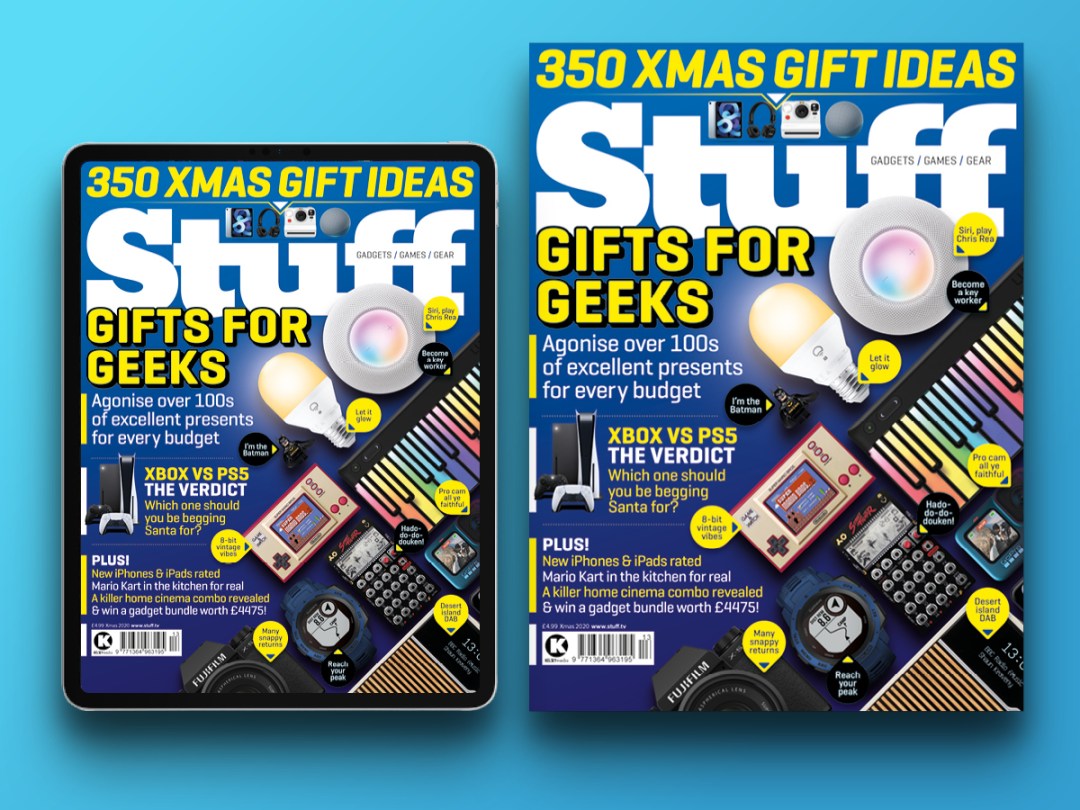 We're usually sick of the 'C' word by December, but given an entirely different 'C' word has conspired to deliver an absolute stinker of a year, to hell with it, Stuff's jam-packed Christmas issue is out now and we're so ready for you to get drunk on the festive gadgety goodness.  
You'll find more than 350 gift ideas to suit all budgets, wrapping paper stocks, and tree base square footage, from Street Fighter-inspired electronic instruments to James Bond's preferred choice of coffee machine.
We don't actually know the exact number of gifts (we couldn't be bothered to count), but email us with your best guess and we might get the abacus out. Anyone bang on with their guess will get a little surprise in the post.
It really is a time for giving too, because elsewhere in the issue there's the chance to win a gadget haul worth £4475, with prizes from Lego, Vox, an incredible Cowboy 3 e-bike and a brand new OLED TV from Philips.
Gifting a Stuff subscription is obviously another brilliant Christmas present idea and for a limited time only you can bag the first three issues for just £5. Choose between a digital edition delivered direct to your device, the glossy print version landing in your letterbox, or a combination of the two if you can't decide whether to entirely embrace the future (competely fair btw). 
Stuff Christmas issue: Major reviews… major puns
Gift guide aside, you'll find a sackful of inspiration on every single page of the Christmas issue, with expert reviews of some of the biggest gadget releases of 2020 – complemented by some of the most preposterous Christmas song-themed headlines to be found anywhere in quality journalism. We spoil you.
New Apple iPhones, new Apple iPads, new Amazon Echos, Sony's PlayStation 5, Microsoft's Xbox Series X and S, the best sounding noise-cancelling in-ears of the year, the best sounding TV of the year, and a streamer that doubles as a soundbar – we told you; jam-packed.
In between the serious work, we even found time to dabble with Lego's latest robotic coding creation, Mindstorms, and cause remote control car-nage in the kitchen with Mario Kart Live: Home Circuit. Both immense fun, so be sure to check them out.
Stuff Christmas issue: Where to get your copy
For the latest and greatest video games, the best shows to stream this Christmas, our top 10 lists of the best tech of 2020, an essential guide to mastering the Apple Watch, and a scalding hot news section with pretty, blown up pictures, keep it Stuff this Christmas.
Aside from subscribing, you can go old school and support retailers by finding Stuff in all good supermarkets and newsagents, nab the digital edition using our dedicated iOS app, or hit up our friends at Readly and PocketMags with festive special offers aplenty.
Alternatively, our accompanying Stuff Gadget Guide series is also great for gifting. Each issue delves deeper into a specific tech trend to offer expert buying advice, tips and tricks, and star-rated reviews to help you find the perfect product. Published five times a year you can pick one up for just £7.99 or select a special offer bundle.
Thank you so much for your continued support and sticking with us through an absolute b*stard of a year. From everyone at Stuff have a sublime December and we'll be back with the Gadget Awards issue on Christmas Eve.