Stuff's five best budget hi–fi systems
Marantz CD5003Marantz wouldn't normally be our first port of call for budget–friendly hi–fi goodies. However, the CD5003, which costs just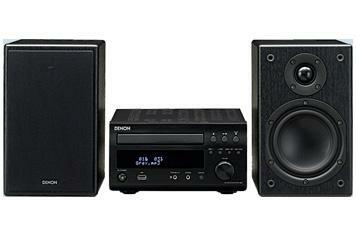 Marantz CD5003
Marantz wouldn't normally be our first port of call for budget–friendly hi–fi goodies. However, the CD5003, which costs just £200 is too good to pass up. It plays MP3 and WMA CDs, as well as regular ones. Ok, there are no speakers bundled, but you can use the ones you've got. Plus there's a built–in amp, so need for extras.
Denon D–M37DAB
This updated al–in–one got a five star thumbs up when we reviewed it earlier this month. For £300 you get a DAB radio, CD player, iPod dock connector, USB support and 30W per channel. And if you don't fancy the speakers, you can nab the main unit for just £230.
Teac CR–H257i
Teac's piled in everything you want from a micro–system – a CD player, DAB and FM, as well as an iPod dock so you can unleash all those power ballads currenly shacked on your Apple jukebox. You can hook up any MP3 player in fact, making this a neat all–rounder for £280.
Goodmans 1104DAB
You might not put Goodmans at the top of the hi–fi pile, but the 1104DAB, with a £100 price tag, is not to be sniffed at in these financially challenging times. It does digital radio, plays your CDs no trouble and will leave you enough cash aside to buy the weekly groceries.
Roberts 23
Say Roberts and you think sturdy, but pricey radios. The Roberts 23 changes things though, offering a neat way to get DAB and play your CDs in one compact package for only £250. There's no need for external speakers and it'll sit pretty on your book shelf.