Sony Vaio Duo 11 hands-on
Sony's been at the sake again – this 11.6-inch Ultrabook has taken Windows 8's dual personalities to their logical conclusion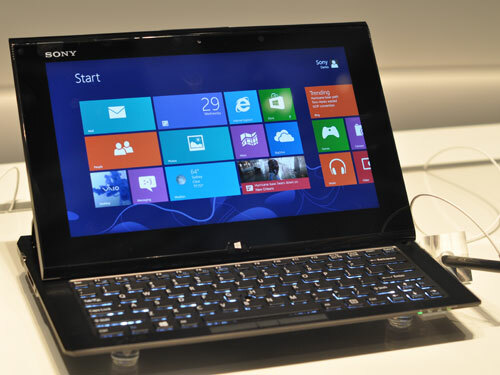 So here we have it: Sony's answer to Microsoft's Surface, which just happens to work like an Asus Eee Pad Slider. But you'll find that this is much more interesting than a niche, first-generation Android tablet. Which is fortunate.
Just like Windows 8, the Sony Vaio Duo 11 has dual personalities. In flat mode it's a somewhat chunky (17mm or so) but nicely finished tablet with a wickedly sharp, 11.6in, 1080p screen: perfect for the no-longer-called-Metro part of the Windows 8 interface. The screen is overlaid with a hi-res digitiser and the included stylus allows for impressively accurate sketching.
But lift the rear of the top half of the tablet and the screen will glide back, revealing a wide-spaced chiclet keyboard, with mouse buttons at its base and an optical nubbin in the middle for more traditional interface navigation.
There's serious power hidden away in the Vaio Duo's body. This is officially an Ultrabook, which means there's an Intel Ivy Bridge processor at its heart, providing it with full-size PC power. Certainly, our flicking away at the Win8 interface and apps never resulted in lag.
That power is also matched by flexibility, with a couple of full-size USB3.0 ports, a VGA out, a multi-format memory card slot and an HDMI socket.
But it's not all roses. Smooth as the conversion action is, the resulting computer is a bit widdly. Give it a stiff poke and the hinge wobbles like black jelly. Sure, you can't expect monolithic build from a 1.3kg convertible laptop, but we'd like to see hardier samples doing the testing rounds.
It's also questionable just how useful that keyboard will be. Certainly, it's better than the virtual keyboards of normal tablets, but the small backlit keys felt particularly small to our fingers, and the optical nub struggled to track our subtler movements. Will this machine make it as a serious workhorse? We're not sure.
All in all then, while we love the madcap Sony Vaio Duo 11 in principle, we're a little conflicted about it. Of course, we'll reserve judgement until we get one to properly test out this October.
You might also like: Samsung debuts Ativ Windows 8 devices