Philips GoGear Connect 3 touches down
Philips throws up Android 2.3-toting iPod Touch rival at IFA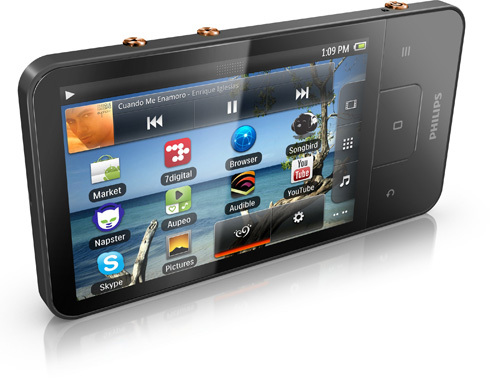 Just like Samsung's Galaxy Wi-Fi 3.6, Philips is attempting to take on the iPod Touch with a multimedia device it has dubbed the GoGear Connect. Packing Android 2.3, it throws up a Wi-Fi-enabled multimedia experience with access to the Android Market to keep you appy, complete with web browsing on its 3.2in touchscreen and 720p HD video playback.
As it's Android, you're treated to the usual Google gubbins, such as Gmail, Google Talk and YouTube, a customisable home screen and the ability to use it as a mass storage device.
Philips has also thrown in its Songbird application – a bit of hassle-free software designed to help you sync music with your PC. And with wide codec support, it'll play nice with most music formats. It also packs what Philip's is calling FullSound, Sound Personalisation and Surround for Movies for "a superior sound experience". Lastly, if you're into sharing, Philips' SimplyShare app allows you to share music via DLNA-enabled devices.
There's no official release date, but expect it to pop up around October/November.
Also
Philips Cinema 21:9 Platinum 3D TV update