Pentax K-01 interchangeable lens cam officially announced
This retro mirrorless snapper launches with SLR lens compatibility – anyone for a second camera?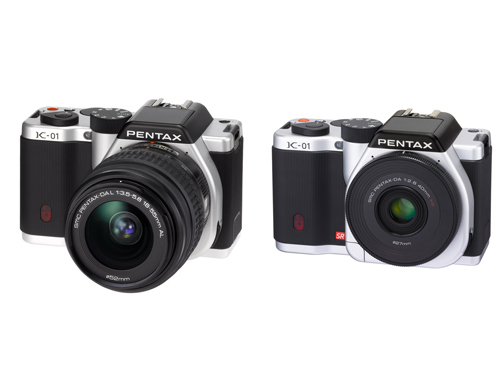 Pentax has unveiled the K-01, its retro-inspired interchangeable lens camera – a little unnecessary, since we already got a glimpse of it earlier today, but nice to go through the formalities nonetheless. Now-confirmed specs include a beefy 16.28MP CMOS sensor and a Pentax K lens mount that'll happily accommodate any Pentax lenses including SLR lenses – some via an adaptor.
The K-01's Mark Newson design might look old-school but there are some up-to-the-minute features packed in there, like ISO sensitivity from 100 to 25600 (when expanded), 1080p video skills at up to 30fps, HDMI out and a new HDR mode. There's also a wide-angle 3in LCD screen and a speedy five images per second burst mode – phew.
Arriving in March 2012, you can pick up the Pentax K-01 in black on black, black on silver or in the rather fetching yellow on black look seen below. With the slim and portable DA 40mm f/2.8 XS lens, you're looking at £680 – or for the same price you can choose to kick off with the chunkier DAL 18-55 lens instead. Now, where's that box of old Pentax lenses?
Olympus prepping OM-D MFT camera for February 8
Seventh generation Apple iPod Nano with camera leaks
Nikon Coolpix S3300 and S4300 prepare to do cheap camera battle