Next Big Thing – DeLorean EV
This electric Delorean is the perfect accompaniment to your Marty McFly Nike Air Mags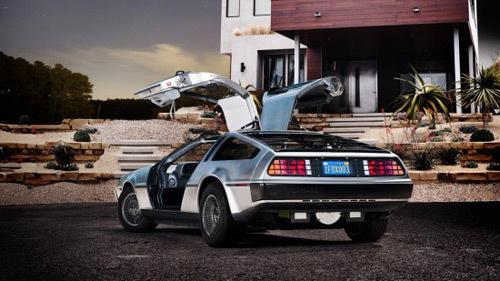 You won't see me in an EV this side of 2015.
Well, we'll have a two year headstart with our electric DMC-12 then. Once we've scraped together the necessary £64,000, we'll be joyriding our DeLorean EV from 2013, thanks to the DeLorean Motor Company of Texas and electric-car start-up Epic EV.
I hope the Flux Capacitor's intact.
Sadly not, but you will be able to reach speeds of 125mph in this baby, on its 260 horsepower electric motor. With this new model – four years in the making – you get iconic 80s styling on the outside and modern touches like built-in GPS and an iPod dock inside.
But what happens when I hit 88mph?
You get a speeding ticket. Next!
You may also like
Movie Classics – Back to the Future (1985)
Nike unboxes limited edition Back to the Future MAG trainers
25 best TV and movie cars ever