New video! Apple iPhone 5 4G UK EE speed test
EE has been given the speed test treatment ahead of its official launch. Naturally, we just had to capture it on camera. Prepare to be dazzled…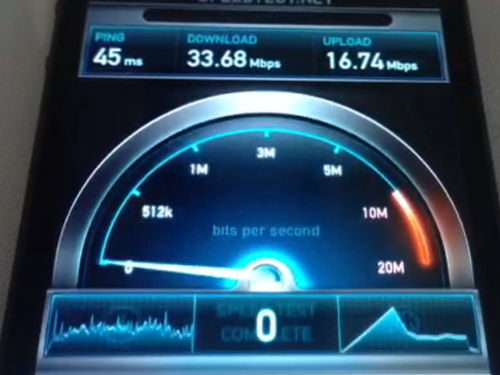 We already know that EE is on the verge of launching the very first 4G LTE network here in the UK "in the coming weeks". It's set to revolutionise our lives – albeit, for a small fee – with super fast download and upload speeds that are 10 times faster than 3G.
Using a speed test app, we watched while the iPhone 5 achieved download speeds of up to 33.68Mbps and upload speeds of 17.04Mbps. In case you were wondering, that is fast.
Whether you'll achieve the same mind-blowing results in the real world remains to be seen, as there will be many factors that will have an affect on its speed – just like 3G – such as location and the number of users online. Of course, this is just a snapshot of what 4G is capable of. Seeing really is believing, so check out our iPhone 5 4G EE speed test video and prepare to be dazzled.
Want to get involved in the 4G action? EE's trio of 4G-equipped smarties – including the Samsung Galaxy S3 will be on hand to help. Samsung's Galaxy Note 2 also plans on joint the 4G fun times on 15 October.
Stuff Gadget Awards 2012 – Video Gadget of the Year shortlist
Stuff Gadget Awards 2012 – TV of the Year shortlist
Apple iPad Mini rumour round-up