MWC 2013 – LG Optimus G Pro hands-on
Have we wandered onto the Samsung stand? Is that a Galaxy Note 2? Nope. It's LG's flagship Optimus G Pro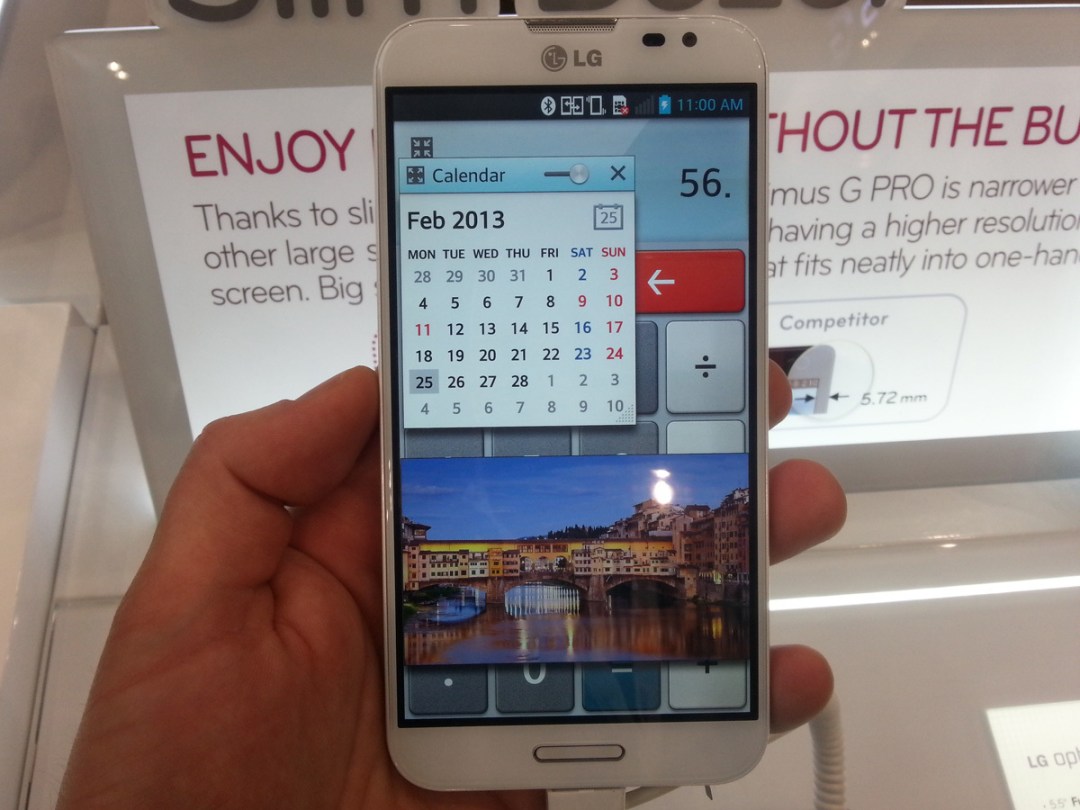 The LG Optimus G Pro's eye-watering 5.5in IPS display (440ppi) plays buttery smooth HD video thanks to the phone's 1.7GHz Quad-core processor. But it's the Q Slide feature that really shows off the Optimus G Pro's capabilities – it lets you shrink a video and pop it in the corner while running up to two other apps in windows at the same time. Calendar, video and calculator? No problem.
It'll even let you control the contrast of the window so you can see what's behind it. At the same time. Brilliant.
While we were unable to unplug the Optimus G Pro to give the battery a proper test, that whopping 3140mAh power pack should go a long way.
Many a potential buyer will avoid these larger handsets, complaining that their dinky digits mean they'll need two hands to operate them. The Optimus G Pro tackles this issue with its a one-handed menu. When turned on, arrows appear next to keypads – like the dial pad – allowing you to move it to the left or right side for less stretched access – even if you're a lefty.
A subtle infra red button atop the handset turns the LG Optimus G Pro into a universal remote. We even spotted Sky and Samsung devices in the list of those compatible. Colour us impressed.
Nokia unwraps new phones – including the €15 105
LG unveils phone-to-TV 4K video streaming
Samsung Galaxy Note 8.0 review round-up