Microsoft debuts augmented reality Minecraft
HoloLens technology brings the blessed blocks to life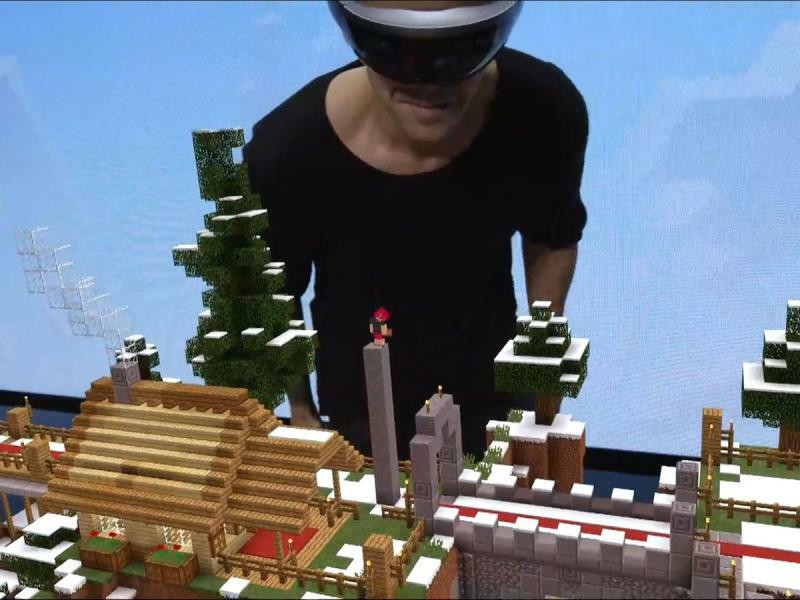 Microsoft set aflame the hearts of Minecrafters this afternoon by demonstrating the block builder working in conjunction with its HoloLens technology.
Two Mojang employees took to the stage at the company's E3 Xbox press conference and, using a HoloLens headset, moved the game environment from the screen on to a nearby surface where it could be seen in augmented 3D.
A scaled down icy palace was visible in its entirity with a small player avatar (the other employee) wandering about. It looked like a great way to get a birds eye view of player creations though its usefulness for actually building things remains unseen.
Using gestures and voice commands the field of view was quickly moved about to reveal difference sections of the map. It was even possible to stick the HoloLens headset through the solid blocks to reveal the castle's interior; a lovely touch.
We do worry that controlling your avatar from that point of view probably won't be intuitive, but interaction issues aside, we have no doubt that the demo will leave block-fanciers among you swooning in your seats. Imagine your living room transformed into the creation you've been slaving over for the past several years of your life – we're sure that the partner you've been undoubtedly been neglecting will be thrilled.
You can rewatch the Twitch stream of the conference here to have a gander yourself.