Latest Samsung Galaxy S7 rumour says bigger batteries and microSD support planned
And improved water resistance, too! Maybe the complaints have been heard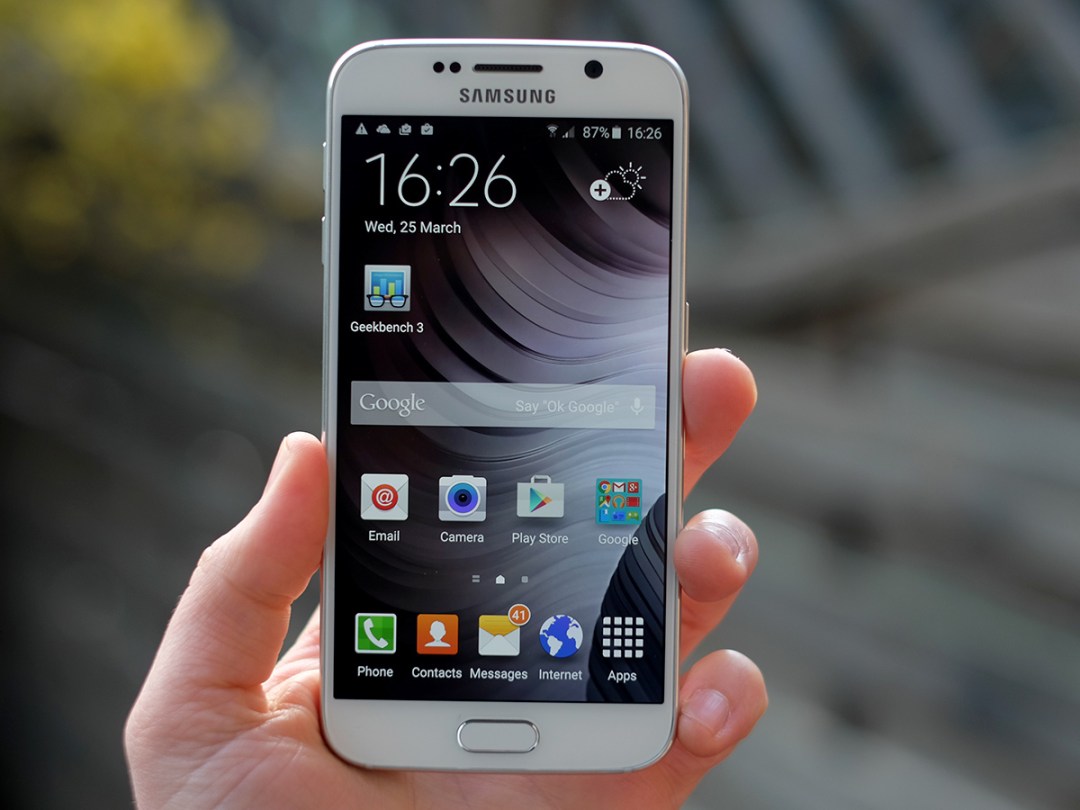 If tradition holds true, we're likely to hear official word about the Samsung Galaxy S7 when this year's Mobile World Congress rolls into view in late February, and the rumour mill has been ramping up as that timeframe nears.
Just last week, we heard that Samsung is likely to release a standard 5.1in flat Galaxy S7, but bump the Galaxy S7 Edge display size up to 5.5in to further set it apart from the pack. Now, a new report out from VentureBeat today from noted leaker Evan Blass (a.k.a. @evleaks) affirms that detail, but also offers other tantalizing specs that should appease some longtime Samsung fans.
First and foremost, the devices will reportedly bring back microSD support, which was missing from the glass-and-metal design of last year's strong Galaxy S6 (shown). Both devices are expected to feature the option for removable storage, with cards up to 200GB supported in each. And the report says the phone will also be IP67 dust and water resistant, making it a bit more capable against the elements than its predecessor.
Also, while the Galaxy S7 won't have a removable battery – one Samsung trend that looks to stay dead and buried on the flagship side of things – at least the company is rumoured to be bumping the size of the internal packs. VentureBeat says the 5.1in Galaxy S7 will have a 3,000mAh battery pack (up from 2,550mAh on the Galaxy S6), while the larger 5.5in Galaxy S7 Edge is expected to carry a hefty 3,600mAh pack (up from 2,600mAh on the smaller Galaxy S6 Edge).
Read more: Interested in Samsung's next superphone? Catch up with all the latest news and rumours in our Galaxy S7 preview
The report also says that the Quad HD screens should offer an always-on-display (AOD) feature, letting you glance at information with minimal battery drain. Also, Samsung's own Exynos 8 Octa 8890 processor may power the device in many regions, although the Qualcomm Snapdragon 820 could be used in some markets. In any case, expect 4GB RAM inside, and internal storage options of 32GB and 64GB on offer.
Finally, there is one odd detail in the report: supposedly, Samsung plans to offer a 12-megapixel camera in the Galaxy S7 models, down from the excellent 16MP shooter in the Galaxy S6. Why the downgrade? Well, it promises an improved lens aperture (f/1.7 instead of f/1.9 in the Galaxy S6), which should help with low light shots, otherwise the reason for the shift is unclear. That said, the report claims the camera bump from last year's model should be eliminated thanks to design tweaks.
If true, that's a lot more changes that we'd previously come to expect from the Galaxy S7, especially since last year's Galaxy S6 was such a charmer. But the shift to premium materials came with some downsides for certain Samsung fans, and this report seems to point to a device that could be the best of both worlds. We should find out next month before an expected March release.
[Source: VentureBeat]