JVC UX-VJ3 double docks iPhone and iPad
What do you mean your dock only takes one device at a time?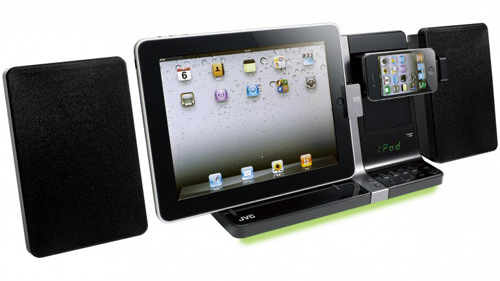 The JVC UX–VJ3 may be an affordable £130, but it screams wealth by showing off you have two iDevices. That means you can keep movies on your iPad and music on your iPhone (or vice-versa if you're feeling fruity), without having to sync all the same content. More important than aesthetic attention-seeking, it'll let you output to your TV or hi-fi with video-out, aux-out and a USB port that – oddly for a Mac-centric device – connects only to PC. The retro LED display comes in useful for the old-school FM radio. No sign of HDMI, DAB or Wi-Fi – but for the money and dual-device convenience, how can we complain?
Also
Samsung Galaxy S II spotted in white
25 best road trip movies ever
Sony PlayStation Vita gets cut