IFA 2010 – Toshiba's Folio 100 Android tablet and lots more
Toshiba's press conference at IFA was today, and they offered up a bumper crop of new products including their first Android tablet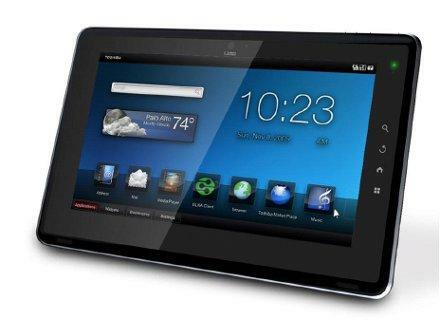 Toshiba's press conference at IFA was today, and they offered up a bumper crop of new products. Most noteworthy was the Folio 100 Android-based tablet.
It has a 10.1in multitouch display, with a 1024x600px resolution and runs on an Nvidia Tegra 2 chip. Android 2.2 (Froyo) is the operating system of choice, and it comes with 16GB onboard storage and Flash 10.1 support.
It will initially be released as a WiFi-only version, with a 3G-capable version to follow. On the connections side it has a mini HMDI port, one USB port and an SD/MMC card reader. There's also a 1.3MP camera, and Tosh claims a battery life of seven hours during normal use.
It can also be paired with a docking port with remote control that has an HDMI output for showing HD video on your TV. At just 14mm thick and weighing 760g, it shouldn't break the strap on your tech satchel, either. Out in October for £329.
Then came the Camileo S30 and Camileo P20 pocket camcorders. Both come with a 3in LCD touchscreen, Full HD 1080p recording, HDMI output and video stabilisation. The S30 will be available in January for £140 and takes 8MP stills, while the P20 is available from in October for £120 and manages 5MP.
In laptop land, there are some 3D updates. The Satellite A665 is getting 3D Blu-ray support. It will also offer dimensional upscaling, using the Toshiba Video Player 3D to convert 2D sources to 3D. Magic is probably involved. Current owners of the A665 with 15.6in TruBrite HD display won't miss out, as they can upgrade with a new firmware download.
On the TV side the news is that Toshiba is launching its first 3D TVs – the Regza WL768 series. It uses active shutter glasses and is fully set up for hooking into your home network with WiFi onboard, so YouTube and iPlayer close to hand. The 7,000,000:1 contrast ratio and 200Hz refresh rate promise impressive visual performance, while the 3D Resolution+ Intelligent 3D mode promises to add another dimension to your 2D content – again using some kind of witchcraft, we presume. On top of all that, it was designed in collaboration with the Jacob Jensen Design studio, so it looks pretty classy too.
And to go with that Regza TV is the Toshiba StorE TV+. It's an HDMI-connected hard disk with WiFi and support for a number of video and audio formats. Packing in up to 2TB of media content to navigate with its remote control, it also has a three-in-one card reader for quickly showing your holiday snaps on your TV. It's out this month for £200.
More stories on Stuff.tv:
Fast facts – android galaxy tab androiid tablet
IFA 2010 – Sony Vaio laptop to join the 3D army