Google Nexus 10, Nexus 4 and 32GB Nexus 7 announced
Two brand new Android 4.2 Jelly Bean devices officially unveiled along with larger capacity 7-inch tablet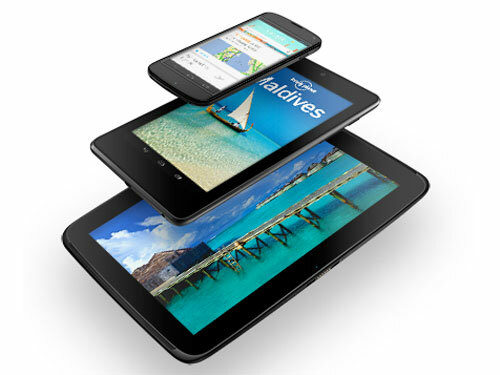 Google has officially launched the Nexus 10, Nexus 4 and a 32GB Nexus 7.
The Google Nexus 10 is a 10.1-inch tablet with a 2560 x 1600 resolution, giving it a pixel density of 300ppi. That's sharper even than the iPad 4's Retina Display screen (264ppi), making the Nexus 10 the crispest 10-incher on the market. The tablet will come in 16GB and 32GB editions with Wi-Fi (no cellular version will be available), and is powered by a dual-core ARM Cortex A15 chip, along with 2GB of RAM. There's NFC too.
At the rear is a 5MP camera, while the front camera rocks 1.9MP. The battery, according to Google, will enable around nine hours of HD video playback. It runs on Android 4.2 Jelly Bean, and will be available on the 13th November for  £319 for the 16GB version or £389 for the 32GB version.
The new 32GB Google Nexus 7 is pretty much the same as the existing 8GB and 16GB models, but will now available with HSPA+ data. The 8GB model is being discontinued. A non-HSPA+ model will cost £199 (and there are reports you'll be able to buy them now in some places), while the mobile data edition will arrive in the UK in November, with prices yet to be confirmed. So that means a 32GB Nexus 7 is £199 while a 16GB iPad Mini is £269. Something for tablet buyers to ponder.
And there's a phone too: the Google Nexus 4, made by LG. It's got a 4.7-inch screen with a 1280 x 768 resolution (that's a very sharp 320ppi), quad-core Snapdragon processor, 2GB RAM, 8MP rear camera, NFC and wireless charging tech. 8GB and 16GB versions will be available from mid-November.
Read our in depth Google Nexus 4 review here. 
All the new devices feature Android 4.2 Jelly Bean, which adds a few features including more cards for Google Now, Gesture Typing (slide your fingers over the keyboard rather than have to tap it) and Photo Sphere, which allows you to create 360-degree images.
You may also like
Google Nexus 4 with Android 4.2 OS video leaked
Google Nexus 4 to feature wireless charging
Nook Simple Touch GlowLight hits UK today