Gadget Flashback – Sony Handycam
Cast your mind back to the early 80s (if you were actually alive back then) and you may recall a time when camcorders were weighty, shoulder-mounted b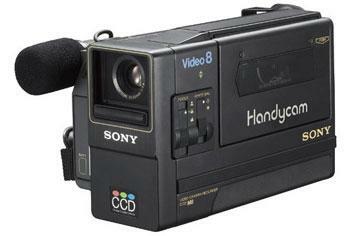 Cast your mind back to the early 80s (if you were actually alive back then) and you may recall a time when camcorders were weighty, shoulder-mounted behemoths into which you loaded full-sized VHS or Betamax tapes. They were massive, in other words – at least until Sony came along in 1985 with its Handycam range, revolutionising the home video world with camcorders you could actually, well, hold in one hand. It's now been 25 years since Handycam debuted, so let's take a look at some of its more iconic models.
1985 – CCD-M8
The first Handycam (pictured main) used a new cassette format called Video8 (the tape itself was 8mm wide, you see). These cassettes were a quarter of the size of the Betamax cassettes used in previous Sony camcorders, allowing the CCD-M8 to be much, much smaller than its peers. Most camcorders of the period weighed around 2kg, but this was under 1kg. It was also designed for ease of use: after choosing one of just three focus settings and two white balance settings, you simply hit one button to record. You couldn't watch your footage back on the M8, mind – playback was only possible through another device.
If the CCD-M8 was small, the CCD-TR55 was tiny – at the time the smallest camcorder in the world. Designed with the jetsetting traveller in mind, it was dubbed "passport-sized" and was dinky enough to be dumped in a handbag. Despite that, it boasted a power zoom, autofocus and "hi-fi quality" sound.
The CCD-VX1 (or VX3 in the US) was the world's first consumer-level camcorder to sport three CCDs, allowing it to capture and process red, green and blue separately for more accurate colour reproduction. It used Hi-8 tapes, which Sony soon phased out in favour of DV, so the VX1 was discontinued in 1995.
1995 – DCR-VX1000
This was the first MiniDV camcorder to offer 3CCD, and also the first "prosumer" model to allow footage to be transferred directly to a PC or Mac via IEEE 1394 Firewire. Its performance was peerless at the time of its launch.
Sony was at its downsizing game again with the MicroMV-format DCR-IP7, shaving down the dimensions to a mere 103 x 83 x 50mm and the weight to 370g. More than that, this camcorder was the first "Network Handycam", with built-in Wi-Fi, Bluetooth, USB and Firewire connectivity, and could also record short MPEG clips and stills onto Memory Stick – it was supplied with an 8MB (!) card. You could check your email and browse the web on this thing.
Sony's first consumer hi-def camcorder, this captured 1080i (1,440 x 1080 pixels) at 50fps and stuck it on MiniDV tape. It also sported a touchscreen LCD monitor and manual controls located for easy access.
Bringing us up to date is this full HD model which also captures 5.1-channel surround sound and geotags footage using its built-in GPS receiver. Oh, and you can stuff 26 hours of 1080i video onto its capacious 64GB of internal flash memory. The rear-illuminated Exmor R sensor delivers excellent low light performance, while two different types of built-in image stabilisation keep the image steady when your hands aren't – or even while you're walking.
More stories from Stuff.tv
– Gadget Flashback – Sony Walkman
– Gadget Flashback – Canon IXUS