CES 2015: Samsung launches new Tizen-powered curved 4K 'SUHD' TVs
Want curves and brains sitting on top of your entertainment stand? Samsung reckons it has you covered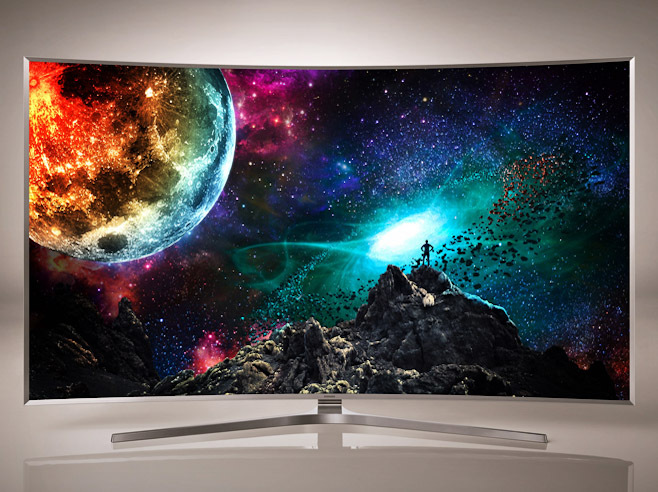 Samsung has unveiled a new range of supercharged 4K Ultra High Definition TVs here at CES, and they're backed up with confident words.
The tech giant believes that its new 'SUHD' TV range will set a new standard in enjoying 4K content, surpassing all of its existing sets with improved contrast, brightness and colour reproduction.
Each SUHD model will land packing Samsung's nano-crystal technology and an SUHD re-mastering quality picture engine. 
The nano-crystal semiconductors themselves are able to transmit different colours of light depending on their size, which should result in more accurate colours and light efficiency. Samsung states that as a result of this microscopic technological development, viewers will be able to enjoy 64 times more 'colour expression' that conventional TVs. 
The re-mastering engine works by automatically analysing the brightness of the on-screen image, lowering power consumption on-the-fly, resulting in even darker blacks and brightness thats 2.5 times brighter than conventional screens.
The comparison demo that we saw between a regular screen and a new SUHD display certainly looked impressive during the pre-briefing announcement, but we'll have to wait to properly put a review unit through its paces to see how it fares up to the rest of the competition.
On the outside, the SUHD sets continue Samsung's curved design ethos, with the aim of providing a more immersive experience.
The TVs themselves will all be powered by Samsung's homemade Tizen OS, which Samsung promises will supercharge each set with snazzy tech brains.
A redesigned Smart Hub provides quick access to recent content and tailored recommendations, and Wi-Fi direct will let users share content from a smartphone for tablet with little fuss.
Gaming is also creeping in, with Ubisoft's Just Dance Now available directly on the TVs themselves. Another hint towards a possible gaming console-less future? Perhaps.
The Tizen OS is open source, allowing developers to create their own smart TV apps to bring in even more functionality. Samsung is also launching a new UHD movie download service, and users will be able to stream 4K content from providers such as Amazon, Comcast and DirectTV.
If you fancy turning your TV into a giant alarm clock with relevant news and weather each morning, then that's an option too, thanks to a new feature called Briefing on TV, which syncs up with your smartphone or tablet to fill you in while the coffee kicks in.
Samsung will offer three new series of SUHD TVs – the JS9500, JS9000 and JS8500 – in nine screen sizes ranging from 48in to 88in. 
We'll keep you updated with pricing and availability as soon as the info comes in.
READ MORE: All the CES 2015 news, in one handy place